When the topic about Brooklyn's longest streets comes up (and admittedly, that's once in a blue moon) Flatbush, Atlantic, Bedford Avenues and Fulton Street come up most often. But there are a group of streets that run from the waterfront at Buttermilk Channel all the way east to Brownsville, running through Cobble Hill, Boerum Hill, Park Slope, Lefferts Gardens, and Crown Heights: Union, President and Carroll. The latter is named for Charles Carroll of Maryland, the only Roman Catholic to sign the Declaration of Independence, and Carroll's presence here in the atlas is quite deliberate. A regiment of 400 Maryland troops, under Lord Stirling, assisted American patriots in a strategic retreat from British forces who vastly outnumbered them in the Battle of Brooklyn.
Though I do intend to further explore these three extarordinarily long streets in detail sometime, today I want to focus on one particular block of Carroll, the "700" block between 6th and 7th Avenues. (You may think the 700 block would be between 7th and 8th Avenues, but the numbers are skewed here because Carroll begins so far west). It is bookended by two beautiful churches. The first one, St. Francis Xavier on the corner of 6th, is fittingly Roman Catholic.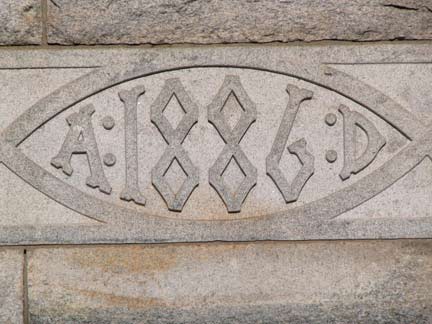 Francis Morrone, who wrote The Architectural Guide to Brooklyn in 2001, says the church was built by architect Charles Haughton (a protege of NYC's greatest church builder, Patrick Keely) from 1900-1904, and so we must assume that the 1886 date we find on one of the stones refers to, perhaps, an original St. Francis Xavier parish church that predated this one. The church's website bears this out, though it's unclear if there was an earlier building. When Catholic parishes are established, they can be without a church building and Masses can be read in local homes until a suitable church can be erected.
It is a bright, beautiful building (though, perhaps, always in the shadow of the much larger St. Augustine's up the block on Sterling Place) with granite ashlar walls and intricately carved, ogee-curved doors and windows.
I shot the Francis Xavier parish school a block over on President. I wanted to see how the stonecarvers did the "X", since that letter doesn't get much play in ecclesiastical typesetting. They didn't disappoint, and the A is even better. (I like to look at old missals and prayerbooks — printed before the 1950s or so. They always went nuts with this kind of font.)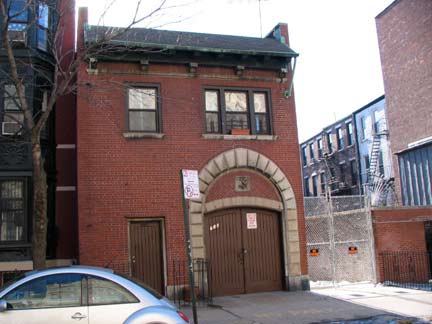 Christian imagery abounds on this block, even on the non-ecclesiastical buildings. Across the street from Francis Xavier is what probably used to be a stable. Above the door is a carving of a man fording a stream with a child on his back. For those of you unfamiliar with he image, it depicts the story of St. Christopher, who according to tradition, once carried Christ as a child across a river:

While there may have been a 3rd century Greek martyr named Christopher, the story told of him is now generally acknowledged to be a 12th century addendum to the Christian canon. Christopher is typically depicted as a tall, middle-aged, bearded man with a staff who wades across a river carrying the Christ child on his shoulders. As the story goes, the extremely robust Christopher devoted his life to carrying people across an otherwise unfordable stream. One day a little child appeared before him and asked to be carried across. 
To Christopher's surprise, as he forded the river, the child steadily increased in weight until Christopher found his tiny burden so heavy that it was almost impossible to bear. When he asked the holy babe why he weighed so much, the child replied that he carried the world's sins upon his shoulders. As a reward for his service, Christopher's staff was miraculously transformed into a living tree, and Christopher himself became the Patron Saint of travellers. luckymojo
Stories that hark back to a pagan past predating Christianity surround Christopher; some accounts have him 12 cubits (18 feet) tall, and others paint him as a dog-headed cannibal in his youth. wikipedia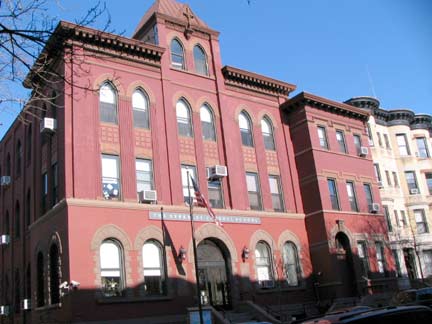 Berkeley Carroll School, 701 Carroll, one of the more prestigious independent grade schools in NYC.
…the school can trace its origins to 1883, the year that the Brooklyn Bridge was opened, and to a series of informal classes held by the Rev. Alfred C. Roe for neighborhood children in a'double villa' on Lincoln Place. In the fall of 1885, Mr. Roe, discouraged by his struggle against financial odds, asked a group of public-spirited men if they would assume financial oversight of the school, and a year later the Berkeley Institute, named for Bishop George Berkeley, an Irishman who was an early supporter of higher education in the American colonies, opened its doors to 55 children. At the time, much of Brooklyn was still farmland, but Park Slope had emerged as a fine residential neighborhood, easily accessible by five street car lines, so "the expense and annoyances of travel in crowded horse cars can be avoided," in the words of the school's first brochure. Berkeley Carroll School
Nearby Berkeley Place is also named for the bishop, as well as Berkeley, California and the University of Cailfornia at Berkeley.
At the 7th Avenue end, we have the white limestone-faced Old First Reformed Church, completed in 1891 by architect George L. Morse. It's a flying buttressed, gabled, cinquefoiled, rose-windowed centerpiece of Park Slope's busiest avenue.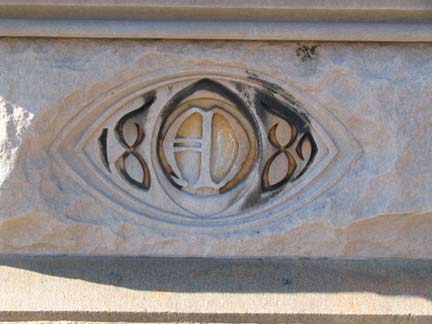 The First Reformed Church of Brooklyn dates back to 1654 with the arrival of Domine Johannes Theodorus Polhemus [a nearby short street is named for him], who served the people of Breukelen, Flatbush, and Flatlands. Worship was conducted under the trees, then in a barn. In 1666, the first church edifice was built in the town of Breukelen in the middle of a highway, now known as Fulton Street.
This building was replaced 100 years later and included a burial ground on land which is now occupied by Macy's [the old A&S]. The growth of the church by 1805 necessitated large facilities, and a building was erected on Joralemon Street. Within 30 years, this building was outgrown. It was razed and rebuilt on the same site in 1835. It remained in that location until 1886, when a chapel was completed at Seventh Avenue and Carroll Street. This chapel was expected to accommodate the congregation for some years to come, but the rapid growth of the neighborhood was reflected in increasing membership for Old First, and plans to complete the sanctuary were pushed forward. The church, at Seventh Avenue and Carroll Street, as it stands today, was dedicated on September 27, 1891. Old First
Photographed February 2, 2009; page completed February 18