It's a lot cooler to not look back. I heard Van Morrison being interviewed by Don Imus [early March 2009] (about 100 years of showbiz there) and he said he never listens to his old hits, even though he was touring on his 1968 recird Astral Weeks in early 2009. But among artists, they're supposed to say they never look back — it's all about what you're doing now. I deal in things as they were, but also as they are now. Usually, now always comes up short.
So I was back in Bay Ridge recently, ostensibly for a dentist visit, but it quickly turned into a new project…
… as I was photographing Bay Ridge's plethora of alleys and one-block streets for my "Places Matter" project in which I explore in depth streets that don't go anywhere, but they're there for people to live on. Being back in Bay Ridge reminded me of yet another Forgotten NY inspiration.
When I was a kid, I'd say between the ages of five and ten, my grandmother and I would walk down 6th Avenue from our home on 83rd Street northeast. Sometimes we'd get only a few blocks, but occasionally, we'd make it all the way to Bay Ridge Avenue, which all Bay Ridgers call 69th Street (after, all, it's between 68th Street and Ovington. What's that you say? Nobody called Ovington Avenue 70th Street? That will have to remain a mystery, I suppose). Anyway, I soaked all of it in like a sponge. 6th Avenue was primarily residential, but there always was, and there is today, a convenience store at 6th and 79th. That is also the intersection where two flows of traffic intersect: one flow coming from the 79th Street Bridge over the Gowanus Expressway, and another from 5th Avenue. There were a pair of large DO NOT ENTER signs to prevent accidents. On 81st Street between 6th and 7th, the telephone wires are on poles, not underground, like the other blocks. At 6th and 78th, there was a fire alarm that hadn't worked for years; the FDNY put a metal plate on the base, closing it off …
I'd go on with these innumerable details but you get the picture. When I moved to 73rd Street and 7th Avenue in 1982, I found a luncheonette complete with soda fountain on the corner of 6th and 73rd, but it rather quickly converted to a Dulaine's Caterers, which, when I passed it the other day, looked deserted. And then there was this building at 6th and 74th, which I didn't notice either as a kid or when I lived around the corner…
Now, this looks like your regular, boxy apartment house, which it pretty much is. But I didn't pay much attention to what's going on over the entrance.
The name of the building, Saint Rose, appears, along with a pair of reclining nudes. I wonder if I'm the only one who has noticed the juxtaposition of the sacred and the erotic; this is weird, to say the least. Saint Rose of Lima (1586-1617) is the patron saint of Latin America and the Philippines. Reading her online biography about her devotion, she seemed manic in her self-mortifications. I imagine the sculptor was attempting to present a generically classical tableau with no connection to any saints.
I have said that this was my favorite Bay Ridge block, and when I lived down the block from here it was my aspiration to someday purchase one of these attached, bowed-windowed buildings. When I first encountered 74th Street, there were still brick gutters, which no other remaining street around possessed. Of course they were quickly paved over. These buildings continue in unbroken lines down both sides of the street, almost to 5th Avenue.
I believe there was some commentary by someone from Europe, or perhaps the New York Times, that haughtily averred that Americans cling to the US flag as a talisman, especially after the terrorism of 9/11/01.
I like it that there is a flag on nearly every building. There is one hanging over the street. There is one on the tree planter. Owners have decorated their exteriors with miniature castles and lighthouses. And where there isn't an American flag, there's a shamrock.
Growing up in the neighborhood I was always fascinated by side street storefronts; they encrusted the side streets next to the main drags like 86th Street or 5th Avenue like barnacles on ship bottoms. The "Your Size Shop" was there on 74th when I first moved nearby; its ghost can still be seen.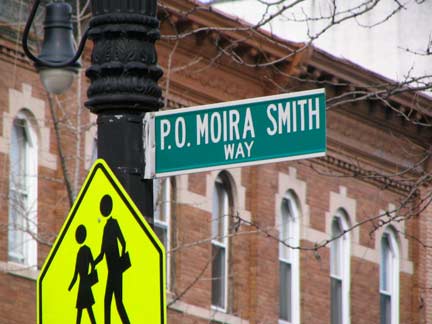 It is quite possible that 74th Street's flags are attributable to its legacy as the home of a 9/11/01 hero, Police Officer Moira Smith (1965-2001), winner of a Distinguished Duty Medal and a posthumous NYPD Medal of Honor. A photograph taken on 9/11 shows P.O. Smith tending to a man she had just helped out of one of the towers; she then returned to the tower to assist further, and was killed when it collapsed.
On this page, Martin Glynn remembers being aided by P.O. Smith on 9/11/01.
Photographed February 28, 2009; page completed March 2