As a rule, you will not find any munchkins, witches or flying monkeys in the Bronx. But there is a yellow brick road, and this one looks like it's still got its original yellow bricks (Queens' Stockholm Street's yellow bricks are a loving recreation of the original). Dorothea Place, a cul de sac on Marion Avenue just north of East Fordham Road, is indeed yellow-bricked, but it also has an additional secret.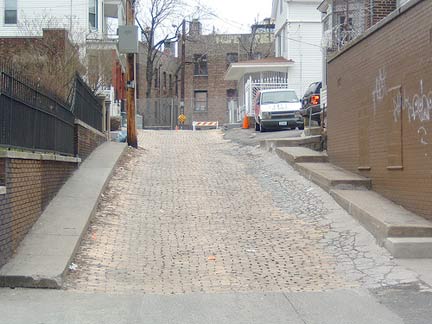 According to the late great Bronx historian John McNamara, Dorothea Place was originally laid out in 1887 on the estate of financier and investor Hugh Nesbitt Camp (1827-1895), a Fordham resident. (Oddly enough, the Bronx street named for him is way up in Wakefield, near the city line.) It led to a couple of houses, possibly owned by his daughters, on land occupied by what are now apartment houses on Decatur Avenue (visible in the photo). Neither of the daughters were named Dorothea; but Dorothea was his wife's middle name.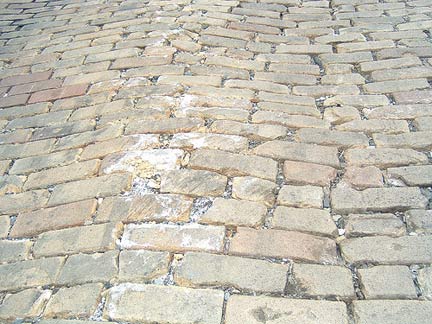 The yellow bricks buckle in spots. I don't see any large shade trees on the alley, but trees can have extensive root systems, and that may be the case here.
ABOVE: looking toward Marion Avenue; below: looking east toward Decatur Avenue. The Bronx can be unexpectedly hilly, especially near the Harlem River, and there can also be places where schist rock erupts into view. (During building construction in the 1900s, a great deal of schist rock had to be dynamited to get it out of the way.) If Dorothea Place were to extend through to Decatur Avenue it would need to do so on a steep slope.
As we attain the east end of Dorothea Place, we see that it is T-shaped (looking on the T crossbar, left). Each end of the T possibly led to a carriage road that would go to Camp's daughter's houses.
All photos by Dennis Harper; page completed April 6, 2009