If you've never been to the Broadway-Flushing section of Queens, it's worth a visit — it's home to some of Queens' finest architecture, having been part of the Rickert-Finley real estate development around the turn of the 20th Century. Large plots, wide lawns, and beautiful, eclectic buildings. I'll have a proper Foergottenpage on it soon enough and may even do a tour there. I've been familiar with the neighborhood since 1993 when I moved to the area from Bay Ridge to be closer to a job. Broadway, which runs from Northern Boulevard / Crocheron Avenue north to 29th Avenue between 158th Street and Utopia Parkway, is named for a former name of Northern Boulevard (the local LIRR station never dropped the name).
Though Broadway-Flushing was designated a Historic District by the United States Department of the Interior and was listed on the National Register of Historic Places on May 12, 2006, the Landmarks Preservation Commission has decided against making the neighborhood a historic district. Because of that, developers eyeing the area's large plots are likely making plans to demolish many of the homes and fill the lawns with concrete.
Today, though, my attention is restricted to a small triangle formed by Northern Boulevard, 162nd Street and Crocheron Avenue, for many years consisting of just concrete, but now gussied up with bushes and trees, and a sign reading "Studley Triangle."
The triangle honors the formidably named upstate New Yorker Elmer Ebenezer Studley (1869-1942), a lieutenant in the Spanish-American War, attorney, and Congressman from 1933-1935. He was a Flushing resident in his later years and is buried in Flushing Cemetery.
I have many memories of this particular corner, since I lived a couple of blocks away between 1993-2007. For example, on Northern Boulevard opposite Studley Triangle was one of Queens' finest Irish establishments, the wood-paneled, fireplaced Bridie's, filled with Killians, soda bread likely baked on premises, brogued bartenders and micro-minied waitresses who were likely fresh from Riverdance practice. The soda bread vanished long ago and a succession of owners have gradually erased the wood paneling. Many of Queens' Irish moved back to the old sod in the 1990s and 2000s when her economy was booming. In the current collapse, will the thousands be sailing back?
Depot Road seen from Northern Boulevard. And it was here that I purchased my vacuum cleaner bags.  The large building center left used to be a post office; it said so, until a short time ago when it was renovated.
In Lovely Little Neck on Northern Boulevard there are not one but two places where prospective Keith Moons can buy and sell drums. At Studley Triangle, the clientele is somewhat more upmarket. Broadway-Flushing has cello players.
For many years the MTA basically let the LIRR Broadway station crumble and it was just about ready to collapse onto the tracks when, apparently, funds were found to fix up the station house and completely rebuild the platforms. Work commenced in 2006 and is still ongoing; it took 16 months to build the King of All Buildings, but this special project is taking a few years longer. I did quibble with the elimination of some of its original 1913 architectural elements, but I have to say that finally Broadway-Flushing has a LIRR station it can take pride in.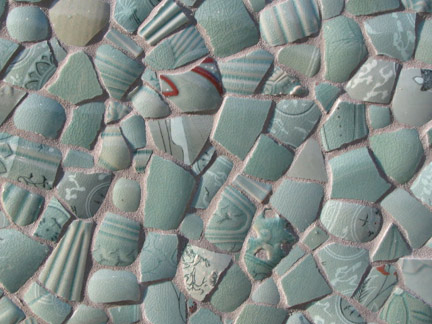 The MTA added a decorative artistic installation, something unthinkable when the station was in the depths of decrepitude in 2003-2004, Jean Shin's Celadon Remnants, "comprised of celadon fragments discarded by ceramic kilns" in South Korea.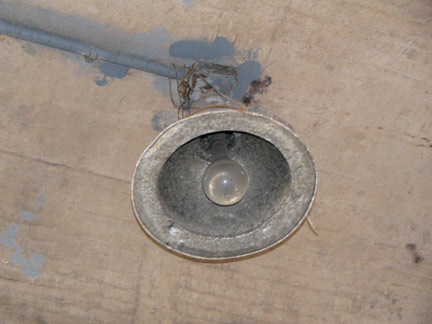 Remaining 1940s-era streetlamp under railroad trestle
Station Road with new handicapped adapted entrance ramp
Photographed April 5, 2009; page completed April 9