According to the late, legendary Bronx historian John McNamara, writing in History in Asphalt, West 230th Street in KIngsbridge Heights and Riverdale has had an active history. It once led to an island: Hummock Island (Native American name Paparinimen) was part of the estate of Alexander Macomb, scion of a milling family who operated a dam bridge across the Harlem River (the current Macomb's Dam Bridge was named for it). Hummock was a small island defined by Spuyten Duyvil Creek, landfilled in 1916. In the Revolutionary War, patriots built a fort south of where the street would be that was captured by the British during their NYC occupation between 1776-1783.
The red brick section of West 230th runs from Heath Avenue west to Bailey Avenue. Further west it crosses the Major Deegan Expressway (where there is an entrance/exit) to Irwin Avenue, where it then rises along one of NYC's lengthiest step streets to Netherland Avenue.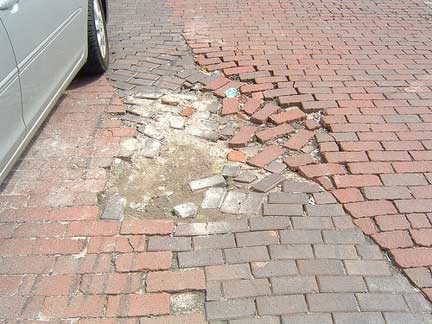 A utility cut was made on West 230th some time ago and in typical NYC fashion, the bricks were put back haphazardly, and replacement bricks were not the same color, apparently.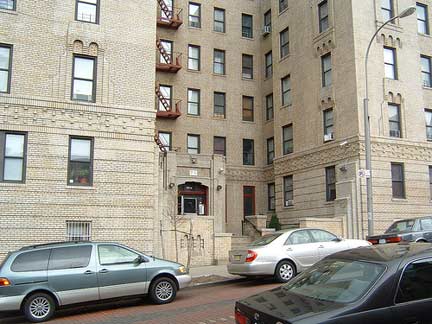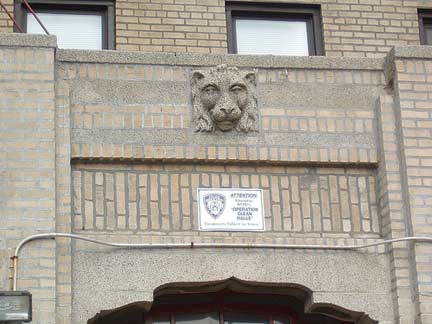 The watchdog or lion carved above the door on a West 230th apartment house does not look particularly fearsome.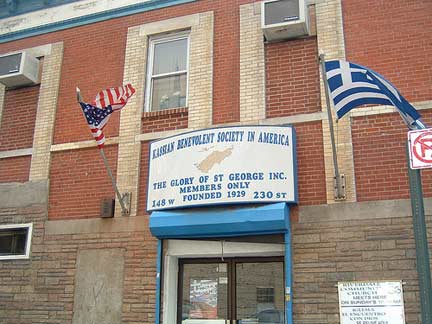 The Kassian Benevolent Society of America, Bailey Avenue and West 230th. Kassos is the southernmost Greek island, positioned between just west of Karpathos in the southern Aegean Sea. The island of Crete is several miles to the west.
The white bricks at the center indicate that West 230th used to be two-way, but these days it is one-way east.
West 230th is shown on maps as continuing through east to Kingsbridge Terrace, but it likely never has, given the steep grade here. It has likely always been a step street and it appears the city is restoring it.
Photographed by Dennis Harper; page completed April 13, 2009.