Avail yourself of a walk down the new Hudson River Park walkway along West Street, 11th and 12th Avenues (stay out of the bike lane — they'll kill ya) and you'll see some nifty new T-shaped, aquamarine-painted walkway lamps. Note the bases and finials — they're shaped like ziggurated NYC skyscrapers. It's not a new design at all but one that goes back to the original and current lampposts of the Trib…er, ah, the Robert F. Kennedy Bridge.
Taking a walk in Harlem early in May 2009, specifically along East 125th Street and Second Avenue, I spied a flock of what I refer to as Tribes along the off ramps of the Tri…RFK Bridge. Amazingly these are the originals, and they still hold forth along the three bridges on one that connect Manhattan, the Bronx and Queens. Work began on the bridge in 1929, stalled during the Depression; the bridge opened to traffic in 1937. The Triborough Bridge was renamed in 2008 for New York Senator Robert F. Kennedy, who was assassinated while campaigning for President in June 1968.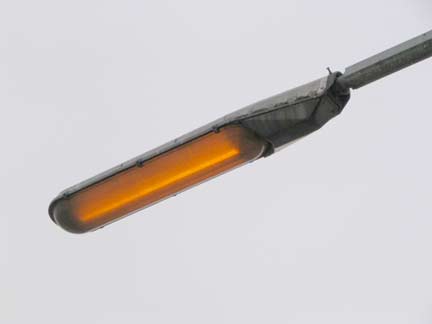 A close look at the top of the shaft will reveal that the finial closely resembles the much larger ones at the tops of the towers of the RFK Bridge between Queens and Wards Island. Originally supporting a number of pendant lamp styles, the masts have been modified to accept sodium lamps mounted at the ends. Most posts carry these lengthy "sodes." (Bob Mulero, what's the official designation of these?)
Ace of bases. Note that some bases are grooved and some are smooth.
Erstwhile King of NYC lampposts Jeff Saltzman: These poles were installed on the major approaches built at the time to connect to the Triboro. They graced what would become the northern end of the Brooklyn Queens Expwy. & western extension of the Grand Central in Queens. They were placed on newly widened Bruckner Blvd. and the forerunner section of the future Major Deegan Expwy. in the Bronx. They also graced the East River Drive approach to the Triboro from Midtown Manhattan, the Henry Hudson Bridge and the Marine Park Bridge, between Brooklyn and the Rockaways. Bruckner Boulevard in the Bronx also claimed them before it was turned into an expressway.
At 2nd Avenue and East 126th, a Tribe casually holds down the SE corner, pitching in by holding street signs, one-way sign and don't walk signals. Tribes are not employed this way elsewhere in town, but this one has made itself at home in this milieu.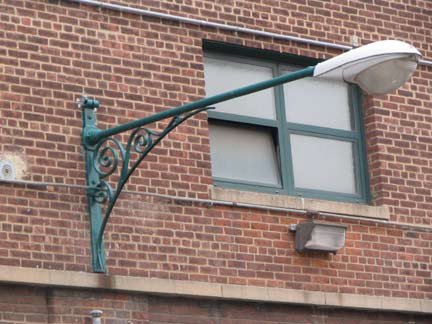 The MTA's 126th Street bus depot services the M15 route, one of the City's busiest since it traverses the RFK. The depot building has its relics, as well: a number of wall bracket type G posts.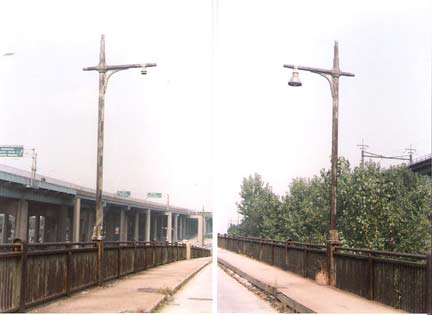 Vintage Tribes in former locales: Franklin D. Roosevelt Drive, and 2 views, demolished causeway connecting Wards and Randalls Islands. Photos: Bob Mulero
Photographed May 9, 2009; page completed May 11, 2009