In 2007 I visited Queens Plaza, the gateway to Long Island where the #7 and BMT N trains converge (though both issue from Times Square) and incredibly bad architecture, strip clubs, and formerly formidable buildings that are now down on their luck all come together. Things have changed somewhat — the parking garage determined (and not just by me) as the borough's ugliest and perhaps the city's ugliest — was battered into powder in late 2008-early 2009. Though U.S. Rep. Carolyn Maloney (who was running for senator as of 6/09) has announced the acquisition of $37 million for improvements in the plaza, it's likely that its metallic vibe, with heavy car and rail traffic, will not give away its decades-old atmosphere easily.
In June 2009 I revisited the plaza and the surrounding neighborhood, Dutch Kills, named for the narrow tributary of Newtown Creek that runs into its southern reaches. It was the site of a British garrison during the Revolutionary War. Dutch Kills, bordered by Hunters Point on its south, Blissville on its southeast and Queensbridge and Ravenswood on the north, is generally on the immediate north and south sides of Queens Plaza. Walk its streets, and several surprising remnants of an older Queens turn up.
GOOGLE MAP: QUEENS PLAZA/DUTCH KILLS
As with most NYC locales, history is preserved accidentally. An old "Cafeteria" sign peeks out on Bridge Plaza South after an awning was removed (easily gotten from the staircase going to the el train). At 27th Street (formerly Prospect Street) and 42nd Road (formerly Henry Street) an example of the old house numbering system can still be seen. All Queens house numbers have carried a hyphen since the 1920s.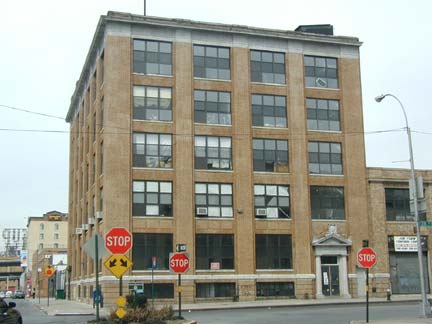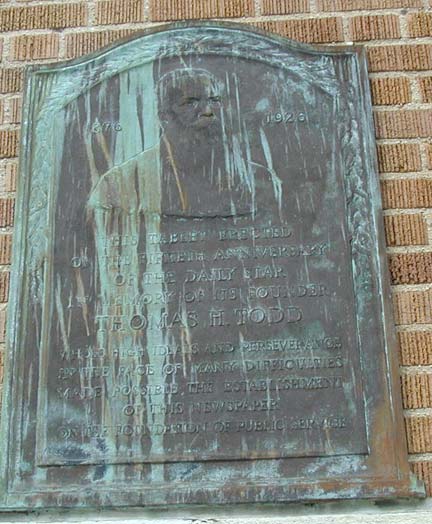 The Long Island Star building, housing the offices and press of the longtime newspaper The Long Island City Daily Star (founded 1867), stood at 28th Street and 42nd Road for decades until its demolition in 2008. A verdigrised plaque of its founder, Thomas Todd, could be seen at the corner.
From a previous FNY Long Island City page: The paper merged with Flushing's North Shore Journal in the 1930s and soldiered on until 1968 as the Long Island Star Journal. The paper covered the opening of the first luxury apartments in Jackson Heights and the extension of the IRT Queensboro subway as far as Corona in 1917; published an interview with author Helen Keller, who lived in Queens in 1922; bannered the opening of North Beach Airport (now LaGuardia Airport) on the grounds of a former amusement park in 1930 and the opening of Idlewild, now Kennedy, Airport in 1948; and headlined the death of 29 passengers and injuries to 115 as two Long Island Rail Road trains crashed head-on in November 1950. Queens still has a lively local newspaper scene.
In June 2009, the old Star building was an empty lot awaiting new construction. There is a tribute of sorts: a new residential building replacing it will carry the name Star Tower. The tower's offices are in the new FusionLIC building.
Queens Plaza's proximity to Manhattan has made it ripe for residential development, and luxury towers are appearing cheek by jowl with machine shops and junkyards, as we'll see.
Jackson Avenue streetscape. Jackson Avenue currently runs from Vernon Blvd. near the East River at Hunters Point northeast to Queens Plaza, where it divides into Queens Boulevard, running east, and Northern Boulevard along the north side of Sunnyside Yards and then to eastern Long Island. Jackson Avenue/Northern Boulevard dates to 1859 and was originally a toll road. Above is the west side of the avenue between 42nd Rd. and 43rd Avenue, a mishmosh and hodgepodge of generally uninspiring structures. There were some notable buildings further south on the avenue, such as the recently demolished Hackett Building.
Dutch Kills' longtime industrial and manufacturing past is holding fast along Jackson Avenue, where you will see AAA Rubber Stamps at Purves Street, Century Rubber Supply at 43rd Avenue, and Dykes Lumber (founded 1909), just south of Purves.
Vere26 at Jackson Avenue and Purves Street is by architect Robert Scarano, who has come under fire for conversions and new construction especially in Brooklyn. According to Curbed, Norval White admired the building and it will be included in theupcoming 2010 edition of The AIA Guide to NYC Architecture.
There's no better tableau of the changes coming in Dutch Kills than this juxtapoisition of 1910 and 2009 at the end of the street, which dead-ends at Sunnyside yards, as a new residential condo has gone up next to "Derrick & Hoist Co. Inc."
LIC in Black and White
A construction fence on Purves Street has been plastered with some curious black and white photos showing various scenes around Dutch Kills, Blissville and Hunters Point. Though I'm familiar with some of these locales, some of them stump me. Why have these been placed here? I will blow up several of the phots so they can be clearly seen.
The Courthouse
The NY State Supreme Court, Long Island City branch at Jackson Avenue and Court Square opposite the towering green Citigroup building, was originally constructed in 1876 by architect George Hathorne and, after a devastating fire, remodeled in 1908 by Peter M. Coco. It was originally the Queens County Court House and was the county seat of Queens. Its location here in the far west of Queens led Queens' three easternmost towns, Hempstead, North Hempstead and Oyster Bay, to secede from the county in 1898, desiring a county seat further east (now in Mineola). Thus, Queens lost 70% of its original territory.
The Courthouse witnessed the 1927-1928 trial of Ruth Snyder and her accomplice Judd Gray for murdering Snyder's husband. Her death in Old Sparky in Ossining was captured by a Daily News photographer who smuggled in a camera on his ankle. Decades later, when on trial here, Willie Sutton, according to legend, was asked why he robbed banks. His impeccably logical response was, allegedly, "that's where the money is." Sutton, however, dismissed the story in interviews.
"Why did I rob banks? Because I enjoyed it. I loved it. I was more alive when I was inside a bank, robbing it, than at any other time in my life. I enjoyed everything about it so much that one or two weeks later I'd be out looking for the next job. But to me the money was the chips, that's all."
"Go where the money is…and go there often." wikipedia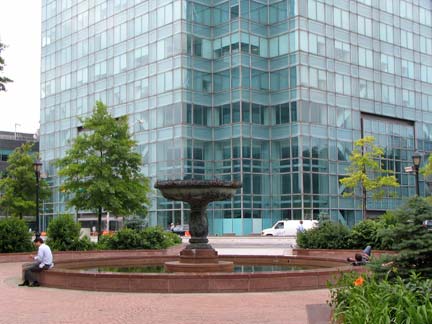 Miss Justice and her blindfold can be seen on a side door. The courthouse and its fountains present a winning contrast to the pale green Citigroup tower, Long Island's tallest building and among its handsomest.
Arris Lofts has converted a Zeese Wilkinson printing plant to residential luxury living. This is the corner of 44th Drive and Thomson Avenue spanning Sunnyside Yards. Thomson Avenue originally extended out to Elmhurst; Queens Boulevard assumed its route in 1910.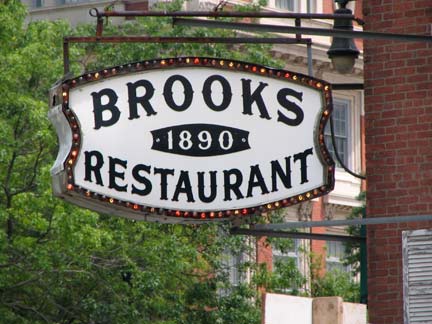 Surprisingly, I have found little information about Brooks 1890 Restaurant; it has been serving litigants, jurors, plaintiffs and defendants at Jackson Avenue and Court Square since 1890, according to the sign. Lost City has been similarly stumped:
Its origins are an unsolved case, one which nobody working there seems very keen on cracking. Mr. Brooks (actually Bill "Brooks" Gounaris) bought the place in the 1970s and stuck his name everywhere — on the sign hanging from the building, even on the sidewalk outside the entrance. But what went on in the place during the 70 years before that is anybodyís guess. The letters "K" and "N" are part of a beautiful, stained-glass canopy behind the bar. These likely stand for the last names of the founders of the restaurant, but nobody knows who "K" and "N" were.
I have always been somewhat stumped by the sundial at Crescent and Hunter Streets in the shadow of the Citigroup tower; the sundial honors four NYC heroes, two of which I can identify: Maria Hernandez, the Bushwick resident who was killed in 1989 fighting drug traffickers, and Brian Watkins, the Utah tourist who lost his life in the subway in 1990 fighting off muggers attacking his family. But I don't know Joseph E. McGrath or Vincent C. McNeill: a google search and a call to the Queens Library came up empty. Any takers?
It was about 2PM when I passed by. Is the sundial working properly? According to this website, the Citigroup Tower itself functions as a large sundial.
Though the gnomon is mostly broken off, it points to about 1PM, which it would be without daylight savings.
A pair of ivy-clad holdouts on 43rd Avenue and Crescent Street amidst rapidly-developing Dutch Kills. The neighborhood was once dominated by these low-rise residences along with light manufacturing.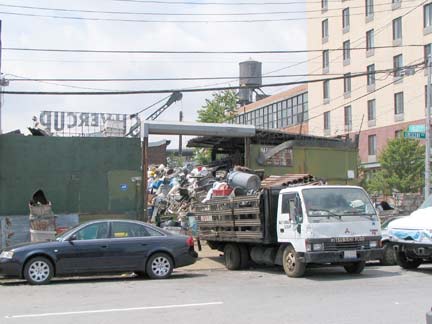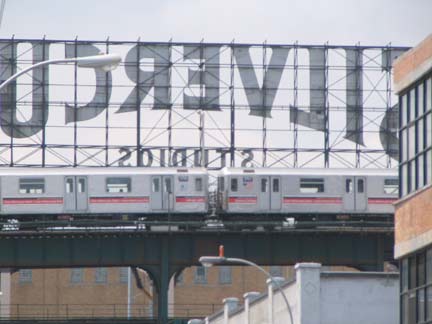 A metal recovery business on 42nd Road and Crescent Street carries on across the street from a Days Inn, backdropped by the #7 trestle on 23rd street and behind it, the iconic Silvercup Studios sign. The sign dates to the days when Silvercup was a bread baking plant.
Queensboro Plaza
Opened in 1916, Queensboro Plaza is the only cross-platform transfer point in NYC between the BMT (currently the N) and the IRT (currently #7) subway divisions. The situation dates to 1949, when the BMT assumed control of the Astoria Line and the IRT took over the Flushing Line; the BMT and IRT had jointly operated the Flushing until then.
As massive as it is, the elevated complex was formerly much larger:
Today's Queensboro Plaza is literally half of what it used to be. At the time of its construction in 1915-1916, Queensboro Plaza was the most complicated elevated structure in the United States. The eight track, four platform station served four different lines on two levels. It served the joint BRT-IRT operations (lines to Corona and Astoria) and the Second Avenue Elevated. A fourth line was planned, but never materialized. Trains crossed from Manhattan into Queens from the Queensboro Bridge (Second Ave. El), the 61st Street Tunnel (BRT), and the Steinway Tubes (IRT). Trolleys of the Queensboro Bridge Railway, Third Avenue Railway, and the Manhattan and Queens Railway also served the station at street level. When the Second Avenue Elevated ceased operations in 1942 across the Queensboro Bridge, the additional platforms were deemed excess and in the 1950s tracks were reconfigured and half (two platforms and four tracks) the station was razed. This left the structure we are familiar with today. Rail Nutter News
North of Queensboro Plaza, 41st (formerly Wilbur) Avenue and 27th (formerly Radde) Street, a small 1890s building housing a printing press, and Newcomers High School, which used to be William Cullen Bryant High School; Bryant moved to 31st Avenue and 48th Street in 1930, with this school becoming Long Island High School and then Newcomers in 1995. When ground was broken for the school in 1902, workmen uncovered the gravestone of a John Francis Ryerson.
Dena's Coffee Shop, 29th Avenue and 41st Avenue. With increasing Starbucksation of the coffee scene in neighborhoods all over town, it's good to still see local businesses like this one still operating. Looming behind is the clock tower of Queens Plaza's Bank of Manhattan building, the area's tallest skyscraper before the construction of the Citigroup tower in 1989.
This squat church now home to a Korean congregation on 29th (formerly Academy Street) netween 41st Avenue and 40th Road was once the First Reformed Church of Long Island City, organized 1875.
St. Patrick's, Dutch Kills
It tends to get lost in the glare of St. Patrick's Cathedral on 5th Avenue and 50th Street or even the Old St. Patrick's on Mott and Prince, but Dutch Kills has had its very own formidable St. Patrick's parish since 1867, with its edifice on 29th Street and 40th Avenue going up in 1898.
In 1898, the cornerstone was laid for a new St. Patrick's Roman Catholic Church. The congregation had begun worshipping in the area around 1869. Several years later they constructed a church at the corner of 24th Street and 40th Avenue. With the congregation continuing to grow, a new structure was built within the project area, on the northwest corner of 29th Street and 40th Avenue, Block 398 Lot 1. The St. Patrick's Roman Catholic Church continues to worship at this location to the present-day, although the building has been altered from its original brick-faced construction. NYC.gov
Alfred Mainzer, Inc. published a "dressed cats," "dressed dogs,"dressed mice," and "dressed hedgehogs" series of greeting cards between the 1940s and 1960s, with artwork by Eugen Hartung (1897-1973). The card company was founded in 1938 and has been located here in Queens since 1977, although this building is now occupied by artists' collective Flux Factory.
Holiday Inn has built a new high-rise lodging at 29th Street and 39th Avenue.
Moving on to 38th Avenue and 29th Street, this formidable residential building features the date of construction, 1905, at the cornice, some latter-day glass blocks at the entrance, and "Cornice & Skylights" rendered over the front door. The question is why?
Between 29th (Academy) and 30th (Lockwood) Streets and 38th and 37th Avenue runs a partially dirt road with a couple of buildings on it. Older maps (such as the one from 1908, left) show that this is Old Ridge Road, a small part of a much longer road that once ran from Dutch Kills northeast to a former town called Middletown centered at today's Newtown Road and 45th Street.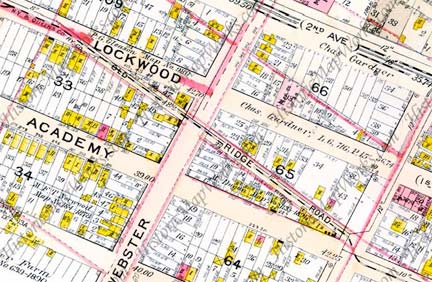 Note the dotted line shown on Old Ridge Road. It indicates that the NY & Queens County Railway Company once ran a surface line on the road, which may account for its survival long after the remainder of the road was obliterated. A similar situation exists on Jackson Mill Road in Jackson Heights.
Is there any trace of that long-ago surface railroad extant? If you look at Old Ridge Road from 37th Avenue, you can see a bit of track (circled in red) poking up from under the asphalt.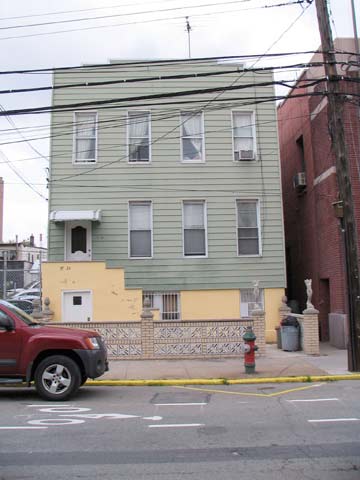 An otherwise underwhelming aluminum-sided house on 28th north of 38th has a couple of comely greeters.
The corner building at 30th Avenue and 37th Street features a painted tribute to pioneering rap group RUN DMC, whose members hailed from Jamaica, Queens, and a 9/11/01 tribute around the corner.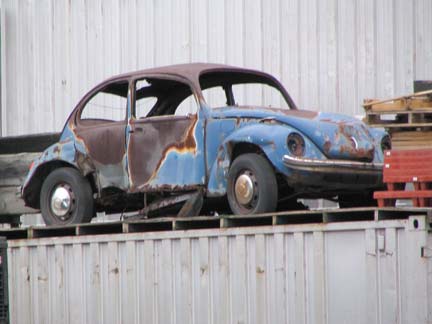 Bug Zapper. I snapped a dead Volkswagen in the lot next to the remains of The Marblette Corporation, on 30th just south of 37th Avenue. Marblette produced the molded colorful plastic known as Bakelite, used notably in radios (see a 1950 photo of the Marblette plant on this page). Its painted identification still survives here.
Tiring at last, it was time to catch the train home. I snapped a shuttered house on 31st Street and 37th Avenue; a number of ruins can be seen alongside the el in spots.
Photographed June 2009; page completed July 5
erpietri@earthlink.net
©2009 FNY