McCarren Park, on the border of Williamsburg and Greenpoint, is, geographically speaking, one of Brooklyn's more unusual parks. It is trisected by three streets, Bedford Avenue, Driggs Avenue, and Lorimer Street (the streets once had trolley lines and so, were not demapped when the park was created in the 1800s) and is thus in four distinct sections.

GOOGLE MAP: McCarren Park
Today I'm concentrating on a small sliver of Lorimer Street between Driggs and Nassau Avenues that faces the park. There are several reminders of businesses gone by there…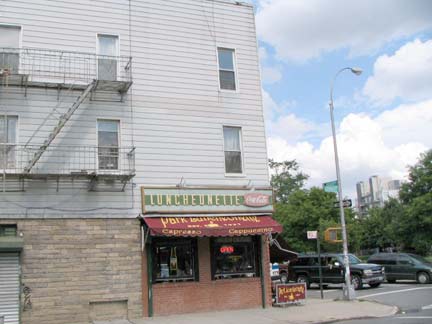 Park Luncheonette, corner Lorimer and Driggs, is going strong, but it has retained the "arciform" Coca Cola sign and distinctive gold-on-green lettering. Coca -Cola bottlers offered the signs to shopkeepers in return for prominently displaying the Coke sign. You can still see dozens of these old-school sign around town; they do their job clearly.
[Closed later in 2009; Sheryl Yvette's obituary here]
Royal Lace Paper Works. Not quite sure of the last years of Royal's existence, but one of their more popular products was Royledge shelf liner, used to create decorative borders on shelf edges. "Lace paper" describes a vareity of decorative paper products resembling lace. Paper Lace, of course, recounted The Night Chicago Died.
Preservaline was a manufacturer of chemical salts in combination with boracic acid, used as a preservative. This ad in Kit Clarke's The Practical Angler, published 1892, touts it as a preservative for game, birds and fish. By the 1950s it had expanded its operations to include spices and seasonings.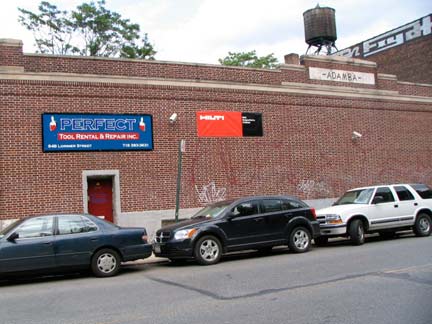 The "Adamba" on the brick building stumps me. There is an Adamba Imports on nearby Meserole Street, but it's not listed on Lorimer.
As you may expect there are a number of concerns named Warsaw in Greenpoint, the most famed being the rock club; there's also New Warsaw Bakery, a wholesaler on Lorimer which sells to area groceries. I have heard their specialty is rye.
Photographed June 2009; page completed July 6.