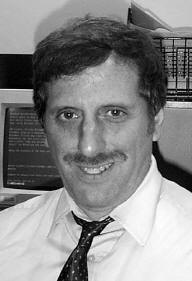 ForgottenTours resumed for the first time since late summer 2008 on August 16, 2009 with a walk around Jerome Park Reservoir, the Bronx's "Education Row." Assisting your webmaster on this tour was Brooklyn Daily Eagle managing editor and veteran tour guide (notably for the old Brooklyn Center for the Urban Environment) Raanan Geberer (left), whose recollections of the sites along the way proved entertaining on a hot and humid midsummer evening. Our route took us from the Kingsbridge Road IND station on the Grand Concourse an a rough circle around the now-empty reservoir and back.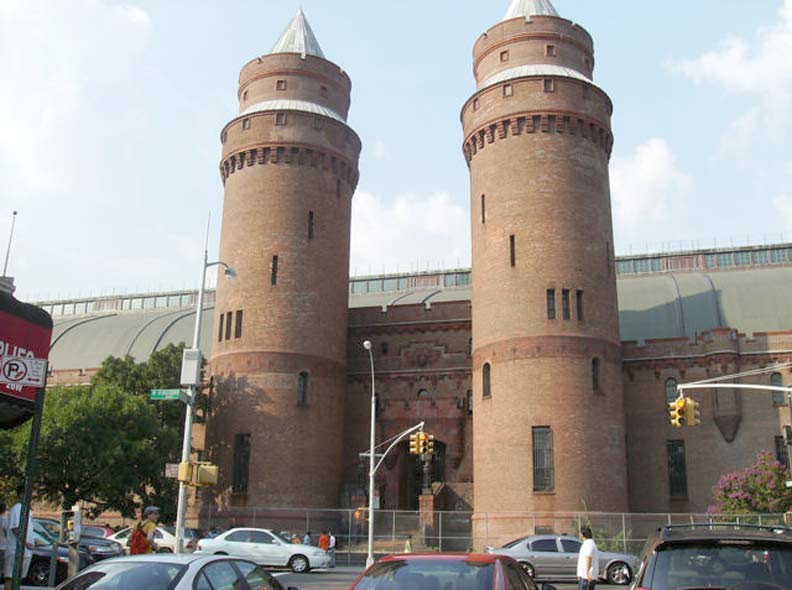 The Kingsbridge Armory, which faces the entire block of West Kingsbridge Road between Jerome and Reservoir Avenues, was the first stop. Though it has been unused for over 10 years, it is now the focus of a redevelopment project that hopes to bring mixed uses to the over 95-year-old fortress that may include retail.
WAYFARING: JEROME PARK RESERVOIR

From the
ForgottenBook
:
Believe it or not, the Kingsbridge Armory, on West Kingsbridge Road between Jerome and Reservoir Avenues, was at one time considered a prime NYC tourist attraction: in its tourist heyday in the 40s and 50s it was home to bicycle races and boat shows.

The Armory was built from 1912-1917 by architectural firm Pilcher and Tachau as a munitions storage area; when built it supposedly was the largest armory in the world. The interior dirt drill deck measured 300×600 feet. The Armory housed the 258th Field Artillery; the unit has its roots as a military escort for George Washington at his first inauguration. It is the largest of New York City's remaining armories, and at one time was the largest in the world. The best views are from Kingsbridge Road, but it also looms impressively over Davidson Avenue as you approach it from the south [as well as on Kingsbridge Road to its east, above left].
Kingsbridge Heights' Community Board 7 has taken a lead role in the redevelopment of the Armory and it's hoped that the immense building may play and increasing role in the neighborhood as a site for sports events once again, as well as movie shoots, concerts and cultural events. So many former armories around town are used as homeless centers (as I call them, people disposal) and I wish these 19th Century remnants could gain a more pleasant use in the 21st.
Yes, they are relics of that peculiar 19th Century vein of intimidation and perhaps overaggressiveness in architecture (the 1890s-1910s were a time when the USA began to acquire overseas holdings after the Spanish-American War, and the land grab that pushed Indians onto reservations was nearing completion) but NYC's fortresses, as well as the others scattered around the state and country, can be used for other purposes than advertising the big stick…

Entering Reservoir Avenue from West Kingsbridge Road, NYC's lamppost king Bob Mulero inspetced the Belgian blocks showing where asphalt pavement has worn through.
Do You Remember Walton?
Walton High School, 2790 Reservoir Avenue, was founded as an all-girls high school in 1923, became "co-ed" in 1977 and closed in June 2008. Today the building that housed Walton is home to several schools, including Discovery High School and PS 86. The design is nearly identical to that of Abraham Lincoln High School and Samuel J. Tilden High schools in Brooklyn. Throughout much of its history Walton High carried a good amount of prestige, with many graduates going on to Ivy League schools and prominent professions. Among its graduates are Congresswoman Bella (Savitsky) Abzug (1938), and comedienne/film director (Carole Marsciarelli) Penny Marshall (1960). Comedienne/ventriloquist Shari (Hurwitz) Lewis (left) also attended classes at Walton.
Last one in…
The Jerome Park Reservoir stands on the site of Jerome Park Race Course, and was named for the organizer of the American Jockey Club, Leonard Jerome (1817-1891). The Huguenot French-American was also a financier, stockholder in the New York Times, and founder of the Bronx Academy of Music. When a main Bronx artery, Central Avenue, was constructed in 1874, Jerome's wife Kate cast bronze "Jerome Avenue" street signs and had them positioned at intervals along its length. Eventally the City officially adopted the name. Among his four daughers was Jennie Jerome, who became the mother of British statesman Winston Churchill.
Jerome built the race track with August Belmont Sr. in the 1870s, and it was home to theBelmont Stakes until 1890. The village of Bedford Park, named for a British suburb, developed just east of the race course. After the race track closed, its land was redeveloped as a reservoir serving the New Croton Aqueduct. The 94-acre reservoir can hold over 770 million gallons of water.
When I first walked around the reservoir in 2000 (left) it was still filled, but it has been in a drained condition for several years of late. According to Lehman College, it has been named a state and national historic landmark, a status that doesn't necessarily preclude redevelopment at some time in the future.
Lehman College
Lehman College's impressive campus can be entered on Goulden Avenue on the Reservoir's east side. The college was founded in 1931 as the Bronx campus of Hunter College and was established in 1968 as an independent college of the City University of NY. It was named for New York State Governor (from 1933-1942) and US Senator (1949-57) Herbert Lehman in 1968.

Then-Hunter's handsome Collegiate Gothic buildings served as a national training site for women in military service in the 1940s, and it was interim headquarters for the United Nations in 1946. The original four buildings, Gillet and Davis Halls, the Music Building, and the Gymnasium, were completed in 1934.
ABOVE, LEFT: Views from Goulden Avenue. The campus also boasts more recent buildings designed by internationally renowned architects Rafael Viñoly and Marcel Breuer, that form a striking counterpoint to these traditional Gothic buildings.
Lehman boasts a (charmingly low-tech, like FNY) yet thorough demographic Bronx studies website, as well as The Institute for Irish-American Studies.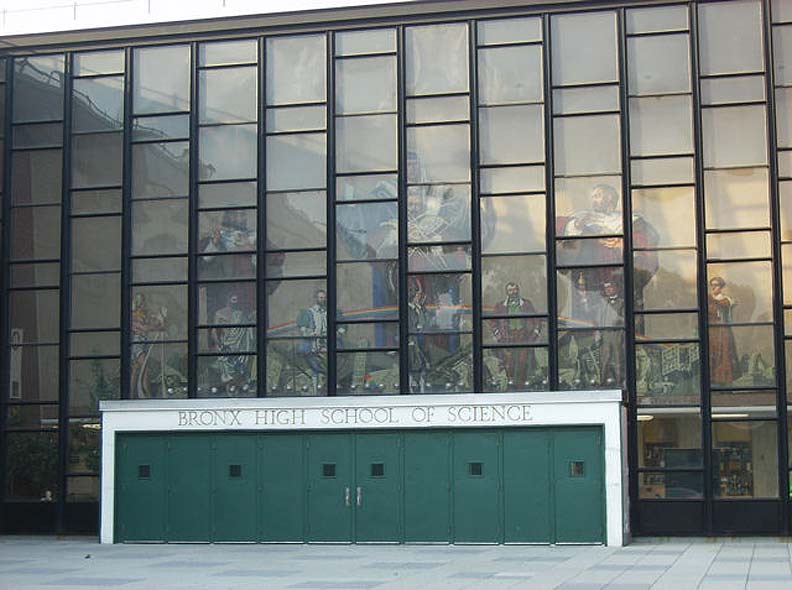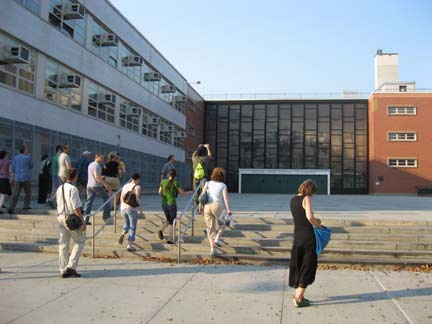 The Bronx High School of Science was founded in 1938 as an all-boys' school on Creston Avenue and East 184th Street (now Intermediate School 115). The current edifice was opened in 1959 on West 205th Street and Goulden Avenue. The school has developed a worldwide reputation as one of the best in the country and receives over 20,000 applications annually. The school colors, green ad gold, represent chlorophyll and sunlight "both of which are essential to the chain of life" according to its first principal, Morris Meister.
The present building was designed by architectural firm Emery Roth and Sons. At the main lobby entrance is a large mural by Frank J. Reilly depicting some of history's greatest scientists such as Marie Curie and Charles Darwin. The new campus was state of the art, with state of the art labs, classrooms and technical studios. In 1978 faculty member Stuart S. Elenko founded Bronx Science's Holocaust Museum and Studies Center, which moved into its own space separate from the high school in 2006.
Bronx Science students have clashed repeatedly with kids from the tougher DeWitt Clinton HS a block away over the years. Among its graduates are seven Nobel Prize winners and six Pulitzer Prize winners, as well as civil rights leader Stokely Carmichael (1960), actor Dominic Chianese (1948),Young Lords co-founder and TV reporter Pablo Guzman (1968), and singer Walden Cassotto (Bobby Darin, 1953).
I've not been able to amass any information on what appears to be the 1930s Machine-Age style gatehouses found at West 205th and Goulden and Sedgwick and Goulden. They were built a couple of decades after Jerome Park Reservoir opened in 1906, from the looks of things. The exterior of the reservoir is severely fenced off as it has been since the 1950s or so; when Jerome Park Reservoir first opened, it was possible to stroll around it on a pebbly path (the old Croton Reservoir replaced by New York Public Library on 5th and 42nd also had room for strollers). In the wake of 9/11/01, I wouldn't expect any closer access to the water, especially if/when the reservoir is filled again.
DeWitt Clinton High
Given what Raanan was saying about De Witt Clinton High School, your webmaster may not have made it out of my teen years had I attended school here or even lived in the vicinity! Clinton, however, has produced industry, business, sports and politcal figures that have enriched the globe. Above we see the back wall and schoolyard, with the Bronx' tallest structures, the Tracey Towers, designed by renowned architect Paul Rudolph, peeking in the background. A Chinese food deliveryman was once stuck in Tracey elevator for two days.

DeWitt Clinton High School
is housed in a magnificent neo-Classic campus built in 1929 at the northeast end of Jerome Park Reservoir, where Goulden Avenue, Sedgwick Avenue and Mosholu Parkway come together. (The school was dedicated October 29, 1929 — Black Friday, when the stock market crashed). This is actually the school's third building – it was founded as Boys' High in Greenwich Village in 1896, moved to 10th Avenue and West 59th Street in Hell's Kitchen (which some call Clinton) in 1906, and then to the Bronx 23 years later. It was the last gender-segregated public high school in NYC until 1983, when girls were accepted. At one point in the 1960s, 12,000 students were enrolled, making it the largest high school in the world; at present, over 4000 attend.
New York Times: Its alumni include Ralph Lauren, James Baldwin, Marvel Comics' Stan Lee, Richard Rodgers (writer of 42 Broadway scores, including "Oklahoma!"), Nate Archibald (the pro basketball player known as Tiny), Richard Condon (writer of "The Manchurian Candidate"), Seymour Berger (creator of the modern baseball card) and Tracy Morgan of "Saturday Night Live" among many other writers, athletes, directors, chief executives and government officials.
In their new book, "The Castle on the Parkway: The Story of New York City's DeWitt Clinton High School and its Extraordinary Influence on American Life," Gerard J. Pelisson and James A. Garvey III, former Clinton teachers, embarked on an exhaustively researched telling of the Clinton story, from its establishment in 1897 in Midtown to its contemporary status as one of the largest public schools in the Bronx. But most important, the book is a tribute to the outstanding, often unsung alumni.
"Other Bronx schools tended to be stuck away on some street somewhere," Mr. Pelisson said. "Here was a school that had its own swimming pool, football field, track field and a big avenue in front of it adorned with trees and plants. In the days of the Depression, it must have been quite the sight."

ABOVE LEFT: Raanan Geberer and tourgoers at Mosholu Parkway, a road I originally thought had a Japanese name. Instead Mosholu is derived from an Algonquian Indian term for "small stones" or "smooth stones" that lined the now submerged Tibbett's Brook. Mosholu is part of two (still!) beautiful parkways (along with the Bronx and Pelham Parkway) encouraged and suggested in large part by newspaper reporter John Mullaly in 1981. A large park north of the old Yankee stadium, where the new Stadium now stands (2009) was named for Mullaly.
ABOVE RIGHT, LEFT: a mysterious structure obviously connected with the reservoir likely provides underground access. It is well guarded.
Doorway on Hillman Avenue, Amalgamated Houses. The Amalgamated was the first union-sponsored housing coopwerative in the United States, sponsored by the Amalgamated Clothing Workers Union under the leadership of Sidney Hillman (for whom Noble Avenue was renamed in 1950) and created by Abraham E. Kazan, "the founder of cooperative housing in the USA." The first buildings between Sedgwick Avenue and Van Cortlandt Park South went under construction in 1927 and the latest additions were completed in 1970.
I found an unusual source for material on the Amalgamated: ForgottenFan Lex Robie, whose Lex's Folly has an informative section on the houses.
The structures were built inexpensively and with no frills, but they produced an attractive and comfortable environment for families and community interaction. Plus they had style. Similar to housing projects of today, they were a series of interconnecting high-rise buildings, organized around communal public space. But back then, the developer and the architect made an effort when it came to design. The public spaces were green spaces with paths, shaped gardens, and fountains. The buildings were designed in a Tudor style with large windows.
The houses are a remnant of a period (prior to a time when full knowledge of the butcheries of Joseph Stalin had become fully known and the totalitarian governments that had featured socialism were duly reviled) when Socialism and Communism were considered viable alternatives to the purely capitalist system espoused in the USA:
Lex Robie:
I am fascinated by the history of radical thought and utopian ideals in this country. So much of our country's best aspects were developed by people who refused to let their dreams die. Worker's rights, woman's rights and civil rights were won because a radical started the fight. What may have seem like an impossible idea could come true. A worker could be paid a living wage. A woman could vote. A black man could go where he wanted. Our current struggle: a gay's right to marriage.

Radicals may be self-righteous and downright frustrating, but they are necessary for a society to progress forward. My new friendís family and their neighbors fought for higher wages and better working conditions. They fought against eviction and slumlords. They fought for a better world, because they had already seen the worst and knew there was only one-way for them: up. And they wanted it not only for themselves, but also for everyone else.

However their major contribution to society was the idea of cooperative apartment building. While it has transformed over the years in two very divergent directions: the modern coop and the city owned housing project, the spirit still remains in union constructed housing, where community and affordability are the key factors.
Amalgamated is one of 3 housing cooperatives in the northern Bronx created in the 1920s, along with the Sholem Aleichem Cooperative on Giles Place (we visited it on the tour) and the United Workers Cooperative Colony (Allerton Coops) which still displays the hammer and sickle symbol over some of its doorways.
Van Cortlandt Village and Fort Independence Park
The Bronx is quite hilly on Jerome Park Reservoir's upper left flank, and streets in the area meander around or occasionally drop off to what are impressive vistas on clear days. The street plan, prominently featuring Sedgwick Avenue on the reservoir's west side, and the curving Orloff Avenue, Cannon, Stevenson and Giles places, were laid out by Frederick Law Olmstead, co-architect of Central and Prospect Parks.

At the present time, Fort Independence Park represents the only public green space that ios directly adjacent to the reservior, running along Sedgwick Avenue between Gouverneur Avenue and West 238th Street. There's an original gatehouse here and sticking your nose through one of the holes in the iron door produced a chlorine smell — one of the few evidences of water at the reservoir in 2009.
NYC Parks:
As Commander-in-Chief of the Continental Army, General George Washington ordered the construction of outer defenses throughout the Kingsbridge area. Fort Independence was built under the direction of Colonel Rufus Putnam in 1776 to protect the American army and to safeguard the line of the Harlem River. An entrenchment ten feet wide and three and a half feet deep surrounded the austere fort. From its elevated position, the site commanded an extensive prospect of the surrounding countryside. In the fall of 1779, the fort was destroyed by British forces led by Sir Henry Clinton.
NYC acquired the land by condemnation in 1895 and this became a NYC park in 1915, the same year cannonballs from the old fort were unearthed. The park acquired its name with this circumstance.
The west side of the reservoir presents a completely different, residential, character than the east side. We observed several handsome houses and invaded a couple of cul-de-sacs including Armand Place, located off Perot Street just west of the reservoir, right. We also visited Shrady Place off Kingsbridge Terrace.
Before bringing Tour 37 to an end (it was hot out there) we detoured to Kingsbridge Terrace, where adjacent to Summit Place you will find the landmarked former 40th (later 50th) Police Precinct Station House. The red brick Beaux Arts building was constructed in in 1902. It is now the
Kingsbridge Heights Community Center
.
[image not found]
Here's a video by Joe DeMarco with some of mine and Raanan's narration…it's verité! Your webmaster never comes off well on camera, let me caution you.
Check FNY for news about ForgottenTour #38 in late September 2009!
Phots by your webmaster, Eric Weaver, Joe DeMarco and Bob Mulero. Thanks again to Raanan Geberer for his insights!