While walking around town between one Open House NY venue and the other, I managed to snap a few scenes of objects that interested me. Some of this stuff is arguably more interesting than the offerings OHNY proffered. Most of these shots come from those nebulous regions of no great identity in Manhattan, the outskirts of the garment district, the vicinity of Madison Square. Many of these buildings and businesses are behemoths and denizens of the 1920s and 1930s, when architects still provided details somewhat germane to the surrounding area.
Both the Giovanni Esposito and Sons Pork Shop and the Manganaro Grosseria, 9th Avenue between West 37th and 38th Streets, feature venerable signage and if you're a carnivore, mouthwatering displays in the windows. Manganaro is famed for the Hero Boy, a 6-foot long hero sandwich, and two branches of the Manganaro family run two separate stores side by side here; the family has run a grocery in Hell's Kitchen since 1893. When the Metropolitan Opera was located at Broadway and West 39th, many of the performers from Italy made it a home away from home.
There was a rumor that Manganaro's was closing in 2011, but the owner disputed the report.
Esposito Pork Store has one of the most ravenous "animal cannibals" I've seen on the 9th Avenue side.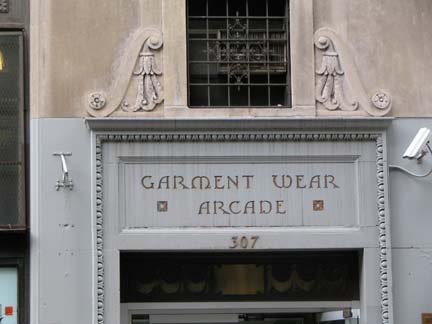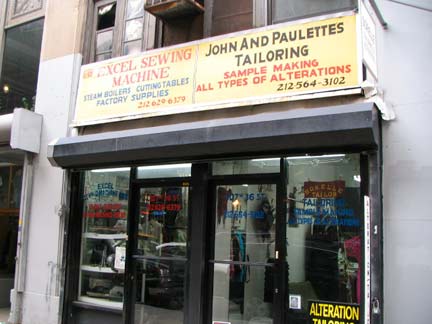 I liked these two graphics side by side on West 36th just west of 7th Avenue — Garment Wear Arcade's beautifully serifed lettering, and the hand-painted sign above the tailor.
When I heard Capitol Fishing Tackle was moving out of the Chelsea Hotel, where it had been for decades, I thought that was the end for its red and green neon sign — but was pleasantly surprised to see it reinstalled at their new locale here at 132 West 36th.
I had been unaware that Broadway isn't so broad anymore between Herald and Times Squares — I had known that much of Times Square had been given over to tables and chairs, but didn't know that tables-and-chairs-ism had been extended so far south. I don't know what this has done to traffic patterns overall, but 7th Avenue can't be much good during the week. Two lanes of Broadway traffic have been retained from 42nd south to 35th, and a painted bike lane has been instituted. Pedestrian crossing is much easier at 6th, 34th and Broadway, though.
Can't tell you much about 5-7 West 22nd Street, other than that it's piquantly named the Spinning Wheel Building and that it was completed in 1902 by architect James Barnes Baker. A worn plaque says that the building was erected to replace an earlier one that was at one time inhabited by portrait painter and telegraph code developer Samuel Finley Breeze Morse. You can find a statue of Morse at the 72nd Street Transverse near 5th Avenue in Central Park.
10/19/09