Unlike 2008, which was mostly overcast with a threat of showers both days, Open House New York weekend 2009 in NYC was spectacular weatherwise, with partly cloudy Saturday morning giving way to full sun by midafternoon, with Sunday a carbon copy. Unfortunately the MTA did its best, as is its wont, to be the dog in the manger, providing disruptions on all its lines except the M, which runs as a shuttle on weekends anyway, and the #3, in Brooklyn and Manhattan. Wearied somewhat by the ceaseless rushing about on OHNY in previous years, I visited only a few locales — but participated as a narrator for the first time.
On the Saturday I visited Caples Jefferson Architects at 330 West 38th between 8th and 9th Avenues. Formerly in home territories for me, albeit briefly, as I worked the night shift in a type shop (Line & Tone) in the upper West 30s between 7th and 8th for a few months in early 1992. I chatted with some of the architects and found the offices, on the top floor, to have some nice views of the surrounding area. In the building lobby, I found some pneumatic mail tubes and this gorgeous US Mail letterbox.
Fortuitously I found that Caples Jefferson is working on several projects having to do with historic sites in NYC, such as a new visitors center at Weeksville, a row of preserved 19th-Century dwellings in Ocean Hill, Brooklyn (above left); a new Queens Theatre In the Park, adjoining the old Philip Johnson New York State Pavilion (decaying, but possibly in line for rehab) and a new visitors center for the Louis Armstrong Museum in Corona, Queens.
I dropped into the rectory of St. Mark's Church, 232 East 11th Street, designed by architect Ernest Flagg in 1900 and rebuilt after a 1988 fire. The building currently houses the headquarters of the Neighborhood Preservation Center and the Historic Districts Council, two organizations obviously admired by your webmaster. Flagg also designed the Singer Tower, which stood at Broadway and Liberty Street from 1908-1967 and was at one time the tallest building in NYC, as well as Flagg Court, a marvelous co-op complex in Bay Ridge, Brooklyn.
I visited another locale where I had never been before, the Theodore Roosevelt Birthplace Historic Site, run by the National Park Service (you can tell by the brown sign) at 28 East 20th Street near Gramercy Park. Ted never actually lived in this building — the house where he was born in 1858 and spent much of his childhood was torn down in 1916. The Women's Roosevelt Memorial Association purchased the property in 1919 and rebuilt the house, stocking it with items owned by Roosevelt's sisters and wife. There's a comprehensive history of Roosevelt's early life, his exploits with the Rough Riders in the Spanish-American War and as New York State Governor, and his "trust-busting" and peacemaking efforts (he was the first President, of 4 so far, to win the Nobel Peace Prize).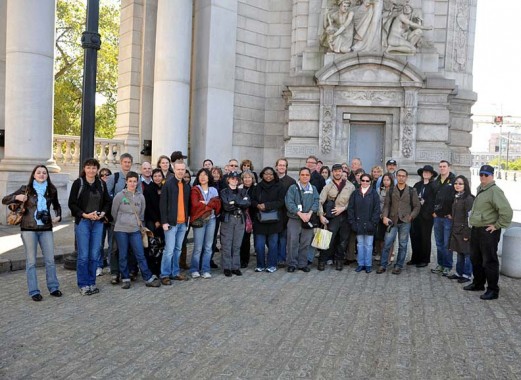 Your webmaster, for once, is in a tour team picture — that's me on the right — as I assisted photographers Bernard Ente (who sadly passed away in 2011) and Dave Frieder on their Manhattan Bridge tour on OHNY Sunday, October 11. I don't often appear in photographs — the camera adds a chin or two. There are some people, who undoubtedly need glasses, who say that the chins are there even when the camera isn't. photo: Bernard Ente
My task was to mention the magnificent Manhattan-side triumphal arch and colonnade, both based on European structures: Porte St. Denis in Paris, and the Giovanni Bernini Colonnade at St. Peter's in Vatican City. They are the works of the Beaux Arts era architects Carrere and Hastings and were completed in 1909, the year the Manhattan Bridge opened — it's celebrating its centennial this year [2009]. The arches, colonnade and bridge were the path we followed on ForgottenTour 34 in June 2008, and it was fun to revisit the locale. No other bridge entrance anywhere in the city is quite this grand.
Postcard-quality views of the Brooklyn Bridge, the skyline beyond and Empire State-Brooklyn Ferry Park were available and OHNYites took full advantage.
10/15/09