Catalpa Avenue, a street running west-east in Ridgewood, slots between 68th Road and 69th Avenue between Seneca and Myrtle Avenues and 65th Place. Catalpas are large-leafed trees that generally grow to a height of 60 feet and can be found in North America, the Caribbean, and East Asia. The proper name is actually a Native American word, catawba, but a botanist's transcription error originated the catalpa rendering. I'm not sure if there are any catalpas on Catalpa Avenue.
Ridgewood Baptist Church, 64-13 Catalpa, one of a number of picturesque churches found on the avenue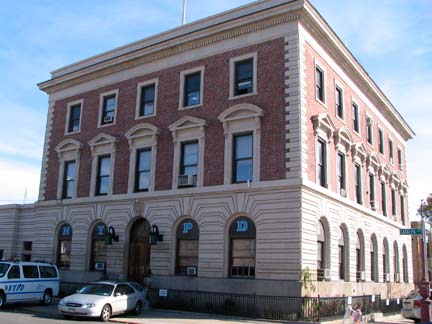 NYPD 104th Precinct, with traditional green-paned entrance door lights, Catalpa and 64th Street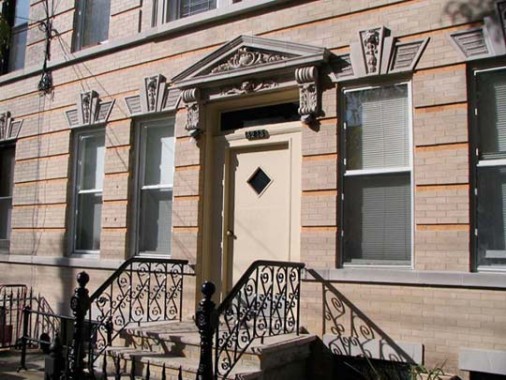 62-13 Catalpa, attached brick dwelling with original iron rails intact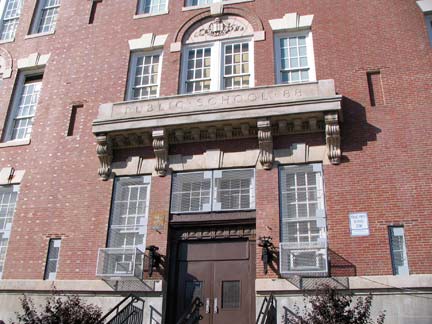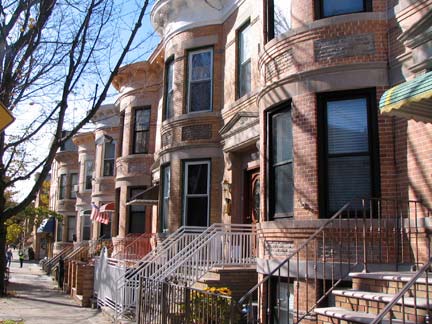 PS 88 and bay-fronted attached houses, Catalpa Avenue west of Fresh Pond Road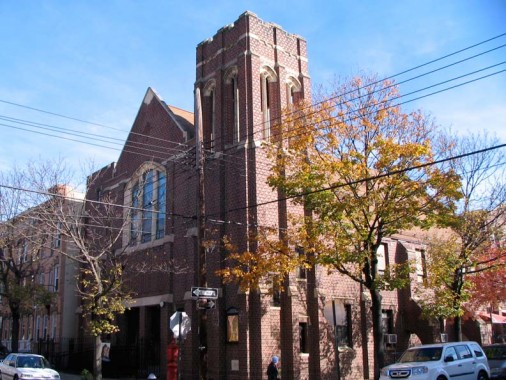 Covenant Lutheran Church, Catalpa Avenue and 60th Lane
A Moderne building, some traditional brickfronts, and Veterans of Foreign Wars Post 123, near 60th Street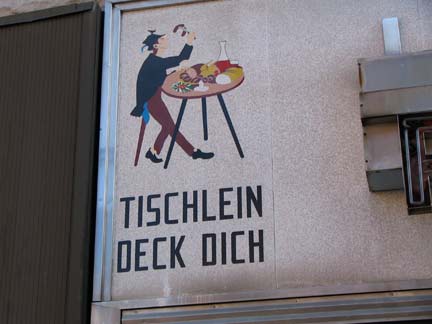 Morscher's pork store, Catalpa and Woodward Avenues. The German inscription means roughly: 'little table, set yourself' and is taken from the Grimm brothers' classic story "The Wishing Table, the Gold Ass, and the Cudgel in the Sack." The context is a magic table that sets itself:
When the tailor was thus left quite alone in his house he fell into great grief, and would gladly have had his sons back again, but no one knew whither they were gone. The eldest had apprenticed himself to a joiner, and learnt industriously and indefatigably, and when the time came for him to go travelling, his master presented him with a little table which had no particular appearance, and was made of common wood, but it had one good property; if anyone set it out, and said, "Little table, spread thyself," the good little table was at once covered with a clean little cloth, and a plate was there, and a knife and fork beside it, and dishes with boiled meats and roasted meats, as many as there was room for, and a great glass of red wine shone so that it made the heart glad.
The store replaced its old neon sign in 2010, but the "tischlein" art is still there.
Other than St. Aloysius on Onderdonk Avenue and Stockholm Street, St. Matthias Church on Catalpa between Woodward and Onderdonk is the tallest building in Ridgewood.
St. Matthias Parish, named for the apostle that replaced Judas Iscariot, was established in 1908 and the church originally occupied the building now home to the parish school — much like my home parish, St. Anselm in Bay Ridge. When the church outgrew the building, the new church was built between 1924-1926.
Photographed October 2009; page completed November 16.