In "Mellow Yellow" Donovan is actually saying he's just mad about Frontine, but in 1960s transistor radio-squawk that was always rendered Fourteen, and I thought he liked teenagers, which wouldn't have surprised me. Your webmaster has always been mad about 14th– East and West 14th, the first numbered street to go coast to coast — of Manhattan, from the Hudson to the East Rivers. That's where I walked in October 2008 on a street that has its share of interesting architecture, mass transit, parkland, lampposts, signage and atmosphere.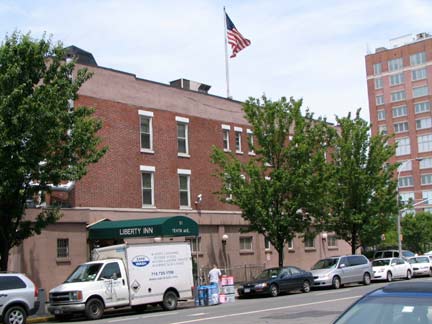 West 14th Street is present at the 'birth' of 10th and 11th Avenues (from West Street) at its far western end, and the triangle of land formed by the three thoroughfares is home to the Liberty Inn, which goes back all the way to its 1908 construction by poultry wholesalers. It has long been a haunt for seafarers (as the Strand Hotel) and has operated as the Liberty since 1969. The Liberty was home to a gay club on the ground floor called The Anvil from 1974-1986. It's still something of a hot-sheets joint.
10th Avenue is one of the longest north-south routes in Manhattan. As Amsterdam Avenue, which it becomes at West 59th Street, it marches north all the way to Fort George Avenue at High Bridge Park.
A highway sign guides traffic to the "meat market," a term that could be applied to more than one "meat market" at one time. These days, the innuendo is ascendant as the Far West Side's center of meat wholesaling is being dispersed away from these few blocks — though there are still some around, this is now a fashion and recreational center with boutiques, hotels, restaurants and clubs.
Hudson River Park is located in the quadrilateral formed by West 14th & 15th Streets and 10th and 11th Avenues. At left: a look across the park at the under-construction 450 West 14th, the "High Line [Office] Building," and the Standard Hotel, completed in 2008 and straddling the old freight line, now a lengthy urban park/promenade. The hotel's concrete stanchions have been colloquially called "stripper legs" which is appropriate, since some hotel patrons have been known for showing their shortcomings to High Line walkers. Only in New York, kids. RIGHT: this is actually just a small section of Hudson River Park, which properly extends along the river from Battery Park north to West 59th Street, though much of it is yet undeveloped. The arched iron gate is echoic of the one across 11th Avenue marking the White Star-Cunard Lines piers that used to be there. Through this gate we see the Pier 57 building, until 2003 an MTA bus depot.
The West Side Freight Railroad, now the High Line, actually burrows through a number of buildings along its route, such as the Nabisco baking facility now home to Chelsea Market…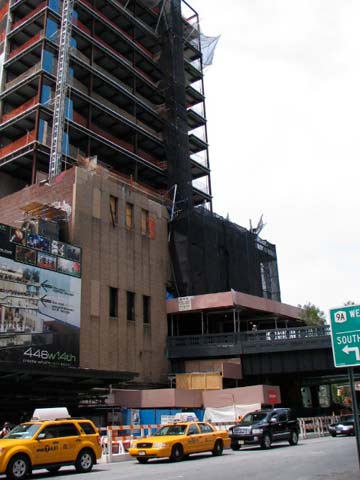 …and 450 West 14th Street, which was, in its earlier buff-bricked existence, Cudahy Cold Storage, a meat warehouse where cattle carcasses were delivered by rail and processed for consumption. Loading docks on the side of the tracks allowed delivery from the WSFR.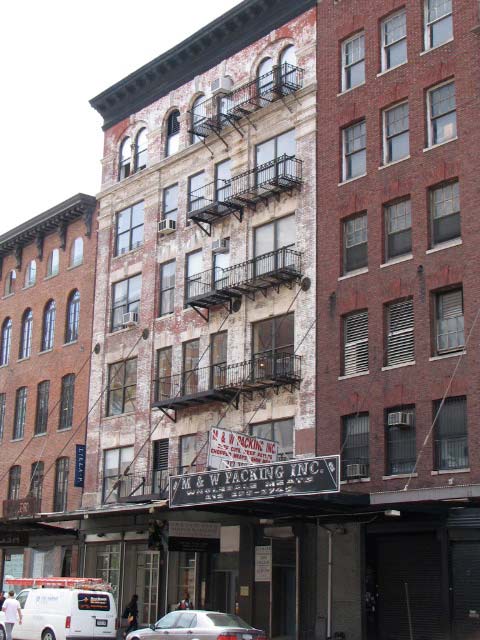 M & W Packing, the last meatpacker left on West 14th Street.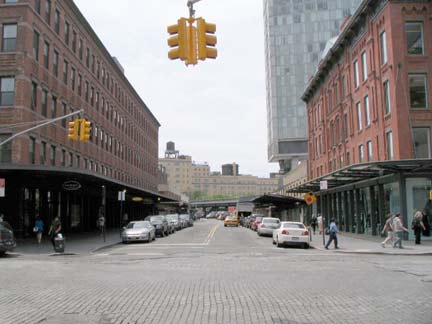 Washington Street, which runs, with some interruptions, from West 14th Street south to Battery Park. The Standard dominates the right side of the photo.
1887 brick apartment house built as worker housing by the Astor family, later a cold storage meat warehouse, and then purchased and restored, along with the installation of an asymmetrical glass dome, by fashion doyenne Diane Von Furstenberg, who, along with husband, communications mogul Barry Diller, has been a major donor to the High Line project.
On the M&W Packing building, note the faded name of a previous tenant, Edward Davis. Also note that West 14th between 9th and 10th Avenues still features paving with vintage Belgian blocks.
The south side of West 14th is home to art galleries such as The Heller and museums such as the Ground Zero Museum Workshop:
The Ground Zero Museum Workshop in the Meat Packing District on West 14th Street features stunning images, rare video and remnants from the Ground Zero Recovery Period, all packed into an intimate and emotional space. On display are 100 of Gary Marlon Suson's most well-known images, including the charred Genesis 11: Tower of Babylon Bible Page found in the WTC rubble, the Frozen Clock stuck at 10:02am, marking the collapse of the South Tower and several FDNY Honor Guard images. The actual clock itself is also on display in the museum. NewYork.com
Though most warehouses and packers have been converted to new uses, their old metal sidewalk awnings have been piquantly retained.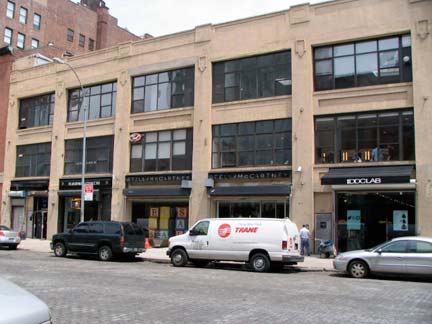 Stella McCartney boutique. Stella, second child of Paul and Linda McCartney, is an internationally renowned fashion designer.
9th Avenue
The intersection of West 14th and 9th Avenue — Hudson Street begins its march south to Tribeca here as well — has had multiple changes echoic of the overall transformation of the Meatpacking District as old buildings have been shined up like new and new things like pedestrian plazas and bicycle lanes have sprung up. Just south of here, 9th Avenue begins at Greenwich and Gansevoort Streets and continues under its own name north to West 59th, where it hands off to Columbus Avenue. 9th Avenue isn't done, though — there's a pair of short stretches running north from West 201st, and 9th Ave. provides Broadway's final intersection on the island of Manhattan before it spans the Harlem River. Like many other of 14th Street's intersections there are some magnificent structures found on this corner.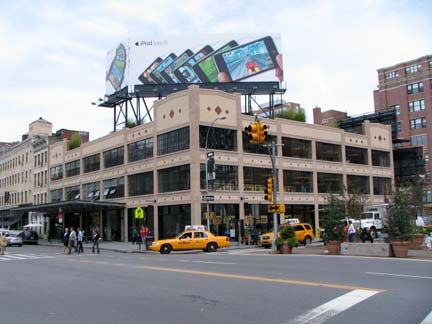 New York's 3rd Apple store (where the mac your webmaster typed this on was purchased 1/1/08) was once part of the M & W Packing "empire," later becoming part of the Western Beef supermarket chain.
Former area resident (now in Nyons, France) Patricia Fieldsteel, writing in The Villager, remembers the unique vibe:
There were open white-plastic barrels of pig ears and snouts in brine: 10 and 20-gallon jugs of pork bellies and carpet-sized rolls of tripe. You needed a strong constitution to shop at Western Beef, which originally was a warehouse where one walked into a glacial auditorium-sized freezer with entire cow, hog and sheep carcasses hanging from hooks on the ceiling… anyone who wanted to become a vegetarian only needed to go in their meat department and they would be cured forever of eating meat.
Tripe has been replaced by IPads! Directly across 9th Avenue is The Diner and the Old Homestead Steak House, opened in 1869 (in what could be the same building standing there today). Directly to the rear is the Porter House, a 1905 warehouse. What looks like a Borg Cube has landed on the roof.
On the south side of West 14th and 9th is the Kelly Building.
Between 9th and 8th Avenues: At 330 is the Church of Our Lady of Guadeloupe at St. Bernard, built in 1875 by prolific (700 churches designed) ecclesiastical architect Patrick Keely in neo-Gothic. The pre-existing St. Bernard Parish combined OLG (see below) in 2003.
A Deco doorway, at 315, the Vidon apartment building.
14th Street between 7th and 9th Avenues was once the location where Spanish immigrants lived and worked. On this block was the Spanish-American Workers Alliance, and we will see more evidence once we pass 8th Avenue. HP Lovecraft's "Cool Air" was about a recently deceased doctor — one Dr. Muñoz — who keeps himself 'alive' with air conditioning. The story was set on this block:
The place was a four-story mansion of brownstone, dating apparently from the late forties, and fitted with woodwork and marble whose stained and sullied splendour argued a descent from high levels of tasteful opulence. In the rooms, large and lofty, and decorated with impossible paper and ridiculously ornate stucco cornices, there lingered a depressing mustiness and hint of obscure cookery; but the floors were clean, the linen tolerably regular, and the hot water not too often cold or turned off, so that I came to regard it as at least a bearable place to hibernate till one might really live again. The landlady, a slatternly, almost bearded Spanish woman named Herrero, did not annoy me with gossip or with criticisms of the late-burning electric light in my third-floor front hall room; and my fellow-lodgers were as quiet and uncommunicative as one might desire, being mostly Spaniards a little above the coarsest and crudest grade. Only the din of street cars in the thoroughfare below proved a serious annoyance.
(Despite Lovecraft's erudition and mastery of the horrific literary form, his upbringing in the Protestant New England of the 19-oughts did not permit him to regard anyone but white Northern Europeans as anything but subhuman, and this has to be kept in mind when reading both his fiction and non-fiction.)
8th Avenue
Here we find two more monumental edifices and an underground transportation hub.
This, actually, is two FNY motifs in one — this beautiful copper domed, Corinthian-columned building on the NW corner of 8th Avenue and West 14th Street is the former New York Bank For Savings, constructed in 1897 by architect Robert Henderson Robertson. It passed through incarnations as Goldome Bank, Central Carpet, and most recently, Balducci's, which closed its NYC locations in April 2009. The Classic Revival bank resembles its contemporary, the Bowery Savings Bank in Chinatown. The former bank was restored in the 1980s by Robert Scarano Jr. Note the white marble exterior and the stained glass windows surrounding the dome.
The copper clock features renderings of bees and beehives, a traditional symbol of thrift.
On the opposite corner is a building even more majestic, if that's possible: what was originally the New York County National Bank (ghost letters can still be seen on the pediment), from 1907 by architects DeLemos and Cordes with Rudolph Daus. (DeLemos and Cordes also designed other monumental buildings like the Siegel Cooper Dry Goods Store on 6th Avenue and West 18th and Macy's in Herald Square)
After a stint as Manufacturers Trust– later Manufacturers Hanover Bank the building became a theater and then Nickel, a spa for men.
8th Avenue and 14th Street is the site of a small subway interchange. The BMT Canarsie Line's western terminal has been at 8th Avenue since 1931 (the rest of the line in Manhattan opened in 1924) and there is an express station of the IND 8th Avenue line here (left).
Oddly, for many years, this was the only non-IND station using IND design. When the Canarsie line was extended west in 1931 the new station was built to IND specs (1970s view, above left). A late 1990s renovation copied the mosaics used elsewhere on the line, but without painstaking mosaic work; paneling was used instead. The train car is a vintage R9 car used for a fan trip. Photos: nycsubway.org
North Village Wine & Liquors sign;
242 West 14th, where the dirty videos went, at least some of them, after Times Square was cleaned up. Adjoining 246 was formerly Nell's, a 'quiet club' and Patrick Bateman haunt run by Rocky Horror actress Nell Campbell.
Between 8th and 7th Avenues, you will see several walk-up apartment buildings with stairs and vintage railings. These likely went up in the early 1850s.
More evidence of a Spanish-American population, the Spanish Benevolent Society (La Nacional) and restaurant at #239. Adjoining to the left is #241, one of the first masonry buildings on West 14th, built by Andrew Norwood in 1847.
The unusual brownstone at 229 West 14th is the former Church of St. Guadeloupe (the parish merged with St Bernard a block west — see above). The facade can be described as Spanish Baroque. It was built in 1853 and received this redesign in 1921. According to NY Songlines' Jim Naureckas, Jack Kerouac was a regular parishioner at one time. Today it is the home for offices of the merged parishes.
Marble and stained glass exterior detail. There are 3 pairs of mysterious (to me) initials, so if anyone knows what they stand for, let me know. There's what looks like "SHJ" (Sacred Heart of Jesus?) above the balcony window, and the "TAR" and AM" on accompanying friezes.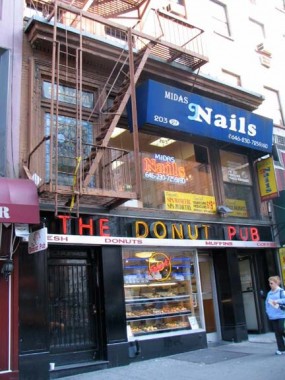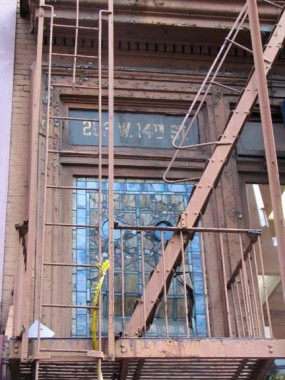 The Donut Pub, at #203, bears the stained-glass signature of a former bierkeller or perhaps more genteel saloon.
7th Avenue
The mystery of the statue on the exterior of the narrow, red-brick masterpiece (200 West 14th) on the SW corner of 7th Avenue and West 14th Street was solved for me by Naureckas, who explains that this is the old Jeanne d'Arc Building, once a place where out of town French stayed when in town. Wally G on Flickr explains further:
200 West 14th Street, also known as the Jeanne d' Arc, was designed by architect James W. Cole and built for owner Henry Meinken between 1888 and 1889. The French flat originally housed eight families above ground-level commercial spaces. Sophisticated facades hint at Cole's desire to present the corner building as a middle-class dwelling. They are composed of American-bond brick; carved brownstone sills, lintels, stringcourses, and pilasters; and a projecting pressed-metal cornice. The north elevation projects a central entrance surrounded by carved figures, and above it, a stone statue of Joan of Arc. Aside from its architectural merit, 200 West 14th Street is significant as the earliest existing "French flat" along 14th Street, and as a remnant of the street's brief period as an upper- and middle-class residential enclave.
200 West 14th is guarded by armless & legless caryatids and griffins over its front entrance balcony. I have never figured out what the inscription on the Joan of Arc statue is…it looks like "Lear" or "ear." My guess is it once said "Jeanne D'Arc" and most of it has broken off. A heroic equestrian statue of Joan can be found at Riverside Drive and West 93rd Street.
One of two papaya-hot dog joints on 14th Street, this one was in the national Papaya King chain. Though the combination hits the spot, I had often wondered at how the duo came to be yoked like this. The answer lies in location. Bunned meat wasn't offered when the original Papaya King opened in the heart of Yorkville at East 86th Street and 3rd Avenue in 1931, but franks were soon added to the bill in the then-heavily German enclave. Grey's Papaya and Papaya Dog are competitors.
[This Papaya King closed in 2010, but another papaya dog joint is at 7th and 23rd.]
My aunt used to make this dessert with Cool Whip and Jell-O. You wound up with a big white glop of Cool Whip on your plate, with colored bits of Jell-O visible here and there. I'm reminded of the culinary triumph by the white and pastel blue, yellow and green terra cotta on the SE corner of 7th Avenue and West 14th built by Herman Lee Meader in 1913. Though polychrome terra cotta was widely available by this time, most leading architects were reluctant to use it, feeling that too many colors would be garish, but with restraint, a beautiful building could be designed.
The 7th Avenue IRT has a stop at 14th Street. When the IND built lines along 6th and 8th Avenues in the 1930s, it also constructed passageways connecting the lines to 7th Avenue (I am unsure if an extra fare had to be paid prior to the lines' consolidation in 1940). This, the closed one, goes to 8th Avenue; the one to 6th Avenue is still open and provides a transfer to the F train, or a walk along West 14th if you want to stay out of the rain.
ABOVE: 138-146 West 14th Street, Roman Revival lofts. Manhattan campus of Pratt Institute.
A bit north of the Sewing Machine/Vacuum Cleaner District, West 23rd and 6th and the blocks radiating from there.
The magnificent Deco of the Salvation Army Temple and Executive Offices on 120 West 14th is somewhat obscured behind scaffolding as the exterior gets a big cleanup. It was built in 1929.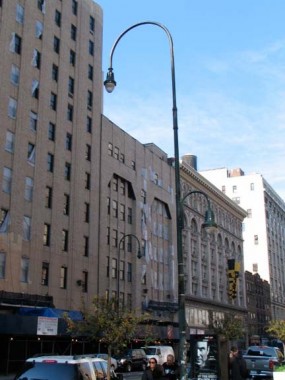 14th Street was among the first streets to get a major lamppost makeover, with these huge looped lamps reminiscent of the Williamsburg Bridge loops, which have been put back in a recent restoration. At first, when these makeovers were executed, the city didn't install exact copies of the old Bishop Crook and longarmed Corvington forms — instead, the city did approximations. Faux-Corvs were installed on 8th Avenue in midtown, Flatbush Avenue in Brooklyn and Main Street in Flushing.
Later, manufacturers obtained molds that matched the old forms exactly — and the city was quick to install retro Crooks and Corvs all over town.
The 14th Street "bigloops" date to the early 1990s, though the mini-me versions lighting the sidewalks were installed several years later.
An interesting new sign, and a pair of vintage: Good Stuff Diner, 109 West 14th; Lynn's; and the former Dapper Dan Imperial Clothes.
Good Stuff takes its name literally as its signiture burger is the Juicy Lucy: a slab of cheese is cooked into the burger.
Dapper Dan is now an art gallery,/event space that has its very own facebook page. As O Brother Where Art Thou fans know, Dapper Dan was the pomade of choice for Ulysses Everett McGill. It's also a Michael Jackson title.
6th Avenue
6th Avenue is actually one of NYC's shorter north-south avenues, though it begins in Tribeca, rather further south than any other. It only makes it as far north as Central Park South — the stretch north of Central Park was renamed Lenox Avenue in 1887, and over a century later, subtitled Malcolm X Boulevard.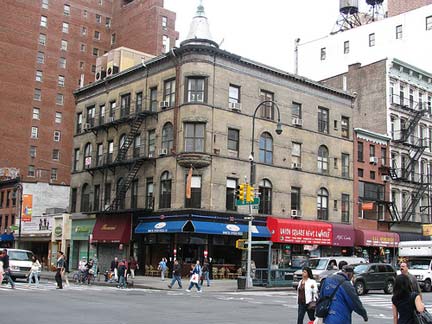 The building with the conical cornice (100 West 14th) at the SW corner of 6th and West 14th was constructed in 1896 by architect Theo Thomson. It may look seamless but there are actually three buildings here that share a facade. Photo: Eden Pictures
Directly to its right is a cast iron building, 104 West 14th, constructed in 1875, far afield from the castirons' usual haven in Tribeca.
Sol Moscot Opticians is a longtime tenant of 69 West 14th, the corner building formerly home to The Living Theatre, an experimental company that got Martin Sheen his start.
Sixth Avenue Bicycles has had a giant mural for decades.
On the SE corner is/was a corner store built by Henry Siegel, of the even bigger Siegel/Cooper Dry Goods Store a few blocks north. It was constructed in 1903 to fill a space formerly held by R.H. Macy's — what is today the World's Biggest store moved to Herald Square in 1902. A facade presently (11/09) covered by scaffolding, and some red stars on the exterior of the New School on West 13th, testify to Macy's former presence.
The IND 6th Avenue line opened in the late 1930s, replacing the already torn down 6th Avenue El. In recent years the MTA has been running vintage R9 cars and other older models decked out in Christmas finery during the holidays, taking a cue from Chicago's holiday trains — though not as richly decorated.
Another grand cast iron facade, this one the old Ludwig Brothers Dry Goods store constructed by architect W.W. Smith in 1878 and enlarged to present size in 1899. It was later Rothenberg's and then Macy's biggest competitor next to Gimbel's, Hearn's.
#33 West 14th, home of the Amalgamated Clothing and Textile Workers Union Local 169. In Van Cortlandt Village, we've seen housing constructed under the auspices of the Amalgamated. The building is also home to Gallery 169. Next door at #31 was a building that hosted offices of The Little Review, the magazine where James Joyce's "Ulysses" was first published.
5th Avenue
Just as West 14th is bookended by a pair of guardian banks at 8th Avenue, so it is at 5th Avenue, a pair of office towers — #1 and #2 West 14th.
The speculative commercial buildings at 1 West 14th Street/2-4 West 14th Street (on the northwest and southwest corner 14th Street and Fifth Avenue) provide a strong visible boundary between East and West 14th Street and illustrate the differing scale of the avenues and the cross street. Designed by Buchman and Fox and Robert Maynicke and constructed in 1902 and 1907, the buildings exemplify the incorporation of new technology into the preferred architectural styles of the period. Historic Preservation Studio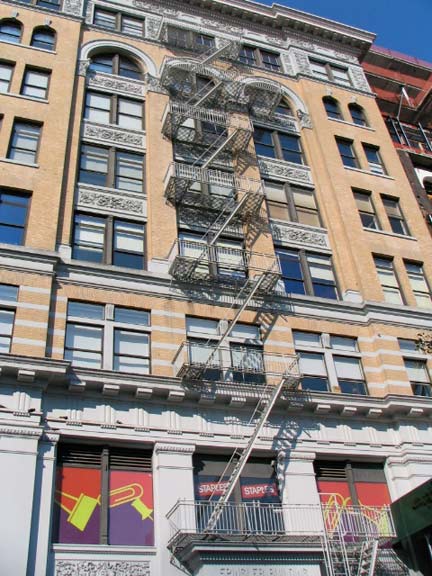 Spingler Building, 5-9 Union Square West near East 14th. Built 1896 (were there more great buildings between 1890-1910 than any other era?) by William H. Hume and Son. It originally contained stores, showrooms, manufaturers and industrial lofts. Note the tripartite style, an architecural sandwich: two floors with wide windows at the bottom, yellow-bricked center, and attic floor and cornice. The name harkens back to the Spingler House, a hotel formerly in the locale — a Henry Spingler owned much of the land here in the colonial era.
Union Square
Though unions have certainly agitated here over the years, Union Square — briefly interrupting Broadway between East 14th and 17th Streets — is named for the convergence, in the early 1800s, of Broadway and Boston Post Road, which segment is now 4th Avenue, the shortest numbered avenue in Manhattan. East 14th, and its parallel streets, joined the party in the 1820s when it was graded through. Originally a potter's field (Washington Square was a burial ground as well) Union Square was officially opened in 1839. University Place connects Washington and Union Squares.
Lapidus designed one of his most ambitious stores, in three essentially separate parts: a long side wall of rich Roman brick facing University Place, topped by a high clerestory of industrial windows; a billboard-type facade with floating letters on 14th Street, angled in from the street wall; and a three-story glass tower floating almost free at the corner. This was "the tallest show window – 42 feet high – in New York," Lapidus told The Herald Tribune. — Christopher Gray, New York Times
Subway entrance, Union Square; postcard view soon after service began in 1904 on IRT Subway. Union Square is a major interchange between two BMT lines, the Broadway Line (R, N, W), and the Canarsie (the L) under 14th Street, as well as the original IRT Line that began at City Hall and ran to 157th Street in 1904. The line was extended the following year, subsequently divided, and is now part of the IRT Lexington Avenue Line (#4, 5, 6).
Kantilal Patel's statue of Mohandas K. Gandhi (1869-1948) the spiritual leader of India during its independence campaign, was installed in the traffic triangle at East 14th and Union Square West in 1986. Union Square was chosen as an appropriate location for Gandhi's statue due to its history as a center for nonviolent protest.
Henry Kirke Brown/John Quincy Ward's magnificent mounted Washington is the centerpiece of Union Square Park. It's been here a long time — one of the first statues erected in NYC, it stood at what was the northern outskirts of town when it was positioned at Union Square East and East 14th Street in 1854. The site was chosen because, according to legend, Washington greeted NY citizenry here after the British evacuated town November 25, 1783. If you haven't had enough Brown, his Lincoln is in the northern end of the park.
Union Square's newsstands and subway kiosks are all built to the same spec — check the little onion domes on top. This is one that hasn't yet been torn down for a new CEMUSA streamlined model.
Frederic-Auguste Bartholdi's Marquis de Lafayette can be found at Union Square East and East 15th Street. Lafayette arrived in the colonies at age 19 in 1777, believing in the cause for their freedom. In commanding American and French troops during the Revolution, Lafayette was awarded an honorary generalship and remained a lifelong friend of Washington. Further uptown, the two are memorialized together in a statue alongside Morningside Park. Soon after American independence came the French Revolution, and the overall relationship between the USA and France became rocky.
Lafayette, who was imprisoned during the French Revolution and opposed Napoleon, returned to the USA for a triumphal tour in 1824. Bartholdi went on to produce "Liberty Enlightening The World."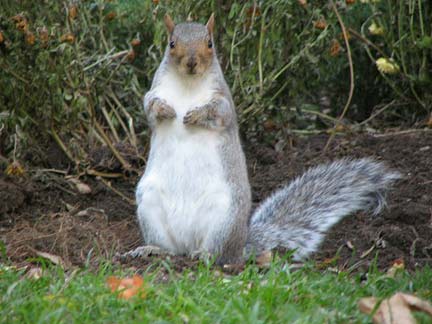 Speaking of Rocky, perhaps he knows what the numbers on the Union Square Clock mean. Well, he isn't talking, so Doanie will explain.
The 15 numbers of the digital clock display time going and coming relative to midnight. Read time going left to right and time coming in the opposite direction. So, if the clock reads 180746***135205 it means that it is 6:07 P.M. (18 hours/07 minutes/46 seconds since midnight) and that there are 5 hours/52 minutes/13 seconds remaining until midnight. The three numbers in between are a blur of moving numbers. It is like a digital hourglass.
That really clears it up.
From a first look you wouldn't believe there two buildings, on the north side of East 14th from Irving Place east to 3rd Avenue, are the same building. They are, and they aren't. The Doric-columned building is the original Con Ed building, designed by Henry Hardenburgh in 1913, and in 1927 Warren and Wetmore added the huge temple and clock tower.
Much of the 14th Street elevation of the new building was designed to copy Hardenbergh's original structure. However, for the corner, Warren & Wetmore designed a 26-story tower that would be a prominent landmark as it rose above the low buildings of its neighborhood and would be a visible symbol of the utility company. The tower is faced with limestone and has a three-story Doric colonnade at the base. the tall shaft is set back from the colonnade and rises uninterrupted 21 stories to a modest cornice, above which are four clockfaces and four corner urns. Near the top, the tower sets back slightly and takes the form of a temple capped by a pyramidal roof that is crowned by a 38-foot-high bronze lantern.
This tower was planned to be dramatically lighted at night, advertising the wonders of the electricity that the company sold. Known as the "Tower of Light," this was memorial to the company's employees who had died in World War I. The building was well-received upon completion; an editorial published in The Architect commented that "the new tower-building designed by Warren and Wetmore…is, to our mind, a building of unusual merit and distinction." Wired NY Forum
The south side of East 14th from Irving to 3rd Avenue is dominated by the bland NYU University Hall, built in 1998 over the bones of old Lüchow's (complete with ümlaüt) the grand old German eatery, a hangout for piano man William Steinway, Enrico Caruso, Cole Porter, O. Henry, Al Smith, and Victor Herbert; it was the Elaine's of its time.
Luchow's opened when Union Square was New York's theater and music hall district. It consisted of seven separate dining rooms, a beer garden, a bar, and a men's grill. One room was lined with animal heads; another displayed a collection of beer steins. Must have been a serious dining experience. Of course, when the city's fortunes turned in the 1970s, so did Luchow's. The restaurant shut its doors for good after a mysterious 1982 fire. Ephemeral New York
And then there was the Palladium, the old 1926 Academy of Music. Though Tito Puente got the mambo craze started there in the Fab Fifties, it was during the rock era that the Palladium made its name. The Academy hosted the Stones, Beach Boys, Yes, Grateful Dead, Byrds, Fleetwood Mac, Lou Reed, Stooges, New York Dolls, Genesis, Springsteen, Frank Zappa and after a 1976 show by The Band it was rechristened The Palladium. I saw the Ramones on New Years Eve in 1979 here, the Pretenders when they were breaking in the spring of 1980 and the Pogues on St. Patrick's Day in 1990 here among many other acts. The guitar-smashing shot on Clash London Calling LP was made here (I saw the Clash at Bonds, not here, though). The Palladium went quietly in 1997.
3rd Avenue
Between 2nd and 3rd Avenues, East 14th is quite unusual — it is lined on both sides with shade trees, as well as quirky storefronts and remnants of historical organizations. For several years the shell of the Jefferson Theater stood on the block, until an empty lot was deemed preferable. At 212 East 14th was Movie Star News, where Irving Klaw photographed and sold posters of Bettie Page (1923-2008), the ultimate pin up queen.
At Manhattan Russian Souvenirs on 227 East 14th Street, there's only a single, large matryoshka of Boris Yeltsin available — it's selling for $300. (Alex, the grizzled owner, a Leningrad native who wouldn't give his last name, has a smaller, empty Yeltsin nesting doll, but he says it's not for sale because it's going in his front window amid Soviet hats, old medals, and more traditional peasant-style nesting dolls.) New York Magazine
Scenes along the quirkified stretch of East 14th between 3rd and 2nd Avenues.
Beauty Bar at 231 was where ladies went to get their hair "done" with permanents. Or used to. It is an actual bar these days, run by scenester ?Deb Parker.
231 East 14th was built as the headquarters of the Italian Labor Center. The full story of this unusual building is detailed in the 14th Street and Union Square Preservation Plan — which goes into great detail about everything I'm just touching on here — on Page 52:
A terra cotta set of panels above the center bay on the second story reads, "ITALIAN LABOR CENTER." Strikingly, this center panel is flanked by two decorative terra cotta bas reliefs which depict scenes of Italian, family, and labor-related significance. The eastern panel clearly shows a content family of working father, mother, and baby, the latter being cradled by his parents. The father holds a shovel in his left hand. The western panel illustrates the naked Roman goddess Minerva, patroness of craftspeople, next to a naked male child in the foreground before a shirtless laborer. The top of this central arch is capped by a band of wave scroll ornamentation.
In Philip V. Cannistraro and Gerald Meyer's "The Lost World of Italian-American Radicalism," the authors say the building dates to 1919, the headquarters of Cloakmakers Local 48 ILGWU (Unione dei Cloakmakers Italiani). "The carvings are likely the work of ?Onorio Ruotolo, poet and sculptor, whose works in that period dealt with the theme of workers and their resistance to exploitation."
2nd Avenue
The story of this grand old apartment house on the NW corner of 2nd Avenue and East 14th is told in FNY's The Senate and NYC page. It was built at the locale where NY Senator William Maxwell Evarts had lived; and the doorways are marked "The U.S. Senate" and "The W.M. Evarts."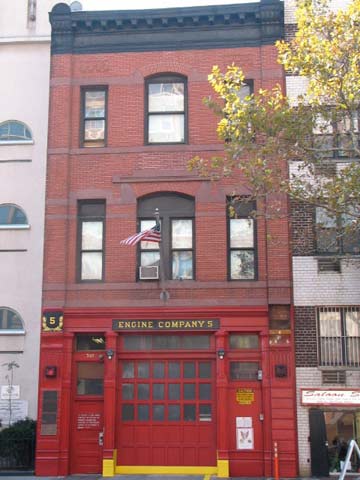 Engine Company 5, 340 East 14th, one of the oldest firehouses in NYC — constructed in 1880.
Built as the First German Baptist Church in 1866, became the Ukrainian Church in 1928, and the current Tifereth Israel Synagogue in 1962. Two of the onion domes were added by the Ukrainians, the third when it became a synagogue.
1st Avenue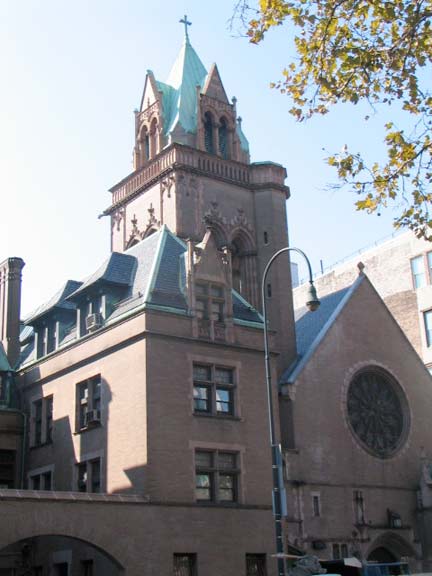 Immaculate Conception Roman Catholic Church, 406-412 East 14th, originally an Episcopalian hospital and mission for Grace Church (Broadway and West 10th Street). It became a Catholic church in 1943. Christopher Gray, NY Times: [Architects] Barney & Chapman favored the later French Gothic, and let loose both barrels for Grace Chapel, a mini-mountain-range of gables, peaks, dormers and, at the center, a tall bell tower, all with lacy terra cotta detailing.
241 1st Avenue.
G. Wilkens was Gustav Wilkens (1848?-1914?), an immigrant from Germany, who bought the building in 1888 and had it re-built to serve as a jewelery store with living space on the 3 stories above. New York City Dept. of Buildings documents mention a "New Gal [galvanized?] Iron cornice bills[?] & lintels to be put up." Wilkens was a watchmaker and jeweler in business on 1st Ave. from the early 1870s. He was 31 in the 1880 U S Census living at 226 1st Ave., then 61 in the 1910 Census living at 241 1st Ave. with wife, Lena 57, and daughter, Amelia 30. 14 to 42
Ah, there are lettered avenues to head east into, but there is also a tired webmaster and a subway entrance at 1st Avenue.
11/7/09