Port Richmond, a town on Staten Island's north shore about 2-3 miles west of the St. George Ferry, has been a frequent destination for me over the years and has been touched on in Forgotten NY frequently. I first visited in the mid-1960s when the R-7, now the S-53, bus line that runs from Bay Ridge over the Verrazano Bridge, was extended from its original terminus at Clove Lakes Park at Victory Boulevard and Clove Road all the way to Richmond Terrace in Port Richmond, where it remains today. In the 1960s, Port Richmond was still a thriving small town, with mom and pops along Richmond Avenue, two movie theatres, and for a brief shining moment in the early 1970s, was even a premier rock and roll mecca. The opening of the Staten Island Mall in 1973 provoked an immediate downturn in Port Richmond's fortunes. It has made a slow comeback with an infusion of families from Latin America, and it still boasts two of Staten Island's premier pizzerias and in season, a famed Italian ice palace.
Port Richmond has its beginnings in the 1690s and early 1700s when Dutch and French colonists settled here. After the landowning Haughwout family laid out the town's tight street grid system in the 1830s the town became a commercial and industrial hub. The Bayonne Bridge to New Jersey, the longest steel arch bridge in the world when it was completed, has provided a beautiful backdrop here since 1931.
Today, I'm here to walk Port Richmond Avenue along its entire length from Forest Avenue to Richmond Terrace. Actually, until the late 1970s or early 1980s (I can't pin down the exact date) Port Richmond Avenue was the northern extremity of Richmond Avenue, Staten Island's main north-south route, which runs, including Port Richmond Avenue, from the Kill Van Kull, bisecting the island, all the way to Raritan Bay.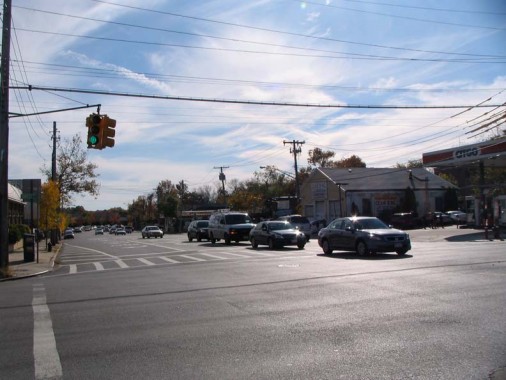 Richmond Avenue runs as an 8-lane behemoth from Forest Avenue south through the communities of Graniteville, Bulls Head, New Springville, Heartland Village, and Greenridge, feeding traffic to the Staten Island Mall (opened on the site of a former airport in 1973) and the Korean War Veterans Parkway. It's a de facto surface expressway along that length, with pedal to the metal traffic not for timid motorists. (Among its oddities: it passes the real gravesite of Ichabod Crane.) From Greenridge south, it continues as a narrower, but still busy, 4-lane road to Raritan Bay.
Richmond Avenue was laid out in the early to mid-1800s and was a narrow dirt road for much of its history, as it was a farm to market route. Along its length, it went by names such as Bridge Avenue, Old Stone Road (referring to the many granite quarries formerly in the region) and Church Road. In 1912, a year that saw many of Staten Island's streets and roads change their names, all those routes were consolidated under the Richmond Avenue moniker.
North of Forest Avenue, though, Richmond Avenue (mislabeled by Google as Port Richmond Avenue on their map) takes a literal odd turn. It loses most of its traffic to Morningstar Road, and makes a circular curve, looping past Forest Avenue and then back, or once did until the construction of the Willowbrook (now Dr. Martin Luther King) Expressway in 1964 cut it off.
Richmond Avenue curves to meet Willow Road West. This narrow lane is now the northern end of the mighty powerhouse road.
But once you've crossed under the MLK Expressway, Richmond Avenue emerges from the coffin and is reborn, as you go northeast, as Port Richmond Avenue.
Egbert Triangle, formed by Forest Avenue, Willowbrook Road, and Port Richmond Avenue, commemorates area resident Arthur Stanley Egbert (1893-1918), who as a Seaman Second Class perished in World War I when the ship he was serving on, the Abraham Lincoln, was sunk. The triangle was named Egbert Square in 1929 and when it was restored and renovated in 1998, then Parks Department commissioner Henry Stern renamed it Egbert Triangle to reflect its shape.
The Egberts are a prominent family in Staten Island:
According to Staten Island historians, Covert Egbert settled on Staten Island in 1660. His descendant Jacobus and his wife, Catharina Dey Egbert, gave birth to Teunis Egbert, whose son John Egbert was born in 1751. John Egbert owned much of the area around the intersection of Richmond Road and Rockland Avenue, a neighborhood known today as Egbertville. John Egbert, a farmer and weaver, was the first in his family to have Staten Island landmarks named for him. NYC Parks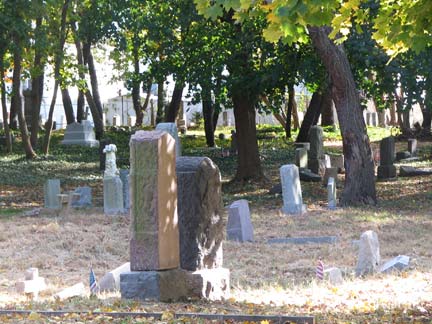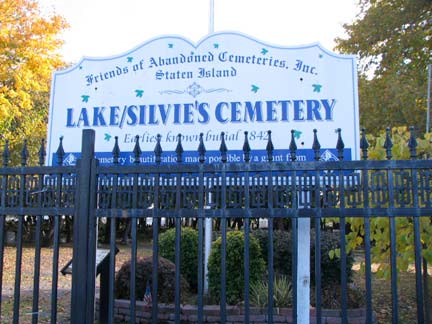 Lake Cemetery was established as a family burial ground by Joseph Lake in the 1830s. Some of it fronts on Forest Avenue across from Egbert Square, with the rest visible from Willowbrook Road, adjoining the Polish National Catholic Church Cemetery. An I.A. Silvie purchased some of Lake's property, including the cemetery, in the 1890s, and so the cemetery is today referred to as Lake/Silvie's Cemetery. Many Civil War and World War I veterans are interred here.
When I first encountered Lake Cemetery when photographing it for FNY in 1999 it was weed and trash-filled, and vandals had had their way with it for decades. Since 2001, though, Friends of Abandoned Cemeteries of Staten Island has worked hard to restore it, and today the weeds are mostly gone and an iron fence and locked gate have been installed to keep the miscreants and ghouls away. Unfortunately, though, casual photography within is no longer possible.
Adjoining Lake Cemetery at Willowbrook Road is the Edwin Markham Playground, named for the Staten Island poet (1852-1940). The playground is his few remembrances now that Markham Gardens, a public housing project at Broadway and Richmond Terrace, was torn down.
Willowbrook Road, by the way, is indeed the road and the neighborhood for which the infamous Willowbrook State School was named; the institute for mentally disabled children was exposed for its abuse and neglect by reporter Geraldo Rivera in the early 1970s. The school closed in 1987 and a branch of the College of Staten Island opened at the site six years later.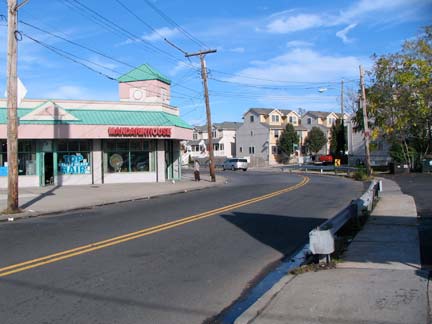 Though I did not sample the fare in either — I was defrosting meat for supper at home — Port Richmond Avenue is home to two of the premier pizzerias on the island, Brothers, at Willowbrook Road, and Denino's (see below).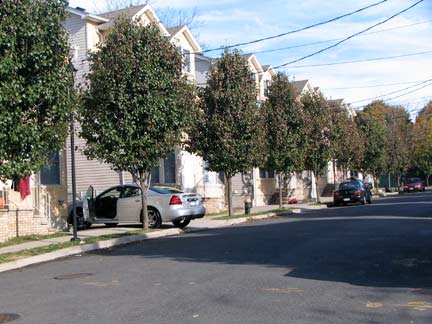 Port Richmond Avenue takes one of its many twists and turns and we can see a relatively new development, Rumpler Court. There's a bit of green out in the front, the houses look traditional instead of bland brick boxes, and even the meters are hidden off to the side. As new developments go this isn't half bad.
689 Port Richmond Avenue is one of the better spook joints — I was here the week before Halloween. I recognized characters from The Exorcist and Killer Klowns From Outer Space. The appearance of the imposing St. Roch's Church up ahead at Orange Avenue dispelled all matters blasphemous.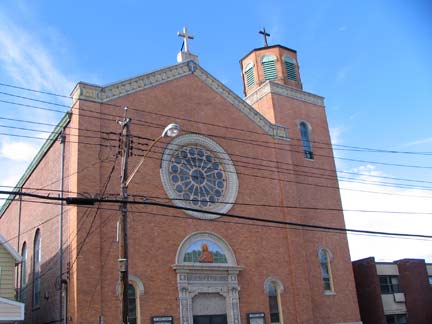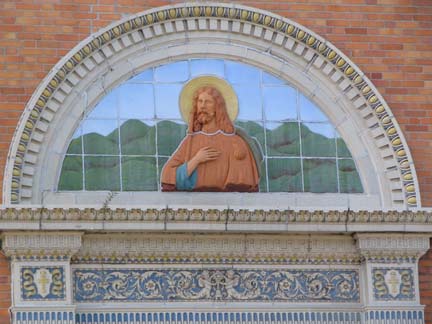 The handsome brick church has some handsome terra cotta work above its front door and below the circular clerestory window. It was named for a figure in Church history invoked for help against the bubonic plague in the 14th Century, actually based on an older figure, St. Racho, who lived in the 7th Century.
Two consecutive streets intersecting Port Richmond Avenue are named Walker Street and Hooker Place. Not likely named for any local activities; I'd bet Hooker Place is named for Civil War Union General "Fighting Joe" Hooker.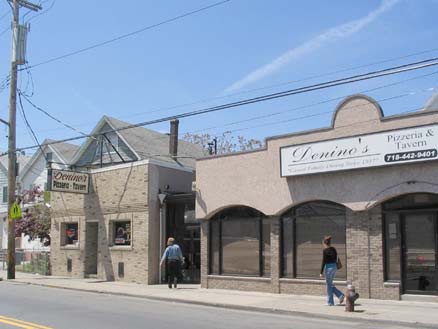 Denino's has been run by Carlo Denino and his successors since 1937. The pizzeria whose slogan is "in crust we trust" is thought to have some of the best in the city. Photo: Bridge and Tunnel Club
Directly across Port Richmond Avenue from Denino's, at Catherine Street, is Ralph's Famous Italian Ices, a legend in these parts, though I wouldn't know; stopping past on October 24th, I found it shuttered for the season. Ralph's has branched out to other locations in Williamsburg, Franklin Square, Port Washington and elsewhere. Colder weather doesn't seem to faze the Lemon Ice King of Corona. Beware: Ralph's website is currently under construction (in 2009 going on 2010, why are websites under construction?)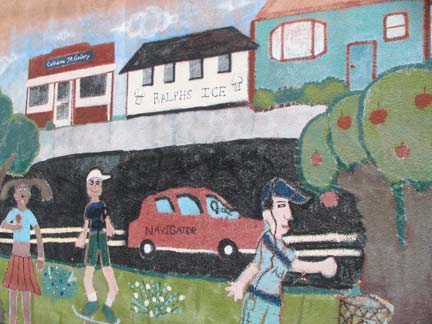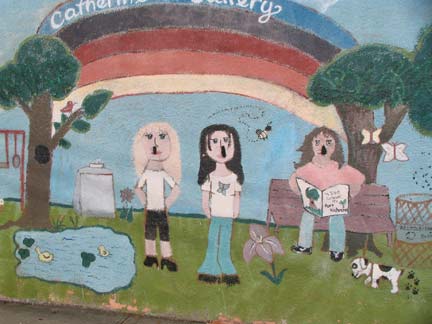 Mural, Catherine Street at Port Richmond Avenue, sponsored apparently by the Catherine Street Gallery, which has been gone for a few years; references online are from 1999-2001, so I imagine that's when this was painted.
Though it's been aluminum-sided, the magnificence of this porched house at Port Richmond Avenue and Clinton Place is undiminished.
Merlino Photo Studio, 337 Port Richmond at Palmer Avenue, has been here many, many years — those hand lettered signs have a 1940s feel about them, and the photos in the window look like they go back even further. Note the metal numbers embedded in the sidewalk.
I have dealt with this incredible, yet unfinished mural at the corner of Post Avenue and Port Richmond Avenue before, and I enumerate the many personalities covered thereon from the 1920s through 1980s. A local real estate agent has announced that the space in front of it is available, so the mural's days of visibility are numbered, apparently. From the looks of things it was painted in the late 1980s, and I'd love to know its origins.
Port Richmond's crosswalks, signposts and lampposts were installed in 1983, the result of a $1.2 million commercial revitalization project paid for by Federal Community Development block grants and planned by the Northfield Community Local Development Corporation, a private, nonprofit organization. They're definitely of their time. Similar posts can be found on Jamaica Avenue in downtown Jamaica, and Avenue D in East Flatbush.
The Ritz
At the corner of Port Richmond Avenue and Anderson Street is the old Ritz Theatre, opened in 1924 and employed as a movie theatre, concert venue, and roller skating rink till 1985, when it was converted to a bathroom tile showroom. The Ritz, according to legend, launched the career of Jerry Lewis, who did a comedy act here in 1942 and was signed to a contract soon after.
In what's something of a lost chapter in rock history, from 1970 to 1972 the Ritz (which held 2,126 seats) — and other 'outer-borough' venues such as the Loew's 46th Street Theatre (renamed the 46th Street Rock Palace) in Borough Park, Brooklyn, where the Grateful Dead once played a 2:30PM Wednesday afternoon show! — featured some of the world's biggest rock bands at the height of their popularity.
Alice Cooper, Badfinger, Captain Beefheart, Black Sabbath (Ozzy is on the right), Iggy and the Stooges (Iggy is in the front) and Deep Purple (Ritchie Blackmore, 2nd from right) all played the Ritz in the early 1970s, when they were touring behind such albums as School's Out, Straight Up, Paranoid and Machine Head. Other bands that stopped by the Ritz were the MC5, Mountain, the Allman Brothers, Edgar Winter, the Kinks, Yes (the last two a double bill), Humble Pie, King Crimson, Uriah Heep, Canned Heat, the Chambers Brothers, Three Dog Night, the Hollies, and a post-Jim Morrison Doors. The shows were booked by brothers Arnie and Nicky Ungano, who also had their own concert venue, Unganos, for awhile on West 70th Street on the Upper West Side.
A commenter on Cinematreasures: The Ritz concerts did not last to due 'contract riders' put into place in the early seventies by NYC concert promoters. They insisted that the musicians performing at their place could not book additional shows within a 50 mile radius of the venue nor within a month surrrounding the show. This essentially killed the bookings for national recording acts at the Ritz Theater.
The Ritz, the 46th Street Rock Palace, and latterday venues such as L'Amour in Bensonhurst, Brooklyn, should all be given a place in the new Rock and Roll Hall of Fame Annex in NYC, in your webmaster's opinion.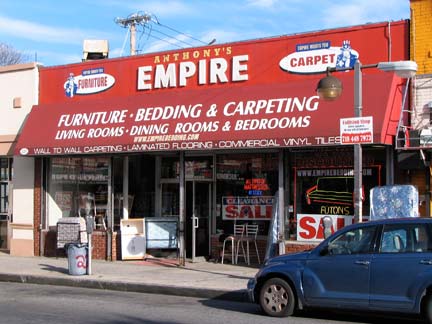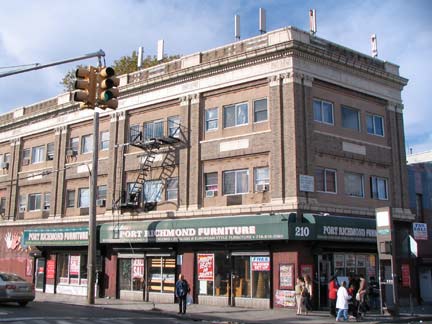 More Port Richmond Avenue scenes: Anthony's Empire, and a venerable building now festooned with cell phone towers, at Castleton Avenue.
One of the more fascinating things about late 19th Century architecture is that the builder and the date of construction can often be found somewhere on the building. V. Portera also has a building on Richmond Terrace near Jewett Avenue.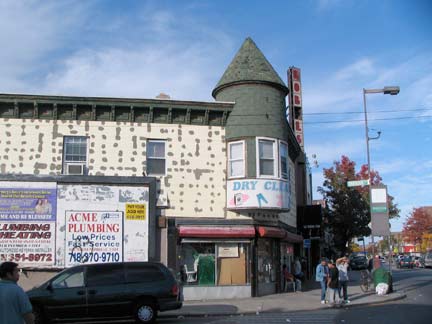 Despite the worst efforts of a succession of owners, the grandeur of a turreted corner building at Port Richmond and Harrison Avenues can still be noted. RIGHT: a latterday trend is to retain an older sign even when it doesn't match the current business (see FNY's Drugstore Evolution). Here a dinette plays off a former dinette store.
One of a pair of former bank buildings on Port Richmond Avenue, this one at New Street. This is actually the younger of the two (see below)
Lobel's was  a children's clothing and uniforms distributor. Lobel's is still around, though not here.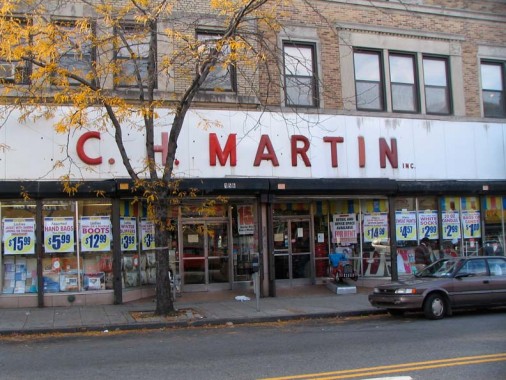 C.H. Martin, 156 Port Richmond Avenue. The C and the M fell off recently and were replaced! Great prices, though I can't vouch for quality. Martin's doesn't have a website, and its history is therefore undocumented; but there was once a C. H. Martin, a Charles Harrison or a Carlton Henry, perhaps, who opened this place decades ago.
The Bayonne Bridge looms over Grove Avenue. The bridge was designed by master bridge builder Othmar Ammann (who also designed the George Washington and Verrazano-Narrows), and completed in 1932. Despite its height, there are concerns that it's not high enough to allow some vessels to pass and there's a proposal to replace it with a cable-stayed bridge. There is a lso a proposal to run a NYC bus route over it (the first time a NYC bus route has entered New Jersey) to connect with Hudson-Bergen Light Rail, which has a terminal in Bayonne.
I detoured on Grove and Maple Avenues to get a look at the "Touch of Class" signboard, and also a typical SIRT concrete overpass. The railroad ran at grade until 1935 when the concrete trestle was completed and grade crossings eliminated. Service on the trestle, which must have cost plenty, only ran 18 years.
Leo Building, Port Richmond Avenue at Vreeland; the painted Richmond Chandelier sign, Port Richmond at Church Street; the SIRT trestle, constructed 1935, separates a mostly abandonwed stretch of Port Richmond Avenue north of it from the (relatively) bustling area south of it.
A concrete trestle from the early 1940s also carries the IND A train on the Rockaway Peninsula (It was built for the LOng Island Rail Road) and gives a glimpse of what elevated train trestles would likely appear if their construction had continued further into the 20th Century. As is, most el construction came between 1888 and 1920.
The present Staten Island Reformed Church was constructed in 1844 and replaced three earlier churches on this site — the first one was chartered as early as 1696.
According to historians, there was first a burial ground here, and later a church, with the graveyard first being used in the late 1600s and the first church constructed in 1715. In a borough filled with old, out of the way cemeteries, this is likely the oldest one that is still being used. ABOVE LEFT: Capt. Jacob Corsen's 1772 stone. It is thought the cemetery was, at first, a burial ground for the Corsen family (there is a Corson Avenue in New Brighton). There are many families interred here whose names can be found on Staten Island street signs: Bodine, Haughwout, Latourette, Van Name, Van Pelt, Zeluff and many more.
Church Street, and the stretch of Port Richmond Avenue between Church Street and Richmond Terrace, is desolate with abandoned storefronts.
Most buildings on this block go back to the 1880s or previous — one of the buildings is emblazoned with the construction date in cut wood — amazing how it has survived all this time.
The lengthy brick building on the east side of Port Richmond Avenue between Richmond Terrace and Church Street was built in 1874 for Charles Griffith, a boot and shoe dealer, and is known as the Griffith Block. Directly abutting it on Richmond Terrace until 1945 was the St. James Hotel, known to be the last home of Aaron Burr, the third Vice President and the assassin of Alexander Hamilton. Burr (1756-1836) lived on the island the last two years of his life.
Postcard Views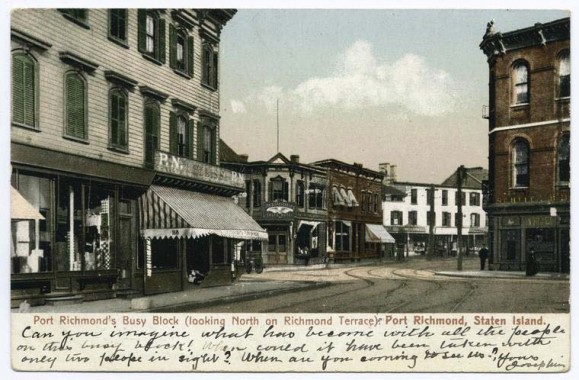 Richmond Terrace, looking north past what was then Richmond Avenue. We see the Griffith Block on the right. The building with the triangular cornice in the center of he picture is still there, as is the brick building to its right. P.N. was a big name in corsetry — those torturous devices ladies resorted to in order to look slim and trim (they torture themselves at Lucille Roberts these days) in the early 20th Century, and the initials can often be seen on ghost wall dog ads. This appears to be circa 1900.
A look from about New Street, 1920 or so. The old Palace Theatre, now razed, is in the foreground; a trolley plies its way down the avenue; in the background is Staten Island Reformed Church. The SIRT was still at grade in those days and so the elevated trestle is not to be seen.
This view shows the Griffith Block, right, which around 1900 featured a hotel sponsored by Schlitz, the beer that made Milwaukee famous. Directly in back of Griffith Block we see the St. James Hotel, where Burr died in 1836.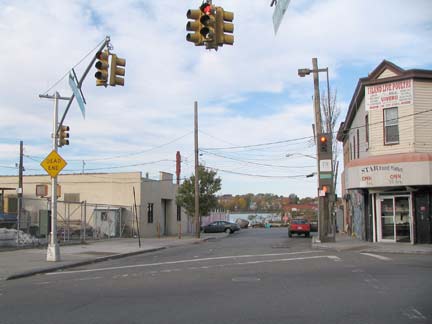 Past Richmond Terrace, Port Richmond Avenue ends quietly at the Kill Van Kull. Note the corniced building at right from the postcard.
11/1/09