Actually this quick walk came in July 2007, but I've been caught short of new material of late. That's OK — I always have a big backlog of material, although it's been shrinking somewhat lately — the winter weather and sun angle has kept the Forgotten camera indoors for the most part. So, as I write this in January 2010 let's take a fond look at an 80-degree day when the only Twitterers were in the trees and facebook was what you did after school while doing homework. That was only 3 years ago, kids.
On this picture perfect day I invaded the Forest Hills Gardens area. Winding streets, Tudor brick buildings, many designed by renowned architect Grosvenor Atterbury, short cast-iron streetlamps and street signs make the development completely unique in New York City.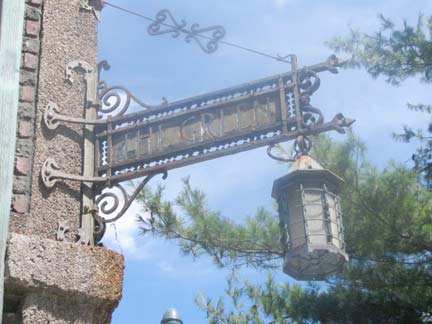 Lamp illuminating The Green, on Greenway Terrace just inside Forest Hills Gardens' main entrance on Continental (71st) Avenue. After crossing under the Long Island Railroad, which serves as a barrier between FH Gardens and the surrounding larger Forest Hills neighborhood proper, you cross under a pedestrian crossing that connects the LIRR platform with surrounding apartment buildings. The Gardens are worth a full-size Forgotten NY page, and will receive one likely sometime in 2010.
The Forest Hills Long Island Rail Road station is the LIRR's most stylized station, other than a couple in the Hamptons and Penn Station itself. The station was built in 1906, remodeled in 1911 and again in the 1990s, and features nonstandard lighting and signage, as well as shelters that complement the Grosvenor Atterbury stylings of the surrounding Gardens.
Theodore Roosevelt spoke at the Forest Hills station on July 4, 1917 — the speech was filmed, but since sound could not yet be synched up to motion pictures, the sound was obviously not recorded. Roosevelt urged American participation in the 'Great War' in Europe and assailed conscientious objectors in the speech. His son, Quentin, would be killed in aerial combat in France just over a year after his father gave the speech here. Teddy never really recovered from this loss, and he passed away himself the following year.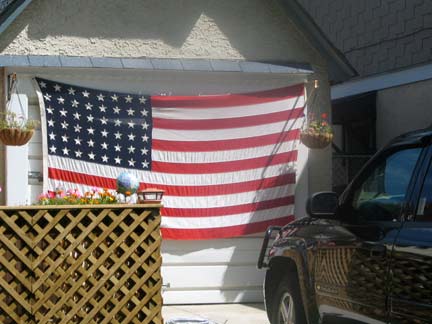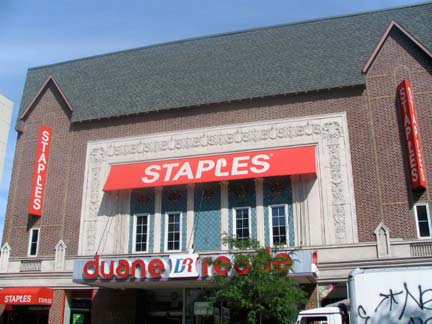 I found this 48-star flag on a nearby street. It is the same flag you see on the platform where Roosevelt spoke. This was the USA flag between 1912 (when Arizona became a state) and January 3, 1959 (when Alaska was admitted).
On Continental Avenue, some of the Atterbury stylings have been subsumed to the god of commerce.
No summer visit to Forest Hills Gardens is complete without a stop at Eddie's Sweet Shop, 105-29 Metropolitan Avenue at 72nd Road.
Eddie's Sweet Shop in Queens is almost 100 years old and has well preserved its early 20th Century character. With the original tiles, marble, woodwork, and wallpaper, the sweet shop has between 18 and 20 ice cream flavors that are concocted in the store's basement. The only person allowed to make the stuff is Eddie's owner Vito Cintrano. citysnapshots

The Robert Pattinson vehicle Remember Me (March 2010) features some scenes filmed at Eddie's. Lost's Emilie de Ravin is also in it.
The Rolling Stones, the Beatles, Jimi Hendrix, Elvis Costello, Don Budge, Rod Laver, Billie Jean King and Jimmy Connors have all held court at Forest Hills Tennis Stadium at 69th Avenue and Burns Street. The U.S Open was held here for many decades before it decamped to Louis Armstrong Stadium in 1978 and then to Arthur Ashe Stadium in Flushing Meadows/Corona Park in 1997. The West Side Tennis Club was organized in 1892 and moved here in 1913, with the U.S. Open moving in in the 1920s. The stadium's stone eagles, concrete steps and wooden benches are still in place, though as fewer and fewer events have been held here over the years, the stadium has fallen into gradual disrepair.
Gas station at Metropolitan and 69th Road, with remaining mercury lamps — once common, these are now quite hard to find. This is now a vacant lot.
Vicki Metzger assisted with this FNY page
1/12/10