I know Brighton, England, only from the 1979 movie Quadrophenia, where it was depicted as the seaside resort town in southern England in which Phil Daniels as Jimmy is horrified to discover that his Mod idol, the Ace Face, played by Sting, works as a bellboy. It's also the place where the Mods and Rockers pounded each other to pulp in street fights, most notably in May 1964. (I'm sure British Forgotten Fans will set me straight on this, but I have always found the presence of a seaside resort in England unusual, since my impression of the place, not having been there yet, is that it's mostly cloudy and between 7 and 18 degrees C., or 45 and 65 degrees F., most of the year. ) Anyway, Brighton has given rise to two NYC place names: Brighton Beach, Brooklyn, which will be in FNY soon, and today's walkabout subject, New Brighton, Staten Island.
Last year [2009] I co-hosted a tour (as widely exhibited artist, rock singer, and children's book author Cynthia Von Buhler added tour guide to her thick resume) in that bit of New Brighton closest to the ferry. This day, I decided to climb steep Pavilion and Ward's Hill, where I knew phantasmagoric panoramas awaited me. And some things closer to earth.
Forgotten Fan, Londoner Allen Dade:
The southeast of the UK has a rather continental climate with temperatures in Kent and parts of London easily reaching the low to mid 90s F. Faversham, a resort in Kent hit 102F back in 2003, and last year, the temperature was between 75 and 88F for most of the summer (Kent and Essex only). On a good or average summer, Kent usually never dips below 75F (daytime) except on the odd bad day, and will compete regularly with NY State, although the heat is not as intense as the county is less humid…
The southern resorts of Brighton, Bournemouth and Eastbourne have a very high sun tally. Brighton, Margate and places like this saw the Mod and Rocker fights of the early to mid 60s. Eastbourne, next to Brighton has over 2500 hours of sun a year and temperatures ranging from 7C to 31C (close to 90 F).
New Brighton
From the ForgottenBook: The New Brighton neighborhood was originally conceived in 1834 by a group of wealthy businessmen. Its street pattern, curving around the high hills fronting Staten Island's waterfront, survives to the present; the organization's name, the New Brighton Association (named in honor of Brighton, a British resort town), became the name of the entire region, which stretches from St. George on the east to Hamilton Park on the west.
This early-1900s postcard view shows Arietta Street (foreground) and St. Mark's Place (center). The building on the left-hand corner still stands. Once west of Tompkinsville, Arietta became the Richmond Turnpike, a colonial-era route that ran all the way to the Arthur Kill and connected with ferries that brought traffic to New Jersey and points south and west. Hence, the road connected with two ferries, one to New York and one that led to Philadelphia. In 1918, after American participation in World War I, the turnpike was renamed Victory Boulevard.
The turnpike was a colonial era route between ferries, one on the east to New York, and the other on the west, to New Jersey and Pennsylvania. Its importance in this regard was lessened when the Goethals Bridge was opened in 1928, and while Victory Boulevard is certainly an important route, it's sort of a "road to nowhere" as it peters to a close past the small town of Travis.
Tompkinsville Park
Bay Street forms a "V" at Victory Boulevard, and the wedge is filled by Tompkinsville Park. St. George, New Brighton, and all of northeast Staten Island has a number of place names rememberingDaniel Tompkins (1774-1825), a Governor of New York State (1807-1817) and Vice President under James Monroe (1817-1825). He founded Tompkinsville in Staten Island in 1815 and ran a steam ferry to Manhattan. Accounts at the time say he was ineffective as Vice President, having succumbed to alcoholism. Nevertheless, he is remembered here as well as in the East Village (Tompkins Square Park) and at Tompkins Park in Bedford-Stuyvesant.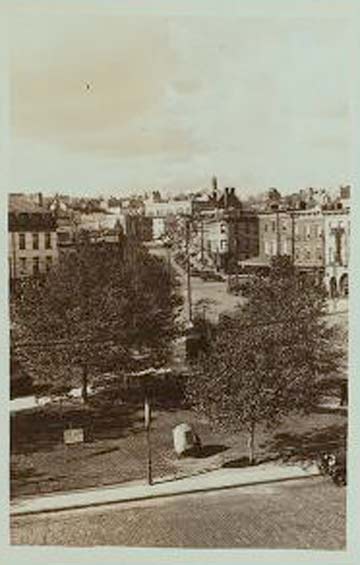 Long before Daniel Tompkins founded a village here, colonial-era ships would use local springs and water sources to replenish their fresh water stores here. In 1916, Daughters of the American Revolution funded this memorial stone that recalls the era. It can be seen in the photo from the 1910s, below left.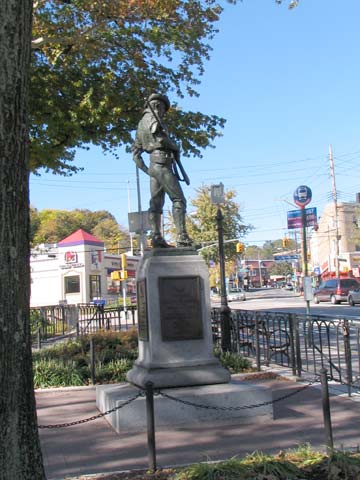 New York City is surprisingly lacking in Spanish-American War Memorials (and will there be any for the various Middle east conflicts that began in 1991, I wonder?) The situation is assuaged somewhat by The Hiker, which greets travelers pressing west on Victory Boulevard.
The Hiker statue sculpted by Allen G. Newman that honors the local soldiers of the Spanish-American War (1898-1902) is still prominently displayed in the park. The statue was modeled after foot soldiers who participated in long marches in the Cuban terrain. In the War, the United States allied with the Cubans to defeat the Spain for control of colonial power in the Western hemisphere. The Hiker in Tompkinsville Park was the official monument of the United Spanish War Veterans and was located in front of Staten Island Borough Hall. The statue was moved to Tompkinsville Park in 1925 after a series of cars hit the statue. NYC Parks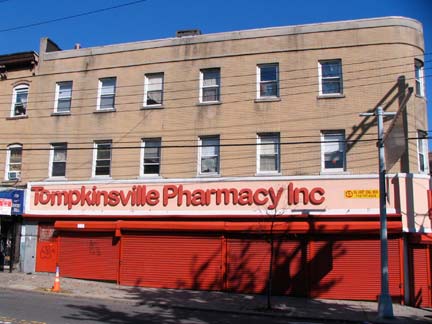 Till just a couple of years ago, a glorious orange and blue Liggett Rexall Drugs sign held forth at Victory Blvd. and St. Mark's Place — replaced by a new Tompkinsville Pharmacy Inc. sign — and the new one isn't all bad. It's a cut above the usual bland vinyl awning sign, with raised plastic letters in Helvetica Rounded, a variant of the usual blunt-edged font.
Rexall was founded in 1902 as a drugstore retailers' cooperative, signified by the presence of other names on its nearly ubiquitous signage (especially in the 1940s and 1950s). The company declined in the 1970s and was divested in 1977 — so the sign hanging on here in Staten Island for 30 years made it truly superannuated.
Rexall is still a brand name in Canada, and the Edmonton Oilers play in Rexall Place, where they have won 5 Stanley Cups.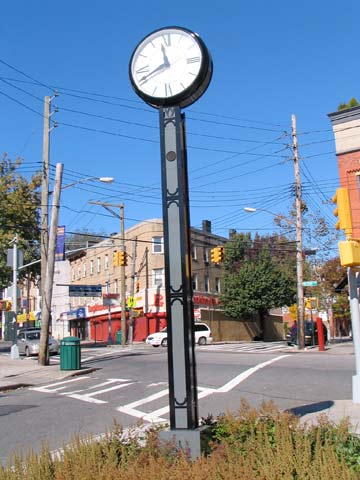 Victory Blvd. and St. Mark's Place. As part of Tompkinsville Park's rehabilitation by the Parks Department a few years ago, the corner was given a handsome new street clock (a number of such clocks, featuring innovative designs, have appeared in NYC streets, especially in Manhattan, over the last decade.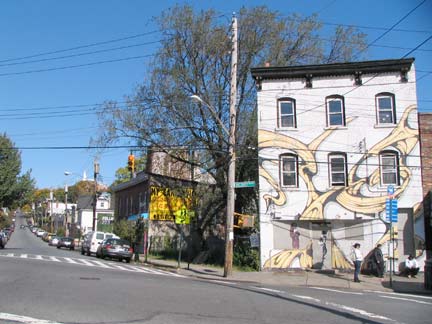 I wish I knew the story behind this fanciful paint job. In the 1990s I remember a giant cockroach painted on a building housing an exterminator on the same block.
Pavilion Hill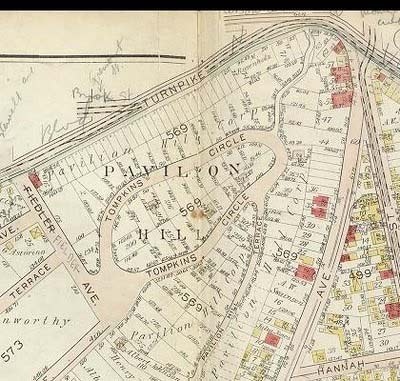 Two of Staten Island's main east-west routes run north and south, respectively, of a series of high hills that run through the island like a spine. The hills were left by the passage of a glacier during the last ice age; a similar, though more modest, set of hills can be found in the cemetery belt separating Brooklyn from Queens. Victory Boulevard runs north of the hills, and Richmond Road runs south of them. Both routes are among the oldest in the city and were busy as early as the 1700s.
Some paths running into the hills from Victory Boulevard are step streets, as the grade is much too steep for auto traffic, but some streets such as Fiedler Avenue, Avon Place, Cebra Avenue and Louis Street climb the hills. The steepest graded streets I have ever walked on were in San Francisco, and while these do not rival the city by the bay, you could get back in shape (if you are out of it) just by walking these hills up and down for a few weeks. I chose Fiedler Avenue, which climbs a hill once widely known as Pavilion Hill. The name has fallen into disuse in recent decades, with perhaps The Pavilion On The Terrace catering hall at Richmond Terrace and Westervelt Avenue the chief reminder of the name.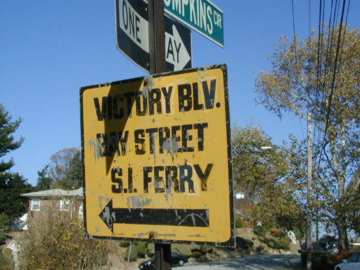 I had been on Tompkins Circle, at the peak of Pavilion Hill, once before. In 1999 or 2000 I was staggering around New Brighton and stumbled on this vintage yellow and black sign pointing back down Fiedler Avenue toward Victory Boulevard. Above is one of the marvelous maps that The Wasp of Ape Shall Not Kill Ape, an informative Staten Island blog, has been able to acquire, and used in his/her recent post on the Staten Island hills. Most of the streets shown on this 1917 map are still in place, though Pavilion Hill Terrace has vanished.
Late 1880s view from Pavilion Hill from the New York Public Library photo collection. Not sure what direction we're facing.
This time I walked Tompkins Circle all the way round, taking hote of the private homes that cluster round and jostle for better views of the Narrows and the big bridge that spans it.
I've found that in Staten Island, homeowners on the high hills tend to block the view of the water, so that punters like your webmaster will not be ambling about with their rudeness and their cameras. Occasionally, you are vouchsafed a view where there's a yard or perhaps a property line.
Ward Hill
Ward Avenue runs in a straight line from Pavilion Hill southwest along Ward's Hill, named for one of the area's first and most prominent residents, Judge Caleb T. Ward, who purchased property here from the family of his uncle, Daniel Tompkins (see above) in 1826. The Ward family was a major developer in the area (C. T. Ward laid out St. Paul's Avenue in Stapleton at the southern edge of the hill).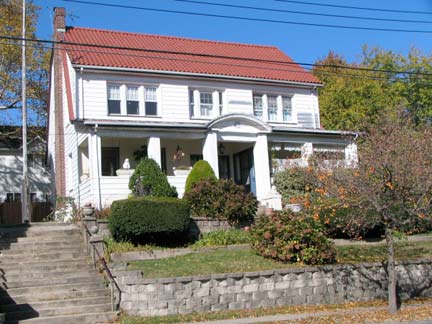 Homes and cottages on Ward Avenue take advantage of the harbor view, which is available especially in the winter months. Both of these homes can be found near Avon Place.
Nixon Avenue
Nixon Avenue is a U-shaped street, beginning and ending at Ward Avenue, that bends out over the crest of ward Hill and is ringed with wide-lawned mansions, ranch houses, and more modest homes. This is one of two streets in NYC named Nixon (Nixon Court, between Ocean Parkway and West Street near the Belt Parkway in Homecrest, Brooklyn is the other). The proper name likely means "son of Nicholas," joining similar names like Johnson and Richardson.
141 Nixon Avenue is a designated city Landmark, the Caleb T. Ward Mansion, constructed about 1835 by contractor Seth Geer. Geer is famed for commissioning Colonnade Row (LaGrange Terrace), originally a row of nine Corinthian-columned buildings on what was originally Lafayette Place (now Street) just south of Astor Place. Colonnade Row has been reduced to four buildings, all of which desperately need restoration, at least on the exterior. photo: Emilio Guerra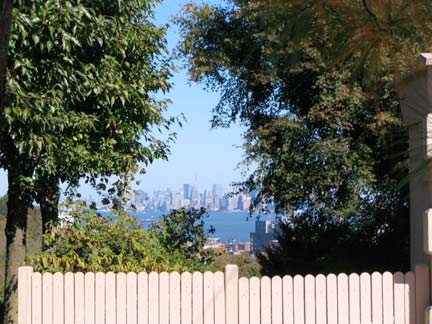 The east end of Nixon Avenue faces the Manhattan skyline; this is the only view of it available to the public from the sidewalk.
One-story ranch home. I have always been attracted to this style — I envision large rooms and best of all, no staircases. Although, I felt like I was in better shape when I climbed up and down 4 stories in Flushing between 1993-2007.
A premier view of the Verrazano-Narrows Bridge is available at the bottom of the Nixon Avenue "U." The Narrows isn't narrow at all — when built, this was the longest single-span bridge in the world– but it is narrow in comparison to Upper and Lower New York Bays, hence the name.
More Nixon Avenue dwellings. Though the Ward mansion was built in 1835 no other building on the street is older than 1920, which means the avenue began to be developed about that time. Perhaps it was originally a cariage road to the Ward place.
Cebra Avenue
Turning right on Cebra Avenue, which runs in a straight line up and down the hill to Castleton Avenue. Along with Beach Street it was once known as Ocean Avenue and ran all the way to the Stapleton waterfront. Many place names in Staten Island, such as Decker, Jewett, Simonson, etc. belonged to Staten Island's settlers in the colonial era; I imagine Cebra Avenue's unusual name belonged to an early landowner. There is a Zebra Place in Rossville, so Staten Island's map has both a Cebra and a Zebra.
"Cebre" Avenue, likely looking uphill from St. Paul's Avenue, in a postcard that looks to be from 1890 or 1900. A view from a little further north would certainly have revealed the old S. R. Smith Infirmary (see below).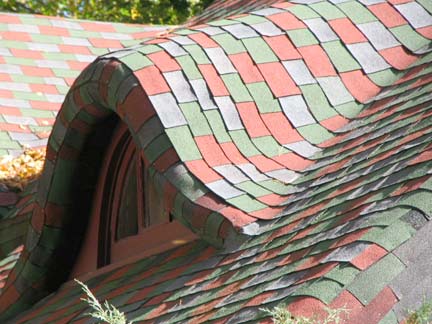 No doubt, my favorite building on Cebra Avenue is 101, with its gingerbread cottage look. It was originally the gatehouse to a much larger estate and was converted to its present look in 1927 by architect James Pietsch. When we passed it on ForgottenTour 16 in May 2004 its then-owners welcomed us with smiles.
The building thematically resembles Bay Ridge's "Gingerbread House" on Narrows Avenue and 83rd Street. Just like 101 Cebra it too was one the gatehouse to a large estate. If you have $12M laying around, the Gingerbead House was available in ealrly 2010.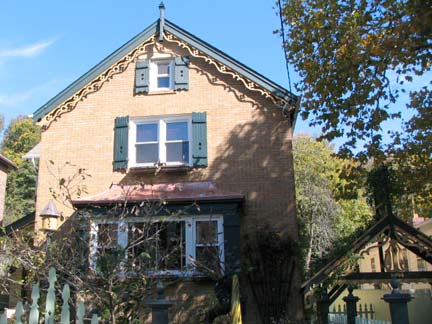 I would like to know more about the cottage at 75 Cebra — its owners have delightfully tricked it out in layers of brickabrack. The "A" frame on a gate — likley built to support vines or wisteria — reminded me of Lithuanian roadside prayer shrines (seen on my first Maspeth page), though I'm likely barking up the wrong tree with that idea here.
As Cebra Avenue descends down the hill toward Victory Boulevard (foreground) and Castleton Avenue the over century-old, abandoned S. R. Smith Infirmary, once Staten Island Hospital, appears as if in midair. It has been abandoned for over thirty years, and is likely to remain so until further notice.
[The Infirmary was finally torn down in 2012]
Pine Street and Corson Avenue. Quick as a wink, we have gone from the ritzy Ward Hill to the poor side of town. There are abandoned dwellings scattered about, but they have definite possibilities if and when money flows in and they are rehabilitated. It's just as likely the one on the right will be razed for a Fedders special, though.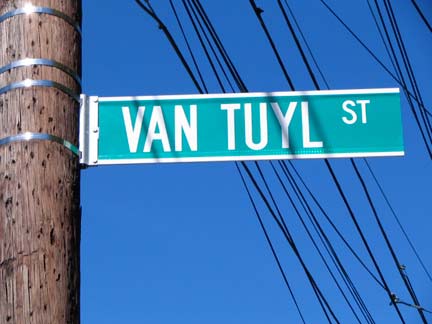 A couple of dead-end streets can be found on York Avenue, which runs between Tilden Street and Brighton Avenue along a valley to Richmond Terrace. Like many other NYC neighborhoods you will find some Dutch names scattered here and there; one of them is Van Tuyl (likely pronounced "Van Tile"). The name recalls a family that hailed from the Dutch village of Tuil along the Waal River.
I struck off west along Brighton Avenue which, like Castleton Avenue, undulates more than Ann-Margret in a 1960s musical. The wooded area north of it seems empty now but old maps show it as part of a Mrs. S. T. Jones estate. I found a worn 1776 Bicentennial telephone pole, and a dead-end called Butler Terrace, and its apartment house might be abandoned, might not be.
Assumption
At Brighton and Webster Avenues is the 1922 Italian Renaissance Church of the Assumption-St. Paul. Roman Catholics believe as a central tenet that Mary, the mother of Jesus, was taken, or assumed, body and soul, directly to heaven at the time of her death. The Feast of the Assumption is celebrated August 15th, and is a public holiday in many European nations.
The church was built during the golden age of terra cotta (I make it 1890-1940, after which the International Style took over and ornamentation was rare). Above the Webster Avenue entrance we see traditional renderings of Jesus and his father; Joseph; Jesus in his representation as the Lamb of God; and the four Gospel authors, Matthew, Mark, Luke and John. Above that are the Greek letters Alpha and Omega; from the Apocalypse, or Book of Revelation:
And I, John, saw the holy city, the new Jerusalem, coming down out of heaven from God, prepared as a bride adorned for her husband. 3 And I heard a great voice from the throne, saying: Behold the tabernacle of God with men: and he will dwell with them. And they shall be his people: and God himself with them shall be their God. 4 And God shall wipe away all tears from their eyes: and death shall be no more. Nor mourning, nor crying, nor sorrow shall be any more, for the former things are passed away. 5 And he that sat on the throne, said: Behold, I make all things new. And he said to me: Write. For these words are most faithful and true. 6 And he said to me: It is done. I am Alpha and Omega: the Beginning and the End. To him that thirsts, I will give of the fountain of the water of life, freely. 7 He that shall overcome shall possess these things… New Advent Bible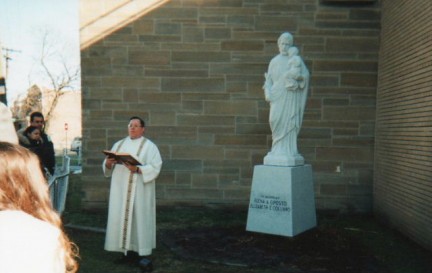 An icon had been vandalized, from the looks of things. It depicts St. Joseph holding Jesus. Not sure how long the statue had been in this condition, but just a few weeks after I went by, it was replaced and rededicated on December 27, 2009! Thanks to Forgotten Fan Ron D'Albero of Assumption-St. Paul for cluing me in on this.
Alongside the church, New Brighton's World War II memorial stands somewhat forlornly at the back end of a concrete parking lot.
Lafayette
I completed this short walk in New Brighton with a short trip north on Lafayette Avenue, through what is insanely not a landmarked area as we edge closer to Hamilton Park. (Don't miss that link if you want to see some incredible architecture.) The character of the neighborhood changes abruptly, yet again — this stretch of New Brighton provides mostly everything you would want in an urban residential area with intricately crafted dwellings of every conceivable architectural style before the 1950s happened and it all went to hell. Someone has to step in and safeguard this before any encroaching rot can envelop it.
Lafayette Avenue and Arnold Place
If I ever make any money I'll buy something like this. Inside, there's perhaps a fire to be stoked, cider to be drank, a roast beef in the oven, and a football game on the flat screen.
erpietri@earthlink.net
Photographed in October 2009; page completed January 17, 2010
©FNY