Today's Myrtle Avenue walk extends from the leftover unused el section from Lewis Avenue east to the Madison Theatre, just past the point where the remaining active section of the Myrtle el turns off on Palmetto Street. Myrtle Avenue was laid out as a tolled plank road from Broadway east to today's Jamaica Avenue in 1853.
Broadway is also the point where Myrtle Avenue changes from a member in good standing of a street grid to a renegade fighting the grid. I'm not sure if the rest of Bushwick's street grid, which runs from SW to NE, was laid out before or after Myrtle Avenue was in 1853. There are several cases in which avenues running through Fort Greene and Bedford-Stuyvesant turn NE into Bushwick and Ridgewood, such as DeKalb, Willoughby, Greene, Gates and Putnam. But, while these streets become a part of Bushwick's particular grid system, Myrtle Avenue stands alone in doggedly pursuing its eastward course.
Along Myrtle Avenue between Lewis Avenue and Broadway are the last remains the Myrtle Avenue line that ran west and crossed the Brooklyn bridge to Park Row in Manhattan. This particular el structure and tracks opened April 27, 1889. The old Broadway station on the el, also no longer used, sits atop the Broadway el. The oldest el structure actually in use (1893) is part of the Broadway-Jamaica el and runs over Fulton Street between Alabama Avenue and Cypress Hills.
I do not know why this section was never torn down but it may have something to do with the structural integrity of the remaining el structure that sits above the Broadway el.
The art and precision of the sign painter "wall dog" art is exhibited here on the L. Salzinger hardware and Tools sign that greeted eastbound riders on the Myrtle el.
Information on the World Wide Web is sketchy about both L. Salzinger and the National Bolt & Nut Co. I gather that the NBNC was based elsewhere and that L. Salzinger became a franchisee. The metallic letters here are newer than the painted ad, so I'd imagine Salzinger, of whom google mentions nothing, joined the NBNC after several independent years. But, I'm speculating.
The only live poultry (and lagomorphic, I gather by the awning sign) establishment is here on Myrtle between Lewis and Broadway.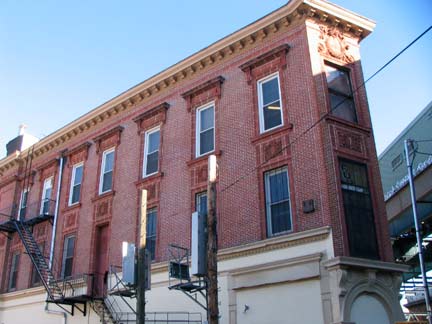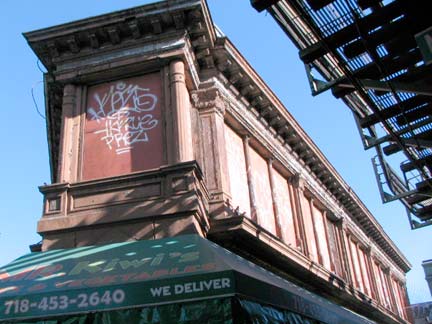 A pair of very old, odd-angled buildings are found at the junction of Myrtle Avenue, Jefferson Street and Broadway: a product of Myrtle Avenue's grid-defying course. Care must be taken in giving directions, since Jefferson Avenue is about 25 blocks southeast.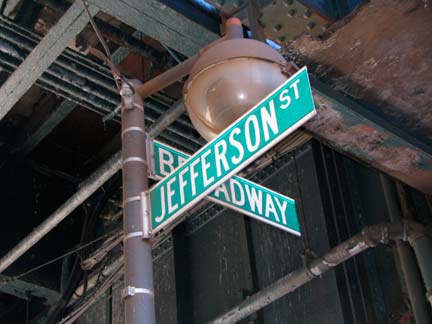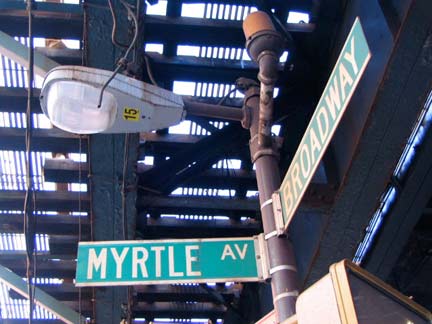 In the 1980s the Department of Transportation installed short-masted lampposts on Broadway featuring gumball-shaped luminaires, which are gradually being grandfathered out. The orange fire alarm luminaires had to be installed in a makeshift fashion and in this case there's no room for the new red "top hat" fire alarm light that rests on top of the lamp.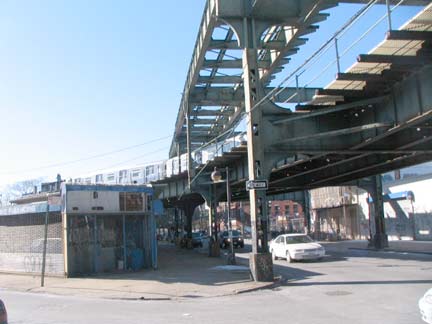 In this photo taken from Ditmars Street and Myrtle Avenue an R160 M train uses a loop track between the Broadway BMT el and the Myrtle El. The old Myrtle el structure can be seen above the loop. This is the only place in the modern-day el system where both directions of tracks cross each other, and sometimes trains on the Broadway el must wait patiently while trains coming from or bound for Metropolitan Avenue pass in front of them.
Freedom Triangle at Willoughby Avenue, Broadway and Bushwick Avenue, at which we'll take a closer look.
I'm happy to tell you that the William Ulmer Mansion at Bushwick and Willoughby, which later belonged to explorer Frederick Cook, who claimed to be the first person to reach the North Pole, has been rehabilitated and is now occupied after years of moribundity. The mansion was occupied by brewer Ulmer, whose nearby brewery complex on Beaver and Belvidere Streets has recently been landmarked by the city Landmaks Preservation Commission. Ulmer also built a long-vanished amusement park in Bath Beach, which today is remembered by the Ulmer Park bus repair facility and storage yard at 25th and Harway Avenues and by the Ulmer Park Library.
The triangle across from the Ulmer/Cook mansion, Freedom Triangle, contains the first of two war memorials along Myrtle Avenue alongside the el structure. Both are works of sculptor Pietro Montana. The "Angel of Victory With Peace" was installed here in 1921 and honors Bushwick's 93 casualties in World War I.
She appears to us to be wearing the crown of Victory, sword hilt forward and face transfigured. Her arm uplifted in a torch-like gesture to the vision of peace — the supposed end for which the Great War was fought, by America at least. The ninety-three dead who were sacrificed to it are carved on the handsome pedestal. Both statue and setting have been recently restored, thanks to the Department of Parks Division of Art and Antiques, and Greenstreets. — Cal Snyder in Out of Fire and Valor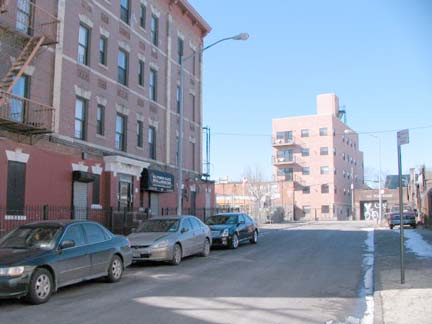 Charles Place, a dead end alley north of Myrtle and east of Bushwick. I show it to you since there are so few of them in Brooklyn.
When I spotted 949 Willoughby, just northeast of Myrtle Avenue, I knew instinctually that it had been a building of some importance, even though it is a regular residential building these days. The stylized hand and torch at the center roofline gives it away, sort of.
A 1916 atlas reveals that this used to be known as the Brooklyn Labor Lyceum, a union hall of some sort.
About 2,000 persons with Socialistic sympathies crowded the Labor Lyceum, 949 Willoughby Avenue, Brooklyn yesterday afternoon, while as many unable to get in waited outside to hear a debate on Socialism between Morris Hillquit and Prof. Isaac Franklin Russell of the New York University Law School. New York Times, January 24, 1910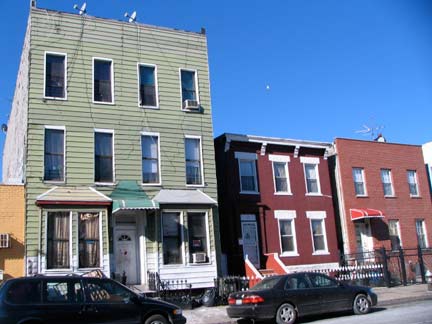 Trio, Suydam Street northeast of Myrtle Avenue. The center building looks most as it did decades ago. The cornice and brackets give away its age,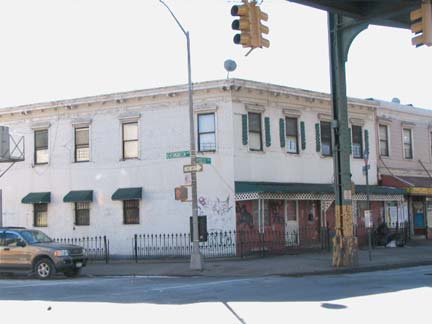 as does the SE corner building at Evergreen Avenue. If you look at a map, Evergreen Avenue follows a not-quite straight path. It is part of an old road known as Old Bushwick Road and retains its old path.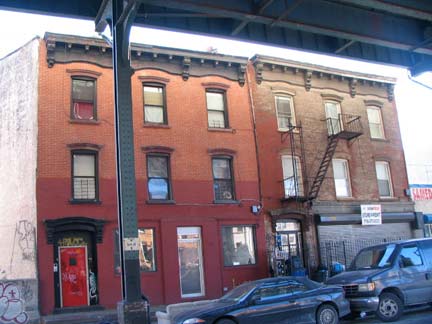 A pair of ancient Myrtle Avenue brick dwellings.
The Batcave has a pair of renderings of Batman and Superman consisting of plastic heads and hands projecting from wall drawings. I'd like to know the story behind this.
ForgottenFan Chris Carrico: These superheroes adorn the exterior of one of my favorite bars, the Gotham City Lounge.
A pair of helpful advisories at the Central Avenue station. (We would commute a lot more but the MTA makes it so damn hard.) Stations on the Myrtle Avenue el east of Broadway are, at times, the only ones the M train can call its very own. In early 2010 the M also gained access to the 6th Avenue line in Manhattan and the Queens Boulevard line in Queens.
Three major lengthy Brooklyn avenues come together here. Handpainted sign, Alfie's Grocery, Central and Myrtle.
Wall sign, DeKalb Avenue east of Myrtle; a long-abandoned foundation for a project that never found fruition.
Another handmade sign at LaMina Meat Market at Stockholm Street;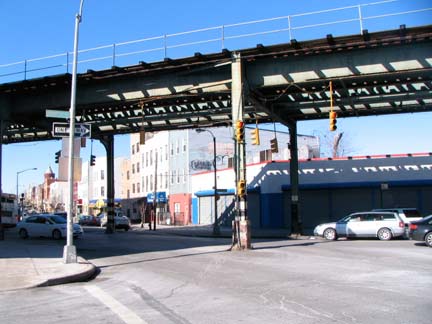 The Myrtle el crosses Wilson Avenue. When the el was built in the opening years of the 20th Century, the cross streets were already in place and engineers had no choice but to place supporting pillars smack in the middle of the avenue, and motorists have had to take care to avoid them. Prior to World War I Wilson Avenue was known as Hamburg Avenue, but anti-German sentiment in nonetheless heavily German Bushwick and Ridgewood meant a change of the street name to then-US president Woodrow Wilson. Nearby Bremen Street was switched to Stanwix Street.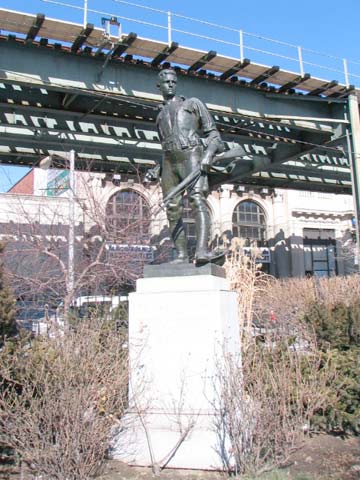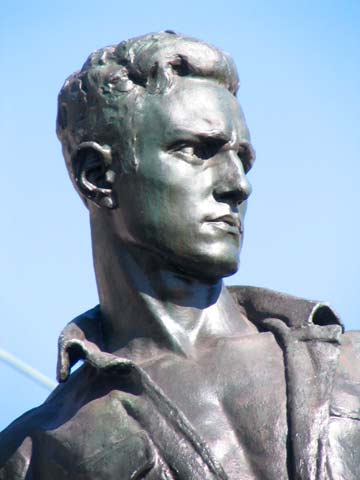 At Heisser Triangle, Knickerbocker and Myrtle Avenues and Bleecker Street, is the second war memorial found along this stretch of Myrtle (and there are others further to the east). The triangle is named for a World War I sergeant in the Headquarters Company, 106th Infantry, who perished in France during WWI. Sgt. Heisser lived on nearby Grove Street. The memorial is a second work by sculptor Pietro Montana.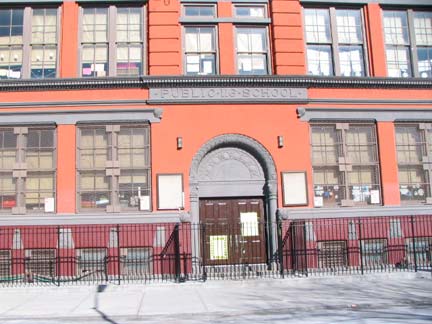 While I was in the neighborhood I couldn't resist PS 116 on Knickerbocker Avenue between Menahan and Grove. To me it's the epitome of NYC public school architecture. It was built in 1897 and only recently was restored to full red-bricked glory as seen here.
Knickerbocker Avenue, and the parallel Irving Avenue, reflect a literary enthusiasm in whatever Brooklyn official named them in the early 19th Century; "Irving" is Washington Irving, the author of "The Legend of Sleepy Hollow" and the 1809 novel The History of New York that features the protagonist Dietrich Knickerbocker.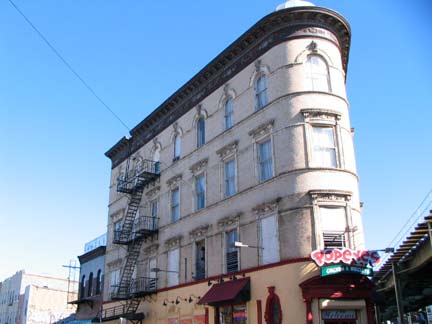 A view down Bleecker Street from Knickerbocker at St. Barbara's Church on Central Avenue, built in 1910 with the aid of local brewer Leonard Eppig, who had a daughter named Barbara. It is one of the tallest buildings in Brooklyn. RIGHT: round-edged triangle building at Myrtle Avenue and Bleecker Street. Like its Manhattan namesake, Bleecker Street is named for Anthony Bleecker, an 18th Century shipping merchant and landowner.
The former Hamburg Savings Bank at Bleecker Street and Myrtle Avenue survived under that name till an acquisition by College Point Savings Bank in 1983, later Federal Home Savings Bank. The building is now occupied by Citibank and by Famous Brands Fashion Outlet.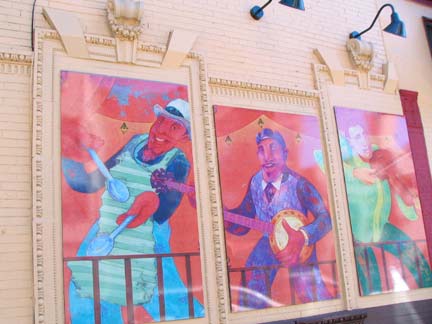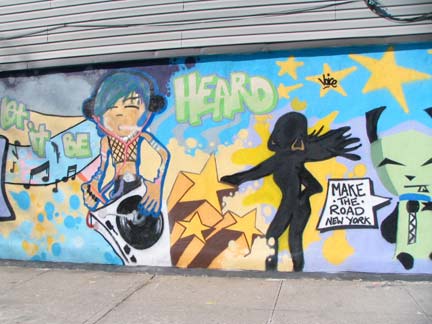 A pair of murals: on the Bleecker Street side of Popeye's Chicken in the semi-triangle building; and Menahan Street: this mural, as well as the following ones, were sponsored by Make The Road New York, a community organization with Brooklyn, Queens and Staten Island branches that "promotes economic justice, equity and opportunity for all New Yorkers through community and electoral organizing, strategic policy advocacy, leadership development, youth and adult education, and high quality legal and support services."
I was unable to get complete coverage of this Make The Road mural in a playground at Grove Street, Irving and Myrtle Avenues, but that's some heavy imagery to confront kids with.
Hand-lettered awning signs on Irving Avenue.
Yet more hand painted art on a roll down gate. Not sure if this press shop is still open –in any case, the sign still lists its 1960s-era phone number, HY for HYacinth.
Just before Myrtle Avenue discards its elevated train shroud it passes a second White Castle (the first was a couple of miles to the west on Steuben Street).
The el proceeds on Palmetto Street for a few blocks before proceeding on a private right of way (rare in NYC for els, but prevalent in Chicago). In 1906 the el descended on a ramp to connect with a "steam dummy" line, the Lutheran Cemetery Line, to a terminal at Metropolitan Avenue and what is the present All-Faiths Cemetery. In the 1910s most of this was raised on an el and electrified; the line cosses the LIRR Montauk branch on a trestle and ramps down to grade at the terminal. It is the only subway line that services Middle Village, Maspeth and Glendale.
ForgottenFan Kabuki Kitsune writes: Here's the thing. Dummies weren't the cars, but instead were the steam locomotives themselves. Depending on what era it was depended on how they looked, but typically a Dummy was a locomotive that was shrouded to look like another trolley car. In NYC the design actually hung around far longer than the horses themselves did, with the New York Central actually employing a number of Shay (geared steam engine) Dummies for use in street trackage well into the 1940's when they were finally replaced by diesel locomotives.
Steam Dummies weren't just used on the street trackage though. In fact, they found use on the elevated itself. This picture, from about 1878, shows a Brooklyn elevated train parked on the tracks. Note, that the locomotive is a small steam dummy. The "shad belly" cars are built that way because passengers at the time were afraid of the cars tipping over. So, the belly of the cars was lowered to only inches above the tracks. The design didn't last long. The steam dummies on the elevated were replaced by special 0-4-4 Forney locomotives starting around 1877.
More Myrtle Avenue in Part 3, the Ridgewood/Glendale streets…