Continuing FNY's Myrtle Avenue walk this week we rather abruptly cross into Queens and two relatively stable, peaceful neighborhoods, Ridgewood and Glendale. If you look at a map of Brooklyn and Queens, two major roads travel from western Brooklyn on almost a straight line (with a couple of gentle zigs and zags here and there) all the way to Jamaica: Metropolitan Avenue and Myrtle Avenue, Met Avenue began as a toll road in the late 18-oh years, the Williamsburg(h) and Jamaica Turnpike, while Myrtle was expanded gradually and reached Jamaica by 1853. They don't actually parallel each other, and if they were laid out beyond Jamaica Avenue they would crash into each other at about where the Jamaica LIRR station is at Sutphin Boulevard and Archer Avenue.
Myrtle Avenue Part 1: Downtown, Fort Greene, Bedford-Stuyvesant
Myrtle Avenue Part 2: The el streets: Bushwick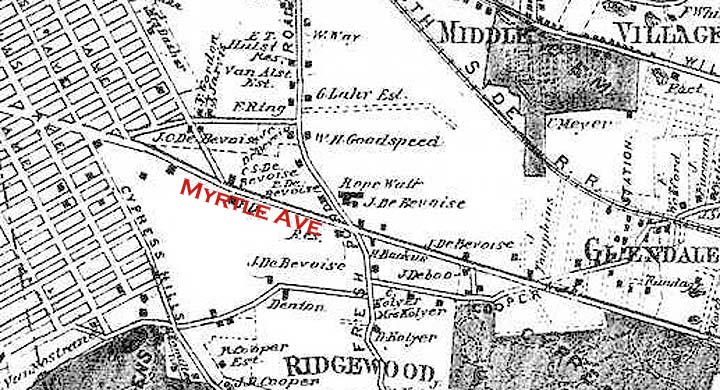 This 1873 Beers Atlas sample shows Myrtle Avenue as it passes through Bushwick, Ridgewood and Glendale. As late as 1873 the only major roads through the area in addition to Myrtle were the north-south Fresh Pond Road, still a major shopping street; Cooper Avenue, which meanders generally northeast from Bushwick to the borderline with Forest Hills; and the Williamsburgh and Jamaica Turnpike, seen at the northeast corner. In addition, the road angling from Myrtle to Fresh Pond Road on the upper left is today's Catalpa Avenue. Cypress Avenue, which today extends through the Cemetery Belt to join the Jackie Robinson Parkway, was then a toll road called the Cypress Hills Plank Road. The Southside Railroad which can be seen upper right is today the Montauk Branch of the Long Island Rail Road, which connects Jamaica and Long Island City. The dark patch at the top is part of All Faiths-Lutheran Cemetery. Cypress Hills Cemetery is at bottom right, and a little of the Cemetery of the Evergreens shows bottom left. In 1873, of course, these roads were used by horse drawn carts and wagons.
Myrtle Avenue in Ridgewood
Ridgewood is not too tall and not very short. The housing is under six stories, with many owner occupied houses rich in stone ornamentation. We have a few one family homes but the nineteenth century developer of the community, Gustav Mathews built multiple dwellings. Gustav Mathews acquired farmlands and built the Mathews Flats, a complex of more than eight hundred six-family brick row houses of three stories each. The houses sold for more than $11,00 or rented for $15 a month. Paul Stier built a similar development from 1908 to 1914 between 67th and 70th avenues, using tan brick and lumber of the highest quality (much of the housing in the neighborhood consists of his row houses, about half of which are occupied by their owners. These rock solid houses form the heart of the community. Ridgewood was declared a historic zone 25 years ago because of the quality and consistent architectural style of these houses. Ridgewood.com
After leaving the el behind at Wyckoff Avenue and Palmetto Street, we are in Queens County, and a total transformation: sleepy and somewhat moribund in Fort Greene, Bed Stuy and Bushwick (except for the new residential towers going up at Flatbush Avenue Extension) Myrtle Avenue becomes busy and bustling. It's also a very unusual roadway.
As the 1873 Beers atlas excerpt shows, Myrtle Avenue, as a tolled plank road, was the first major east-west road to be built through this region. When developers added a street grid and residential homes, the grid went athwart the direct east-west Myrtle Avenue route. As a result, for a decent stretch between Broadway and about Forest Avenue, Myrtle Avenue does not have a 4-cornered intersection: instead it meets a multitude of streets at odd angles, making for some interesting architectural adjustments.
ABOVE: for all the hoo-hah that has been made about the improvements, and suggested ones, along the western end of Myrtle Avenue (most pushed by the Myrtle Avenue Brooklyn Partnership) there have actually been major improvements made to Myrtle Avenue in Ridgewood, as the many triangle plots due to the weird odd-angled street plan were spiffed up with new sitting areas and plantings in 2006. Informative, colorful signs about the area's history have been installed by an organization called the Myrtle Avenue Business Improvement District.

Myrtle Avenue in Ridgewood and Glendale today.
We encounter the first of many present and former theatres along Myrtle Avenue immediately east of Wyckoff, the RKO Madison, named for Madison Street (which runs in back of the theater) and for, presumably, the street's namesake, President James Madison. The theater ws designed by architect Eugene De Rosa and opened Nov. 24, 1927.
With nearly 3,000 seats, the Madison was much larger and more sumptuous than the Colony. The Grand Foyer was two stories high with a vaulted ceiling with crystal chandeliers. Its walls were colored marble with bronze borders. A white marble staircase led to the mezzanine promenade, which had a lounge area plus restrooms and other facilities. The auditorium included a huge balcony with a loge section at the front. The decorative ceiling had a deep dome at the center, hung with a three-tiered crystal chandelier. The dome had cove lighting to permit changing color effects. Rare for a neighborhood theatre, the Madison's stage facilities included a rising orchestra pit with three separate platforms for orchestra, piano and the Kimball organ. Much of the Madison's opulence was due to Moss' determination to beat the completion of the nearby Fox Ridgewood [see below] which had been the dominant theatre in the area since 1913 (and is still operating in 2004!). Vaudeville continued until 1932, when the by then RKO Madison switched to double features that were always first-run for the Ridgewood area, which is on the Brooklyn-Queens border and draws clientele from both boroughs. Cinematreasures
For many years the old Madison Theatre has been home to Liberty Department Stores. Their version of Miss Liberty doesn't exactly have the face that launched a thousand ships. The exterior of the Madison Coffee Shop across the street is little changed from decades ago, with a strict black and white color scheme.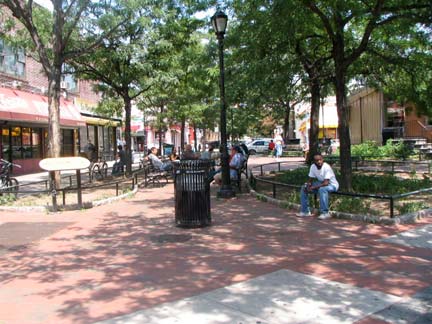 At Myrtle and St. Nicholas Avenues and Madison Street is the first of the many odd-angled intersections so prevalent along Myrtle's eastern run. Detective Anthony J. Venditti Square is named for a NYC police officer allegedly killed by a mobster:
The detective grew up in the East Bronx and had been on the force for 12 years, specializing in illegal gambling and Mafia cases. On Jan. 21, 1986, heaand a partner were tracking Federico Giovanelli, reputed to be a member of the Genovese organized-crime family, who was suspected of running a gambling and loan-sharking ring. As Detective Venditti left a diner at Myrtle and St. Nicholas, he was surrounded by three men. His partner, Kathleen Burke, was shot in the chest but survived. Detective Venditti did not.
Mr. Giovanelli, who was seen running from the scene, was arrested with two other men. After three state trials and numerous jury deadlocks, the three were acquitted of murder. They were separately convicted of federal racketeering charges. New York Times
Queens residents and businesses are much more willing to admit they are a part of Long Island; I have met Brooklynites who have refused to believe that they are on the western end of Long Island. Long Island Stamp Corp. uses the old fashioned Windsor font on this ad. Variations of Goudy and Cooper can be found on the awnings directly underneath. Some Ridgewoodians, though the neighborhood is politically in Queens, believe themselves to be Brooklynites.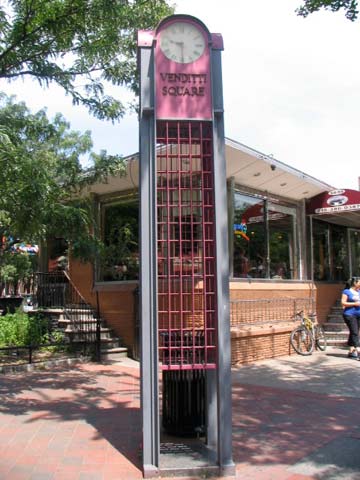 In Queens: What to Do, Where to Go (and How Not To Get Lost) in New York's Undiscovered Borough, Ellen Freudenheim claims that a chef in what was then the Castillo Diner (now Monta's Restaurant, photo left) who witnessed the crime and testified in court was found dead several years later with a pile of dead fish nearby (fish, in the Mob, is symbolic of what happens to fingerers — they are made to sleep with the fish).
I'd like some more info about Venditti Square's handsome gray and purple street clock.
Ridgewood Theatre, 55-27 Myrtle Avenue between St. Nicholas and Cypress Avenues, is now a New York City Landmark, so designated in January 2009. It was constructed in 1916 by renowned theater architect Thomas Lamb.
The theater is located on Myrtle Avenue, the area's major commercial thoroughfare, contributing to the creation of a town center for the residents who were moving into the nearby rowhouse developments. This building was constructed during the earliest period of the development of the movie theater as a building type, and was part of the industry's efforts to bring this new and exciting form of entertainment to small towns and local communities throughout the country. This theater showed movies continuously for more than 90 years, retaining its original use through numerous changes in the presentation of movies and the interior environment of the theater, including the addition of sound for "talkies" and in spite of the competition provided by television and other forms of entertainment. It was one of the longest-running movie theaters in the country when it closed in March, 2008. The theater's impressive white façade has helped it stand out from its neighbors, and makes it as attractive to local residents today as when it was constructed. LPC, linked above — also see its comprehensive Ridgewood history.
Myrtle Avenue's next big intersection complex is at Putnam and Cypress Avenues, where on the SW corner you will find the former Ridgewood National Bank, now a Rite Aid Drugstore. Just as banks buy each other up, so do drug stores. Rite Aid recently consumed Eckards, which had ingested Genovese; and Walgreens has recently swallowed Duane Reade. According to the Myrtle Avenue Business Improvement District, this bank was organized by a group including local developer Paul Stier and architect Louis Berger (Stier developed much of surrounding Ridgewood, and Berger built the handsome attached porched homes on Stockholm Street). This bank building was constructed for $36,000 and opened in 1910. BushwickBK has a photo of the interior.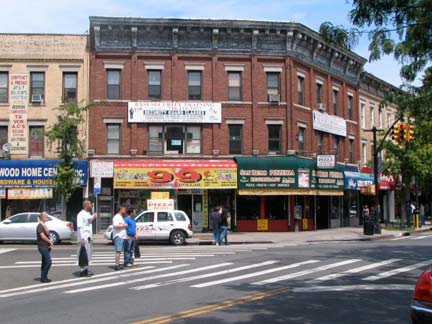 Old-time brick corniced building, NW corner Cypress and Myrtle.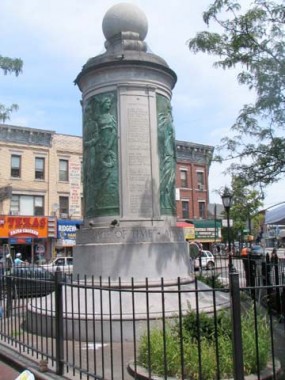 Yet another World War I memorial, the Ridgewood Tholos, or Ridgewood Remembrance, at Cypress and Myrtle, the second intersection in the neighborhood where both streets' second letter is "y." (Wyckoff Avenue was the first).
The finest war memorial in Queens, and one of two or three in the city of surpassing integrity and beauty… the drum-like temple is faced with large, curving bronze panels that work together as a narrative, depicting the three theatres of war, the men who fought there, and the angels who guided and walked beside them. The bronze workmanship is superb, lending the figures drama, unique personalities, and scenes that are filled with interest. Alternating with the panels are granite fascias that list the names of dead.
…[T]his memorial not only has superb bronze workmanship but exalted speech that gives it a genuine greatness, casting the figures into a light of acute longing, love and sacrifice. The words speak from the bands of bronze beneath the figures, and are also graven into a continuous frieze around the base of the panels: "They upheld America's cause, and the hallowed memory abides with us." And: "I am summoned by my country, whose voice I can never hear without veneration and love." And, in the granite it is written: " They earned eternity in a brief moment of time." — Cal Snyder, Out of Fire and Valor
The architects were Hemle and Corbett, the sculptor Anton Schaaf. It was dedicated on Memorial Day, 1923.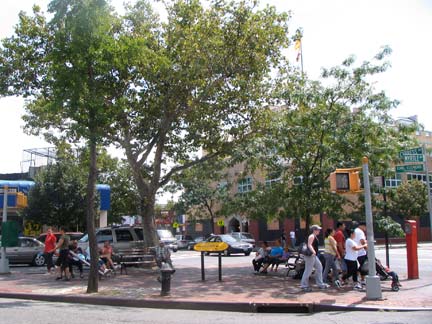 Opposite the Ridgewood Remembrance is Carl Clemens Triangle, a shaded area affording shoppers a break from the summer sun. Carl Clemens was the longtime editor and publisher of the Ridgewood Times, in which he bought a share in 1933. He also worked for radio station WHN, which first broadcast from a now-demolished building at 8-16 Cypress Avenue.; the station was launched by Ridgewood Times owner George Schubel in 1922. WHN is now ESPN WPEN 1050. It was the radio home of the Yankees and alternately the Mets in most years between 1958-1988. WHN was likely NYC's most successful country music station, operating in that format from 1973-1987.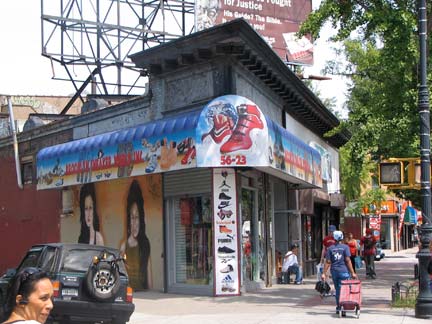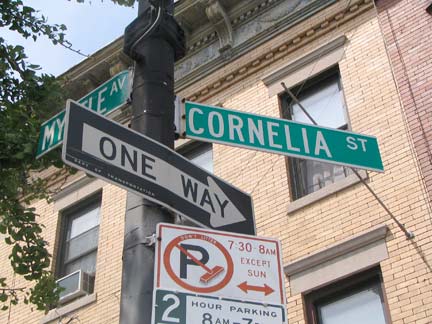 At Cornelia Street you notice some very old buildings (recognizable for their elaborate cornices.) And, Gustave X. Matthews' yellow-bricked flats also get into the act.
From FNY's Ridgewood page:
Gustave Matthews mass-produced these multi-unit houses for about $8,000 and sold them for $11,000. They did not have central heating or hot water systems. The only heat came from coal in the stove and a kerosene heater in the living room. Despite this, the U.S. Government gave special recognition to Matthews' concept in 1915 when an exhibit was opened at the Panama-Pacific Exposition in San Francisco. It showed the world how efficiently these type of apartments met housing needs for a surging population…The entire row home area of Ridgewood, all 2,980 buildings, comprises the largest National Historic District in the nation. All of the builders used Kreischer bricks, which give the buildings their golden appearance.
Not sure who these two pretty girls are on Cornelia near Myrtle. The one on the left reminds me of Lisa Marie Presley.
Another odd-angled building is formed by Catalpa Avenue's angle away from Myrtle. More handome Mathews flats can be seen across the street.
Looking down Catalpa Avenue the tall spire of St. Matthias Roman Cathoilc Church on Onderdonk Avenue, Ridgewood's tallest (unless you consider St. Aloysius, on Onderdonk and Stockholm, to be in Ridgewood), can be easily spotted. St. Matthias Parish, named for the apostle that replaced Judas Iscariot, was established in 1908.
Catalpas are large-leafed trees that generally grow to a height of 60 feet and can be found in North America, the Caribbean, and East Asia.
Myrtle and Seneca Avenues: When it was constructed 1890-1900, the builders would perhaps have understood the word "café" but not "CyberCity" ot "Internet."
This building at Hancock Street and Myrtle likely has always been a bank; currently home to Banco Popular.
These are two almost, but not quite, mirror image buildings at Myrtle Avenue and 70th Avenue
and Centre Street (right). Care must be taken when giving directions in these parts…there's a Central Avenue in Bushwick, a Centre (not Center) Street in Ridgewood, and another Central Avenue in Glendale.
From FNY's Ridgewood neighborhood page: A butcher, a baker, an undertaker, an attorney, a physician and nine other local residents were the founders of the 'Savings Bank of Ridgewood,' built at the corner of Forest Avenue and George Street in 1921. Eight years later, the name of the bank was changed to 'Ridgewood Savings Bank,' which it is still known as today. A new main office was completed at Myrtle and Forest Avenues in 1929.It superficially resembles the earlier Ridgewood National Bank (see above) and the Myrtle Avenue Business Improvement banner signs, installed on the Corvington light posts, seem to have a rendering that resembles each, though is a complete match of neither.
The bank's handsome backlit clock tells accurate time. Ridgewood Savings Bank used the common late 1800s-early 1900s symbolism of bees and the beehive to represent thrift. I am stumped by the male figure on the door, though; why the helmet, and what device is he using?
71st Avenue angles away from Myrtle Avenue — note the slight angle change in the two buildings home to Queens Wines and Liquors. The store carries on NYC's grand tradition of liquor stores preserving the neon of decades past. Meanwhile, a double Corvington — unknown when this style was first installed between 1910 and 1950 — illuminates both avenues.
What in Cthulhu's name this? One of the few outright eyesores along Myrtle in Ridgewood is the building that features the horticultural supermarket on the ground floor (have the owners ever heard of Sonny Fox or Bob McAllister? Have you? My memory gives away my age at times) The building once probably boasted red bricking or the golden Kreischer bricks, but is now covered with fish scale plastering. Yech. "Flowerama" is a former wedding shop; the letters have never been removed.
On the other hand I have a soft spot for glass fronted buildings, with the exception of the anonymous Manhattan office-tower glass fronts. TD Banks (they replaced the Commerce banks, which all looked the same) has a handsome black panel/glass front at Onderdonk and Myrtle.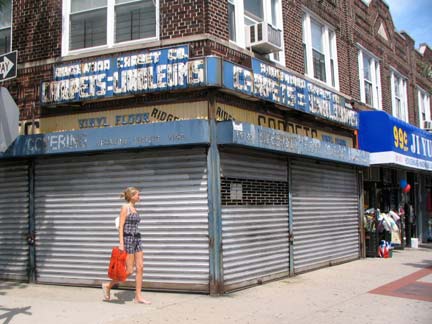 Some more old school neon signage, albeit some that doesn't work anymore, Myrtle Avenue at 60th Street.
This area in Ridgewood is the Epicenter of Sixty, as 60th Street and 60th Lane all meet 60th Avenue, 60th Road, and 60th Drive, while 60th Place meets 60th Court. The number 60 figures heavily in science and culture — there are 60 seconds in one minute, 60 minutes in an hour; 60 Minutes is CBS-TV's longest running program; 60 MPH is a common speed limit in many parts of the country; 60 is the sum of 4 consecutive prime numbers, 11+13+17+19; and 60 Minute Man was a double entendre hit in 1951 for Clyde McPhatter and the Dominoes.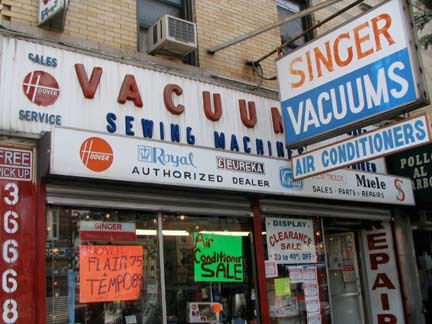 At Myrtle Avenue and Norman Street, yet another odd angled building, this one festooned with awning signs for an appliance shop.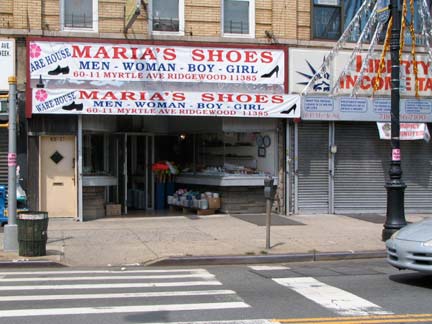 Someone will have to fill me in on what Holiday was. A bakery is my wild guess.
Ridgewood Video, where the raincoat crowd can purchase their self pleasure needs, used to be a legitimate theater — check the ancient marquee. But what theater was it? I can't find anything on the World Wide Web.
At Myrtle Avenue and Decatur Street, in a "whatever happened to windows" moment, is the Ridgewood branch of the US Post Office, 60-60 Myrtle in the Epicenter of Sixty. This corner is the former locale of the Glenwood Theater and after that, the Glenwood Bowl.
A small acccounting, tax and travel agency shop on Myrtle just west of Fresh Pond Road. If you walk by too quickly you'll miss the little clock above the doorway. It's several decades old and hasn't told time for awhile.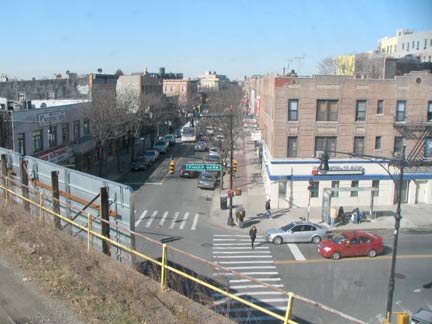 Just east of Fresh Pond Road, the trestle carrying the NY and Atlantic Railroad passes over Myrtle Avenue. The NY&A has been the freight arm of the Long Island Rail Road in Brooklyn and Queens since 1997. It employs LIRR passenger line tracks (where it operates mostly at night), via carfloat in association with the NY Cross Harbor Railroad, and using the NY Connecting Railroad to the mainland via the Hell Gate Bridge — as well as today's route over what is now known as the LIRR Bay Ridge Branch. Lumber, building products, scrap metal, construction & demolition debris, food, beer, gravel, propane, chemicals, structural steel, plastics and recyclable cardboard/paper are NYA's main traffic. Most of the engines are LIRR rolling stock.
In the past, these tracks have been part of LIRR passenger service to Bay Ridge and Manhattan Beach, both of which ended in 1924. A Fresh Pond Road stop existed here until 1924; the trestle was constructed in 1914.
Just east of the RR, at Myrtle and Central Avenues, is a triangle building with a point so sharp it would likely scratch Superman.
Glendale
The NY & Atlantic Railroad is the unofficial boundary between Ridgewood and its eastern neighbor Glendale, though residents may disagree over where the line is.
From FNY's Glendale page: In the early 1860's, developer George S. Schott acquired a considerable amount of land in eastern Ridgewood as repayment of a debt owed him. As the Civil War drew to a close, he founded what is today known as Glendale, which he named after his hometown of Glendale, Ohio. At this time, the area's main occupation was farming. In the late 1800's, picnic grounds and beer gardens flourished due to an influx of German immigrants into the area.
After WWI, these recreational areas closed, farming began to die out, and textile factories and breweries became the town's major employers. Each boom in industry attracted a new wave of immigrants of German decent. Today, the community is home to the largest German-American population in not only Queens, but also in all of the City of New York. But their presence is also dwindling, while immigrants from Asia and the Caribbean are now settling in Glendale in sizeable numbers. Over the years, Germans have left their mark in Glendale, most noticeably in the form of dining establishments along Cooper and Myrtle Avenues.
I think you can begin to get the idea about why I admire Ridgewood-Glendale and Myrtle Avenue so much. I could probably have walked past all three of these scenes in 1980, 1970 and even perhaps 1940, and except for the cars and the tacky vinyl awning signs, what I'm showing here would have looked just the same. Everything here is on Myrtle between Central Avenue and Cypress Hills Street.
Cypress Hills Street. There are a number of Cypress place names in the area — Cypress Avenue and Cypress Hills Cemetery and Street. They were so named when colonial settlers noticed a plethora of the conifer species in the area. Cypress Hills Street is the original southern extension of Fresh Pond Road and was so named until 1920 or so, when Fresh Pond Road was extended south to Myrtle Avenue and this road, which winds through the Cemetery Belt en route to the Cypress Hills neighborhood in Brooklyn, was re-named Cypress Hills Street. It passes Mount Carmel, Beth-El, Machpelah, Hungarian, Shearith Israel, Salem Field, and Cypress Hills Cemeteries.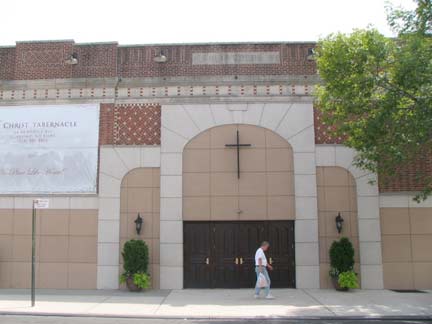 The former Belvedere Theater, on Myrtle Avenue just west of Cypress Hills Street, is now Christ Tabernacle.
The former locale of Gebhardt's Restaurant, 65-02 Myrtle, serving German cuisine. The restaurant was on the south side of Myrtle Avenue just east of Cypress Hils Street until 2003, when it moved to Floral Park (it has closed in that location since, as well), and apparently the owner has yet to find a tenant for the ground floor space. The building was once home to Unity Hall, which featured bowling alleys in the basement, a saloon in the front and an assembly hall upstairs.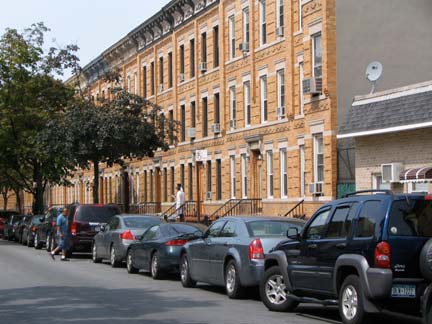 Kreischer brick, 65th Place north of Myrtle Avenue.
Glendale becomes a neighborhood of shopkeepers along Myrtle Avenue in this stretch, and the neighborhood's Polish population asserts itself here (though Greenpoint is notred for its heavy Polish concentration, Glendale and neighboring Maspeth are not easily outdone). Translation please? Or is it merely Hot Lunch Daily as on the English side of the sign?
The Italians are not to be outflanked either as the signs on the left indicate.
The Animal Cannibal theme, with chef-hatted suines drooling over strings of sausages, has always been an amusing trope in FNY. Here, a butcher's awning has a quartet of top hatted, caned beasts strutting all the way to the slaughterhouse.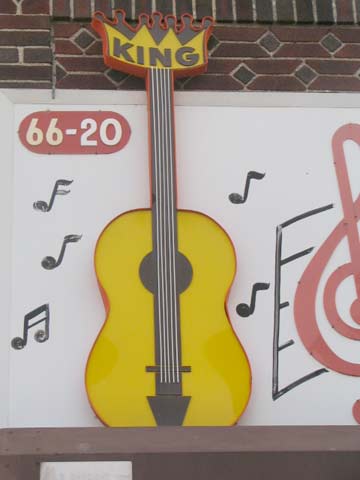 I wouldn't mispronounce the name of Joe Fuoco's Music Center if I were you. I don't know how to prounounce it, but I know how to not pronounce it.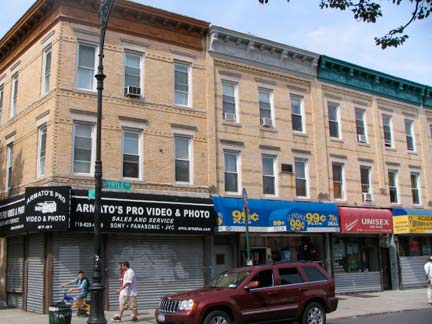 Glendale's handsome architecture reasserts at Myrtle Avenue and 66th Place and 67th Street.
St. Pancras School, which I imagine a lot of kids mispronounce as St. Pancreas, has a semicircular entrance on Myrtle Avenue and 68th Street. The church, located on 68th between Myrtle and Cooper, has a beautiful interior. There were two Saints Pancras, both martyred, died in Rome and Sicily in 40 AD and 340 AD respectively. St. Pancras is also a major London, UK church, library, neighborhood, Underground station and rail link.
The Glendale, a condominium complex located in a former textile factory, 69th Place just south of Myrtle. A similar development can be found in Woodhaven where a tobacco pipe factory on Park Lane South and 101st Street was similarly converted.
Zum Stammtisch, my favorite German restaurant in the area, was opened in 1972 by German immigrant coppersmith John Lehner. The interior resembles an old fashioned German beer hall, similar to Staten Island's Killmeyer's Old Bavaria Inn, another favorite.
Though the main Karl Ehmer's deli complex was on Fresh Pond Road, a smaller outlet was Rudy's, across the street from Zum Stammtisch. Ehmer's ended operations in 2010.
Concluding Myrtle Avenue's run through east Glendale, Forest Park and Richmond Hill
3/7/2010