The Astoria el, which runs up 31st Street from Queens Plaza to just short of Ditmars Boulevard and carries the N train and the soon to be retired W (the Q will take its place, I'm told), alternates between a busy, bustling neighborhood mecca with newsstands and restaurants and a forbidding demimonde of the detritus of the now-expired 20th Century. 31st joins Roosevelt Avenue, Liberty Avenue, Jamaica Avenue and Rockaway Freeway as Queens' great 'elled' streets. There was a time, give or take a couple of years before or after 1920, when the el didn't shroud 31st Street, and the homes built along the route are about to succumb to new development. I'll take a brief look at them today.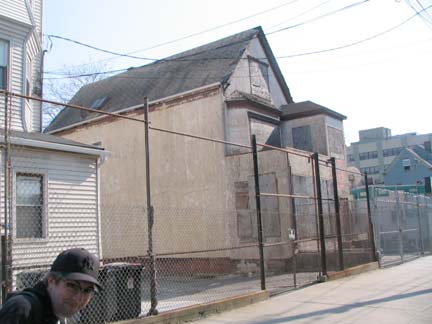 Undoubtedly, most of these small houses go back to before 1920 or so … who in their right mind would build right by the el like this? Actually, plenty of people would, as witness the apartment buildings right next door. Esthetics do not always enter the equation for NYC developers. Some people are rocked to sleep by the passage of an el train past their windows every few minutes. I myself turn on a fan every night when I go to bed, even if the room is sufficiently cool. I need the white noise. Is that a certain Newtown blogger in the picture?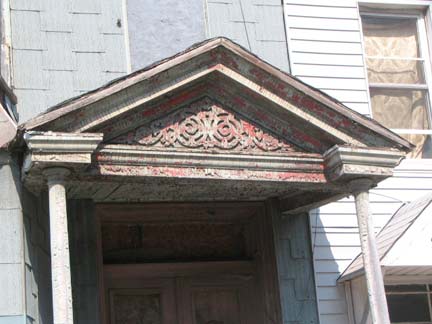 This building, at 37th Avenue and 31st Street, appears to have been abandoned during the Eisenhower administration (I was actually alive during that presidency, incidentally). Yet I am told that activity was spotted there relatively recently.
Though whatever character it had has long had it beaten into submission and buried beneath siding, here and there a relic of past glory peeks out, such as the pediments above the entrance and 2nd floor window. What must this be like inside …
Soon, all these ghosts will be vacuumed away (I think people with ghosts in the house should employ vacuum cleaners on them) in the name of Fedders brick barracks. I'd rather ride past these on the el.
Photographed March 26, 2010; page completed March 29