I find myself on Jackson Avenue quite a bit as it is the main diagonal artery from Vernon Boulevard in Hunters Point to Queens Plaza, where under the tangle of elevated trains it changes its name to Northern Boulevard and commences to run the length of Long Island. The short but busy stretch is among Queens' most dynamic with rapid teardowns and new 'buildups' so I though it would be a good idea to head over there again…
I walked Jackson Avenue from Queens Plaza SW to Vernon Boulevard. Just shy of Queens Plaza is a painted wall dog ad in yellow and black (my favorite color combination, though bees and other hymenoptera are my least favorite insects) for ASE Discount Liquors.
A few feet facing ahead is an easy to miss, but fairly large ad for Bloomingdale's. I wish I knew more about this campaign, but the several surviving Bloomie's wall ads around town (from 1900-1920) stress that the store is at 3rd Avenue between 59th and 60th, as it is today, with the phrase "all cars transfer to…", a reference to trolleys. Other Bloomies' ads used colorful umbrellas in the design.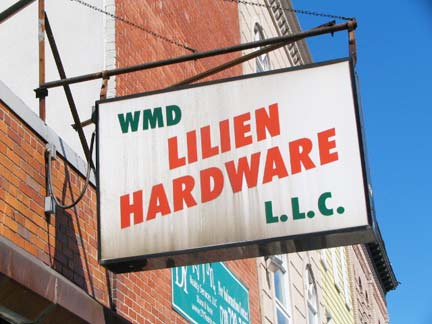 At Dutch Kills Street, this variety of painted images for Beardslee Transmission will be a faded classic, if it doesn't get painted over. Right: I think Lilien Hardware has left the area, but the sign is still there. Here's the WMD — they didn't find them in Iraq!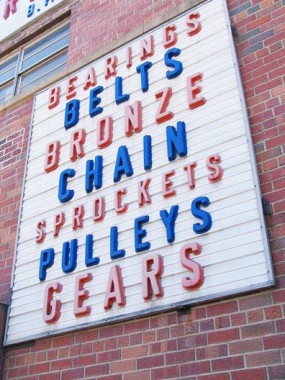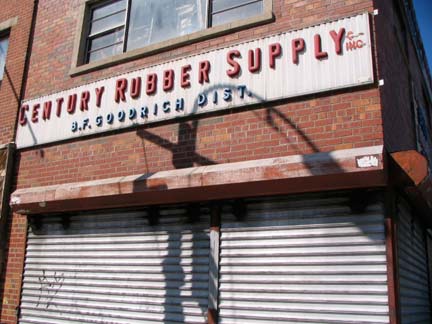 I always liked plastic letterboard signs, and there's a pair of good ones at Century Rubber Supply at 43rd Avenue.
One major change the Department of Transportation is making to Jackson Avenue is the replacement of all its octagonal-shafted lampposts with these L-shaped numbers, which closely resemble the ones installed on lower Broadway in Manhattan by the Downtown Alliance. At a taxi dispatcher I found a decommissioned Checker Cab, once nearly ubiquitous on NYC streets, and they were a pleasure to ride in — very roomy. Checker Cab was in business from 1922 to 2010, though the iconic model seen on NYC streets ended production in 1982.
5 Pointz, originally the Phun Phactory, is an exhibit space on Jackson Avenue and Crane Street in which graffiti artists have decorated the exterior of a 200,000 square foot factory building. Artists pay below market rate rent for studio space in the interior.Pat DiLillo established Phun Phactory in the early 1990s to provided street artists a way of displaying their talents without breaking the law. However, some artists argue that anarchy is a part of garfiti culture, and a legal space circumvents that mission. 5 Pointz is most visible by passengers on the #7 el, which runs behind the building.
An April 10, 2009 accident in which an exterior stair collapsed, injuring a resident artist forced its closure for a time.
I decided to snap the "Women of 5 Pointz" on this trip past…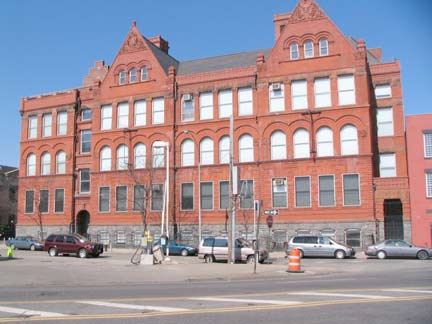 I could not resist photographing PS 1 at 21st Street (or Van Alst Avenue, still shown on subway signs), one of the largest dedicated spaces for contemporary art in NYC and a branch of the Museum of Modern Art. My primary interest is in the architecture — this Romanesque Revival building sets the tone for the westernmost stretch of Jackson Avenue. It was built as Ward 1 School between 1890-1900. It once sported a clock tower.
Jackson Avenue's checker cab iconography carries over to this gas station at the corner of 21st Street.
Jackson Avenue's angled intersections make for some interesting triangle-shaped building plots. Though the Hackett Building, which I will mention later, has been torn down, there are some equally impressive late 19th-Century edifices along the way, such as the Bordeman Building at 47th Road. Some gold leaf lettering with fleur de lis flourishes.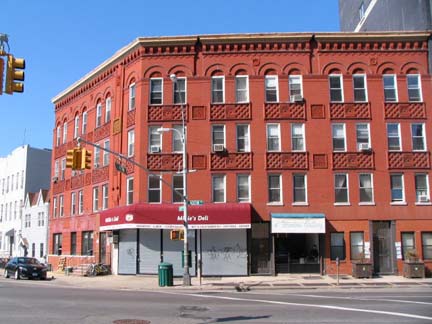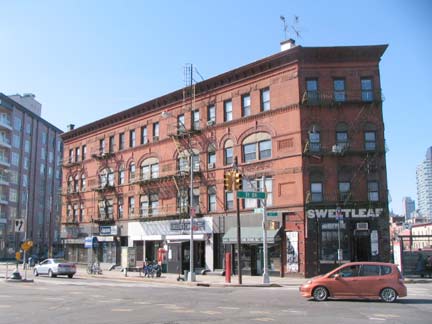 Though the lamented Hackett Building is gone, equally distinctive buildings I call "Hackett Buddies" are still in place, till someone tears them down, that is. top: at 47th Rd. opposite the Boardman Building; bottom: at 11th Street opposite the Pulaski Bridge ramp.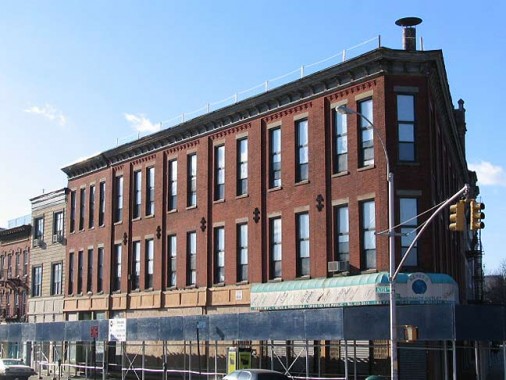 Here's the Hackett, shown just before its demolition in 2007, at Jackson Avenue and 49th Avenue. From FNY's Hackett Buddies page:

The Hackett was built in 1885 on the SW corner of Jackson and 49th Avenue, then known as 5th Street. In the years after it was built it hosted department store O. Demarest and Company, and it has also been home to Prudential Insurance; but its most notable distinction has been its stint as Queens Borough Hall between 1898, when western Queens joined NYC, and 1916. Boro Hall is presently located on Queens Blvd. in Kew Gardens.
LPC spokeswoman Elisabeth de Bourbon: "The building has been altered over time and its integrity has been significantly compromised by major storefront alterations — making it impossible for us to consider it for designation."
In other words, if a building was built in 1885 but no longer completely looks like it was built in 1885, tough toenails, Jack. Especially if you're in Queens, Bronx, Staten Island and Brooklyn neighborhoods other than Williamsburg, Park Slope, Brooklyn Heights or Cobble Hill.
Below: a look at the shiny glass condo that replaced it.
Less lamented than the Hackett Building, perhaps, is the Cangro Transmissions Building at Jackson Avenue and Vernon Boulevard, which was toppled in 2009 to make way for some more chrome and glass, symbolic of Hunters Point's transformation from industry to residential.
Photographed February 2010; page completed April 20, 2010