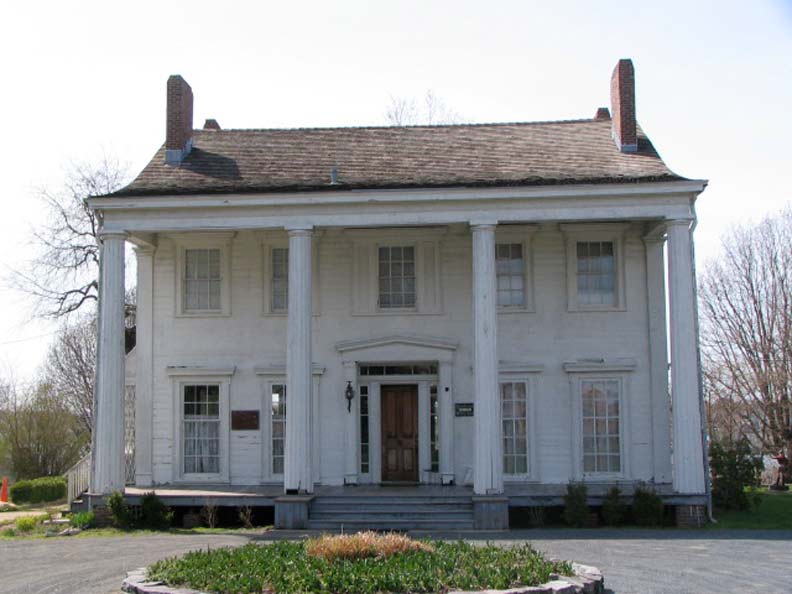 Continuing my Tottenville perambulation documented in Part One, I followed Amboy Road to Connecticut, then right on Shore Road, which ends at Satterlee Street with this house, the Biddle Mansion, in view.
Google Map: Tottenville Part 2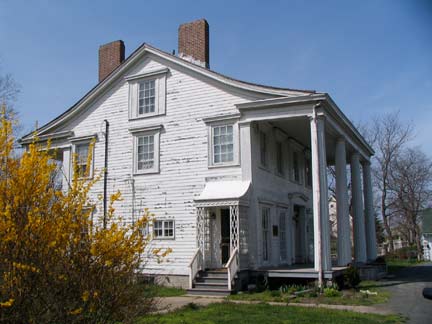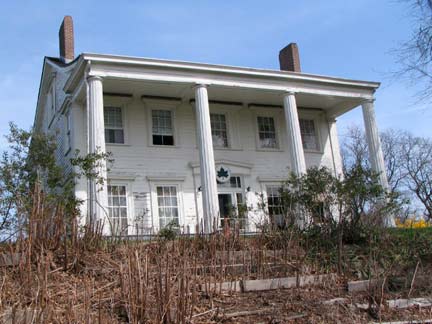 Captain Henry Hogg Biddle's grand mansion at 70 Satterlee Street was built on the water's edge between 1840-1845 in a Dutch Colonial style with unusual two-story porticoes. At the time, Biddle operated the ferry between Tottenville and Perth Amboy, NJ (the ferry was in operation until 1963). The house is usually open to the public but in early 2010 it was undergoing renovations. Note that the front and back of the house are designed the same, with four large Doric columns.
Following cobblestone-guttered Pittsville Avenue, which trails into Conference House Park to the left of the Biddle Mansion, reveals another historic home…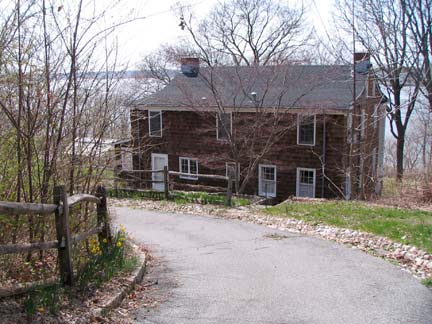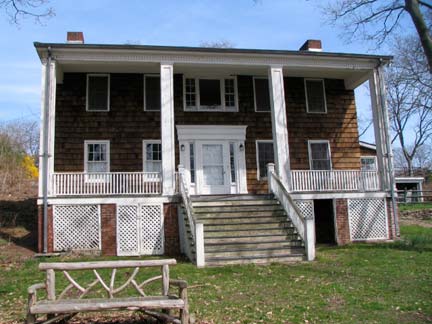 the Rutan-Beckett House, constructed by shipbuilder and NY State Assemblyman William Henry Rutan about 1850. In the first decades of the 20th Century it was purchased by the Beckett family, who remodeled and modernized it in the 1950s.
I did not have the chance to enter (the building is now on the grounds of Conference House Park and is open courtesy of the Parks Department) but inside you will find kitchy 1950s design elements, such as a stainless steel Tappan wall oven, orange boomerang design Formica countertops and authentic furnishings — even a boxfull of Beckett family vacation slides. Like the Biddle Mansion, it was closed for renovation in early 2010, but I'm looking forward to the chance to get inside and see this. Both buildings face the Arthur Kill and Perth Amboy, NJ.
I am unsure why there is a Pittsville Avenue in Tottenville — there are Pittsvilles in MD, TX and WI, but not NY
Billopp/Conference House
A brick mansion built by British Royal Navy Captain Christopher Billopp at about 1680 (the date changes depending on the source) at the end of what would be Hylan Boulevard was almost a century old on September 11, 1776 when Benjamin Franklin, John Adams, and Edward Rutledge met here with Admiral Lord Richard Howe, representing King George III, in an attempt to stave off any future hostilities. While Howe proffered an offer from George III to grant the patriots more rights than other British colonies enjoyed if they ended their fight for liberty, Franklin and the others stood firm and insisted upon American independence. Fighting continued and NYC remained occupied by the British for the next seven years.
What became known as the Conference House passed through many successive owners after the loyalist Billopps were forced to vacate after the Revolution. The building was purchased by Samuel Ward for his son Caleb Ward Senior, who divided the property into smaller parcels for his five children and his many grandchildren. A family scion, Caleb T. Ward, developed Stapleton; his mansion still stands on Ward Hill near the St. George Ferry in New Brighton.
After the Ward era the Conference House passed through several owners and underwent deterioration. The Conference House Association was established in 1927 to preserve the house, and it was restored to its Revolution-era appearance and opened as a museum. It remains the oldest stone manor on the island. The Conference House welcomes visitors: call (718) 984-6046 or go towww.conferencehouse.org.
I reached over to the ForgottenBookshelf and plucked out my 1909 Historical Guide to the City of New York, and its section on the Conference House relates thus:
The Billopp House, built about 1688 by Christopher Billopp, who, in 1688, aided New York's claim to Staten Island by circumnavigating the island in his own vessel in less than 24 hours; his reward was the grant of 1163 acres on the south shore, which he named for his vessel "Bentley Manor."
Well, hold on a minute. Like the alligators in the sewers and the purchase of Manhattan for 24 dollars worth of beads, the story is oft repeated but almost certainly apocryphal.
To resolve a dispute over whether Staten Island was "small" and therefore part of New York, this version goes, the duke decreed that islands that could be circumnavigated in less than 24 hours were to be considered small. Christopher Billopp, a British naval captain living on Staten Island, took up the challenge, circling the island in just under 24 hours…
But in "The History of a Legend," a 1948 scholarly essay, Roswell S. Coles of the Staten Island Institute of Arts and Sciences found "no real evidence to assume there is any truth in the circumnavigation story." Mr. Coles wrote that the first written account of the story he had found was an 1873 newspaper article.
Barnett Shepherd, a former executive director of the Staten Island Historical Society, said last night that he had often heard the legend. But he added, "It's not anything we've concerned ourselves about." Sewell Chan, NY Times.
The Pavilion
At the foot of what was once Hylan Boulevard, you will find the Almer G. Russell Pavilion, constructed in 2002 to replace an earlier one that had stood here from the mid-1930s to 1963, when, true to NYC form, it hadn't been maintained and was on the verge of collapse and was duly destroyed rather than rehabilitated — that's how it was done in those days. It honors a local resident killed in action in World War I France. Spectacular sunsets can be seen from the beach, near what is the southernmost point in NY State.
[Unfortunately, in 2011 the Pavilion was damaged and will need over $1 million in repairs to reopen]
Views of Perth Amboy, Raritan Bay and the Great Beds Lighthouse are available from the pavilion and beach (no swimming allowed, as there are no lifeguards present). The Great Beds name is a legacy of NYC's once-great oystering industry, as beds of the large and plentiful bivalves once thrived here before civilization and accompanying pollution took their toll. The lighthouse was completed in 1880 and continues to warn sailors of nearby shallow waters.
In the past decade the City has vastly upgraded Conference House Park, largely a wilderness when I first encountered it, with hiking trails, bird blinds, and a fanciful symbol at the southernmost point in New York State. (When I was a kid, I thought they actually marked the real North and South Poles like this. Maybe they should!)
The park is a prime birdwatching site and formerly hosted an annual July 4th fireworks show.
Billop Avenue, bordering the park from Satterlee Street to Brighton Street, photographed in 2000. The avenue misspells Christopher Billopp's name.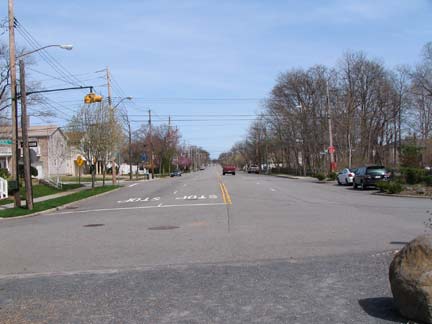 Hylan Boulevard, looking northeast from Satterlee Street. The boulevard runs the length of Staten Island's south shore region from Edgewater Street at The Narrows to Conference House Park. At the Narrows, it meets the Alice Austen House, part of which was constructed in the 17th Century –thus, Hylan Boulevard begins and ends at houses constructed before 1700. When it was constructed in the 1020s, it was originally called Southfield Avenue after the Staten Island township in which it was located, but was quickly renamed in honor of New York City mayor between 1917-1925, John F. Hylan.
Satterlee Street, looking north. The shuttered house is the only house owned by the Ward family still standing; it was constructed by Caleb Ward for his daughter Hannah. The house also beloned to he family of Swedish immigrant Theodore Leven for nearly 60 years.
Venerable 97 Satterlee Street across from the Ward house.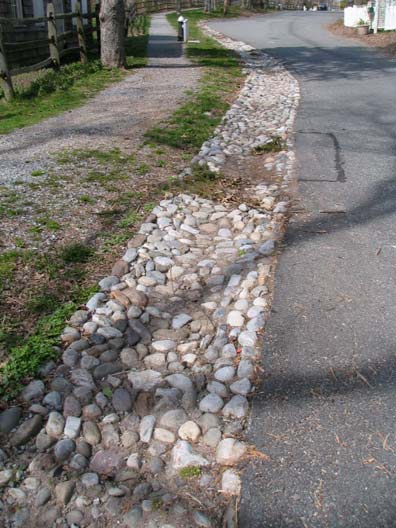 Though I have a Forgotten NY category called Cobblestones, it's really a misnomer as no NYC street is actually paved with them. You do see some brick streets in different textures and colors, but cobblestones, which can still be found in street pavings in Philly and Boston, are no longer respresented in NYC.
In Tottenville, though, you do see some cobblestone gutters, on Pittsville Avenue (see above) and here on Satterlee. The NYC Parks Department and the Conference House are likely responsible for installing, or preserving them.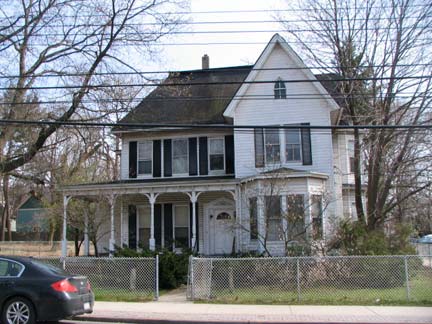 Returning to Amboy Rd. east of Main Street, we can see some homes that are quite old despite the homogenizing effect of aluminum siding, and some elements of old sometimes peek through. LEFT: 7497 Amboy, constructed in 1874 for oysterman Abraham Latourette. It was later home to Tottenville physician Dr. Coleman, whose first name the Tottenvile Historical Society doesn't provide. RIGHT: 7492 Amboy Road, constructed in 1887 for John and Ella Hopping, no surprise that Hopping Avenue appears on the Tottenville street map.
In their salad days, 7484 (top) and 7474 Amboy, between Chelsea and Brighton Streets, were pretty much twins. Oddly, the building at left, though abandoned and in need of repair, is landmarked and so cannot legally be torn down. It was built between 1869-1874 for James and Lucinda Bedell, whose family founded the still-extant mortuary across the street. James Bedell was a carpenter by trade. Architect Chester Cole, who helped restore the Billopp/Conference House, lived at 7484 in the 1920s.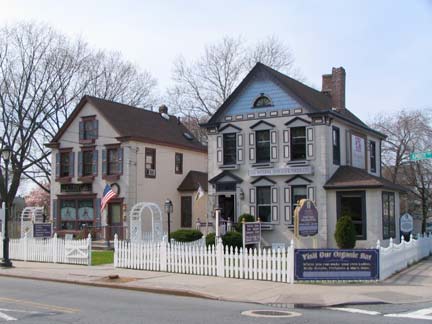 7481 and 7485 Amboy Road are another pair of twins. If anything, they've been overly exaggerated in their restoration as cutesy gift shops and hair salons. At least, they're still there.
7448 Amboy Rd. at the corner of Brighton, a Colonial Revival building constructed in 1903 for a foreman at the Atlantic Terra Cotta works, now housing law offices.
One of Tottenville's crown jewels other than the Billopp/Conference House is the Tottenville Library at 7430 Amboy Road near Yetman Avenue. When Tottenville was still a small oyster fishing village in 1904, it got its very own world-class Classical Revival library building thanks to millionaire philanthropist Andrew Carnegie. The Tottenville Library was designed by the prolific firm of John Carrere and Thomas Hastings, who also masterminded the great main branch at 5th Avenue and West 42nd Street and the Staten Island Borough Hall. It was in fact the first such Carnegie Library built in the newly consolidated New York City. (Left: early view of the interior, which is not much changed today)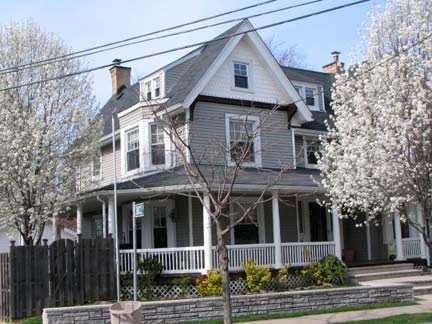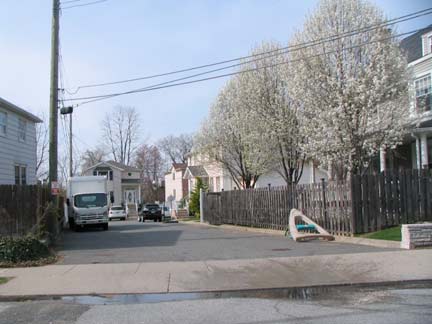 Craig Avenue between Johnson Avenue and Main Street. Developers have carved out some alleys where there were none before in recent years, and over time, they may develop the mustiness and character that older alleys in other downtowns have.
This one is Bocce (pronounced bah-chee) Court, named for a variety of lawn bowling practiced in NYC mostly by older Italian immigrants, though youngsters have been joining in.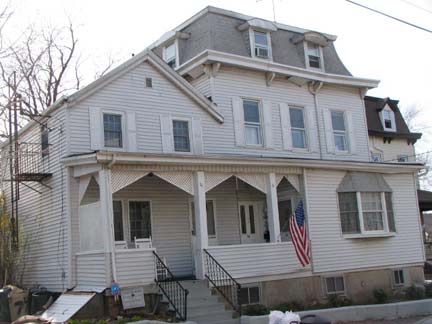 I returned to Main Street on the way back to the Staten Island Railway to get back to the ferry. 93 Main above) at the NE corner of Arthur Kill Road was a tobacconist when first constructed in 1861. 76 Main, below, when built in 1870, was also owned by members of the Hopping family; it was likely even more impressive before drowning in an ocean of siding.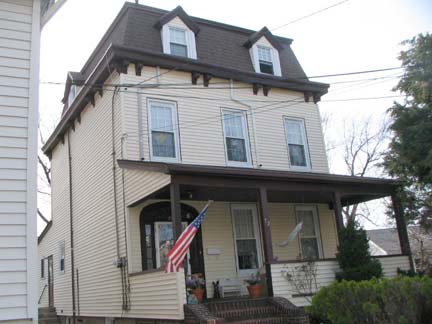 72 Main Street, yet another Hopping house when built in 1870
62 Main Street, likely the second-oldest house in Tottenville, was built in the late 1790s and was the home of John Totten Jr. It is on an angle so that the northern end of the house faces exactly north, and is known as the Compass House. Oddly, Main Street begins is numbering here, so it may have continued north past the railroad via a grade crossing to the Arthur Kill at one time.
Time may give new-ish Conference Court, across the street from the Compass House, the patina of sophistication it misses at the present. It was, of course, named for Tottenville's oldest building (see top of page).
A pair of buildings whose histories I do not know but would like to find out, at Arthur Kill Road and Butler Avenue (left) and 42 Bentley Street, right. Here, both Arthur Kill Road and Bentley make a double dead end.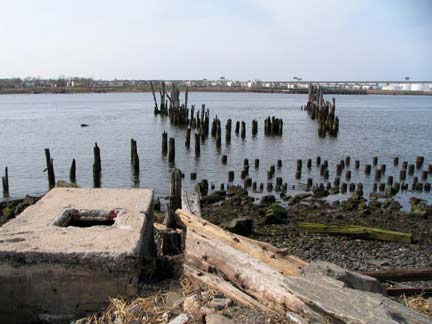 The Tottenville-Perth Amboy Ferry ran for over a century, ending operations finally in 1963; in Staten Island, only the pilings remain at the foot of Bentley Street, but in Perth Amboy the old landing shed has been retained and restored, even though resumption of service is quite unlikely.
An early 20th Century postcard view shows that the Staten Island side had a similar structure.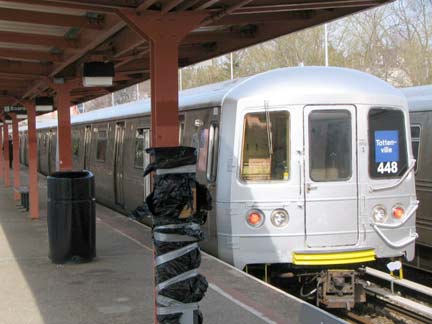 Time to head back to Little Neck, which is about as far from Tottenville you can get and still be in NYC, though I think the northeast Bronx is further away. The SIR R46 rolling stock has been refurbished of late with new blue bucket seats.
4/11/10