I head for Coney Island at least once per winter. I like to roam around in the cold wind and hear it whistling in that Astroland tower, the one that never got torn down after Astroland vacated the property and the new retro-Luna Park took its place. In fact I can be found in Coney on average more during the cold weather than in the heat. I make the Mermaid Parade most years, but sun and fun don't go together in my lexicon since I dislike heat, humidity and crowds, and I'm too chicken to do the Cyclone. In fact I have been on one roller coaster in my life, the one in the Mall of America in Minneapolis, and that is truly minor league in comparison to the Cyclone's heartstopping drops. Especially after my ticker trouble, I'm not sure I could handle the Cyclone, so just as well. Taking the Brighton BMT down to the West 8th Street station, I made my way over to…
WAYFARING: CONEY ISLAND TO MIDWOOD
Coney Island's most recognizable landmark and likely most profitable business, Nathan's Famous opened here in 1916 by Nathan Handwerker, who had previously been with another Coney Island restaurant, Feltman's, which purportedly invented the hotdog by placing a sausage between two pieces of bread; eventually, buns shaped specifically to fit hotdogs were produced. The thing to remember about Nathan's is you had better be prepared to pay premium prices, as my usual lunch, two franks, fries and a soda, runs about $15 if not closer to $20. But these are premium hotdogs, casing included, and the fries are so thick they are mini-baked potatoes. And no matter how cold it might be, the place is packed even on a weekday when you think people would all be in Manhattan working. The decor is nothing to write home to Mother about, and no-one cares.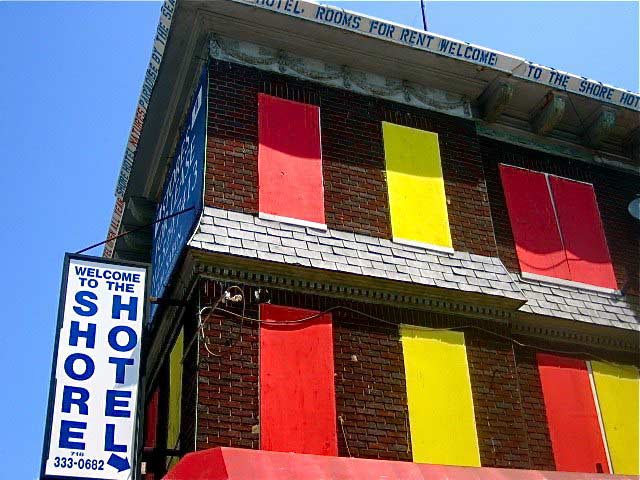 Many classic Coney Island buildings took final bows this year as Thor Equities goes about razing many buildings along Surf Avenue, apparently to bring in more 'respectable' businesses, banks, Starbucks most likely. (I described a few of Coney's classics in a New York Times op-ed in December 2010). The Shore Hotel at Surf Avenue and Henderson Walk was one such building. As Joni Mitchell put it, you don't know what you got till it's gone and, amazingly, I never thought to really get a full frontal photo of the Surf, though I did aim the camera at pieces of it here and there. In its latter years before closing in 2007, the Surf was something of a hot sheets joint. During a Mermaid Parade in 2003, I snagged this young woman viewing the parade from one of the best possible locales. She was in her bra and panties at the time. (It WAS 85 degrees and high humidity and perhaps those air conditioners weren't working).
The building that became the Shore Hotel was built in 1903 and had a variety of uses, though not much is known about its architect or original purpose. Comestibles always seemed to be available on the ground floor, alongside the alley. The Shore Hotel is now a memory as it was razed the third week of December 2010. The older photo, from Jeremiah's Vanishing NY, shows it in the Dirty 1930s. The corner ornamentation was long gone by the 1990s.
R.I.P. Henderson's
In addition, the Henderson Building on the SE corner of Surf and Stillwell Avenues is also being demolished. The building opened as Henderson's Dance Hall in 1899 and throughout its history hosted stage shows and entertainment, with games on the ground floor as well as food vendors throughout the decades. Its facade was shaved back in the 1920s to accommodate an expansion of Stillwell Avenue. Just before its demolition, an ancient sign illuminated by dozens of lightbulbs for Faber's Sportland was revealed, as well as the interiors of upstairs rooms of a previous incarnation as the Surf Hotel.
I know little about the Shore Theatre Building on the NW corner of Surf and Stillwell, other than it was recently granted Landmarks protection so that it can't be torn down. It bears the name of early Coney Island entrepreneur George Tilyou on the exterior, and its ground floor, which had a shuttered Kansas Fried Chicken outlet (owned by failed Coney Island developer Horace Bullard) was home to a movie theatre (the Shore marquee sign is still there; it has during my lifetime been called the Gayway and showed XXX-rated films. Whatever went on in the upper floors, I have no idea and I'm not sure I want to know.
[The sign was heavily damaged by Hurricane Sandy in October 2012]
Coney Island Bank Building, West 12th just south of Surf. It was under deconstruction when I passed by.
Contrary to the opinions of naysayers who believe I never have a good word for anything new, Coney Island's new subway terminal is one of NYC's modern marvels, with an arching roof that allows sun onto the tracks. Prior to the station's rebuild in 2005, though, there were several ancient relics rattling about that I hope have been retained someplace, like this ancient subway sign. I have my doubts. Meanwhile old terra cotta BMT medallions were repaired and reinstalled above the front entrance on Surf Avenue. Coney's new terminal is the bench mark for any future projects — I wonder how the MTA's glass dome at Fulton Street or Santiago Calatrava's PATH fish skeleton at the World Trade Center will compare.
The city opened Luna Park in May 2010 as a replacement for the shuttered Astroland. Its front entrance was modeled on the one at the previous Coney Island Luna Park in existence from 1903-1944. Italian amusement park manufacturer Zamperla built the rides. Meanwhile, the old Astroland name survived in Astroland Furniture; the north side of Surf Avenue became Russian Furniture Row the last couple of decades, and also at the apex of the Landmarked Cyclone rollercoaster.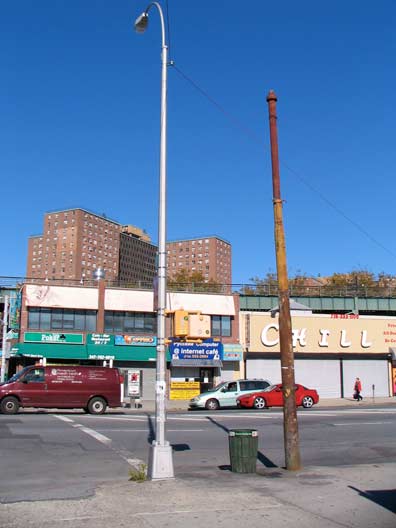 Surf Avenue's trolley line (#36) ran from Sea Gate (Nortons Point) along Surf, West 8th Street, Neptune Avenue and Emmons as far as Ocean Avenue until 12/1/1946 but for reasons I've never been able to discover, the old trolley poles were left in place, perhaps to hang decoratibve banners. They got a red, blue and yellow paint job in the 1960s that can still be made out today.
The pedestrian bridge from the West 8th Street el station to the NYC Aquarium on the boardwalk is something of an urban relic itself — it's done the job, with the same decor, since at least the 1950s.
The West 8th Street el station got a decorative makeover in 2005:
The station itself was completely rebuilt at the same time as the Coney Island complex, and was an Arts For Transit artists-architect collaboration and is called Wavewall, 2005, by Vito Acconci. This means that the windscreens of the Manhattan-bound platform (these face south, and the boardwalk and ocean), aren't simply square windscreens with clear definitions of where they begin and end, but more fluid looking, curves, and waves. There are many places where these windscreens are interrupted (on both station levels), and become a wire mesh that allows waiting passengers to have a view of the ocean as they wait for their train to whisk them back to Manhattan. The walls/windscreens of the north facing, Coney Island-bound platforms are standard rectangles but there are still many sections where it becomes mesh, allowing views of the surrounding area. Although the Lower-level F Culver Line platform has the disadvantage of not being completely exposed to the elements, there is still quite a feeling that your being outside in the form of lots of natural light that pokes its way in through the wire-mesh openings as well as down and through the Brighton Line Trackbeds that are simply steel trusses. All-in-all the Culver Line platforms provide for some very interesting shadows that are hard to capture in an image. Subway Nut
The two Brightwater towers, East and West, are on the north side of Surf Avenue between West 5th and 8th Streets. Like many of Coney's residential high rise buildings it was constructed in the 1960s. The towers of a separate project, the Warbasse Houses, can be seen through looking past the inner courtyard. For me, though, the signature feature is the rainbow-hued gateposts with 1930s-style Deco lettering. Superb!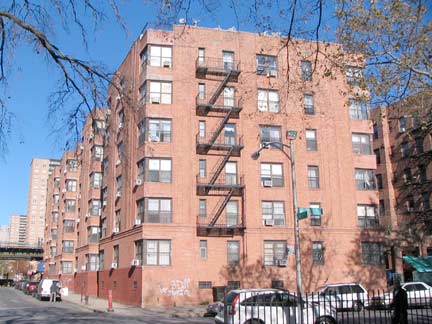 Older maps show Asser Levy Park, straddling Surf Avenue between West 5th Street and Ocean Parkway, as Seaside Park. It's one of Coney Island's oldest, having been acquired as parkland in the 1880s. It was renamed for one of the first Jewish settlers in New Netherland: he and his associates arrived as refugees from Brazil in 1654. Levy became the first Jew to own real estate in North America. The park is famed for its Seaside Summer Concert series; attractions in the 2010 series included Neil Sedaka, Brenda Lee, John Legend and the B-52s. Right: late 1920s Moderne-style apartment building at Seabreeze Avenue and West 2nd Street.
Elevated train entrance ornamentation, West Brighton Avenue and West 2nd Street. When high rise apartment buildings were constructed here beginning in the 1950s, entire blocks of houses were razed and Sheepshead Bay Road was eliminated between West 6th Street and Ocean Parkway. To take its place somewhat, a new street called West Brighton Avenue was constructed as a western extension of Brighton Beach Avenue as far west as West 5th Street.
In the 1990s, when the elevated train carrying the Brighton and Culver Lines was repainted and renovated, extra finials and other wrought iron ornaments were added to the staircases. As far as I can tell, new ornaments like this have not found their way to other el lines.
The MTA has been on a concrete station arch repainting and cleaning program of late and some of the renovations are snazzy indeed, including the massive arch that takes the el over Ocean Parkway at Brighton Beach Avenue. ForgottenFans know your webmaster is a mermaid fan, and they are included in the station renovations here…
Sculptor Deborah Masters created the Coney Island Reliefs in cast concrete. The 1260 sq. ft. of relief panels fit within existing recesses in the viaduct. Tinted a terracotta color to harmonize with the sandstone color of the Ocean Parkway viaduct, a massive structure that carries the subway across six lanes of traffic and an Olmstead parkway, the reliefs portray scenes from the history and legends of Coney Island, including Neptune, a mermaid, beach, boardwalk, and amusement park scenes. The designs are based upon photographs, drawings, and interviews by the artist with local residents and visitors to the famed amusement park. On the north and south facing facades, there are six triangular shapes in which Neptune and the Mermaid repeat in paired groupings, as well as large rectangular panels at either end of the viaduct facade that feature scenes of Coney Island. MTA Arts For Transit
Brighton Beach Avenue
Brighton Beach, like Staten Island's New Brighton named for England's waterside resort town, was first a seaside resort for the well to do with lavish hotels and racetracks in the 1880s. After the nabobs decamped for the east end of Long Island, Brighton Beach took on a residential aspect as dozens of apartment buildings sprang up on the blocks surrounding the El, which arrived in 1920, replacing grade-level steam trains. At first a heavily Jewish area, in the 1970s they were joined by thousands of Russian immigrants after the Soviet Union relaxed emigration policies, and Brighton Beach its today the premier Russian enclave in the eastern United States. Brighton Beach Avenue under the el is buzzing night and day with groceries, clothing shops, gift shops and nightclubs.
Bustling with Russian locals shopping for supper, this airy, three-level emporium houses a vast selection of Eastern European imports and fresh Slavic delicacies. The stories teeming first floor is a tightly packed study in Eastern appetites and Western abundance: Heaping piles of sausages occupy yards of counter space, and smoked fish, pickled vegetables (with a half-sour flavor), and an astonishing number of cereal boxes decorated with Russian cartoon characters also occupy large sectors. An extensive case of prepared foods provides homestyle cooking for those disinclined to whip up their own borscht, pirogi, or stuffed cabbage. Climb one of the curving staircases to the second floor, devoted to preserves, wildflower honey, dollar pastries as big as a man's fist, and counter after counter of brightly wrapped Russian chocolates. Venturing up a few more stairs, the by-now-weary shopper can enjoy a fresh, crumbly pastry and mild coffee in the small cafÈ area, which provides an aerial view of the busy atrium below. New York Magazine
The National is the #1 nightclub in Brighton Beach…As the night progressed, the food got hotter and so did the stage acts. The lights went dark and then things got really wild. Wild like black lite lit top hats, pasties, cabana boys, drag queens, feathers, and bumble bee outfits. Yeah, when Anthony Bourdain called it "a show that if John Waters saw would turn into a Broadway show and make it a hit" he was dead on. Yelp
This mural, with its flying mermaid, Guernica-like figures and impudent mutt, is on Brighton 2nd Street adjoining an old-school shoe repair shop.
Two more unique, only-in-Brighton Beach businesses. Brighton Beach Avenue has its share of chains but that is the exception rather than the rule.
Turning north up Brighton 7th Street, which contains a number of one-story bungalow-like structures. These are common in southern Brooklyn, especially between Brighton Beach Avenue and the Belt Parkway and between Ocean Parkway and Coney Island Avenue. These were constructed in the 1920s, packing so many small buildings into so many lots that narrow walkways had to be constructed to allow access to them. Originally these walkways all carried individual names, clustered according to letters in the alphabet (Owl Court, Orange Court, Opal Court, Onyx Court, Olive Court in one square block; in the 1930s these streets were reassigned with Brighton ___ numbers, becoming Brighton 1st Street, Walk, Place etc. — creating an even more confusing situation. Here: Brighton 7th Walk
Oceanview Avenue and Brighton 7th Street, PS 253, the Ezra Jack Keats School at left, and a new brick building (not half bad for new construction) across Brighton 7th. Keats (1916-1983), a children's author, was known for introducing multiculturalism into mainstream American children's literature. He was one of the first children's book authors use an urban setting for his stories and he developed the use of collage as a medium for illustration.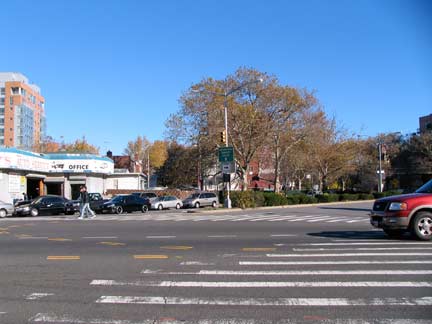 The Guider Avenue overpass over the Belt Parkway is under construction. Because it bridges the Belt, the rather short Guider Avenue takes on busier traffic than its 3-block length would normally carry, and between Coney Island Avenue and East 12th, it's Brooklyn's shortest 4-lane road with a center median, though Cass Place, a couple of blocks away, is similarly short.
Joseph A. Guider was a longtime state assemblyman and Brooklyn Borough President from 1925 until his death in 1926.
Lawn Court
Blake Court
Turning north on East 11th (west of Coney Island Avenue, north-south numbered streets are called Brighton 1st, Brighton 2nd etc. south of the Belt Parkway, but east of Coney Island Avenue they revert to their usual East 11th, 12th etc. nomenclature) we see two alleys between Guider Avenue and the Belt Parkway utterly unknown to all except their residents.
Older maps show Lawn Court as Koster Court.
East 12th Street overpass over the Belt Parkway, which bears signs saying it's Shore Parkway (all addresses on the service roads are officially Shore Parkway). We can be thankful the parkway's original name when constructed from 1938-1940, Circumferential Parkway (so called for its circuitous route along the western Brooklyn shoreline), was not retained.
This house is on a dead-end stub of East 13th Street issuing south from the Belt Parkway to the elevated Brighton Line subway tracks. In the dim past this was along the bank of a now-buried waterway called Squan Creek.
12/19/10