So there I was, meandering around in the cold dead Brooklyn winter, when I spotted a lamppost remnant on Nostrand Avenue and Macon Street. I have a radar for these kind of things, and can spot promising lamppost stubs and remnants quite easily. This one stumped me because it didn't look like the usual base that heavier lamps in the Corvington and Bishop Crook species usually have, nor the rather thinner ones that Type Fs or Gs or other NYC "letter" posts usually had. Could it have been a trolley pole base? The #44 Nostrand Avenue trolley, the one that the present day B44 bus route takes its number from, ran right past this spot. However, NYC trolley poles usually didn't have ornate, fluted bases — the unadorned posts ran straight up from the concrete in a streamlined fashion. So, what could this post have been?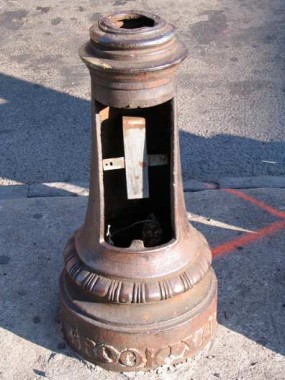 It's lined up nicely with other NYC "street furniture", a no-parking sign, fire alarm, waste bin, and modern lamppost. Unfortunately the guts and wiring have long since disappeared, making reactivation unlikely.
A missive to Bob Mulero, King of NYC Lampposts, proved fruitful. According to Bob these posts were produced for a "Brighter Brooklyn" ad campaign beginning in the early years of the 20th Century by the Brooklyn Edison Company. The relief inscription at the bottom reads "Brooklyn" as you can see in the photos.
Bob got this photo of a Brighter Brooklyn post on Lafayette Avenue between Rockwell Place and Ashland Place in 1978. By then it was a glorified holder for a No Parking sign. In 2010 the space is occupied by a parking lot.
The Brooklyn Museum's two "Brighter Brooklyn" posts were originally located in Coney Island's Steeplechase Park before it closed in 1964.This is one of the older Brighter Brooklyn posts in Washington Heights. In 1984, one of the Brooklyn Museum posts was lent to Spring City Industries, a lighting manufacturer, by the city for reproduction purposes. The "retro" posts, called "Regency" in the Spring City line, were installed in Union Square Park.
The February 1916 number of Lighting Journal has additional information on the Brighter Brooklyn posts:
Another surviving example is in a private garden in an apartment complex at 281-285 Wadsworth Avenue north of West 187th in Washington Heights  and there are two more in the Sculpture Garden at the Brooklyn Museum.
12/25/10