I'm kidding, naturally — Avenue Z is no sleepier than any of its brother lettered avenues in south Brooklyn. It runs mostly through the neighborhoods of Homecrest and Sheepshead Bay, with a very small piece running a few blocks east of the Belt Parkway in south Bath Beach. The bulk of Avenue Z runs from Shell Road east to Coyle Street in a straight line. On a Sunday walk in August 2010 I walked most of it to glean anything interesting along the way; as FNY webmaster, I can usually find something.
Avenue Z and Shell Road, once one of the first roads to cross Coney Island Creek onto what was then an actual Coney Island in the 1800s. It got its name from the story that it had once been paved with shells (as Pearl Street in NYC had once been paved with oyster shells. Today Shell Road runs under the Culver El, once the southern limit of Brooklyn's 5th Avenue El, today the southernmost limit of the IND 6th Avenue-Queens Boulevard Line (F train) Right: Beach Haven Houses, south of Avenue Z between West 2nd and West Streets, built and still operated by the Trump Organization, in his case Fred Trump (1905-1999), Donald's dad, who built acre upon acre of affordable apartment space mostly in southern Brooklyn but also in Flushing. He was born in Woodhaven, Queens; a historical plaque on Jamaica Avenue marks the vicinity of his birthplace.
Southern Brooklyn remainsheavily Jewish, unlike other former Jewish enclaves such as Brownsville and East New York. I passed a number of temples such as the Beach Haven Jewish Center at Avenue Z and East 2nd Street, and was attracted to its old school signboard. I'll have to do a whole page of these if I can colect enough of them.In this part of town, Brooklyn's East and West numbered streets actually run north and south. North of here the two numbered divisions are separated from each other by McDonald Avenue and Dahill Road, but here West Street comes between them. Brooklyn has another West Street in Greenpoint.
Above left: Coney Island Hospital,
defined by Avenue Z, Ocean Parkway, Shore Parkway and East 6th Street, is one of Brooklyn's oldest: it can trace its origins to a first aid stand on West 3rd Street near the beach. Between 1908-1910, the oldest buildings at this location were built, and in 1954 the main building went up.
Margaret Mead School,
East 7th and Avenue Z, honors the
famed anthropologist
(1901-1978) who studied populations in the South Pacific Islands and East Asia.
Crossing Coney Island Avenue,
Chicken Masters
, at East 12th, was oddly closed on a Sunday, so I didn't get a chance to sample the BBQ chicken fare. A plaque marks the former presence of an old tenant.
l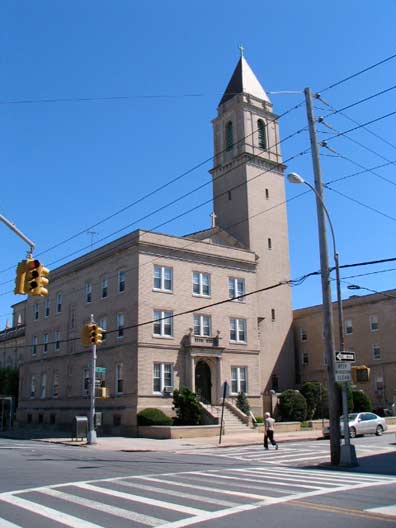 The oldest Roman Catholic parish in Sheepshead Bay is St. Mark's, organized in 1868. Its present brick building, with its incredible campanile (visible from Flatbush and Gravesend) was built from 1928 to 1931 at Ocean and Jerome Avenues at Avenue Z.
St. Mark's Church has a connection to the old Brooklyn Dodgers baseball team. There are two stained glass windows in memory of parishoner Edward J. McKeever, who had become an owner of the Dodgers back in 1912 and also helped build Ebbets Field. The windows were donated by his wife.
Another devout parishioner who grew up in Sheepshead Bay and attended St. Mark's was legendary football coach Vince Lombardi of the Green Bay Packers [and earlier, the NY Giants]. City of Churches
l
Without question the best awning sign 
on Avenue Z, just west of Ocean Avenue.
At least it was.
Sheepshead Bites reports
that the old sign is no more, and a new one has been installed, as of November 2010. So, this was one the last photographs ever taken of the classic sign!
l
Damn, I loved this place, too. Mr. Figaro, the Singing Stylist, a.k.a Jerry May, a media darling during the 80s for belting out Sinatra, Jolsen and Crosby — among many others — while fixing hair at 1919 Avenue Z. His walls were decorated with photos of celebrities and media clippings, the floor cluttered with souvenirs (not to mention a piano). He even carved his own Hollywood Star at the entrance floor.
l
It was a bad year for Figaro. It started out when he tried to bring some new business to the place by hiring some young whippersnappers. They promptly told the old dog to get rid of everything. The shop was cleared out, all the memorabilia gone, and the boys painted over the Hollywood Star.
l
The 3-story red brick Yeshiva of Kings Bay on Avenue Z between East 26th and 27th Streets is a pleasant surprise in this mostly low-rise neighborhood, It's marred by a bad stone stucco job on the ground floor though. It is the former PS 98, dedicated 1897; 1920s "It Girl" Clara Bow is an alumna. Right: Jerome Avenue ends at Avenue Z and East 22nd; it once continued on to the northeast, forming the south end of the old Coney Island Jockey Club grounds. Horse racing was outlawed within NYC in 1910, and the grounds were gradually filled in with a street grid and housing.
One of Sheepshead Bay's more unusual curios is a relic of comic Dom DeLuise's 1970s stint as chairman of Guardians of Hydrocephalus Research Foundation, located here at 2618 Avenue Z, benefiting children with the affliction. Right: handsome brick apartment, Z and East 29th.
A small area locals call "The Cedars" was settled long before the rest of the area was built up post-World War II. Note the property lines south of Avenue Z in the 1890 map between what became Ford and Coyle Streets. The yellow squares represent homes that can still be found south of Avenue Z. A long-vanished waterway called Leonard Creek snaked through the region.
Meanwhile the 1970s expansion of a sewage treatment plant between Coyle and Knapp Streets and Avenue Y and Voorhies Avenue has made this part of town literally stink to high heaven for years, and a 1993 "smell abatement" program apparently was ineffectual. I have no idea why anyone would buy property within 10 blocks of it, but the people who live around here have made accommodations, such as closed windows and plenty of air conditioning in the summer.
1/27/11