The Road to Ridgewood
At Jamaica and Euclid Avenues, a four-lane road, Cypress Hills Street, climbs the glacier-born hills, connecting the vast gulfs that comprise the Queens Cemetery Belt comprising seventeen cemeteries (a few of them located in Brooklyn). At this point we are still in the Borough of Churches but we enter Queens at that point in Cypress Hills Street that bends slightly west, barely visible in the distance in photo left. Until the 1930s, Cypress Hills Street was a southern extension of Fresh Pond Road, named for a long-filled in pond of fresh (eg., non-salty) water in Ridgewood. At right, the massive stone entrance gate of Salem Field Cemetery. The vast majority of bone orchards here are Jewish in clientele, the exceptions being the largest (Cemetery of the Evergreens and Cypress Hills Cemetery) and the military Cypress Hills National Cemetery.
WAYFARING ROUTE: WOODHAVEN to EAST WILLIAMSBURG
While hustling up the Cypress Hills Street hill I faced straight ahead and so didn't see the remains of metal sign stanchions on the sidewalk, tripped on them and broke my fall on the unforgiving Salem Field Cemetery concrete wall, bloodying two fingertips. Emails sent to City Councilmember Elizabeth Crowley, in whose District 30 this dangerous situation exists, were of course unresponded to. I have suffered for my webpages and now, you are, too.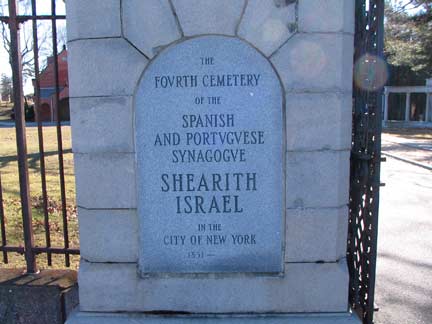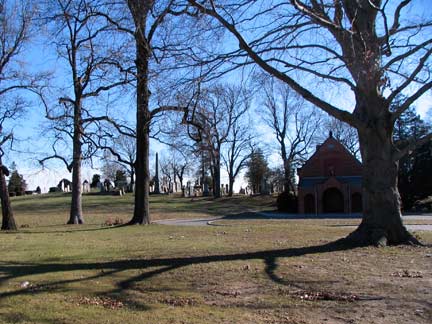 The Spanish and Portuguese Shearith Israel Congregation was the first Jewish congregation established in North America. The Searith Israel Cemetery in the cemetery belt is about equal divided between Brooklyn and Queens.
Shearith Israel was the only Jewish congregation in New York City from 1654 until 1825. During this entire span of history, all of the Jews of New York belonged to our congregation. Shearith Israel was founded by 23 Jews, mostly of Spanish and Portuguese origin, who had been living in Recife, Brazil. When the Portuguese defeated the Dutch for control of Recife, the Jews of the area left. Some went back to Amsterdam, others to places such as St. Thomas, Jamaica, Surinam and Curacao. One group of 23 Jews, after a series of accidents, ended up in New Amsterdam. They were not welcomed by Governor Peter Stuyvesant, who did not like the idea of Jews being allowed to settle here. However, these Jewish individuals fought for their rights and won permission to settle here. During the colonial days, the Jewish community was relatively small… Shearith Israel
The congregation also owns three small cemeteries in Manhattan: the small one on St. James Place just south of Chatham Square, another on West 11th just east of 6th Avenue, and another on West 21st Street west of 6th Avenue.
Midway through its run through the Cemetery Belt, Cypress Hills Street intersects the Jackie Robinson (Interborough) Parkway, one of the first parkways Robert Moses built in NYC in his capacity as traffic czar; it first opened in 1935 as a undivided(!) four-lane parkway from Jamaica and Pennsylvania Avenues to Grand Central Parkway and Union Turnpike. Gradual additions and renovations through the years, the latest beginning in 1987, have turned it into a de facto expressway, though the overpasses are too short to allow trucks to use it. It makes so many twists and turns to accommodate the hilly glacial moraine through which it runs. When it was built several gravesites in the Cemetery Belt had to be moved. It was renamed for the Brooklyn Dodgers baseball great in 1997, 50 years after he became the first African-American to play major league baseball.
Hungarian Union Field Cemetery, with another massive domed stone gateway. As the sign says, it has merged with Mount Carmel Cemetery, as has Knollwood Park Cemetery (see below).
1909 map showing Cypress Road (today's Cypress Avenue) scything through the Cemetery Belt to Fresh Pond Road (now Cypress Hills Street). The dotted lines mark a trolley route that until 1947 connected the Myrtle-Wyckoff el train-trolley junction with the Cemetery Belt. The ponds at the left have since been filled in and are now part of Mount Judah Cemetery. The Jackie now runs atop the right of way marked "pipe line" and just south of Cypress Avenue and north of Ridgewood Reservoir. Machphelah Cemetery, seen on the right, is the final resting place of escape artist Harry Houdini.
Even this barren stretch of Cypress Avenue has some intriguing signage. A metal sidewalk medallion advertises the likley long-gone B. Schubert Asphalt and Cement Works, 155 Jamaica Avenue, which likley built the sidewalk. The Union Field Cemetry's entrance gate features handsome raised white lettering on a black surface.
As Cypress Avenue turns northwest and enters Ridgewood, the King of All Buildings becomes a presence on the horizon. The Empire State Building at 5th Avenue and 34th Street is a few miles northwest of Ridgewood on a straight line and can be seen even more prominently the further northwest you go.
There are a trio of tiny streets tucked off Cypress Avenue east of Knollwood Park Cemetery just south of Cooper Avenue: Clover Place (left), 57th Street and Cabot Road. Here you'll find one of the worst examples of recent excrescence architecture, complete with cell phone towers, and a home whose owners are nonpareil hoarders who the Collyer Brothers would envy.
Hey, if FNY doesn't show you this stuff, nobody else will.
Knollwood Park Cemetery is the last such cemetery I encountered going north through the cemetery belt. On the map it appears as a notch in the northest section of the vast Cemetery of the Evergreens at Cooper and Cypress Avenue. It is now operated by Mount Carmel Cemetery.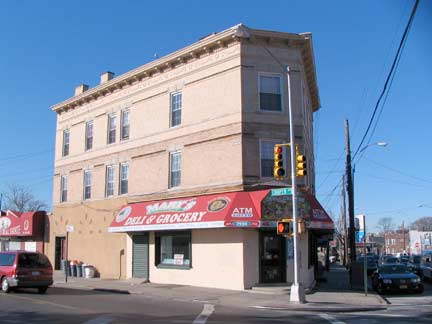 Cooper and Cypress Avenues meet at an angle creating an odd-shaped building plot. Right: it's likely that in a few short years people won't remember that telephone handsets were shaped like this, or that there were ever telephone handsets.
Hot and thirsty, just what you need… St. Felix Avenue and Cypress, just south of the LIRR Bay Ridge Branch elevated tracks.
At Summerfield Street and Cypress Avenue, a 1950s-era plastic letter awning sign and stylized paint buckets on a decrepit building.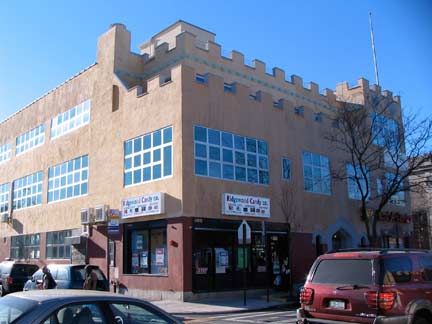 I'm not sure but according to the Roman numerals, this building at Cypress and Jefferson Avenues obtained this castellated treatment in 2008. As they say in heraldry, the lions are rampant.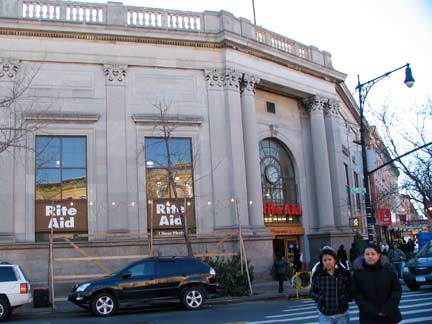 Cypress, Myrtle and Putnam Avenues is a major Ridgewood intersection, where the massive Ridgewood National Bank (now a Rite Aid®) and the Ridgewood War Memorial can be found.
According to the Myrtle Avenue Business Improvement District, this bank was organized by a group including local developer Paul Stier and architect Louis Berger (Stier developed much of surrounding Ridgewood, and Berger built the handsome attached porched homes on Stockholm Street). This bank building was constructed for $36,000 and opened in 1910.
The finest war memorial in Queens, and one of two or three in the city of surpassing integrity and beauty… the drum-like temple is faced with large, curving bronze panels that work together as a narrative, depicting the three theatres of war, the men who fought there, and the angels who guided and walked beside them. The bronze workmanship is superb, lending the figures drama, unique personalities, and scenes that are filled with interest. Alternating with the panels are granite fascias that list the names of dead.
…[T]his memorial not only has superb bronze workmanship but exalted speech that gives it a genuine greatness, casting the figures into a light of acute longing, love and sacrifice. The words speak from the bands of bronze beneath the figures, and are also graven into a continuous frieze around the base of the panels: "They upheld America's cause, and the hallowed memory abides with us." And: "I am summoned by my country, whose voice I can never hear without veneration and love." And, in the granite it is written: " They earned eternity in a brief moment of time." — Cal Snyder, Out of Fire and Valor
The architects were Hemle and Corbett, the sculptor Anton Schaaf. It was dedicated on Memorial Day, 1923.
Cypress Avenue at Woodbine Street. Ridgewood's streets are lined with acres upon acres of handsome, light-bricked attached 2 and 3-family houses, many constructed by Gustave X. Matthews using brick from the Balthazar Kreischer kilns in Staten Island. Some blocks have been protected by NYC Landmarking and more are slated for consideration, albeit they are in eastern Ridgewood from about Forest Avenue east.
Slimming aids, jewelry, comical masks, candles, and many other objects are promoted in the window of what calls itself a travel agency in Spanish. Someone let me know what this is about.
Passing under yet another elevated train at Cypress Avenue and Palmetto Street, this one the eastern extension of the Brooklyn's Broadway El, serving J and M trains. In the parking lot on the corner I found what are either two massive egg beaters or a torture device (what are these things?) The Corona ad instigates thoughts of summer on a 28 degree day.
Cypress Avenue and Menahan Street. A very old blue and white sign marks Menahan as Ralph Street; maps from the early 20th Century have "Ralph Street" or "Ralph Avenue" for Menahan. Today, Ralph Avenue, named for colonial-era land baron Ralph Patchen, begins at Broadway and Lexington Avenue in a spot where Menahan Street would be if it did not end at Bushwick Avenue. From there, Ralph Avenue runs in two separate pieces south all the way to Avenue T in Mill Basin.
At Menahan Street the Brooklyn-Queens borough line zigs onto Cypress Avenue and runs down the center of the street. I was now back in Brooklyn as I was walking on the west side of the street.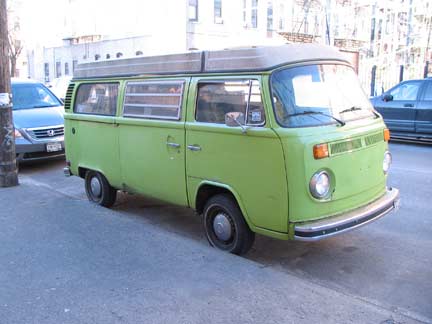 Though London, England, is called the city of shopkeepers, Ridgewood, too, has a great many as the big chains have not yet invaded it except at the Metro Mall in Middle Village and Atlas Park in Glendale. Catania Bakery and a Volkswagen bus at Harman Street: this appears to be the Type 2 produced from 1967 through the mid-1970s, though the "VW" plate in front has been removed.
Several signs at Stanhope and Cypress rate a second look, especially the grand old formerly neon'd Cypress Inn bar sign.
Leaving Cypress Avenue after several miles from Woodhaven, turning left on Hart Street (named for New Jersey farmer and Declaration of Independence signer John Hart (1713-1779) I found a rare (in NYC) Plymouth Prowler:
The Plymouth Prowler is a "retro" styled production car built in 1997 and 1999-2002. The Prowler was based on the 1993 concept car of the same name…The design of the Prowler was said to have been inspired after Chrysler engineers were given free rein to create whatever they wanted in a "hot rod" or "sportster" type vehicle. One of the most striking design features of the Prowler are the open, Indy racer style front wheels. wikipedia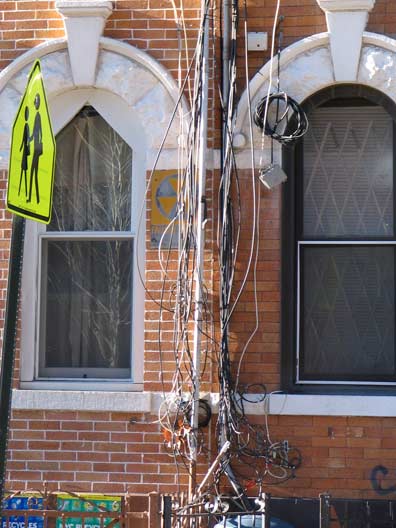 Turning on Wyckoff and then Willoughby Avenues I was struck by how many telephone and TV wires here were trailing down the sides of some of the buildings on Willoughby just east of Irving Avenue. NYC was built without service alleys, where most of these wires, as well as garbage piles, would be left if they were there. This is the same Willoughby Avenue that runs all the way west to Fort Greene and, as Willoughby Street, extends to downtown.
PS 123 on Irving Avenue between Willoughby and Suydam Street faces Maria Hernandez, formerly Bushwick, Park. Information on NYC public school architecture is notoriously sketchy but it likely dates to the 1910s and was likely designed by prolific schools architect C.B. J. Snyder.
Maria Hernandez Park occupies a 7 acre plot between Knickerbocker and Irving Avenues, Starr Street and Suydam Street, interrupting Willoughby Avenue for a block. Beginning in the late 1890s Bushwick Park was a neighborhood oasis as a grounds for concerts, baseball games and marches: part of the land on which it was built once was owned by P.T. Barnum. Under Robert Moses' direction the City added playgrounds and basketball courts in the 1930s. The park was renamed Maria Hernandez Park in 1989 after the death of a neighborhood activist:
Hernandez and her husband Carlos were leaders in the struggle against drugs in Bushwick. They pleaded with drug dealers to leave the streets and provided information to the police about drug trafficking. To rally support for her efforts and to educate her neighbors about the need to evict the dealers, Hernandez organized block parties, athletic activities, and social and cultural gatherings. She was a positive role model for young people and a loving inspiration to all. On the morning of August 8, 1989, Hernandez was struck by five shots fired through the window of her Starr Street home and died soon after. Her block, her neighborhood, and her city mourned the death of his brave and dedicated woman. NYC Parks
Maria Hernandez Park lost many of its trees after a freak tornado tore through the NYC area on September 16, 2010.
Though Knickerbocker Avenue is eastern Bushwick's main shopping street, it is dominated by storefront churches northwest of Hernandez Park.
Knickerbocker Avenue crosses Flushing Avenue and enters East Williamsburg — the only Bushwick Avenue to do so, as East Willie has its own set of north-south routes such as Morgan, Vandervoort, Porter, Varick, Stewart, Gardner and Scott Avenues. At Thames Street we see the Ops Thrift Store, one of a number of retail establishments gaining a foothold here (in this case, a manufacturing loft building), as East willie as well as Bushwick has seen some eastbound spillover from Williamsburg proper in the 2000s and into the 2010s. Right, on Grattan Street, some original iron railings poke through an otherwise aluminum-sided house.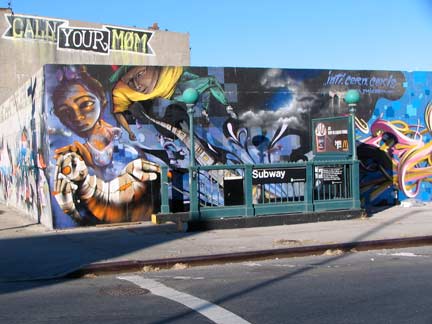 At Morgan Avenue and Grattan Street is another of the sober apartment buildings in the area, nevertheless with some flourishes on the corner and roofline. At the Morgan Avenue subway entrance, a mural has appeared that wasn't here the last time I was here in 2009.
The city has installed many different styles of vents over the decades. The bike memorial is for Aurelio Perez, who was killed here in May 2009.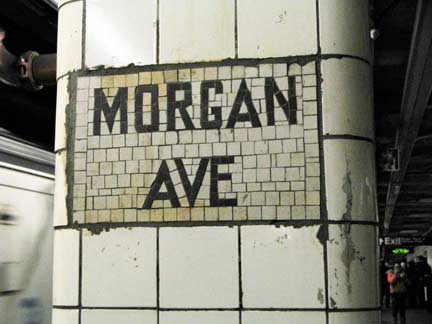 That was about a six mile walk. Time for the surcease of subway travel and I got on the L train back to Manhattan at the Morgan Avenue station.
1/23/11