MASONIC TEMPLE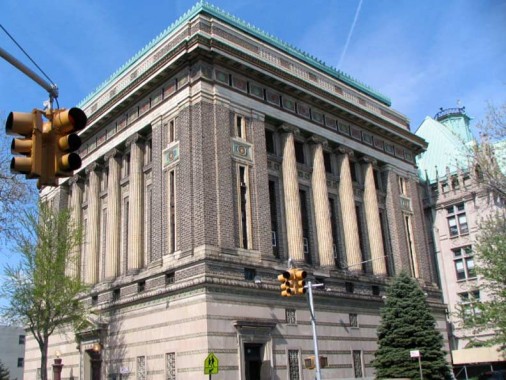 I detoured a block west on Lafayette to Clermont so I could see the Brooklyn Masonic Temple, assembled in 1908 by not one but two architectural firms, Lord & Hewlett and Pell & Corbett. It's notable for its eight Ionic columns on the front and side and for its liberal use of colored terra cotta glazing, a relative color riot with red, blue, gold and green all employed in addition to the traditional beige. Not sure if the interior can stand up to the Grand Masonic Lodge on West 23rd in Manhattan however.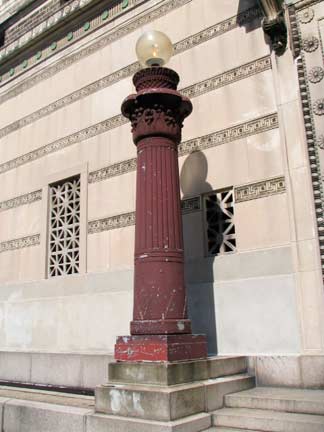 The side entrance on Clermont has a pair of ornate gate lampposts that have unfortunately had modern luminaires added.
Live concerts are presented including gospel, rock and rap events: the music site is cleverly titled Masonic Boom. Jello Biafra (Dead Kennedys), a reformed Big Star and Suzanne Vega ("Luka") have all played here.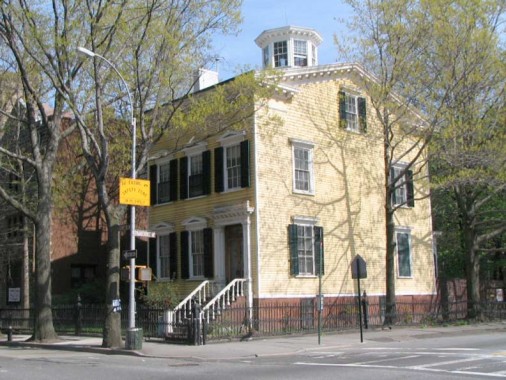 Joseph Steele House, 200 Lafayette, SE corner of Vanderbilt, is one of the largest and grandest woodframe antebellum houses remaining in Clinton Hill. The cupola is a nice touch and must have afforded views across the fields to downtown Brooklyn when the house was built around 1850.
Maybe it's near where you live and you pass by all the time or maybe it's in a neighborhood you get to less frequently, but it's a house that you have an emotional attachment to even though you've never set foot inside. For us, that house is the Joseph Steele House on the southeast corner of Lafayette and Vanderbilt. Whenever we walk by (which is frequently) we're always hoping we'll get to see something we haven't before: Maybe the garden door will be open a crack and we'll catch a glimpse of what the back stair looks like. Or maybe a light will be on in the dining room and we'll get to see if there are moldings on the ceiling. And, of course, there are the fantasies of someday living there. We're not the only one with a certain affection for this place. Here's what the AIA Guide has to say about the 1850 charmer:

"An extraordinary relic from the days when these precincts were farm country. Greek Revival, with elegant narrow clapboards, a bracketed cornice with eyebrow windows, and a widow's walk with a view of the harbor in those open, early days. It wears its age well, with dignity. " Jon Butler, Brownstoner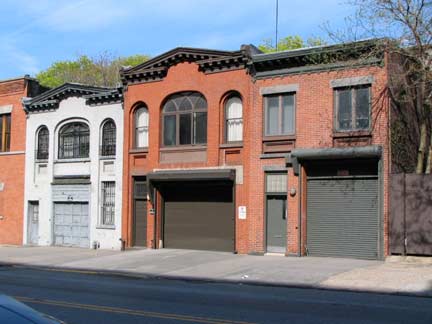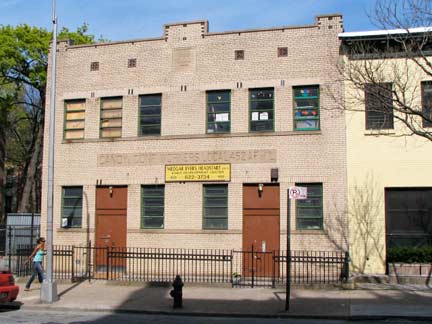 North of Lafayette on Vanderbilt, more stable/carriage buildings and a candy factory: "Candy & Conf. Workers Local 452 A.F. of L."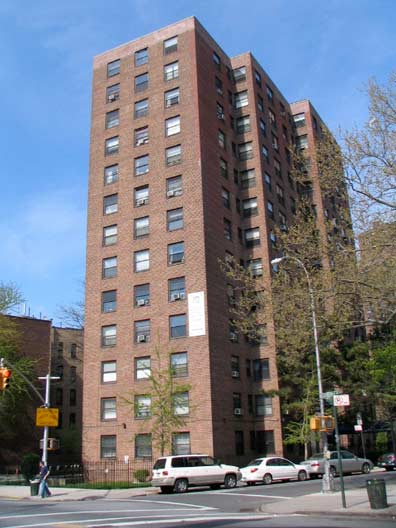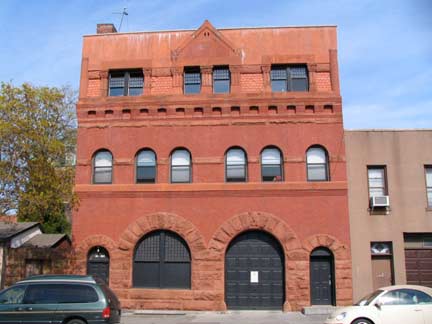 Another carriage house, this one north of DeKalb (I have been walking DeKalb for a future FNY page) with three different sizes of arched doors and windows. Left: Clinton Hill Cooperative Apartments, Willoughby and Vanderbilt Avenues.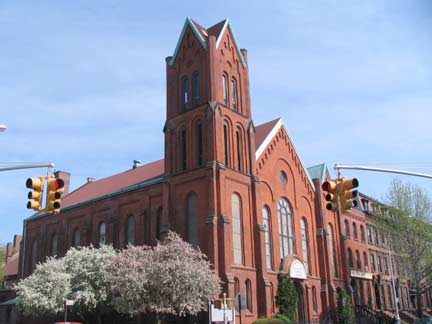 SE corner Willoughby and Clermont, French Speaking Baptist Church, originally Simpson Methodist Church. In between it served as the Jewish Center of Fort Greene; its legacy of that incarnation is the Star of David above some of the doors.
Clermont Armory Towers, 171 Clermont north of Willoughby. This was an actual armory built in 1873 (making it NYC's oldest standing armory). It was home to the NY State 23rd Regiment. Conversion to residential was completed in 2000.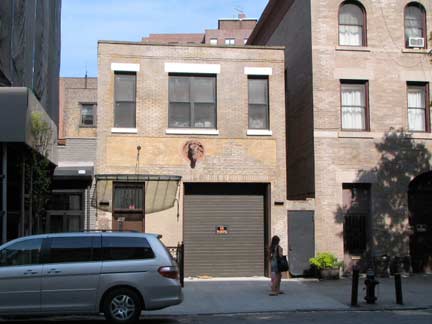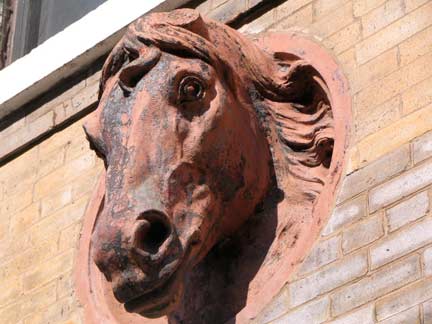 With ole Dobbin above the door, the original purpose of this small building on Vandy just south of Myrtle is no mystery.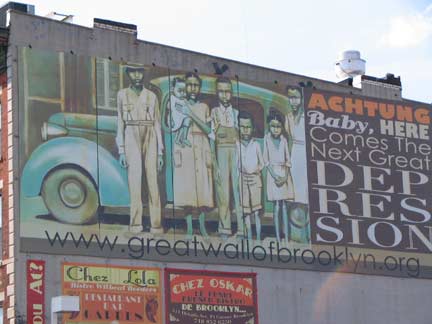 Jeez, I hope she's wrong about that. Great Wall of Brooklyn organizer, restaurateur Charlotta Jansen painted the mural facing Vanderbilt on Myrtle Avenue.
Not a classic neon liquor store sign but a cut above the usual boring vinyl.
Controversial mural: Benjamin O'Garro (1968-1995) [was] a controversial figure who is still beloved by some in Fort Greene, even if he represents, in many ways, the neighborhood's troubled past…
In 1988, he was convicted of attempted murder for shooting at two police officers from the 88th precinct with a Tech-9 pistol. While O'Garro was serving an attempted murder sentence upstate, his 3-year-old brother Ben Williams was killed when someone — possibly a rival drug gang — shot up the OíGarro apartment in a hail of bullets. That same week, in July of 1990, two other children would be killed by gunfire on city streets…

On Aug. 17, 1995, he was shot dead in a telephone booth outside the Whitman Houses. As Ian Frazier wrote in the New Yorker last year, O'Garro may have been murdered because he stole jewelry from an associate of the rapper Notorious B.I.G, another son of Brooklyn who would die violently before the age of 30.

Susan O'Garro, 81, who still lives in the Whitman Houses…defends O'Garro, her grandson, without reservation, claiming that he is still loved in a neighborhood that has changed drastically in the nearly 15 years since his death. "If he was such a bad guy," she wonders defiantly, "what's he still doing on that wall?"NY Times, March 2009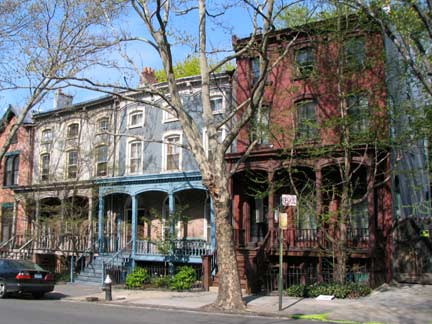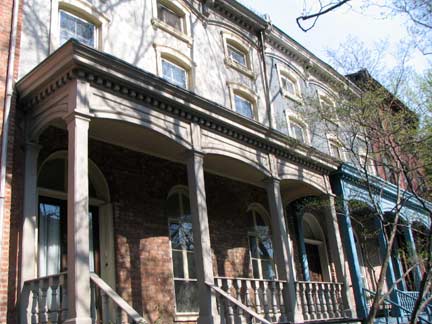 Perhaps Vanderbilt Avenue's quirkiest, most varied section is between Myrtle and Park Avenues. This is in the western end of a proposed Wallabout Historic District, which would lie between Clermont, Classon, Flushing and Myrtle Avenues, and contains homes built in the 1830s that go back to the earliest days of European habitation in the area. This is the one block of Vanderbilt Avenue you really should visit.
Since the block has remained unlandmarked, you do get stark contrasts like the one at 122 and 124. Above right and left: 127-131 are Italianate brick houses with distinctive cast iron porches.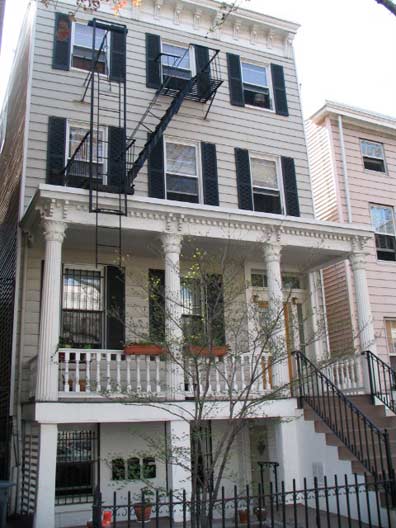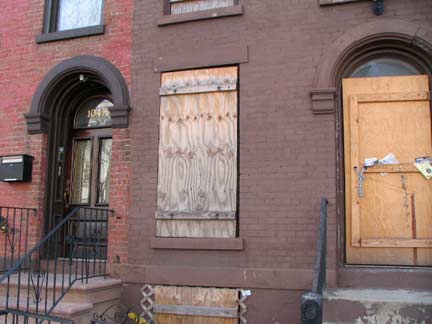 102, 104 and 104-1/2 Vanderbilt. While some of the Vandy houses are meticulously maintained, some are unfortunately boarded up, awaiting an angel to deliver them.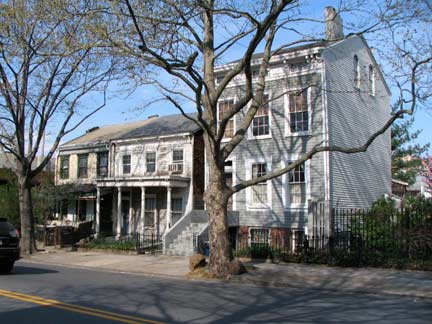 Perhaps the oldest buildings on Vanderbilt are just south of Park Avenue; more of these were likely razed when the Brooklyn-Queens Expressway was rammed through by traffic czar Robert Moses in the 1950s. #73 Vanderbilt, the taller building with the attic windows in photo left, is said to have been built in the mid-1830s. Walt Whitman once lived at #99 Ryerson, just five blocks to the east, and you can picture him in a neighborhood that looked like this.
Vanderbilt Avenue ends, or begins, at Flushing Avenue and the Brooklyn Navy Yard.
Photographed April 2009; page completed February 20, 2011