Eckford Street, in Greenpoint, Brooklyn, runs from Manhattan Avenue between Newton and Engert north to Greenpoint Avenue. According to the indispensable Brooklyn By Name (Benardo/Weiss, 2006) Eckford Webb was a founder of the Greenpoint shipyard Webb & Bell, formerly located at West and Green Streets. The firm built the wood caissons that anchored the Brooklyn Bridge during its construction. Webb Avenue, near the Jerome Park Reservoir in the Bronx, is also named for him. I was in Greenpoint on one of the rare sunny days in April 2011 and chose Eckford at random to wander down, and found some interesting items.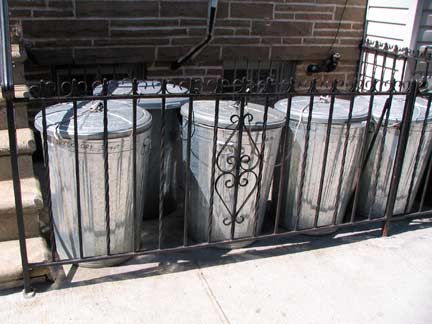 Beginning my walk at Greenpoint Avenue and going south. This hand-drawn awning sign on the corner is written on one of a number of languages encountered in this part of town. If it's in Spanish, 'busca' is 'search for' but I don't know agilas. A proper name perhaps? I found some tin garbage cans — metal cans are very unusual in this age, when most garbage cans are made of a petrochemical product.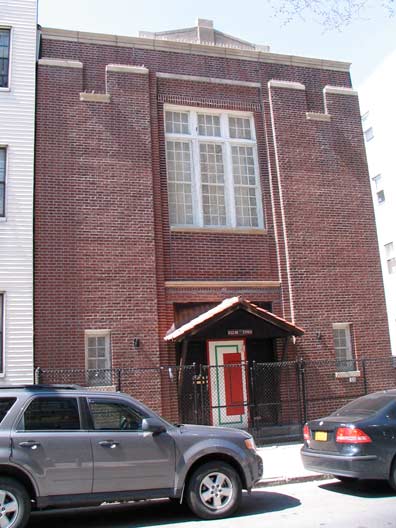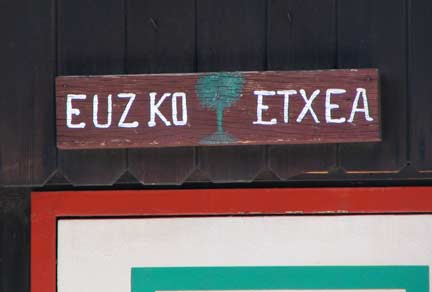 307 Eckford is a handsome brick building that appears to have once been a church or school. The words "Euzko Etxea" are insrcibed above the door, and some internet research revealed the words to mean "Basque Home" in the Basque language. You usually think of Greenpoint as a Polish stronghold, but on Eckford Street we find the headquarters of the New York Basque Club.
The Basques are a group found in northeast Spain and southwest France, in the Pyrenees Mountains region; they have a culture and language unique to their group, which has occasionally caused friction with surrounding countrymen, who have occasionally attempted to forcibly assimilate them. Fortunately, the Basques are fiercely proud of their ways and customs, and have maintained their own culture despite those efforts.
ForgottenFan John Dereszewski: With regard to the "Basque" house – 307 – this was once the church hall for St. Elias' Greek Rite Catholic parish. The old and wooden church was initially situated on Leonard St., on the other side of the block, and you could access the rear of the church hall by walking past the church through an alley.
Around 1949 or so, St. Elias moved from this location to what had once been the Greenpoint Methodist Church on Kent St., just west of Manhattan Ave. When that occurred, the old church was demolished and the parish used the open space for parties and fund raisers. It only sold the old properties many years after. While, the last time I looked, the old church spot was still vacant, it could have very easily have been converted into a condo in the interim.
Eckford Street is mostly lined with the aluminum-sided brick or frame buildings most other streets of Greenpoint feature, but I tried to shoot the exceptions for this page. For example on occasion you will find a house or two that is severely set back from the curbline, a practice which stumps me. Small hones, huge lawns, which in many cases have been paved over for parking lots.
The monster high rise at 308 Eckford opened in February 2011, easily the tallest building with an Eckford Street address, though taller buildings are encountered further south.
Don't let the dilapidated, superannuated and graffiti-smeared exterior of 295 Eckford fool you: the building is occupied, I saw a ceiling light turned on in a 2nd floor window.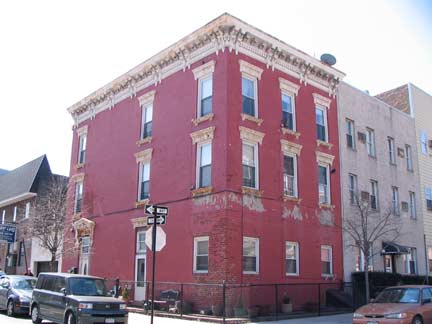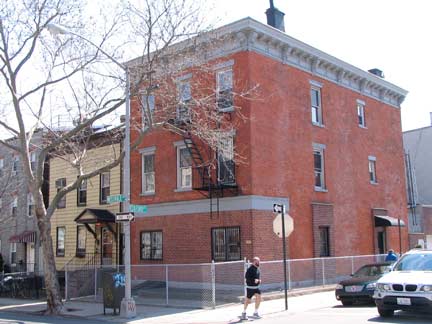 The buildings at the corners of Eckford and Calyer (top) and Eckford and Meserole Avenue seem to share an architect, or at least a common esthetic.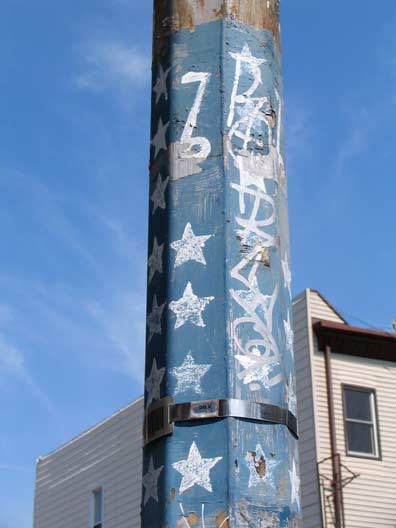 Just south of Calyer is a wonderfully turned-out Bicentennial lamppost. You still find lampposts and fire hydrants bedecked in red, white and blue for the 1776-1976 USA Bicentennial — I marvel at how the Department of Transportation and FDNY have allowed them to survive all these decades without being repainted. This one has a blue field and white stars, with the digraph '76' painted on every other facet of the octagonal-shaped pole.
These are every bit the historic artifacts you'll find in any self respecting museum.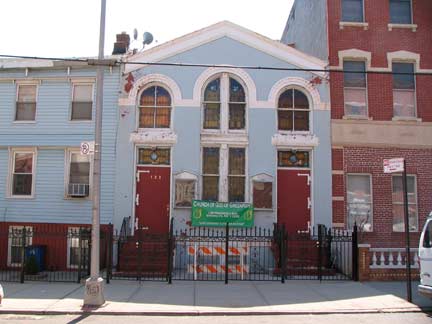 128 Meserole Avenue, Church of God of Greenpoint. According to its website, the sect was founded in 1886.
Maria's, Eckford and Meserole Avenue. Greenpoint has its share of fast food franchises, most concentrated at the crossroads of Manhattan and Greenpoint Avenues, but the NYC corner deli tradition is alive and well here.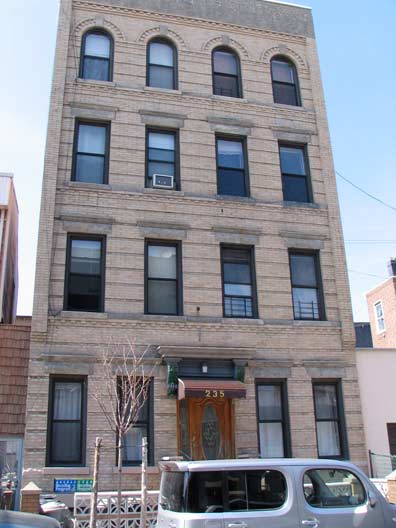 235 Eckford, south of Meserole, retains its 1910s-era patina…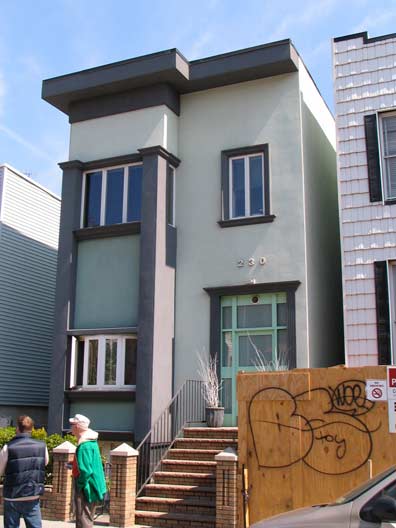 …while a new vision was found for #235 across the street…
#221 keeps the old ways.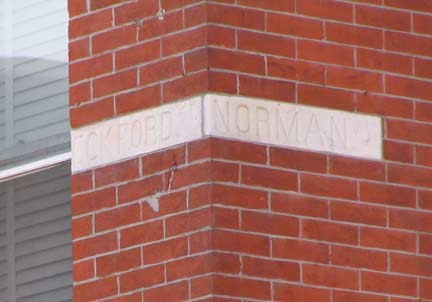 The corbelling on the roofline at Norman Avenue and Eckford has been stripped away (see the adjacent building) but chiseled street names can still be seen on the corner.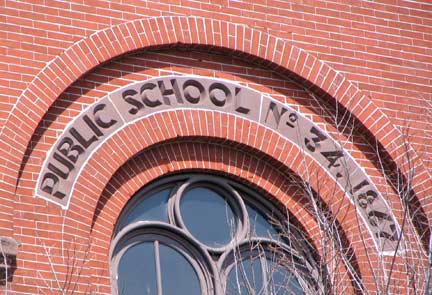 PS 34, the Commodore Oliver Hazard Perry School, was built in 1867 on Norman Avenue between Eckford and McGuinness Boulevard. It was declated a NYC Landmark in 1983 and is the oldest elemenraty school building in NYC still used as a school.
Commodore Perry (1785-1819), a Rhode Islander, led the US navy to a decisive victory in the Battle of Lake Erie during the War of 1812. His flagship, the USS Lawrence, flew the famed banner that read: "DON'T GIVE UP THE SHIP."
172 Eckford, south of Norman Avenue, is aluminum-sided like its neighbors, but the owner has kept, or added, some wood or metalwork around the dormer and entrance.
Across the street, these attached houses must have been something before the cladding was done.
Nassau Avenue is the main east-west shopping/restaurant district in Greenpoint (Manhattan Avenue being the north-south) and if it's Polish delicacies like kielbasa you are looking for, this is your street. As often as not the awning signs are in Polish. There's a controversy in Flushing about the store signs all being in Korean or Chinese without English translations, but I'll have to inspect Greenpoint or even west Maspeth further to see if the same holds for the signs in Polish.
Nassau Avenue takes its name from a former name for Long Island, Nassau Island, which in turn was named for William III, a British monarch who was a member of the family of the House of Orange-Nassau, a line that originated in the Netherlands. (The Atlantic island was also so named).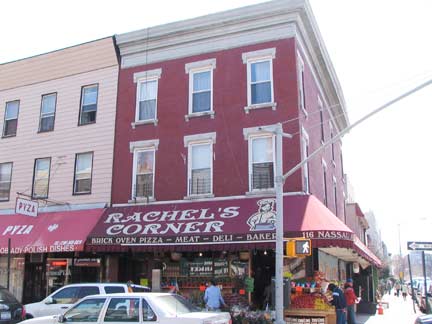 Rachel's Corner, a restaurant/deli/bakery on the SE corner.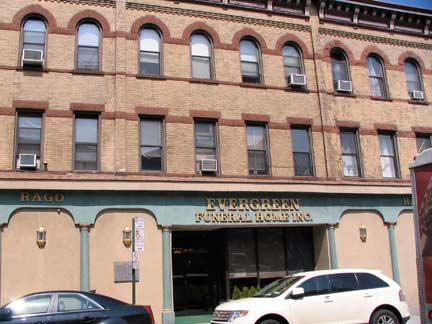 Funeral home in one of the older brick buildings, Nassau Avenue and McGuinness Boulevard.
Wasco Auto Supplies, Nassau Avenue and McGuinness. OK, name THAT car.
ForgottenFan Mark Nehmias: The relic on the roof of Wasco Auto is a 1962 or '63 Chevrolet Chevy II (a/k/a Nova). Someday a hotrodder with more money than brains will offer Wasco serious money for that shell so it can be transformed into a tribute to it's new owner's self indulgence (Jay Leno, have you seen this one yet?).
Others said it's a Ford Fairlane.
Polish & Slavic Federal Credit Union, 100 McGuinness, north of Nassau. A domed, clocked large whatsit.
By day 261 Driggs, at Eckford, is the Polish National Home, a community organization founded in 1914 to further Polish culture in the region (also home to occasionally raucous community board meetings); by night, the ground floor is Warsaw, one of Brooklyn's #1 rock venues.
It's no secret that bicycles have become much bigger business in NYC over the past decade and the City has facilitated the boom with dedicated, separated bike lanes as well as new painted (unprotected) ones. Bike shops (left, Driggs and Eckford) selling new models have sprung up like spring crocuses all over Brooklyn. Despite that, a number of the bicycles I encountered along Eckford were decades-old, classic Schwinns.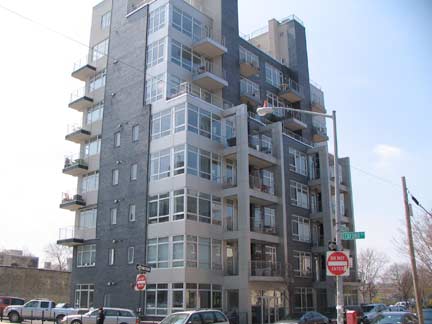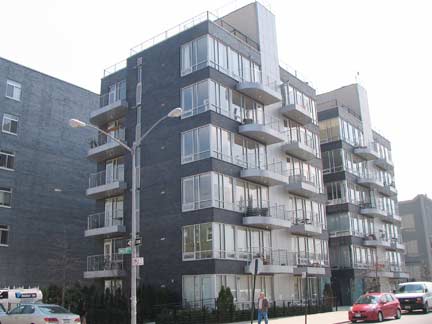 Just a few years ago, Engert Avenue and Eckford Street was the bastion of warehouses and auto repair shops, and while there are a few of those left, rezoning has allowed developers to ring McCarren Park with glass-fronted, high rise apartment houses. Both of these seem to have been drawn up on the same drawing board.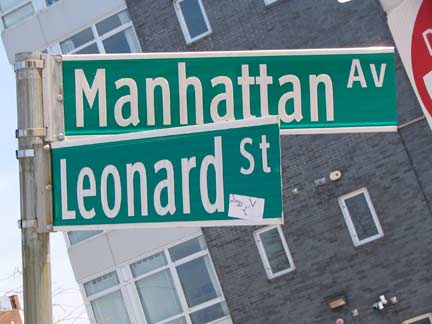 At the south end of Eckford Street at Manhattan Avenue, a pair of the new Clearview font upper and lower case street signs are found. The new sign program has been enacted mainly in the Bronx as of April 2011, but the new signs are relatively sparse in other boroughs… yet.
4/14/11