Saturday, May 14th, 2011 was the second in Forgotten New York's new Second Saturdays Series in association with the Greater Astoria Historical Society, a more ambitious tours program in the past, as tours are planned for the second Saturday of each month in 2011 through November. No locale will be left uninvaded as FNY continues to seek out hidden gems and long-disremembered places in the five boroughs, and very occasionally, outside the five boroughs.
Many New Yorkers consider Staten Island to be an appendage grafted onto the city (it was added in 1898), if they think of it at all. But the Island Borough has unplumbed depths undreamt of in their philosophy. Frank Lloyd Wright's only NYC private house design is in Staten Island as is NYC's greatest number of preserved colonial-era houses, one of which was included on this tour, which took place under ForgottenTours' traditional battleship grey sky cover. It was one of the best tours in years, though.

The tour met at South Ferry in Manhattan at 9:30AM to catch the 10AM boat. The ferry run takes about 25 minutes and crosses Upper New York Bay to St. George Terminal, a distance of almost seven miles. Manhattan's gleaming 10,000 square foot ferry terminal was opened in February 2005, with a completely rebuilt counterpart terminal in Staten Island following it later in the year. The ferry, which has been free of charge since 1997, runs past Ellis Island and the Statue of Liberty, with views of several of NYC's great bridges and skyline, but for many, viewing 
NYC's working vessels of the harbor
, like the tugboat Charles D. McAllister, are a prime attraction.
We got a brief view of the new Staten Island Esplanade, which runs from the ferry terminal past the Class A Staten Island Yankees' ballpark and Staten Island's September 11 memorial, Masayuki Sono's "Postcards," and met several Staten Island residents who were taking the tour on Richmiond Terrace in front of the 1906 Borough Hall, designed by Carrere and Hastings, also the architects of the nearby St. George Carnegie Library.
We proceeded past the library on steep Hyatt Street, stopping for views of the newly restored St. George Theatre and the rebuilt Brighton Heights Reformed Church and set off along St. Mark's Place ….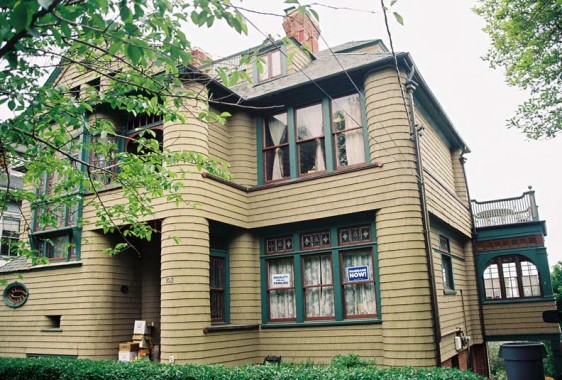 Certain architects are identified with certain areas; for example, though Frank Lloyd Wright built all over the world, he is most identified with the midwest. Locally,Dwight James Baum built many of Riverdale, Bronx' beautiful homes, and so too, St. George, Staten Island's pre-eminent architect was Edward A. Sargent, who designed many of the homes lining St. Mark's Place. The rim of Staten Island features a high cliff or promontory, and many houses on the east and north sides of St. Mark's enjoy spectacular harbor views. 103 St. Mark's is just one of the wildly eclectic houses from the late 1890s and early 1900s you will see here.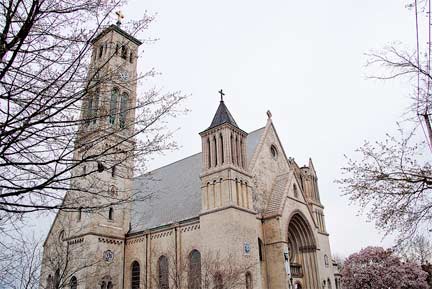 St. Peters' Roman Catholic Church's campanile can be seen for miles. It was the first Catholic parish organized on the island in 1844, with he present structure was completed in 1903.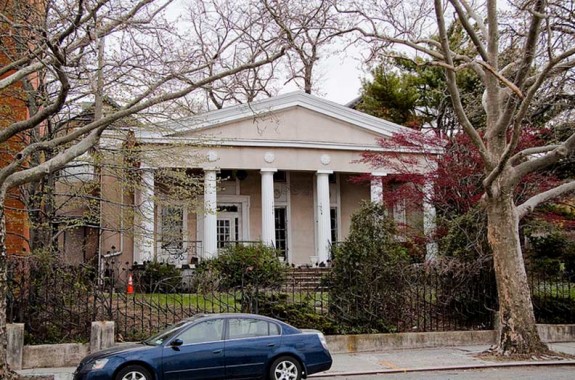 New Brighton was built in large part by British developer Thomas Davis in the 4th decade of the 1800s. As part of this initiative, Davis commissioned ten Greek temple-style buildings along Richmond Terrace facing the Kill Van Kull. This one, which appears unoccupied at the moment, is on the Terrace off Westervelt Avenue. A twin next door was the catering hall Pavilion on the Terrace for several decades.
Westervelt Avenue also contains several landmarked buildings, inclusing the "Second Empire" trio (named for the years in which the monarchy was restored in France following the Napoleonic Era) centered by 36-38 Westervelt.

What The 
Newtown Pentacle
's Mitch Waxman calls "the big show" plays out in the Kill Van Kull and other waterways bordering New York City as a panoply of ocean going freighters and barges ply the waters, valet'ed by a tugboat fleet. At right the Miriam Moran turns a huge freighter. A primeview can be had at the older section of the Staten Island Esplanade, which ends here at Richmond Terrace and Westervelt Avenue.
The tour lit off along Franklin Avenue into Hamilton Park, developed a decade or so after New Brightonwhere the GAHS' Rich Melnick described the Episcopal Christ Church (established 1849, with this ashlar brick structure opened in 1905, along with the Hamilton Park Cottage, said to be one of the oldest private dwellings in the area (1856).
Climbing a high hill onto Pendleton Place, we visisted #22, one of two homes built here by ferryboat company owner William S. Pendleton from 1855-1861, witha rchitect Charles Duggin. Owner Edwin Calderon talked about his purchase and renovation of the house, and showed photos of the house when it was new in the 1800s.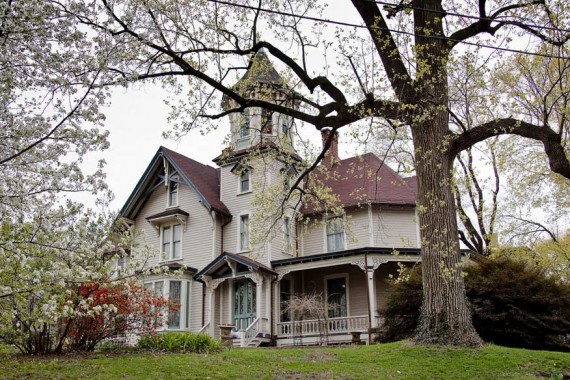 The tour took an unexpected turn, fulfilling the axiom "anything can happen on a Forgotten New York tour." The Rev. John Walsted, retired pastor of Christ Church, was passing by in his car when he spotted the tour heading for #22 Pendleton (above). He offered to take in the entire tour, which numbered about 25 people, and showed nearly the entire house. William S. Pendleton desired additional space, as #22 was rather compact, and commissioned Duggin to build the "Stick Style" — named for the thin pieces of wood used as ornamentation — dwelling on a large plot across the street at #1 Pendleton. Rev. Walsted, 
an accomplished artist
 whose pieces figure prominently all over the house, and Rev. Gerald Keucher purchased it for the proverbial song in 1983 and set about a top to bottom renovation, clearing decades of overgrowth surrounding the place.
The Shore Inn (Richmond Terrace west of Lafayette Avenue), which is billed as the oldest continuously operating tavern in Staten Island, was next. The tavern opened between 1900 and 1905 by Jakob Liedy and has remained family-owned since. Present innkeeper Larry Liedy, shown above chatting with ForgottenFans, laid out an Italian food spread and turned on his recently-purchased vintage player piano. A magic FNY moment.
A few doors away is the colonial-era Tysen Neville House, constructed by sea captain John Neville between 1770-1800. It has done time as a courthouse and a tavern serving sailors from adjoining Snug Harbor (as did Liedy's) during its long history. For the last few years, it had been owned by Richmondtown tour guide John Landis, but the future direction of the house is unclear following Landis' death in early 2011.