Crazed from the heat, I recently stumbled on board a Long Island Rail Road train, staggered out in Penn Station, unconsciously swiped myself into a downtown subway, and staggered out on West 14th, where, on Lower Sixth Avenue between West 8th and West 14th can be found living and dead ghosts of emporiums, businesses, and prisons past. I rushed past this section of 6th in the rickety express bus I used to get to work in my ANY Phototype era, 1988 to 1991, but I have known about it before and since.
Like many of New York's more exclusive enclaves, today a harbor for the moneyed elite, Milligan Place (shown in the title card) and Patchin Place, around the corner, began as enclaves for the hardworking middle to lower class. In the mid-1800s, businessmen and property owners thought of themselves as lords of their peculiar manors, and some benevolently (or not so benevolently) constructed housing close by their properties, either from a sense of obligation or the desire to force longer hours on their charges by having them live nearby. Many of these worker housing sites still exist, near the Steinway piano factory complex in the northern far reaches of Astoria, or in that part of Staten Island still known as Kreischerville, near the Kilns of Balthazar K.
TITLE CARD: Milligan Place, built on land formerly owned by Samuel Milligan (purchased approximately 1799) was built in 1849 by the nearby Brevoort Hotel to house the Basque cooks and cleaners who worked there. The Brevoort was located at 5th Avenue and 8th Street and stood for approximately 100 years from the mid-19th to mid-20th Centuries. The Milligan Place townhouses went up in 1852.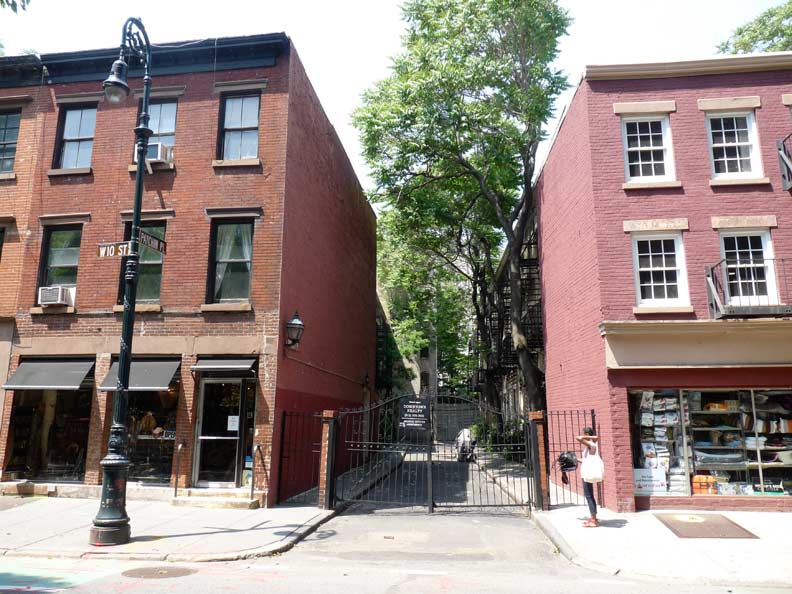 Patchin Place, around the corner at West 10th Street, was named for Samuel Milligan's in-law, surveyor Aaron Patchin. The presence of these two short cul de sacs in Greenwich Village is a near-miracle, since over the centuries Manhattan has filled in most of its dead ends with buildings shoehorned into the spaces, which were worthless without anything making money on them. Check out Gil Tauber's invaluable website Old Streets of New York to find out just how many defunct streets there are in NYC; Kenneth H. Dunshee's As You Pass By, written to commemorate Manhattan's old fire companies but also works as a historical tome about the city itself, contains a voluminous index to Manhattan's vanished dead ends. It was recently reissued.
Though Patchin Place is home to one of two of NYC's former public gas lamps (it was wired for electricity and is at the far end) the corner was also home to a scroll-less type 1 BC bishop crook post for several decades. In the 1990s, the post, which was landmarked and so could not be discarded, was placed in Jefferson Market Garden across the street. Ironically, it was replaced by a retro version of a Type 24 bishop crook.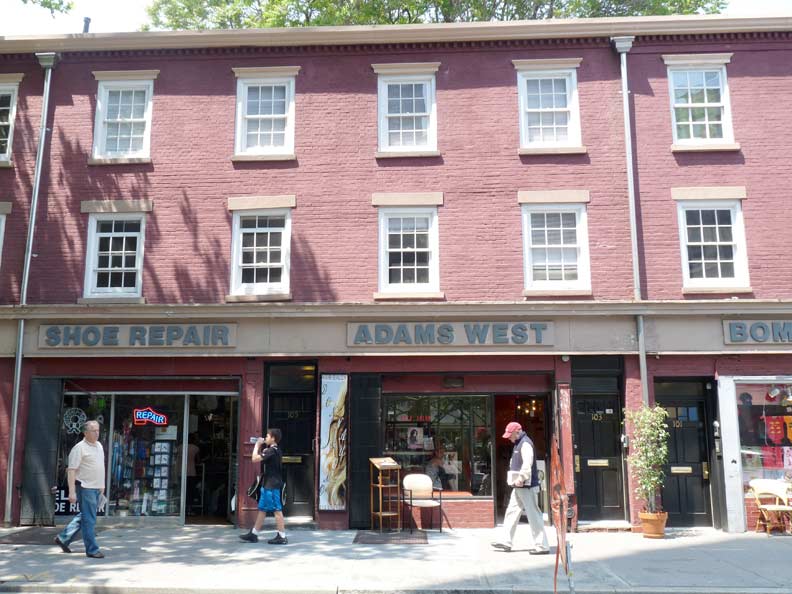 I can't say much about this 3-story building that likely goes back to the early 19th Century at 6th and West 10th, except that I always liked its clean, neat appearance and its 6 over 6 windows, and when I was going past on the bus, I thought this was where Batman got his hair cut.
The Jefferson Market complex of food stores on 6th Avenue between West 10th and 11th Streets is now mostly defunct; the Balducci's flasgship gourmet deli closed here in 2003. The original Jefferson Market, a complement to the old Washington Market, was across the street from 1833-1873. 448 6th Avenue, home of Village Vintner (and its antique-look sign) was part of the market complex.

The Jefferson Market Courthouse, which has done duty as a courthouse, women's prison, and library since its construction in 1873 (it replaced a wood fire tower, which was used to call firefighters in the era before centralized fire alarms) has succumbed to repair shrouding, as all NYC buildings of a certain age do eventually. Hopefully, the repairs will be completed soon as it is one of the Village's most discernible landmarks.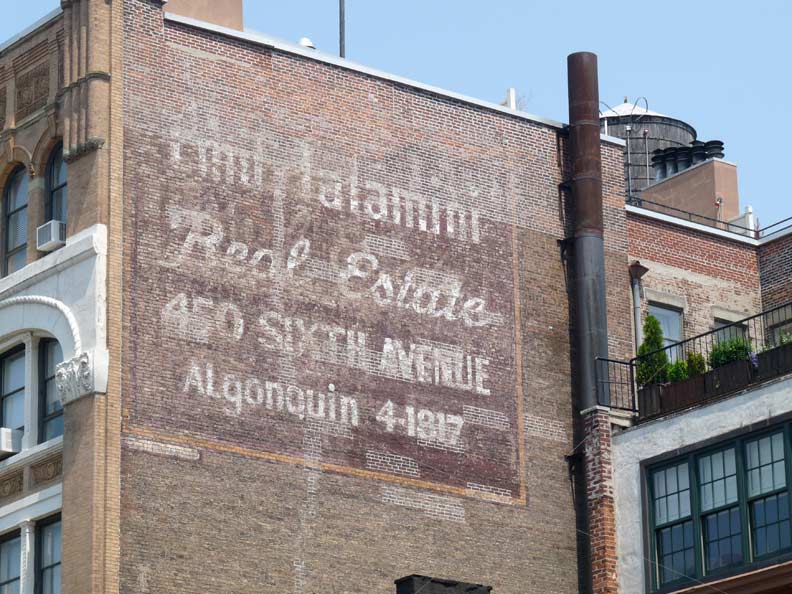 This ad for Emil Talamini, a real estate agent at 450 6th Avenue complete with old-style phone number, has been here for decades but finally is beginning to succumb to years of sun beating on it. Interestingly, the ad reveals itself to be a palimpsest with an older painted ad underneath it that went up first, though the older ad is still unintelligible. According to Ephemeral New York, Talamini passed away in 1970.
I was once admonished by the staff of C.O. Bigelow Pharmacy, established in 1838 and ensconced in the Bigelow Building between West 8th and 9th, built just after century's turn, for the sin of photography within their premises. Nevertheless, I was able to get a photo of one of their original gas fixtures, which has been retrofitted for electricity, but the gas can be turned on during blackouts. Clarence Otis Bigelow, whose benevolent painted mien has now been obscured on the store's painted ad by the ravages of time, was the third owner of the apothecary and was the owner when Mark Twain was a customer.
6/21/11