Having made my way along the undefended and demilitarized Queens-Nassau Border in Little Neck (Part 1) and Bellerose and Floral Park (Part 2), and having noted a previous walk along the borderline along Jamaica Avenue-Jericho Turnpike, I then lit off just below the city line in a thicket of confusingly-named Nassau County communities called Floral Park and Bellerose (the same names as the Queens neighborhoods just across the line) and Bellerose Terrace. There, the city line once again plunges south past the Belmont Park Raceway through the locales of Cambria Heights (Queens) and Elmont (Nassau County). As stated above, these, for the most part, are peaceful and placid areas with little hint of general intercommunity strife.
WAYFARING MAP: QUEENS-NASSAU. This doesn't show the actual borderline, but instead the route I followed.
The Village of Bellerose, clustered in a few blocks north of the Bellerose Long Island Rail Road station, is a land of lush lawns, large Tudors, and virtually no street parking, as all homes have garages. In fact street parking is heavily restricted, as shown on large signs posted around town.
Jericho Turnpike, while serving as part of the border between Queens and Nassau, also serves for part of its route as the divider between the Nassau County towns of North Hempstead and Hempstead, which were a part of Queens before its three western towns joined NYC in 1898. (Old Country Road, however, serves as the greater part of that divider between Garden City and the Nassau-Suffolk County line). Therefore, Bellerose is the first Hempstead town community along the Queens-Nassau line going south in this FNY feature.
Bellerose in Nassau was developed by a female (unusual at that time) real estate developer, Helen M. Marsh, from Boston suburb Lynn, MA. Visiting the area in 1906, she visited what were then gladioli fields. The first house, her own, was built in 1910. In fact she lived in each of the first 22 houses as they were completed, to see that they matched her standards. Mrs. Marsh was also responsible for the street layout, a general grid but with occasional diagonals and traffic circles surrounding flowerbeds, that carry names like Massachusetts and Pennsylvania Boulevards as well as Great Lakes-inspired names.
Even the firehouse gets in on the Tudor act, at the LIRR station at Pennsylvania Boulevard and Superior Road. Note the NYC-style "ice cream cone" fire alarm on the left by the entrance. The Bellerose LIRR station is accessed out of the photo on the right, though I have never been on a train that stopped there.
Massachusetts Blvd. and Ontario Road form a traffic circle, with houses angled to face it.
East-west streets such as Ontario Road are purposely dead ended to thwart through traffic that would otherwise use them as alternatives to Jericho Turnpike. Pedestrians, however, are allowed passage.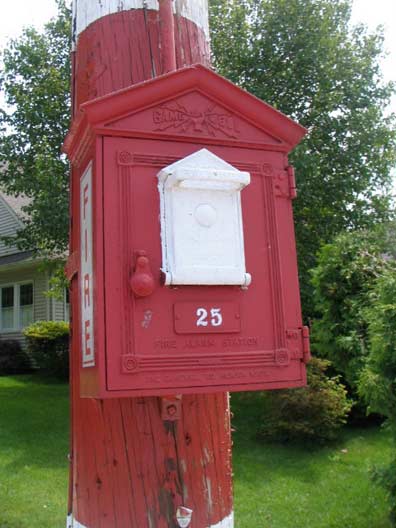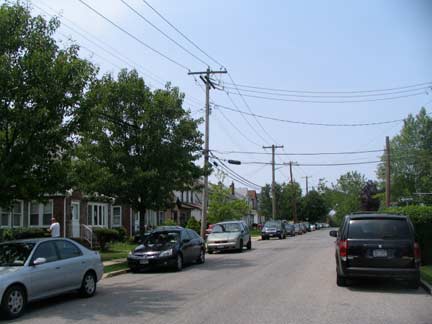 Gamewell fire alarm, Colonial and Ontario Roads.
West of Colonial, Bellerose is exited and its neighboring village, Bellerose Terrace, is entered. This largely resembles the section of Queens across the city line also named Bellerose, but taxes are paid to Nassau County and the lights are turned on by the Long Island Power Authority. Bellerose Terrace was developed in the 1920s, over a decade after Bellerose.
Numbered NYC thoroughfares have been liberally permitted to leach past the city line and enter Bellerose Terrace: 95th Avenue as well as 225th, 226th, 238th-246th Streets.
95th Avenue has the distinction of existing in Brooklyn, Queens and Nassau County, the only numbered avenue to do this. It forms the Brooklyn-Queens line for two blocks in Cypress Hills, running from Eldert Lane to Drew Street along the border.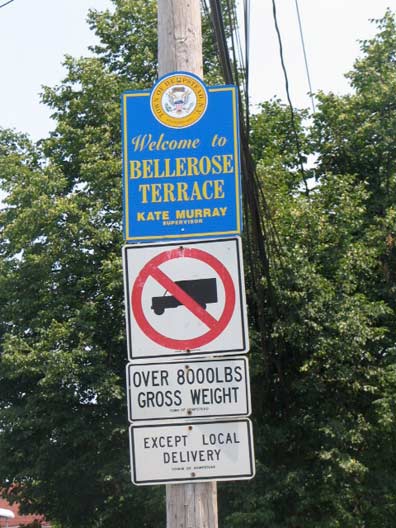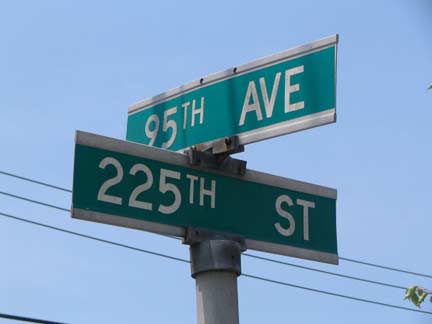 Bellerose Terrace runs from 225th Street on the west to Colonial Road on the east, and Jericho Turnpike south to the LIRR tracks. The Cross Island Parkway, built in 1939, divides the community in two; Superior Road is bridged over it.
At 225th Street and 95th Avenue the City Line once again turns south, but upon reaching the Long Island Rail Road it runs just east of Cross Island Parkway until attaining Elmont Road, making it inaccesible to human foot traffic. Instead, I began to hopscotch back and forth between two states of reality, Queens and Nassau, in the communities of Cambria Heights (Queens side) and Elmont (the Nassau side).
At Jamaica Avenue and 222nd Street the choppers of New York Motorcycle are arrayed on the sidewalk.
Beginning to waver in the merciless heat, I headed east again along Hempstead Avenue and its flophouses and honky tonks in the vicinity of the Belmont Park racetrack. In Queens it is a mere Avenue, but upon attaining Nassau County it blossoms into a mighty Turnpike, NYS Route 24, and under this name roars to the eastern fringes of Nassau in Farmingdale, where it becomes Conklin Street. (Oddly, when it attains the actual Village of Hempstead, it becomes Fulton Street).
Hempstead Town, Village and Turnpike come from the name bestowed by village co-founder John Carman, who purchased the land where it is located in mid-county in 1643 from several Native American tribes. Carman was born in 1606 in Hemel Hempstead, Hertfordshire, England, part of Greater London. Over the centuries, prominent residents have included Adrian I, the only British Pope, Sir Francis Bacon, and Roger Moore, while Hempstead, New York can claim Walt Whitman and rapper Method Man.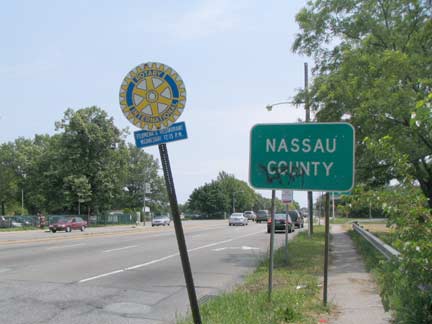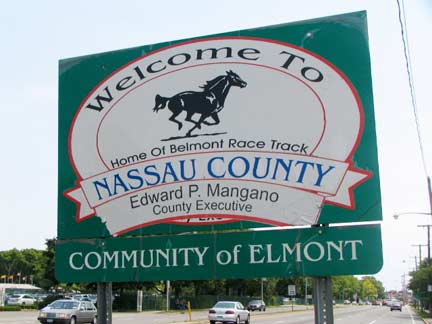 There are not one, but two signs welcoming motorists to Nassau County as the border is crossed east of the Cross Island Parkway. There are, of course, no such signs welcoming vistors to New York City or Queens as you are going west.
The sign on the left advertises Rotary Club meetings at a local venue.
Rotary International is an organization of service clubs known as Rotary Clubs located all over the world. The stated purpose of the organization is to bring together business and professional leaders to provide humanitarian service, encourage high ethical standards in all vocations, and help build goodwill and peace in the world. It is a secular organization open to all persons regardless of race, color, creed, gender, or political preference. There are 33,976 clubs and over 1.22 million members worldwide. The members of Rotary Clubs are known as Rotarians. Members usually meet weekly for breakfast, lunch or dinner, which is a social event as well as an opportunity to organize work on their service goals.
Rotary's best-known motto is "Service above Self", and its secondary motto is "They profit most who serve best". wikipedia
Just past the city line, Hempstead Turnpike passes Belmont Park Racetrack, which captures the public imagination every June as it hosts the third leg, and lengthiest, of the three Triple Crown thoroughbred horse races, the Belmont Stakes. The racetrack was built in 1905 with funds raised by financier and German immigrant August Belmont Senior (1813-1890). Belmont's son, August Jr., also an avid sportsman, founded the Interborough Rapid Transit Company (IRT) in 1902, which built NYC's first subway. The Belmont Stakes race actually originated in the Bronx in 1867, where it was run at Jerome Park Racetrack, owned by Leonard Jerome for whom the Bronx' Jerome Avenue was named, the grandfather of Britain's World War II prime minister Winston Churchill.
The last Triple Crown winner, as of 2011, was Affirmed in 1978.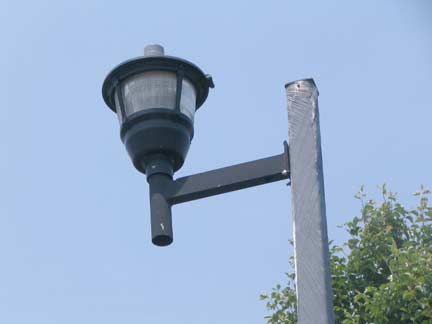 Leaving Hempstead Turnpike I ambled south on Fieldmere Street, noting its neat houses on postage stamp lawns. The American dream. Lampposts are plain wood poles topped by sodium luminaires, which give a bright yellow light.
This is the heart of Elmont, which was originally Foster's Meadow, named for its colonial-era masters, Christopher and Thomas Foster ,who were granted a tract in western Hempstead in the 1640s. Through the decades, Foster's Meadow supported the revolutionary cause (Hempstead was Tory), angering the British enough to burn down the community church. Foster's Meadow, which became Elmont in 1882 (possibly for a preponderance of elm trees) remained mostly farms and fields until the coming of Belmont Raceway in 1905, which prompted a street layout and tract housing for track workers. Among Elmont's recent bright lights is NFL quarterback Vinny Testaverde, who led the New York Jets to the AFC Conference title game in 1998.
106th Avenue ends at Fieldmere Street. It is one of two numbered Queens avenues that sneak into Elmont, the other being 109th Avenue. 106th Avenue is relatively rare in Queens, running for a block in Ozone Park, a few blocks in Jamaica, and a few more blocks in Bellaire. 109th, which also ends at Fieldmere, is more consistent as a main route in Ozone Park and then Jamaica and Hollis.
Tidy homes and lawns elsewhere on Fieldmere Street.
We also see some Queens-style home development, however, as the paved-lawn look begins to encroach. For now, this is the exception rather than the rule, though the local board might want to take a look at this sort of thing.
June roses at Goodwin and Croydon Roads.
Dutch Broadway is the eastern continuation of 115th Avenue in Elmont and besides Hempstead Turnpike, its other chief through roadway. It continues east to Franklin Avenue in Valley Stream. 237th to 240th Streets, from the Queens street numbering system, run north to south.
Re-entering Queens via 115th Avenue, we enter Cambria Heights, a neighborhood featuring both an African-American population and Caribbean population. It can match Elmont in its frequency of well-kept homes and lawns.
Cambria Heights was developed after 1925 by a real estate agent named Oliver B. LaFreniere. Origin stories of the name Cambria vary, but there was a coal supplier in Cambria County, Pennsylvania (Philadelphia has a Cambria Street) and the county's Cambria Title Savings and Trust Company, which may have funded early home construction here. There could also be a Welsh connection, as Cambria is the Latinization of the native name Cymru.
Though African and Caribbean Americans predominate here at present, Cambria Heights was primarily Italian, Irish and German into the early 1960s; cross burnings and rock throwing ensued when the first blacks moved in, and white flight followed inital hostilities, as with much of southern Queens. It was war fought on a small scale.
Though it is a major intersection in Cambria Heights, 115th Avenue and 229th Street is controlled by catercornered traffic lights, in an arrangement seen more up till the late 1980s, when massive guy wired traffic signals became the rule.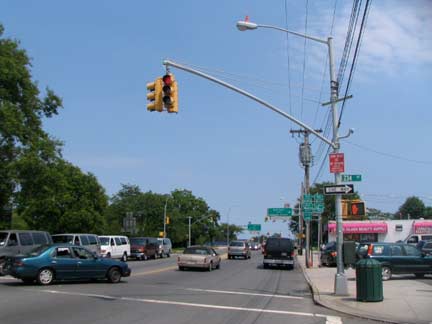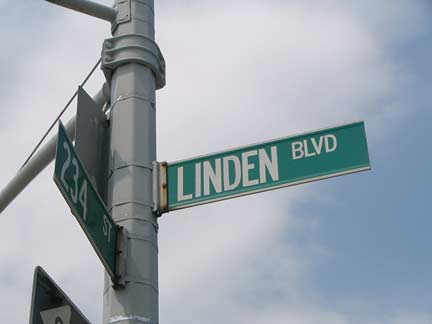 Central Cambria Heights' major east-west artery is Linden Boulevard; when I first discovered that several decades ago, I was fascinated by the fact that this is the same Linden Boulevard that begins in downtown Flatbush. Initially called Linden Avenue in Brooklyn, the road was gradually extended east, taking over other streets such as Vienna Avenue in Brooklyn and Central Avenue in St. Albans, Cambria Heights and Elmont.
Even today, Linden Boulevard remains unfinished with no prospect of completion; there are bits and pieces that go nowhere in Ozone Park, and mid-20th century maps show it roaring through the northern edge of the Aqueduct Raceway grounds, that part was never built. Its busiest section is between Kings Highway and the Belt Parkway, where it becomes a surface arterial. It is a busy street, though sleepier, in Queens.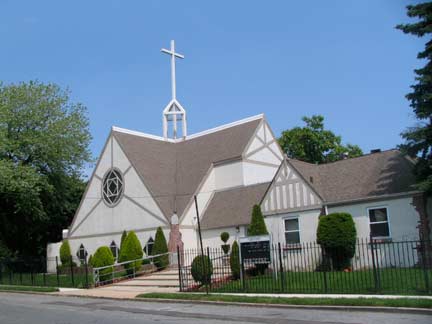 St. David's Episcopal Church was built in 1992 at 118th Avenue and 235th Street, though the parish has been in existence since 1939.
It could be a coincidence but the presence of a St. David's parish in Cambria Heights could lend credence to the neighborhood name having something to do with Wales, as Saint David, a 6th Century bishop, is regarded as the patron saint of Wales.
There are few saints to be found at the Fickle Filly on Linden.
Linden Boulevard, in Nassau County, still has something of a relationship with its former name, Central Avenue. An older street sign at 240th Street shows Central Avenue as the preferred name, and Linden Boulevard as a subsidiary name, but this is one of the few signs that does, and between the city line and the Southern State Parkway, it's known as Linden Boulevard by one and all.
South of that, though, the Central Avenue name takes over.
These 1909 maps show Central Avenue, now Linden Boulevard, running alone through what is now Cambria Heights, and Central Avenue, shown by the curving gray line, running south in Elmont and Valley Stream. Central Avenue continues to take that path, which has not been straightened.
The brick office building, post office and residential building (dated 1941 or 1947) at Linden Blvd. and Elmont Road is unusual in a neighborhood full of frame builings.
6/20/11