Above: Triborough Bridge at dusk, seen from the platform of the Astoria Blvd. station on the N/Q elevated Astoria Line. The  station, since the mid-1930s, has been positioned over the Grand Central Parkway, which connects the Triborough to eastern Long Island. At its northern end, the station affords a view of the massive concrete viaduct northbound trains use  to attain Westchester County, NY, Connecticut and points beyond via the Hell Gate Bridge.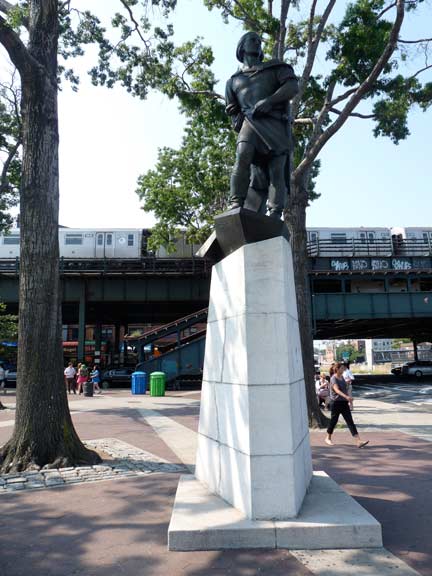 Columbus Square (modern signage calls it Columbus Triangle) is where Astoria Boulevard, coming in from the west, becomes the Grand Central Parkway service road. West of here, Hoyt Avenue North and South is the service road. Sculpted by artist Angelo Racioppi, the statue depicting Christopher Columbus, the Italian voyager sailing for Spain, seeking an easier route to the Far East was dedicated on October 12, 1941.
The cast iron statue was built just before World War II by Italians living in Astoria, but could not be erected because the residents couldn't afford money for the statue's base. The statue was dedicated on October 12, 1941. In the fall of 1942 the statue was moved to a city warehouse; however, fearing scrap metal drives of WWII, the statue was moved again to the basement of the Queens Borough Hall. In 1945 the sculpture was reinstalled in its current location.
The statue was donated by the New York City WPA (Works Progress Administration) Art Project. Christopher Columbus in Queens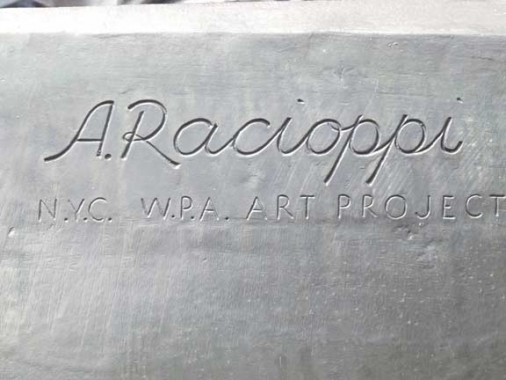 Above: detailing from the statue.
Also of interest at Columbus Square is the site of a teardown across Astoria Boulevard from the statue. There are a number of old painted ads arrayed on the wall. On the top, the RA exchange stood for RAvenswood (in the Bronx, RA stood for RAymond.) Here's a complete list.
Looking closer, a huge ad for  Charles A. Fletcher's Castoria, the mild stomach remedy used mostly by parents for kids' tummy trouble, can be made out. Most of these ads, some of which go back to 1890 or so, have lasted for over  a century, especially in areas not directly in the sun.
And, a third ad, sufficiently disrupted so that I can't make it out, was laid over the Castoria ad, but has peeled away, revealing the Castoria ad underneath.
9/13/11