9/4/11. I do eat seafood. Thing is, though, I anti-seafood-ize it as much as possible. The more it's sheathed in bread crumbs, butter, lemon, tartar sauce the better, to remove as much as the fish-iness as possible. I'm a big fish and chips guy. Needless to say, I've never quite grasped the appeal of sushi. I popped one in my mouth a few years ago, and it tasted and smelled, like, raw fish. Into the nearest napkin, and napkin into the nearest wastebasket.
Which brings me to the magnificent Child's ruin on the boardwalk and West 22nd Street in Coney Island. Child's was the first chain restaurant, or restaurant franchise, in America, in business from 1889 to the mid-1960s. The chain wasn't especially renowned for seafood — indeed, one of the two Child brothers went on a health binge and unsuccessfully tried to make Child's a vegetarian restaurant in the late 1920s — but its many locations around town are still discernible by two entwined seahorses on their facades.
And then there's that magnificent Spanish Colonial pile on the boardwalk. It was built in 1923 and was a Child's until 1947, when it was sold to a chocolatier and actually spent more time as a candy factory (1947-2003) than it had as a restaurant. It's been an empty, albeit landmarked, shell since, except for a couple of years when Coney boardwalk entrepreneur Lola Star (or Lola Staar, depending on mood, apparently) made it into a roller skating rink. The restaurant did save much of the boardwalk in 1932 when its fireproof construction acted as a firebreak.
Every time I walk past the Child's, I see something new. But this time, aided by an 18X zoom lens, I was able to get up close and personal with the magnificent terra cotta ornamentation. Just about every square inch of the facade is squirming with sea life.
I had not noticed the richness of detail on the urns and decoration on the facades. [click on thumbnails for descriptions]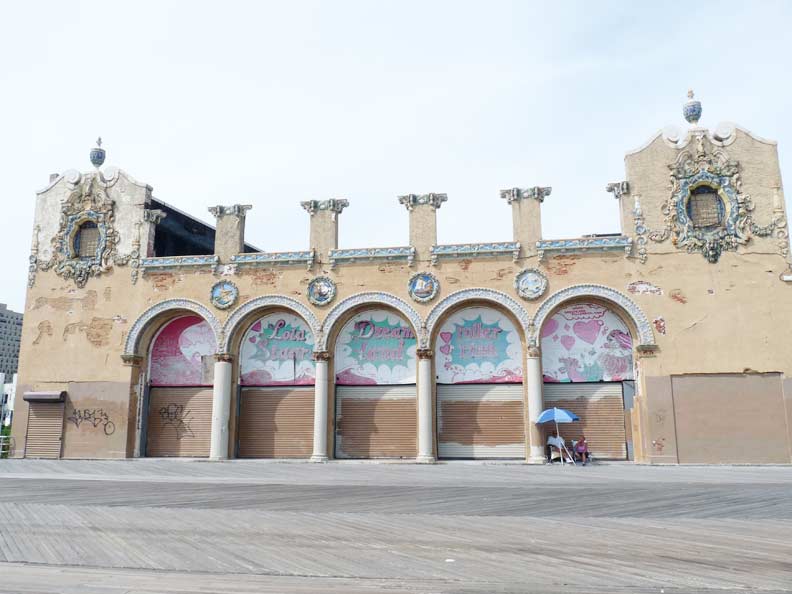 Even in decline Child's is a formidable presence on the boardwalk
Boardwalk entrepreneur Lola Staar descibes the Dreamland Roller Rink, which operated here in 2008 and 2009:
Our first Dreamland Roller Rink manifestation was located in the beautiful Childs Building on the Coney Island boardwalk!  The magical rink opened with a gigantic disco-bang!  Our star studded opening party was hosted by Glamour Magazine and Tommy Hilfiger and attend by sparking stars like Marissa Tomei and Ashanti!  Check out photos of this event!  And, watch the film, Glamour magazine made about Dreamland Roller Rink and photos of the star studded red carpet Dreamland Movie Premier!
Dreamland Roller Rink filled the Childs Building with hot pink roller skating magic until 2010 when the owners of the building decided they would prefer to leave their building vacant for now!  We are very grateful for the time we were able to inhabit this incredible terracotta building with gigantic arches which opened to the Coney Island beach and boardwalk!  We had some incredible disco fabulous days of skating and dazzling theme party music filled nights!  Check out photos of some of our incredible events!
We are currently looking for a new location for Dreamland Roller Rink!  Please contact us if you have any suggestions our would like to help make the next incarnation of Dreamland Roller Rink into a reality!  Dreamland Roller Rink
4 terra cotta medallions appear above the arched doorways. These are repeated on the east side of the building on West 21st Street. [click on thumbnails for descriptions]
Four "towers" above each column of the doorways feature sea robins, scallops, crabs and what look like lobsters. A strip of terra cotta was installed between each tower and you will find a snail on both ends of each.
More detail from the terra cotta work. [click on thumbnails for descriptions]
Some more detail on the exterior terra cotta, and a surviving side window. It retains themes from the front, but with the addition of tridents.
Plenty has been written about Child's in recent years. These two articles are the most informative:
Remembering Childs, a Gem from Coney Island's Golden Age [Eater]
Colorful Terra Cotta and Stucco Homage to the Sea [NY Times Streetscapes]