I mean, one of these days, to walk 86th Street from the Narrows to Gravesend. It is the main east-west street in southwest Brooklyn, and contains many secrets of old. I grew up three blocks from 86th, and so, when communities were more tight-knit, I knew the butchers, the bakers and the candle stick makers by name before they either retired or moved to the suburbs. The 86th Street BMT subway at 4th Avenue was my home subway, and I rode the B16 (Fort Hamilton Parkway), B63 (5th Avenue) B64 (86th Street) and B37 (3rd Avenue) buses with regularity. Now, the B1 and B64 have been recast in unfamiliar routes, and the B37 has been altogether eliminated.
But August 22, 2011 was not the day for a complete walk. I had just gotten back from a mission to Bayswater, Queens, an outpost on the Far Rockaway peninsula, and will have to return again as the ride was cut short due to scheduling necessities on the part of the friend who drove us there. After lunch at Spumoni Gardens (where I had never before been) he went to his home, and I walked 86th from about Avenue V to the 18th Avenue station on the D. I'll present the findings here in reverse order, from northwest to southeast.
I'm not sure when 86th Street was built out to its ultimate length. It was certainly laid out on maps by 1873, when this Beers atlas plate of the town of New Utrecht was drawn. It was just a line on a map then, though.
The center of this map, just to the left of the "86th" is where the elevated D train turns off New Utrecht Avenue onto 86th in the present day. Other than 86th, the other roads on this map have disappeared as the overall grid was constructed, which began to take place after 1900. The "Benson" on the map was the same family that produced early NYS attorney general Egbert Benson. The Van Pelt family was also long standing in the area, and the Van Pelt Mansion on what is now 18th Avenue stood over two centuries.
In this Gravesend map from the same year, 86th Street is laid out through marshes — much of southeast Brooklyn is landfilled, including the connection of Coney Island to the rest of Long Island. On this map, the Bath and Coney Island Railroad was placed on an elevated line by 1920, while the original square Gravesend street layout is still intact, as is Kings Highway at the top of the map.
18th Avenue, which crosses 86th Street just south of the 18th Avenue station on the West End el line, was one of the first roads laid out through the old town of New Utrecht. It has been subtitled for Christopher Columbus since the 1980s. From my 18th Avenue page:
A network of old roads come together at 18th Avenue just north of 86th Street, where the Brooklyn, Greenwood and Bath Plank Road (now New Utrecht Avenue), Kings Highway (now 84th Street) and the Road from New Utrecht to Flatbush (18th Avenue) intersect.
Kings County, from the colonial era to the late 1800s was made up of six separate towns: Brooklyn, Bushwick, Flatlands, Flatbush, New Utrecht, and Gravesend. Over a couple of centuries, the City of Brooklyn gradually absorbed the other towns (after part of Flatlands became New Lots). By 1896, Kings County and the City of Brooklyn were finally coterminous…but then, Brooklyn voted to consolidate with New York City, by a very thin margin, in 1898.
The town of New Utrecht was named for Utrecht, Netherlands, the 4th largest city in that country. In Dutch, "Utrecht" is derived from two words that mean "old fort," so that "New Utrecht" actually means "New Old Fort." It's remembered in Brooklyn by New Utrecht Avenue, the much shorter Old New Utrecht Road and by New Utrecht High School, which was shown in the opening credits for the 1970s Welcome Back Kotter TV show and where your webmaster took his math SATs.
New Utrecht Avenue is nearly, but not completely, dominated by the elevated West End BMT (as of 2008, the D and M trains) but it began life in 1852 as a private plank road called the Brooklyn, Greenwood and Bath Plank Road, so called because it ran from the Green-Wood Cemetery area to Bath Beach. By 1865, Charles Gunther's Brooklyn, Bath and Coney Island Railroad was built along its length, and after Brooklyn Rapid Transit (the BRT) took it over, the route was placed on elevated tracks in 1917.
New Utrecht's first settler was Cornelius Van Werckhaven, who arrived in New Amsterdam from Utrecht, Netherlands, in 1652. He purchased what wouldbecome Bensonhurst, Gravesend, and Bay Ridge from Dutch governor Wilhelm Kieft and later, from the Nyack Indians. His associate Jacques Cortelyou issued patents to other settlers after Van Werckhaven returned to Europe. By 1661 New Utrecht had been granted a charter by New Amsterdam Director General Peter Stuyvesant, and the town was on its way.
The town was annexed by Brooklyn in the late 1800s, and Brooklyn joined NYC in 1898.

The Marshalls clothing store is located on the bottom floor of the old Loew's Oriental Theatre at 86th Street and Bay 19th.
Opened on October 13, 1927 with Ronald Colman in "Beau Geste" and vaudeville on the stage. The Loew's Oriental Theatre was known for its lavish Oriental style decor.
It was twinned in February 1977 with 1,076 seats on the orchestra level and 1,140 seats on the balcony level. In February 1984 the balcony was divided into two auditoriums, making the theatre a triple-screen operation. It was closed on May 21, 1995.
Speaking of the movies, this is the location, where New Utrecht Avenue meets 86th Street, where Gene Hackman's Popeye Doyle has to swerve to avoid a woman with a baby carriage in 1972's The French Connection; he is pursuing a hitman who has taken control of a northbound West End train. The sequence can be seen as part of this clip.
At first I was stumped about what bank this present-day Chase was at 19th Avenue and 86th. But look closely and you will sometimes see identifying marks. Former Dime Bank buildings are sometimes identified by representations of the Liberty dime issued from 1916-1945, sometimes called the Mercury dime since Liberty is wearing a winged cap like the Roman messenger god did. The back of the Liberty Dime is an unquestionably Roman symbol: bundles of sticks surrounding an axe called the "fasces," symbolizing governmental authority.
Butcher, 86th Street between 19th and 20th Avenues.
Lenny's Pizza, at 1969 86th, is indelibly imprinted as the pizzeria where John Travolta's Tony Manero buys two slices and eats them while strutting down 86th Street at the opening scene of 1977's Saturday Night Fever.
In the 1970s, I was amazed at how quickly the disco craze arose, and has never really left. It was just a couple of  years earlier everyone wore rags and smoked weed, vowing never to become The Man. All of a sudden, everyone wanted to be The Man. People are instinctually acquisitive, and disco was emblematic of this characteristic.
Apartment building/McDonald's, 20th Avenue. I'm unsure if these once-grand buildings came before the construction of the el in 1917-1919, or later.
A second former theater, recognizable as such by the comedy and tragedy terra cotta masks on the pediments, just south of 20th Avenue.
Opened as the Benson Theatre in 1921, it was a 1,400 seat theatre, located in the shadows of the elevated subway in Bensonhurst, Brooklyn. It was run as a dollar theatre by the Golden Theatre chain before it was twinned by splitting it down the middle and renamed Benson Twins.
Subsequently, it became a first run house. In the final days, it was closed more than it was open, and was closed in the early-1990's for its current retail use. cinematreasures
Looking carefully, old names appear through or under modern-day signs, such as at 2075 86th.
Grand bank buildings, some identifiable, some not, are arrayed along 86th Street. This one at 21st Avenue has become a New York & Company clothing store.
The Bay Ridge-Bensonhurst area has a proliferation of streets called "Bay", "Ridge" or "Bay Ridge" — there's Ridge Boulevard, Ridge Court, Ridgecrest Terrace, and Bay Ridge Avenue, Bay Ridge Parkway, Bay Ridge Place, Bay Cliff Terrace, the numbered Bay streets from 7 to 54, and Bay Parkway, which early on replaced 22nd Avenue on maps. All are named for wither the Narrows or the steep hill, or ridge, that rises in Brooklyn on its east side.
When the West End was placed on an el as part of the Dual Contracts transportation purchase in the 1910s, several wider streets were given concrete spans with terra cotta embellishments. This one at Bay Parkway was undergoing renovation in mid-2011; another such, at Ocean Parkway, was wonderfully restored and appointed in 2010.
Where the sidewalks are wider, open-air bazaars selling everything from rugs to grocery items can be found along 86th Street such as this one at 2203.
Riding past on the el, this ancient sign for Orloff's, established, as it says, in August 1902 at 2211 86th, was always partially obscured. For the present, in 2011, it was in full view. The establishment was here before the el…
Gravesend historian Joseph Ditta: According to this advertisement from the program for the Annual Fair of the Epworth League of the Cropsey Avenue Methodist Episcopal Church, August 19-21, 1909, Orloff's sold dry goods, gents' furnishings, and shoes.
Bensonhurst had always been identified as 85%-90% Italian-American–at least it seemed to be in the 1970s and 1980s. No longer — Asian immigrants have settled in large numbers, and Russians and other Eastern Europeans have migrated northwest from Brighton Beach.
Help me with this domed HSBC branch at 2301 86th — of course, it used to be a different bank. It likely dates to the 1930s-40s as it's rife with Machine Age iconography, such as eagles, manly barechested men and comely barebreasted women. Beehives always have symbolized thriftiness but what of the winged wheel and other symbols?
The Licodiesi Brotherhood Society, a social club, reminds us there is still a strong Italian presence. Club members hail from Licodia Eubea, Sicily.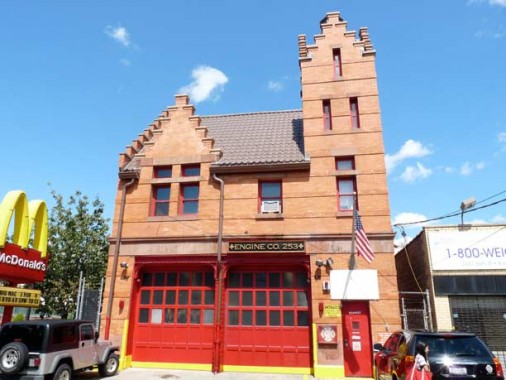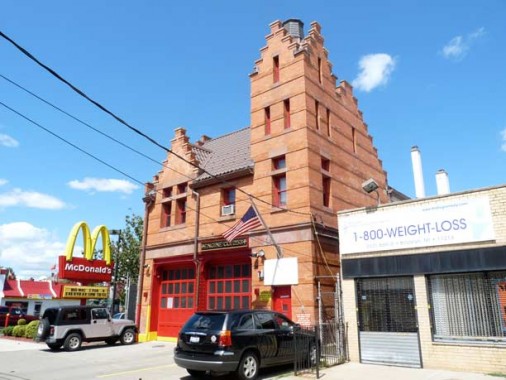 Engine 253, a firehouse east of 24th Avenue, is so nice I shot it twice.
The Parfitt Brothers, the architect of four firehouses in Brooklyn during 1895-96, designed Engine Company 253 (a designated New York City Landmark)… Located in Bensonhurst, one of the first six towns established in Kings County [actually New Utrecht –ed.], the upper stories display multiple step gables…
Step gables, also known as corbie or crow gables were popular in northern Europe from the 14th  to the 17th century. Inspired by Gothic and Italian  Mannerist sources, the style gained great popularity in Holland during the early seventeenth century. Of the three types of Dutch gables identified by the architectural historian W. Kuyper in Dutch Classicist Architecture, Engine Company No. 258 falls into the category of "proto Baroque." Though the prominent churches designed by sculptor and architect Hendrick de Keyser (1565-1621) did not incorporate step gables, his flamboyant use of contrasting materials and oversized classical details did have a significant influence on the design of private residences in Amsterdam, particularly canal houses. Crowned by elaborate step gables and sandstone details, these slender multi-story brick residences were imitated by current builders in New Netherlands and were known by subsequent generations through printed images and descriptions. NYC Landmarks Preservation Commission
Branch of the Church of Jesus Christ of Latter-Day Saints, known popularly as the Mormon Church, 2455 86th.
It's fitting that, at the triangle formed by West 13th Street, 86th Street (yes, in Brooklyn 13th Street can intersect 86th) and Avenue U, Antonio Meucci Square is opposite a large Verizon building containing offices, relays and switches.
Meucci was the inventor of the telephone as far back as the 1850s (Alexander Graham Bell was able to obtain a patent for it before Meucci could afford one).
12/25/11