Since I'm the biggest square in town, I thought it would be appropriate to do a page, or set of pages, on the five major squares in Manhattan south of Central Park: Madison, Union, Stuyvesant, Tompkins, and Washington. (Yes I know I have left out Bryant Park and Greeley and Herald Squares, which I'll get to in an upcoming date). It was in April 2011 during one of my periods of unemployment, so I did it during the work week, when the streets were at their busiest and I was able to blend in fairly easily and the sight of a shambling, shuffling tourist with a camera was not tremendously unusual; it was also one of New York's very occasional sunny April days with pleasant temperatures.
My aim was not to emphasize the parks themselves — I've done pages on statuary in Madison and Union, as well as a page on Tompkins Square, and may revisit them soon enough — NYC is constantly changing and I have been dazedly wandering its streets for over 50 years, but with a camera for less than 15, so there is constant catchup to do.
My emphasis here is not only the squares, but their interstitial streets–I chose a random route between them, but, perhaps, after the whole walk is done, a common thread can be found between all five. Or maybe not.
After walking from Penn Station to Madison and Union Squares as shown in Part 1, I headed north on 2nd Avenue and arrived at…
Stuyvesant Square
Unlike the other squares on the itinerary, STUYVESANT SQUARE is bisected by an avenue–2nd (though Robert Moses was thwarted on his plan to connect 5th Avenue and West Broadway through Washington Square in the 1950s). It's on both sides of the avenue between East 15th and 17th Streets.
It's most New Yorkers' assumption that Stuyvesant Square was named for the imperious 17th-Century Director General of New Netherland, Peter Stuyvesant, especially since Gertrude Vanderbilt Whitney's 1941 bronze of Peg Leg Pete is the centerpiece of the park's western section. However, in 1836, a descendant, Peter Gerard Stuyvesant, the co-founder of the New-York Historical Society, and his wife, Ann Rutherford, decided to "donate" the space, selling it to NYC for $5.00. The square was not to open to the public until 1850–in fact, it took a lawsuit by P.G. Stuyvesant to get the city to stop dragging its feet on development. Stuyvesant Square underwent two large-scale renovations in the 1930s, as part of the Depression-era Works Progress Administration, and again in the 1980s, after decades of the usual neglect.
Stuyvesant Square's distinctive iron fence dates back to the park's original construction throughout the 1840s, and thus, is thought to be the second-oldest park fence in the city. The oldest fence surrounds Bowling Green downtown and was in large part added in 1771.
Looking south on the west side of the square toward East 15th. (That's three directions in one sentence!) St. Mary's Byzantine Slavonic Church, constructed 1964, is on the left.
Two short streets flank the east and west sides of the park. Looking north on Rutherford Place toward the 1860 FRIENDS MEETINGHOUSE (foreground) and ST.GEORGE'S EPISCOPAL CHURCH.
Rutherford Place was officially named for Colonel John Rutherford, one of the actual commissioners for whom the 1807-1811 Manhattan Commissioners' Plan to lay out the island in a street grid system was named. While both of my sources, Henry Moscow's The Street Book and Sanna Feirstein's Naming New York, make this reference, I'd have to suspect that the street is instead named for P.G. Stuyvesant's wife, Ann Rutherford, who with her husband made the original donation to found the square. And, it must also be noted that Peter Stuyvesant has no present descendants named Stuyvesant — a nineteenth century Stuyvesant descendant, Rutherford Stuyvesant, changed his name to Stuyvesant Rutherford in 1863 to satisfy the terms of a will. [New Netherland Institute]
The Friends Meetinghouse, Rutherford Place between East 15th-16th Streets, was built by the Hicksite Friends, a more modern sect of the Quakers in 1860 than the original group, which had its own, older meetinghouse on Gramercy Park a few blocks away. Both sects reunited in 1958 in this building, and the Gramercy Park building became a synagogue.
St. George's Episcopal Church
St. George's, on the west side of the square between East 16th-17th Streets, was built from 1846-1856 [Otto Blesch, ext. ar., Leopold Eidlitz, int. ar.] as an early example of Romanesque Revival. The first rector, Stephen Higginson Tyng, was one of the most prominent preachers of his time. The church burned down in 1865 but was rebuilt to match the original; the spires were removed in 1886.
St. George's parish had been founded in 1749 as a chapel of Trinity Church, and constructed this independent church on land donated by P.G. Stuyvesant.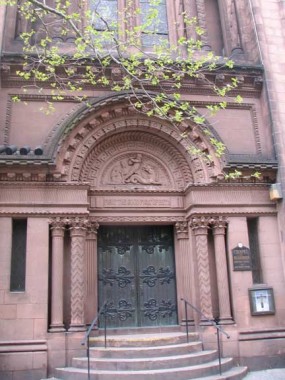 St. George's Chapel, to the north of the church, with terra cotta depicting the saint and the dragon, was built from 1911-1912.
In April 2011 the west side of the park was mostly closed for further renovations, but presumably, homage to the Director General can resume in 2012.
Czech composer Anton Dvorak (pronounced, approximately, da-VOR-zhak) came to NYC in 1892 to direct the National Conservatory of Music. His most popular composition may be his ninth symphony, "Music From the New World." While in NYC, he resided in a building at 327 East 17th Street, just across the street, now occupied by the Robert Mapplethorpe Residential Treatment Facility, named for the avant-garde photographer.
Croatian-American sculptor Ivan Mestrovic's 1963 bronze of the composer was installed in the east side of the Square in the 1990s.
A final peek at the spring tulips on the east side of Stuyvesant Square. The fountain was not turned on.
Old Stuyvesant High School
Stuyvesant High School, one of NYC's more prestigious, opened a gleaming new campus in Battery Park City in 1992, but its old building on East 15th Street, designed by the premier schools architect of his era, C.B. J. Snyder, and moved here in 1907 after three years on East 23rd Street, still holds forth as The Institute for Collaborative Education, the High School for Health Professions and Human Services and P.S. 226. Alumni have included architecture critic Lewis Mumford, novelist Hubert Selby ("Last Exit to Brooklyn"); tough-guy actors James Cagney and George Raft; jazz'  Thelonious Monk; Democratic political strategist David Axelrod, and Republican strategist Dick Morris; US Representative Jerry Nadler;  and 1964-84 United Federation of Teachers President Albert Shanker, who was much feared by Woody Allen:
This ancient fire alarm on Avenue A and East 11th Street, with a top shaft that once held an alarm signal light, was placed here in 1912. How can I be so specific? The answer is simple. 1912 was the only year that the alarms had the interlocking FDNY logo on the base. After 1913, they carried separate FDNY letters.
A couple of signs on Avenue A north of Tompkins Square Park. I'd like to see a whole alphabet rendered like that PEACE storefront.
ST. NICHOLAS CARPATHO-RUSSIAN ORTHODOX CHURCH, as the aged sign says, Avenue A and East 10th. When constructed in 1883 the Gothic Revival building was a chapel for nearby St. Mark's Church, 2nd Avenue and East 10th, but was purchased by Eastern Orthodox faithful in 1925. The architect was James Renwick Jr., a pre-eminent ecclesiastical architect best known for St. Patrick's Cathedral on 5th Avenue.
Meanwhile, the eye of the Egyptian hawk-god Horus stares at passersby from a theme restaurant.
Horus was born to the goddess Isis after she retrieved all the dismembered body parts of her murdered husband Osiris, except his penis which was thrown into the Nile and eaten by a catfish, and used her magic powers to resurrect Osiris and fashion a gold phallus to conceive her son. Once Isis knew she was pregnant with Horus, she fled to the Nile Delta marshlands to hide from her brother Set who jealously killed Osiris and who she knew would want to kill their son. There Isis bore a divine son, Horus. wikipedia
Do I use Google Street View? You bet I do, and I enjoy it (though I feel a slight pang of guilt). This is the Tompkins Square Public Library on East 10th between A and B, one of the many libraries instituted via a grant from steel magnate/philanthropist Andrew Carnegie, built by McKim, Mead & white, 1904. The rosettes above the windows honor Aldus Manutius and Cristophe Plantin, major early names in the art of printing. (Plantin, a font used by the Village Voice for many years, was named for him.)
Tompkins Square Park
I actually spent more time in Tompkins Square page while researching an earlier page I have on the place from 2008, but here's a 5-cent history:
Like many other NYC public squares, Tompkins Square Park was originally used as a place where military commanders could review troops marching in formation, in this case the 7th Regiment, and you need a wide, flat space for that. Between 1836 and 1850 what had been a swampy and unstable area was gradually graded and landscaped, with some sycamore trees planted (most were chopped down when the Regiment arrived in the 1860s but some, on the outer edge of the park, survive). The park did not become a public area until 1878; like many other NYC locales and streets, it was named for NYS Governor, then Vice President Daniel D. Tompkins, who was from staten Island; he is buried in St. Mark's churchyard, a couple of blocks away.
Some public monuments and sculptures followed the opening, including the Slocum Memorial, Temperance Fountain, Congressman S.S. Cox Memorial (see links).
In the 1950s and 1960s there was a gradual deterioration in NYC's public spaces, as funds dried up and there was a general attitude on the part of our electeds for deferred maintenance. Everything came to a head in the summer of 1988, when the Koch Administration decided to forcibly oust the drug dealers and homeless that had largely "occupied" the park, and a riot ensued (see Luc Sante's account). The necessity of the force used by the NYPD is debated to this day, but the cleanup was the first shot in the battle between the longtime residents of the East Village and gentrifiers, who have gained the upper hand in the near 25 years since the Tompkins Square Riots.
Christodora House
In 1988, the Christodora House on Avenue B and East 9th was the focal point for what longtime East Village residents saw as a battle between the status quo with affordable rents and a future of the rich moving in and pushing them out, as it was one of the first buildings in the area to be redeveloped as a condominium. It had been built in 1928 as a settlement house and had been used by community groups until that time, providing food, shelter, medical treatment and education to nearly 5000 locals every week. It had a third floor concert space where George Gershwin gave one of his first public recitals.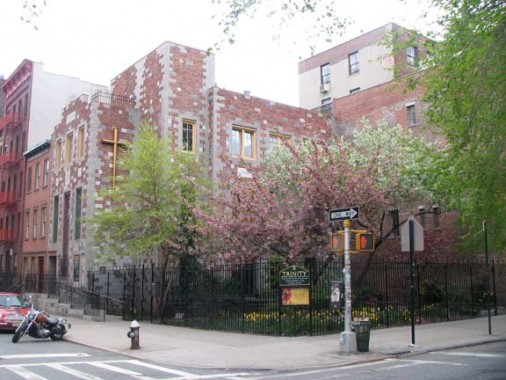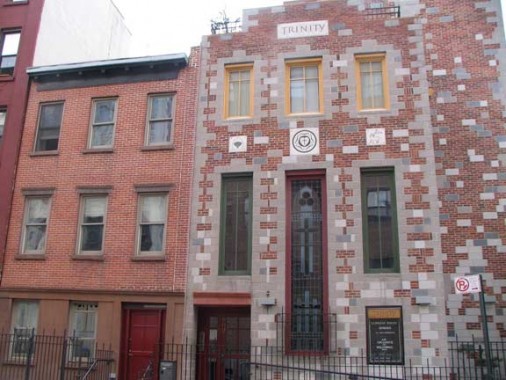 TRINITY LUTHERAN CHURCH, East 9th and Avenue B. No connection with Trinity Church or Cemetery, which are associated with the Episcopal/Anglican Church, this is instead another remnant of Kleindeutschland, or the German settlement in the East Village. In the late 1800s and very early 1900s, German immigrants settled in the East Village between 3rd Avenue and the river, from Houston north to East 14th. After the General Slocum steamboat disaster, which killed over 1000 people, Kleindeutschland relocated uptown to the East 80s, which at the time was he hinterlands.
As a congregation, Trinity was founded in 1839 with the first church building lasting from 1863 to 1975. The present building, with its variegated brickwork, went up from 1993-1996.
Some of our older buildings conveniently include the date of construction on the exterior wall. At East 8th and Avenue B, the CHILDREN'S AID SOCIETY NEWSBOYS AND BOOTBLACKS LODGING HOUSE boasted Calvert Vaux  as one of the co-builders–he was also the co-architect of Central and Prospect Parks.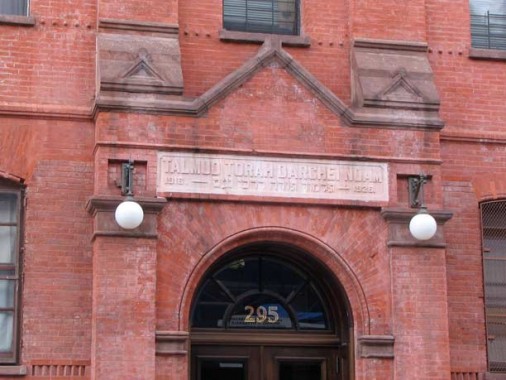 The building's former use as a school, Talmud Torah Darchei Noam, is seen carved above the East 8th Street entrance.
In April 2011, ST. BRIGID'S Catholic Church, East 8th and Avenue B, was still totally enshrouded in construction materials.
In the mid-2000s, it appeared that the church, built in 1848 and which had deteriorated to the point of no return, would be razed; however, an anonymous donor swooped in with a $20M donation which is paying for a good part of what has basically become  reconstruction job.
St. Brigid's served a community of Irish dock workers in its early years:
The opportunities provided by the booming shipyards made the area a common landing point for Irish immigrants escaping the famine between 1845 and 1851.  Plans were made for a Catholic church to serve this community, and in September 1848, the cornerstone was laid for St. Brigid's (named for the patron saint of boatmen).  Designed by Patrick Keely, a noted designer of churches, the building on the southeast corner of Avenue B and 8th Street was dedicated in December 1849. [East Village Transitions]
By late 2011, some of the wraps had been taken off, revealing a St. Brigid's restored to its appearance in its early years.
Compare St. Brigid's restoration to what happened to St. Saviour's Church in Maspeth, which was built by famed ecclesiastical architect Richard Upjohn in 1847. No angel appeared with a cash donation, and after the property was sold, it was disassembled and awaits a restoration…somewhere, someplace.
Funeral home ad, Vazac Hall, East 7th and Avenue B. "Vazac Hall" refers to a former Polish catering hall which opened in 1935. Now it's the Horseshoe Bar, but often called Vazac's or 7B.
NEXT: PART 3: TOMPKINS TO WASHINGTON SQUARES
Special thanks: Jim Naureckas' Songlines
1/29/12