Steinway Mansion
William Steinway's mansion, on 41st Street, still stands on a high hill that has never been leveled, unlike the surrounding area. 41st Street still looks like a country lane.
41st Street, looking north from 19th Avenue, is totally nondescript — there are a couple of manufacturers and some storage sheds. Keep walking, though and you will get a surprise.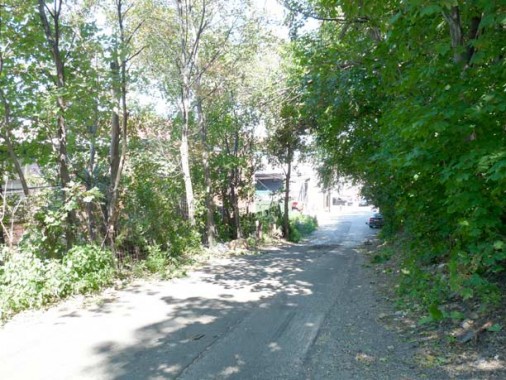 The road narrows to a semi-paved country lane…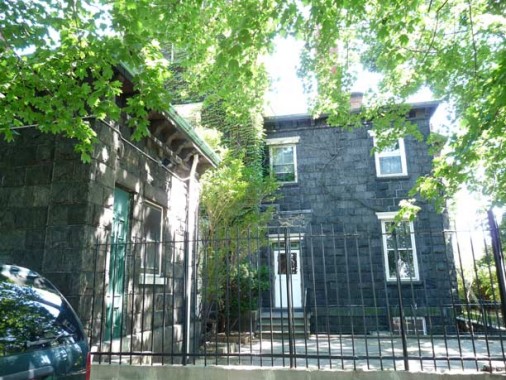 …and on the right is the back entrance gate of the William Steinway Mansion, which, in 2011, was up for sale. The front entrance of the mansion faces east on the property and is not usually visible, close-up, unless you're granted access to the property.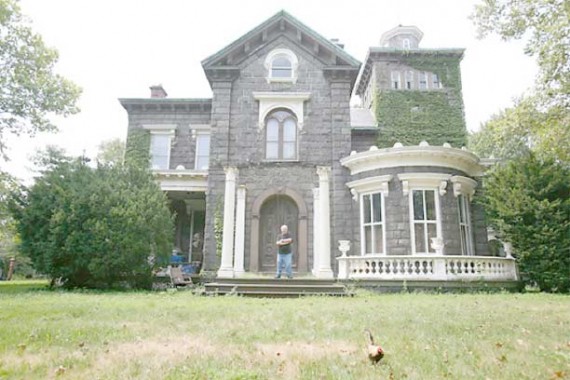 The mansion was built as a country home by optician Dr. Benjamin Pike in 1856, and was occupied by Pike's widow for 10 years after his death in 1864. In 1874 William Steinway was running the piano maufacturing, having newly established it with his father and brothers in Astoria a few years earlier.
The Steinway family owned the mansion for the next fifty years, until selling to Turkish immigrant Jack Halberian, who divided it into boarding rooms for renters. Jack's son, Michael, inherited the house and partially restored it to former magnificence. Michael passed away in early 2011, and his heirs did not feel confident they could maintain the 27-room mansion, and subsequently put it on the market. Here's hoping any future owner will be able to maintain it.
Steinway Village
William Steinway constructed a small town near the factory with a library, a church, a kindergarten, housing for factory workers, and a public trolley line. From 1877 and 1879, Steinway constructed a group of handsome row houses, rented to workers at the piano factory, on Winthrop Avenue (today's 20th Avenue) and on Albert and Theodore (41st and 42nd) Streets. Even the street names bore witness to the Steinway family: Albert and Theodore were sons of Henry Steinway and assisted in company opeartions.
The homes today are largely the way they were when first built, with even the Albert and Theodore signs intact.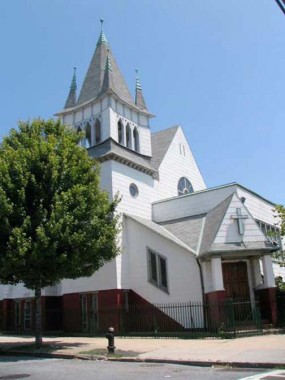 Life on Ditmars: Steinway Reformed Church, Ditmars Blvd. and 41st Street, was built in 1891 as the Union Protestant Church but likely switched monikers after piano man Henry Steinway donated a pipe organ. It's likely Steinway also built the church as a place of worship for the workers in his factory — he already had built workers' housing two blocks away on 20th Avenue between 41st and 43rd Streets (above).
Nearby, Pistilli Grand Manor, Ditmars between 45-46th Streets, was built by the Steinways as a piano factory that predated Steinway & Sons' larger factory now at Steinway Place and 19th Avenue. The 300,000 square foot warehouse became a warehouse for Stern's Department Store in the 1950s. After the store faltered, the forbidding-looking brick factory lay empty for 20 years until developer Joseph Pistilli remade it as upscale housing beginning in 2003.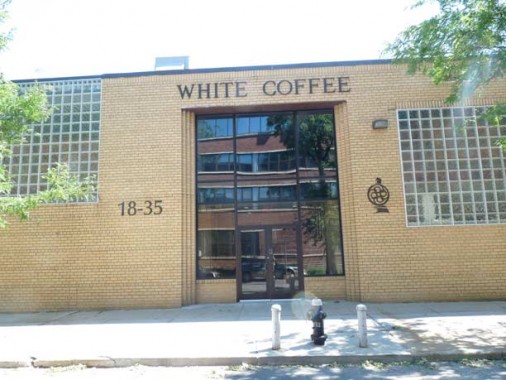 If you walk up Steinway Place (38th Street) north of 19th Avenue, the area is permeated with the smell of coffee, sometimes overpowering. This is the home of the White Coffee factory, a brand of which I wasn't aware.
I like orange juice or soda in the morning: though I like the idea of coffee — I like the aroma — I have never gotten into the habit. I think I have drank ten cups in my life, total.
East Astoria
There's a curious area consisting of a couple of streets that 'break the grid' just north of the GCP and east of Steinway Street. A look at older maps in this area reveals that the region used to be a little more extensive, and had a name: East Astoria.
Beers atlas, 1873.
Bromley atlas, 1909.
On today's map, Flushing Avenue survives as Astoria Boulevard, here a service road for the Grand Central Parkway, and Steinway Street is still Steinway Street. The other streets, which meet the grid at an angle, have disappeared, except for Nassau Avenue which is now 23rd Road, and Sound Street, which is a narrow one -block lane that nonetheless is rather busy as it brings traffic to the 44th Street Bridge crossing the GCP.
Sound Street (at left)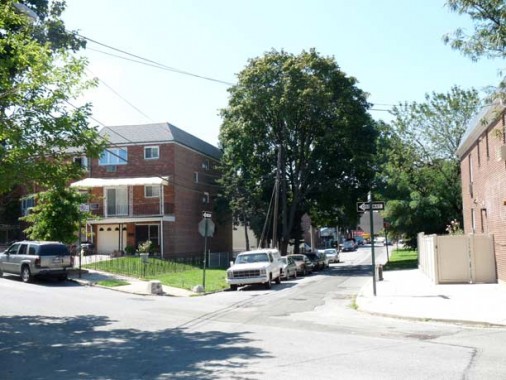 Nassau Avenue (with tree), now 23rd Road, crosses 42nd Street. Note the absence of a sidewalk.
Above: 23rd Road. This small subneighborhood is otherwise undocumented in most histories, but there's undoubtedly a reason why it came to be. I wonder what it is.
Amtrak/freight line is bridged over the Grand Central Parkway at Astoria Boulevard. The RR bridge preceded the parkway by about 18 years.
Railroad concrete arch, 46th Street at 25th Avenue. The railroad is lower to the ground here, so the arch isn't as impressive as the ones further west.
Bulova Watch
A short street spanning the Brooklyn-Queens Expressway formerly called 26th Avenue was renamed Bulova Avenue about 40 years ago to honor Bulova Watch, which is headquartered here. The company was formed in 1875 by Czech immigrant Joseph Bulova (1851-1936). The company has had numerous innovations over the years: first national radio commercial (1926), the first TV commercial in 1941, and the first 'electronic watch,' the Accutron, powered by a one-transistor electronic oscillator circuit, in 1960. The former Bulova School of Watchmaking building still stands in Woodside.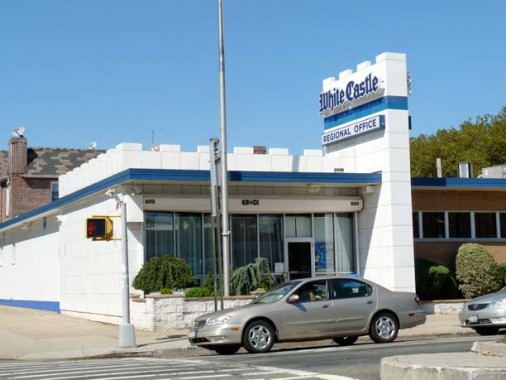 You're barreling down 34th Avenue when the urge for 'what you crave' takes over, and there, just before you reach the BQE, there it is! White Castle! On 69th Street.
False alarm — this is just a regional office. There are White Castles at Queens Blvd. and 57th Avenue and Northern and 88th, though.
Now, how did I know that?
Here we are at the edge of Jackson Heights. These buildings on 34th Avenue aren't part of the historic district, but they're pretty swell, nonetheless. The side streets are lined with Tudors and sycamore trees.
Finally, here'a very old attached pair of houses at Leverich Street and 35th Road. Somewhere in the vicinity — though no longer accessible — is the over 300-year old burial ground of the Leverich family. No grave markers are visible.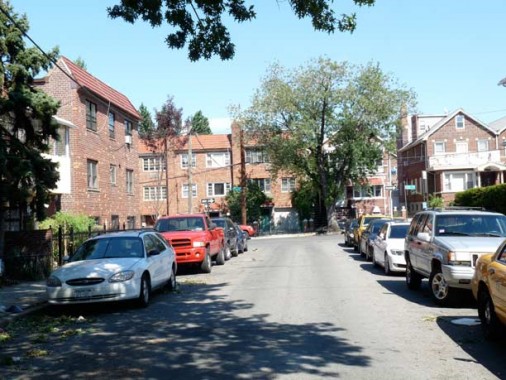 35th Road between 69th and Leverich Streets is the last extant remnant of the ancient Trains Meadow Road, formerly the main SW-NE route across the swampy fields that, in the early 20th Century, became the Jackson Heights we know today.
1/9/12