Here's some more examples of ancient signage found by FNY's Gary Fonville…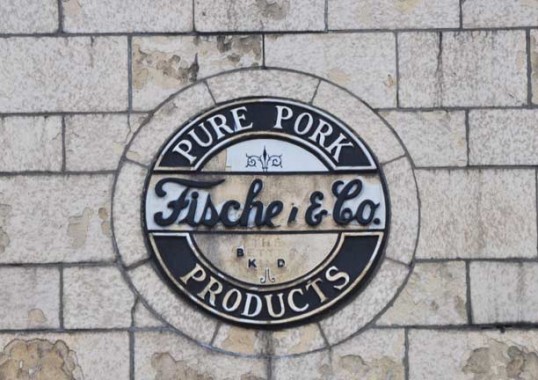 As a sign enthusiast, my eye always wandered to this building on Second Avenue near 116th Street in Spanish Harlem, Manhattan. Fischer & Co., who sold pork products,  felt it was worth it to spend probably a lot of money for this terra-cotta beauty.
[The bottom of the sign says "The Better Kind"]
Riding past on the el, this ancient sign for Orloff's, established, as it says, in August 1902 at 2211 86th Street in Bensonhurst, had always been always partially obscured. For the present, in 2011, it was in full view. Gravesend historian Joseph Ditta: According to an advertisement from the program for the Annual Fair of the Epworth League of the Cropsey Avenue Methodist Episcopal Church, August 19-21, 1909, Orloff's sold dry goods, gents' furnishings, and shoes.
For some reason, this wooden optometrist sign endured until recently at this location on Livingston Street near Hoyt Street in Downtown Brooklyn, Brooklyn. Thank goodness I took this shot to record it.  Guess what?  It's gone!
Chinese food is generally consumed these days  in NYC via take-out.   However, back in the day, Chinese food could only be eaten in a sit-down venue.  This sign on Nostrand Avenue between President & Union Streets in Crown Heights, Brooklyn indicated that Chinese food could be gotten here.
[Chow mein, or stir-fried noodles, it seems, was the popular fare of choice in the old days, but other Chinese and Asian fare has surpassed it. The side facing the street says AIR CONDITIONING and dates from a time when it was hardly universal]
Directly across the street (Nostrand between President & Union) was the Normandy Bake Shop.  Suprisingly, this sign is in pretty good condition and with a little tlc, could be reactivated fairly easily.
If I had taken this photo in July instead of March, it would be impossible to see.  This sign caught my eye as I traveled southbound on the Gowanus.  Naturally, I made a mental note of its location and came back later to take this picture near 25th Street at Third Avenue in Sunset Park, Brooklyn.  Moore McCormack Lines ceased to operate as a shipping company in 1982.
Shell Road south of the Belt Parkway in Brighton Beach, Brooklyn was the home of the Brighton Laundry Company.
Does anyone know about the Old Dutch Brewery near Albany Avenue in Brooklyn?
This pristine enamel sign can't be seen by the general public.  It's inside an administrative building at the Westchester Yard, home of the IRT #6 train on Waters Place, The Bronx..  Could the be the former formal name of Pelham Parkway?
[This puzzles me, since there's a Pelham Parkway station on the #5, and a Pelham Bay Park station on the #6, but where was this?]
What was Hampton House about on East 140 Street in Port Morris, the Bronx?  Do any of ForgottenFans know?

One of the most unusual signs
ever chronicled in FNY, Equitable Steel (formerly Harris & Glachman)  on Park Avenue near 174th Street in the Bronx host  this sign with letters made of protruding bricks.  Kinda different. Huh?
On the north side of Delancey Street between Chrystie Street & the Bowery is this building that housed  the Bowery Ballroom and Treemark Shoes.
Again here's an instance where a FNY camera captured the image of something that was destroyed.  Daitch Shopwell was practically ubiquitous in NYC until the early 1970s or so.  Again, I had to ask for permission to enter the property to get a good shot.  I had to explaion to the security guard why I wanted to take this sign's picture.  I entered the lot from Walnut Avenue & 141st Street in Port Morris, the Bronx.
FNY Correspondent Gary Fonville was born in New Bern, NC on February 10, 1952 and entered the NYC Public Schools in 1958 but only attended for two years.He attended SUNY at New Paltz, graduating in 1975.  After graduation, married wife Rebecca and worked in the educational field until 1982. In October, 1982 he began working for the NYCTA as a Bus Operator and worked in that capacity until October, 2003 when health issues forced him to be reclassified to the position  as a TPPA (Transit Property Protection Agent). His new hobby, photography, came about by being a contributor to FNY and snapping many photos in the process.
1/19/12