Southern Brooklyn stations in Midwood and Sheepshead Bay on the BMT Brighton line have all been rehabilitated with new windscreens and lighting, as well as a spruce-up of fare control areas — a lengthy process that took the better part of 3 years. I was passing through Sheepshead Bay and caught a train back home at Neck Road.
Though street signs always note its proper name, Gravesend Neck Road, street signs and neighborhood residents have always called it by the much shorter Neck Road. It's a farm road that predates the local street grid  by perhaps a couple of centuries and today runs from Van Sicklen Street in Gravesend (not to be confused with Van Siclen Avenue, without the k, in East New York) east and northeast to Avenue U and Nostrand Avenue. It used to extend further into "Gravesend Neck" which was then a peninsula, hence the "neck" in what is now the Marine Park area.
The Brighton Line, meanwhile, was built as part of Brooklyn Rapid Transit on what was then the steam railroad right of way belonging to the Brooklyn, Flatbush, and Coney Island Railroad, between Prospect Park and the Brighton Beach Hotel. In its present form, the Brighton was completed in 1907.
Of the four Brooklyn el lines that converge at the Coney Island terminal, the Brighton (B, Q lines) is the only one that offers scheduled express service, and that only on weekdays, the B serving as the express. The Culver (F) West End (D) and Sea Beach (N) are as of 2012 locals only.
Though the new windscreens offer limited glimpses of the outside world, Gravesend Neck Road is visible from this break.
Newly installed windscreen and Neck Road sign.
New high-intensity station walkway lamp…
…compare to incandescent lamps lighting the walkway in 1968. photo: Brian Cudahy, from nycsubway
The "8" and "6" signs indicate where the motorman is to stop if (s)he is operating a 6 or 8-car trainset. Typical trainsets run to 10 cars, with 11 on the Flushing Line.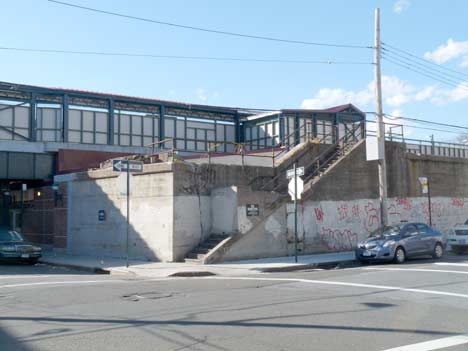 On the northwest end of the present station, a blocked off staircase ascends to the northbound track.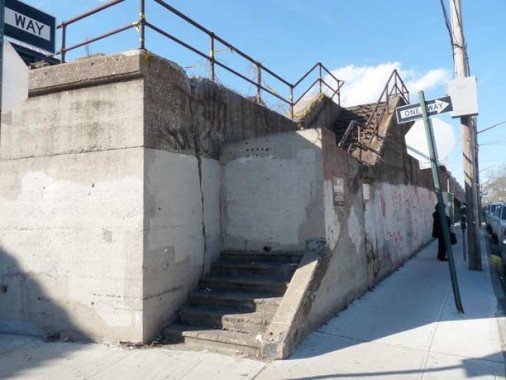 Here's a close-up view.
…and here's how it appeared in 1910, when it was newly built. The stair ascended to the Neck Road passenger station of the Long Island Rail Road Manhattan Beach Branch, which was constructed parallel to the B, F&CI from 1877-1878. The railroad ran at grade until the first decade of the 20th Century, when it was placed on an embankment as southern Brooklyn became more developed and the railroad wanted to eliminate grade crossings. The lines ran parallel north to the present NY & Atlantic Bay Ridge Branch, where there was a wye connection between the two lines.
In the early 1900s there were a number of racetracks in the Sheepshead Bay and Coney Island, but when NY State outlawed horsetrack wagering (a ban that didn't stick over the long term) passenger business on the Manhattan Beach steadily declined; passenger service on the MB, as well as the Bay Ridge Branch, ended in 1924, and the infrastructure was almost totally removed by 1938. Only this staircase, an underjump south of Avenue X, and a widening of East 17th Street are tangible remnants of the line. 1910 photo courtesy Arrts Archives
2/24/12