When the Commissioners' Plan for the grid system of NYC streets was adopted in 1811 and John Randel Jr. set about surveying the island as related in the Museum of the City of New York winter 2012 exhibition and the book "The Greatest Grid," the survey was laid out only as far north as 155th Street. City planners were under the impression that development of territory north of that would take well over a century, so there was no great urgency to survey there. As we now know, it took only about 65 years for construction and layout of streets to reach 155th.
When the Trinity Church cemetery at Broadway and Wall Street had reached capacity by the early 1800s (interments had taken place there since the mid-1600s) the church sought out additional land and, in 1842, purchased a 23-acre stretch between today's Amsterdam Avenue, Riverside Drive and West 153rd-155th Streets (originally, the purchase touched the Hudson River) from landowner Richard F. Carman (see below), who was building a village of his own along the Kingsbridge Road, which we now know as Broadway. At the time, as far as most Manhattan residents were concerned, this far north was Ultima Thule, although Trinity had also considered parcels in Morrisania in the Bronx and even a section of Green-Wood Cemetery, which had been established in 1838 in far-off Brooklyn.
James Renwick Jr., the architect of St. Patrick's Cathedral, Grace Church and the Smithsonian Institution Castle Building in Washington, was brought in to landscape the cemetery and design its sweeping walks and paths; later, Calvert Vaux designed a now-vanished bridge (standing between 1872-1911) spanning Broadway, which was straightened on a path that bisects the cemetery into two nearly equal divisions (it's one of the few NYC cemeteries divided in this manner). From the start, despite its remoteness as well as the relative difficulty in traversing its western section, which is built on high, ungraded hills, Trinity Cemetery Uptown (not its official name, but I call it that out of convenience) was a popular tourist destination, as many cemeteries such as Green-Wood, Woodlawn in the Bronx and Mt. Auburn in Cambridge, MA were designed to be before the days of large public parks.
In December, on one of the few wintery days of 2011-2012 (I classify a day as 'wintery' if the temperature doesn't get above freezing) I accompanied historian Eric K. Washington and several hardy cemetery buffs on a walk in the western section. A few days later, I returned for a look at the rest of the western section, which was open, but crossing to the eastern section, found it locked (the cemetery keepers are somewhat capricious). I returned again some days later, and finding the gate open, completed my own survey, using a brochure I had obtained from the cemetery office.
Entering the western end of the cemetery first. There's a small and inconspicuous entrance at Broadway and West 155th, which may or may not be open; the best bet is one of the two side entrances on West 153rd and West 155th, which entail a long walk downhill and hence, a long walk uphill coming back. While the central part of the cemetery's western division is on a high hill, the western end slopes down to the Hudson River; you can see the gradual pitch in this photo, wich also shows one of the large apartment buildings on Riverside Drive facing the river.
Before long you arrive at the gravestone of Clement Clarke Moore (1779-1863), who is popularly credited with writing the Christmas perennial A Visit From St. Nicholas. The poem is credited, along with Thomas Nast's accompanying artwork, with "systematizing" The Jolly One's appearance of a jolly old elf with a white beard, eight reindeer (Johnny Marks added Rudolph to the team a century later) pipe and red robes.
The legend of Santa Claus, though, is still shrouded in a haze of mystery, for me, at least. His original identity as a saint has been mostly glossed over as religion has taken a back seat in pop culture. But who originated the legend of Santa Claus operating a toy factory at the North Pole with elves as slave labor?
Moore himself was the son of Trinity Church rector Benjamin Moore. Period engravings show a kindly-faced man whose visage seems to match the genial work depicting a visit from Santa. By trade, he was an educator and writer — he donated land to the Episcopal Church for the General Theological Seminary on 9th Avenue and 20th Street, where he later taught. His estate there was called Chelsea and the surrounding neighborhood continues to bear the name.
He seems to have been a pragmatist. He vehemently opposed the development of Manhattan according to the new early 19th Century street grid plan, but he later took advantage of it, selling lots along 9th Avenue to rich investors. He opposed abolition and was a slave owner.
The poem ascribed to him was first published in the upstate Troy Sentinel on 12/23/1823. Whatever doubt of its origin comes from the fact that it was published anonymously, and others have claimed authorship in the ensuing decades. He later acknowledged he was the author in letters to his own children, and included it a published book of verse in 1844. Upon his death he was interred in St. Luke in the Fields in Greenwich Village–he had helped organize St. Luke's in 1820–but in 1899 he was reinterred here in Uptown Trinity.
Surrounding his family's stone are some candles–each December, there is an evening procession from the Church of the Intercession to his gravesite.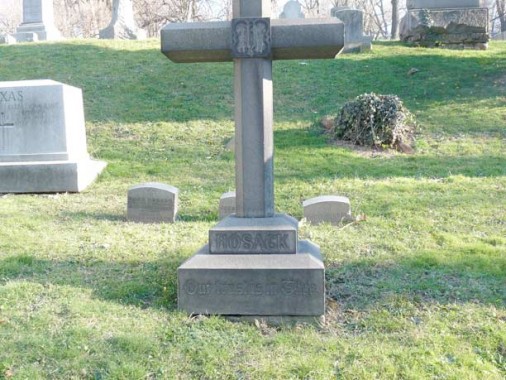 Near Moore's stone is that of Dr. David Hosack (1769-1835). In 1801, he treated Philip Hamilton after a fatal duel in Weehawken, NJ; three years later, he found himself in the same situation, as he unsuccessfully ministered to Philip's father, Alexander Hamilton, after a duel with Vice-President Aaron Burr. After Alexander Hamilton had fathered a child a year after Philip's death, the baby was also named Philip.
Hosack was also a botanist and educator and in 1801 founded the Elgin Botanic Garden near what would later become Rockefeller Center. He was originally buried at Grace Church (Broadway and East 10th) but was reinterred in Uptown Trinity in 1888.
Dr. David Hosack went on to have several children, including sons named Nathanael Pendleton Hosack and Alexander Hosack. Alexander Hosack followed in his father's footsteps and became a prominent physician, tending to Aaron Burr in his final years. According to Alexander Hosack's 1871 obituary in the New York Times, he once asked Burr if he felt any remorse over Hamilton's death. Burr reportedly said that he suffered no remorse, and that Hamilton had brought his death on himself. Nathanael Pendleton Hosack was a vestryman at Trinity Church.
Both Alexander Hosack and Nathanael Pendleton Hosack are buried in Trinity's uptown cemetery. Trinity Wall Street
This is a look east from the bottom of the hill near Moore's and Hosack's stones. A path winds around the hill, gradually ascending the hill. Surprisingly many of the graves are obscured and placed behind other ones, so they're either hard to find or somewhat inconvenient to clamber toward and view, but the hilly topography was no help in the Renwick layout.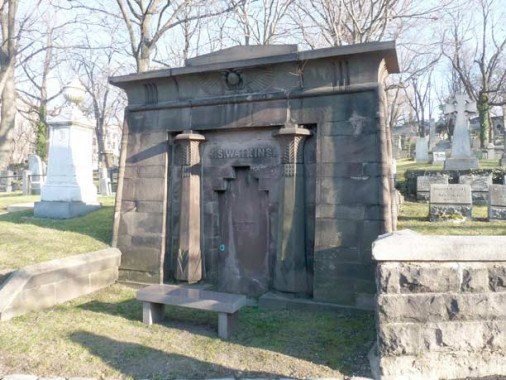 Wealthier families were able to install large tombs and sarcophagi; the upsloping territory allowed for easier construction.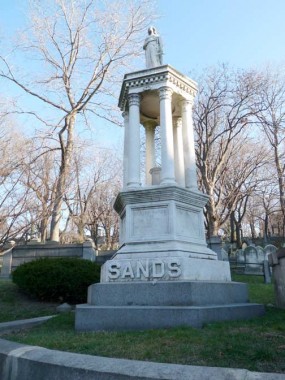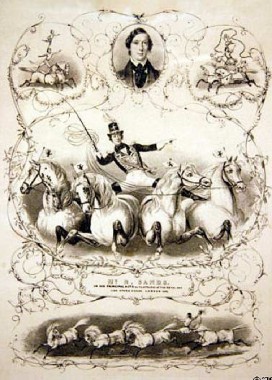 The next monument of note is that of an entertainer and impresario, Richard Sands (1814-1861), an accomplished acrobat who popularized "ceiling walking" with the aid of suction-adapted footwear, though he first attained fame as a teenager by performing somersaults on charging horses. He later owned several circus companies.
Eric K. Washington: Richard Sands' rise to prominence coincided with New York City's population boom and subsequent appetite for spectacular diversions. In 1826 the country's largest theater was Mount Pitt in lower Manhattan, near Grand Street by the East River. It was surely a Mecca for a twelve-year-old Long Island farm boy like Sands. Where else could a country lad with unbridled pluck leave 4,000 spectators cheering, then breathless, then cheering again? Sands' coup de théâtre was a series of backwards somersaults called "flip-flapping" from galloping horses. The equestrian feat literally thrust the youngster into fame…
Although press reports in 1861 had Sands falling to his death from an unsuccessful ceiling walk, he died from yellow fever during a visit to Cuba.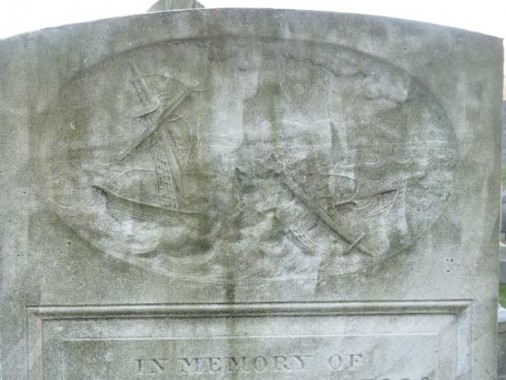 In 2012, preparations are underway for the centennial remembrance of the sinking of the Titanic in April 1912. In Uptown Trinity, the gravestone of Arthur Donnelly (1789-1836; top right) recalls an earlier tragedy, the destruction of the Bristol in 1836. After a five-week voyage from Liverpool, the Bristol ran aground on a sand bar north of Sandy Hook, NJ and south of the Rockaway peninsula, and passenger Donnelly assisted in rescuing crew and passengers, dying of injuries sustained during the shipwreck:
Rather than leave when he was given space, Donnelly chose to send his nursemaid/slave first and wait for the next wave of rescue boats, staying to help the captain and several other officers who had stayed behind. The remaining passengers were attempting to tie themselves to the mast (so as not to fall into the ocean), but as they waited, a giant wave struck the ship and through Donnelly—who was not yet secured—into the ocean where he drowned, "…a victim to his own philanthropy…" as a newspaper story declared when it reported on the wreck. Potential Zombies
Soon after, another sailing ship, the Mexico, also foundered in the same area, leading to reforms in the pilot process.
Is there a signer of the Declaration of Independence in Uptown Trinity? No, despite what this marker states. Philip Livingston (1716-1778), a member of the Continental Congress, is buried at Prospect Hill Cemetery in York, Pennsylvania, where he had died — despite what the Washington Heights Chamber of Commerce tells you.
It's easy to understand why they were taken in, and the origins of this erroneous marker are as yet unknown.
Henry Brevoort (1782-1848) and his wife, Laura Carson Brevoort. When 11th Street was being laid out downtown in the 1810s, Henry Brevoort was one of the few landowners in the area with enough pull to prevent a street from being built, as his apple orchard stood in the way. Hence, there is no 11th Street between Broadway and 4th Avenue; instead, the magnificent Grace Church, completed in 1846 by James Renwick Jr., a cousin of the Brevoorts, stands there today.
Brevoort was a great friend of Washington Irving's, and their voluminous correspondence survives today.
The George Washington Bridge can be seen, especially in winter, from the cemetery.
At least two NYC mayors are buried in Uptown Trinity, and another one will be (see below). Cadwallader David Colden (1769-1834), born in Queens, was mayor from 1818-1821 and then became a US Representative from New York from 1821-1823. He immediately followed his close friend, DeWitt Clinton, as mayor. In City Hall, he spearheaded the House of Refuge, basically a homeless shelter for teenagers and young adults; it opened in an armory at what would be the future Madison Square in 1825. He also championed a national canal system in Congress.
His grandfather Cadwallader Colden was a Tory whose enforcement of the Stamp Act moved the citizenry to hang him in effigy. The family was prominent in the colonial era in Flushing, and one of the north-south streets there is Colden Street. There is also a Colden Avenue in Morris Park, Bronx, where the north-south streets bear 19th Century mayors' names.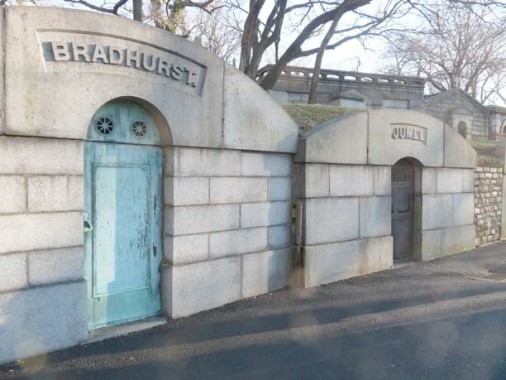 The Bradhurst and Jumel mausolea are side by side on a hill. Both families are remembered in NYC street names; Dr. Samuel Bradhurst was a physician who held property in Washington Heights.
The Roger Morris/Stephen Jumel Mansion, used by George Washington as a headquarters during the Revolutionary War, stands nearby in Morris Park at Edgecombe Avenue and West 160th Street. Jumel, a French-born wine merchant, is better known for his vivacious wife Eliza Brown Bowen Jumel, who was nothing if not a survivor:
The penniless beauty Eliza Bowen acquired a life of luxury upon her marriage to Stephen Jumel, a wealthy French wine merchant who bought the elegant Morris Mansion for her in 1810. Born in Providence, Rhode Island, to a prostitute named Phebe Kelley Bowen and a sailor who had been her lover, the stigma of illegitimacy and life in the local poorhouse fired Eliza's obsession with wealth and social status, and she would later claim to have have been born on the high seas, the daughter of a French naval officer and his aristocratic English wife.
Allegedly a former prostitute, she was shunned by New York society, but met with a warmer reception when the Jumels traveled to France. There she charmed Emperor Napoleon Bonaparte, who bestowed various gifts upon her, including several pieces of furniture which may still be seen in the Morris-Jumel Mansion. The Jumels' marital affections ended long before their marriage, however, and her reputation became even more notorious when her husband died in 1832 and rumors persisted that she had deliberately let him bleed to death. Unfazed by public opinion, a year later the merry widow married Aaron Burr, the former United States Vice-President who was infamous for his killing of Alexander Hamilton. She sued Burr for divorce soon afterwards, however, claiming that he was a fortune-hunter. Although divorce was both rare and considered disgraceful by the standards of the time, she was more than accustomed to living with scandal. Reverting to her former married name, Madame Jumel lived in style until her death at age 90 in 1865. Findagrave
More on Eliza Jumel [Scandalous Women]
Oliver Evans (1755-1819) is another of the many reinterments in Uptown Trinity. The stone reads:
Engineer, whose pioneer work in the application of high pressure steam to locomotion and industry with the introduction of automatic machinery in flour milling; whose creative writings on technical and scientific subjects and enterprise as a manufacturer and promoter of useful inventions place him in the front rank of those who laid the foundations of America's greatness as an industrial and scientific nation, this tablet is erected in appreciation by Greveille Bathe and sponsored by the American Scenic and Historic Preservation Society.
Looking down on the Astor family plot. John Jacob (1763-1848) is interred here; he made a fortune from the fur trade and later in real estate and became the richest man in the USA for a time. His name is remembered in such diverse spots as Astoria, Queens and Astoria, Oregon (from the expansion of his fur empire in the Northwest). He bequested little money to NYC, keeping it with his family; the landholdings have kept the family fortune intact for generations.
In 2012, literature fans celebrated Charles Dickens' bicentennial. The great author was one of the first to popularize the book tour and his works, which appeared mostly in serial form, were greatly anticipated. Classics like Oliver Twist and David Copperfield, which champion the lower and middle classes and expose the hard life they were forced to lead in 19th Century Britain, sell just as steadily today as they did when they originally appeared.
Charles' son, Alfred Tennyson Dickens (1845-1912) lies in Uptown Trinity, marked by a small stone close to the Broadway cemetery entrance. He toured the world as a lecturer on his father's life and work. While visiting the USA in 1912 (staying at the Astor Hotel) he was stricken by a sudden illness and passed. Trinity Cemetery donated the plot and A. T. Dickens was interred here rather than in his native England. Thus the author of A Visit From Saint Nicholas and the son of the man who wrote A Christmas Carol are both in Uptown Trinity.
[Charles Dickens' London] [Mark Twain on Dickens' visit to New York]
Church of the Intercession
The Episcopal/Anglican Church of the Intercession, Broadway and the SE corner of West 155th, was designed by famed ecclesiastical architect Bertram Goodhue (and determined to be an "quintessential" Goodhue work) and built 1910-1914 originally as a chapel for Trinity Church, if such a massive building can be called a chapel. The church complex consists of a tower, vicarage, vestry and parish house. It was Goodhue's favorite among all his works, and he's here — buried in the transept:
Known for his ability to synthesize styles, his projects show Gothic, Romanesque, Art Deco and Spanish-Revival influences, among others. His many commissions include the Nebraska State Capitol; the Master Plan for the California Institute of Technology; the campuses for Rice and Princeton Universities; St. Thomas Episcopal Church, New York City; and the site plan and Spanish Colonial Revival style buildings for the 1915 Panama-California Exposition in San Diego's Balboa Park.
In addition to his architectural work, he worked independently as an illustrator and typeface designer, creating the popular Cheltenham style. Upon his death, Goodhue was entombed at the Church of the Intercession in Washington Heights, New York, one of his own commissions. Cultural Landscape Foundation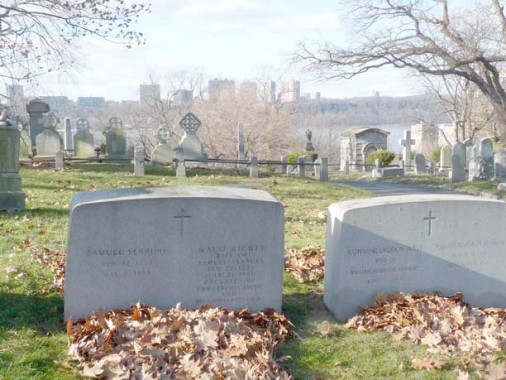 The stone of Samuel Seabury (1873-1958), a descendant of the first American Anglican bishop. Seabury was a renowned jurist who headed the Seabury Commission in the 1930s, investigating corruption in Tammany Hall, leading to the resignation of Mayor Jimmy Walker. He was an unsuccessful candidate for NYS Governor in 1916.
Family plot of the Pirsson family, featuring numerous Celtic crosses. The crosses, which feature a ring surrounding the cross, are prominent in Uptown Trinity.
The gravesite of Richard F. Carman (1801-1867), who sold 23 acres of his uptown property to Trinity Church in 1842. Carman was a box manufacturer who made a fortune in real estate and insurance and was a near neighbor and friend of the family of John James Audubon (see below.) He founded the village of Carmansville along today's Amsterdam Avenue between West 150th-153rd Streets, and a playground is named for the village.
John James Audubon
When you enter the eastern section of Uptown Trinity from its West 155th Street gate, the first monument you see is the tall Celtic cross for John James Audubon (1785-1851), a naturalist, ornithologist, and a painter who depicted birds so accurately that his works resemble photographs. Audubon lived and worked here beginning in 1841 when northern Manhattan was fields, forests, and streams:
Today, the neighborhood that lies west of Broadway between 155th and 158th Streets in northern Manhattan bears no resemblance to the wooded vale that John James Audubon bought in 1841 and deeded to his wife, Lucy. The ancient elms and oaks that towered above dogwood and tulip trees on the hillside and the tall pines nearer the water, the streams that flowed through ponds and over a waterfall before joining the river, the enclosures where deer and elk mingled with domestic animals are long gone, displaced in stages of development and progress that culminated in the cityscape that exists today. Even the vale itself is mostly obscured by graded streets, building elevations, and the retaining wall that supports Riverside Drive, which at its deepest – near the spot where Audubon's home once stood – is almost forty feet high. In place of those expressions of rural life, the Audubon Terrace museum complex and a series of apartment buildings that are approaching their centennials have now claimed the tract longer than either Audubon's home or the subsequent residential enclave that bore his name. However, just below the surface are subtle reminders of what once was, a patch of schist on 156th Street, panoramic views of the Hudson River and the Palisades from the Riverside Drive viaduct, the steep drop from the 155th Street plaza to the cemetery below, and especially the area's peculiar footprint that refuses to adhere to the rigid grid pattern. Audubon Park
Jean-Jacques Audubon was born in what is now Haiti on his sea captain father's sugar plantation, and grew up near Nantes, France, emigrating to the USA in 1803 to avoid serving in the Napoleanic Wars, becoming a citizen in 1812. He had always expressed an interest in nature and the outdoors and especially in birds; in 1820 he traveled to the American South to begin his massive project of painting every native bird species in America. At first he could not find a publisher in the States, but his drawings became a sensation in Britain and Birds in America, today an unparalleled classic of its genre, gradually found release between 1827 and 1839.
The Birds of America was a monumental undertaking that earned Audubon lasting fame as naturalist, painter, and American woodsman, but its original publication was costly and its profits small; however, the smaller lithographed version, The Octavo was cheaper to produce, affordable for a wider audience, and yielded higher returns that afforded Audubon the means to provide a permanent home for his family, one that could provide shelter as well as self-sufficiency. Audubon descendents recalled Minnie's Land [Audubon named it after a pet name for his wife Lucy] as an "estate," but it was in fact a working farm carved out of the wooded valley just north of 155th Street. Minnie's Land supported gardens, orchards, and livestock that supplied the Audubon family fruits and vegetables, eggs, milk, and meat; at their front door, the Hudson River – or North River, as it was then called – was a steady source of seafood throughout most of the year; and birds and small game that roamed the salt marshes along the river and woods bordering Minnie's Land augmented what the family could produce for itself. Audubon Park
The story of Audubon's monumental memorial, installed in 1893, is lengthy.
The Church of the Intercession has competition across the street, at least in the tower department, from the North Presbyterian Church across West 155th. When it was organized in 1847 it was Congregationalist church, only becoming associated with the Presbyterians (as the Washington Heights Presbyterian Church) in 1858. The construction of this building between 1900-1905 ended the City's plans to extend Audubon Avenue south to West 155th, where it would have begun opposite the Audubon monument in Uptown Trinity.
Another NYC mayor, Fernando Wood (1812-1881), is buried in Uptown Trinity on the eastern division. He served two separate terms from 1855-1858 and again from 1860-1862, and was a US Representative from NY from 1841-1843, 1863-1865 and 1867-1881. He was born in Philadelphia and was a Copperhead during the Civil War (a Southern ally living in the North) and suggested NYC secede from the USA in order to protect the city's trade with the Confederacy.
In the 1856-57 session, Republicans in control of the New York State Legislature at Albany shortened Wood's second term of office from two years to one, and created a Metropolitan Police Force, with Frederick Talmadge as superintendent, to replace Wood's corrupt Municipal Police. Talmadge demanded that Wood disband the Municipal Police, but Wood refused, even in the face of a May 1857 decision by the Supreme Court. Superintendent George Washington Matsell, 15 captains and 800 patrolmen of the Municipal Police backed Mayor Wood.
Conditions during his term seemed straight out of Gangs of New York:
[Police] Captain George W. Walling pledged his loyalty to the new Metropolitan Police and was ordered to arrest Mayor Wood. Wood refused to submit and when Captain Walling attempted force, New York City Hall was occupied by 300 Municipal policemen, who promptly tossed Captain Walling into the street. Fifty Metropolitans in frock coats and plug hats then marched on City Hall with night sticks in hand. The Municipals swarmed out and routed the Metropolitans. Fifty-two policemen were injured in the New York City Police Riot.
The Metropolitan Police Board called out the National Guard, and the Seventh Regiment surrounded City Hall. A platoon of infantry with fixed bayonets marched into City Hall and surrounded Mayor Wood who then submitted to arrest. Mayor Wood was charged with inciting to riot, released on nominal bail and returned to his office.
The feud continued on through the summer of 1857, with constant confrontations between the rival police forces. When a Municipal arrested a criminal, a Metropolitan would come along and release him. At the police station, an arresting officer would find an alderman and a magistrate from the opposing side waiting. A hearing would be held on the spot and the prisoner released on his own recognizance.
The gangs of New York had a field day. Pedestrians were mugged in broad daylight on Broadway while rival policemen clubbed each other to determine who had the right to interfere. Soon the gangs were looting and plundering without interference, but turned on one another in turf wars, which culminated in the Fourth of July gang battle. The Dead Rabbits and several other Five Points gangs marched into the Bowery to do battle with the Bowery Boys and to loot stores. They attacked a Bowery Boys headquarters with pistols, knives, clubs, iron bars and huge paving blocks, routing the defenders. The Bowery Boys and their allies the Atlantic Guards poured into Bayard Street to engage in the most desperate and largest free-for-all in the city's history. The Metropolitans attempted to stop the fighting but were severely beaten and retreated. The Municipals said the battle looked like a Metropolitan problem and was none of their business. wikipedia
"He was the handsomest man I ever saw, and the most corrupt man that ever sat in the Mayor's chair." –historian George Milton Fort [in Mr. Lincoln and New York]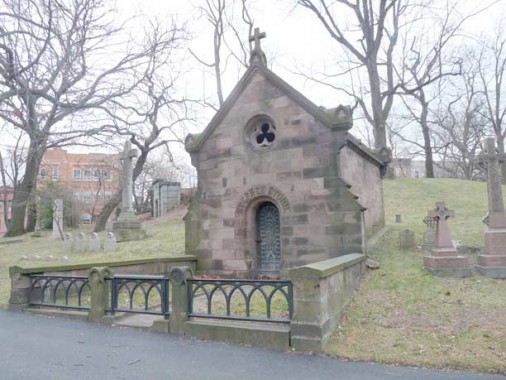 The mausolea of Garrit Storm (above) and Stephen Storm (below).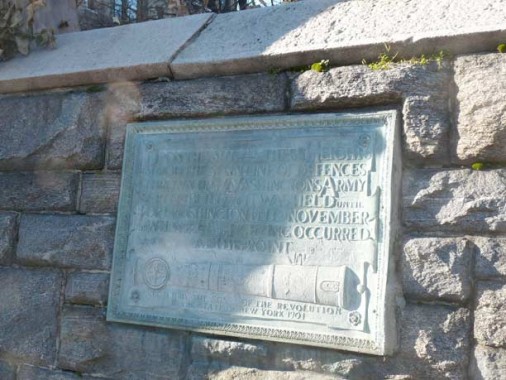 Two Revolutionary War memorials marking the Battle of Harlem Heights, Washington's only victory over the British in NYC, can be found at Uptown Trinity, one within the grounds installed in 1929 by the Daughters of the American Revolution and an older one, from 1901, on the wall at Broadway and West 153rd. High ground within what became the Cemetery was the patriots' first line of defense.
I'm now in the hilly area on the eastern side. This is the gravesite of John Dewsnap and family. Besides no one having a name like Dewsnap anymore, I was fascinated by the intact fences and gates surrounding the plots. Some of these gates have been there since the 19th Century.
The resting place of Robert Bowne Minturn (1805-1866), a descendant of John Bowne, the Quaker who defied Peter Stuyvesant in 17th Century Flushing, Queens. Minturn was a merchant shipper who owned the Flying Cloud, which in 1854 set the speed record for sailing between New York and San Francisco (89 days 8 hours). In those days, without a Panama Canal, ships had to go around Cape Horn, the southern end of South America. Minturn also donated land in mid-Manhattan that became part of Central Park.
Henry M. Sands' tomb, which requires a lot of clambering to get to. A rusted, broken gate featuring a trefoil, a symbol of the Triune Deity, vainly tries to protect it.
Caretakers' House, West 153rd near Broadway. A feature of Uptown Trinity since it opened, it is built into the side wall.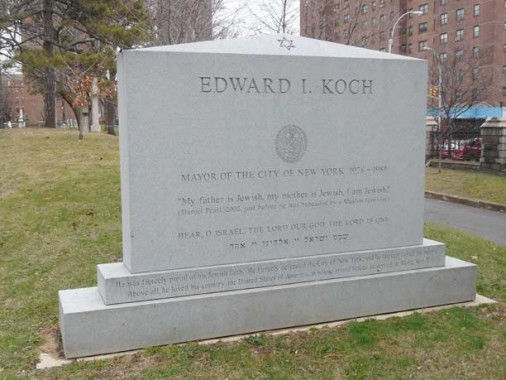 Edward I. Koch, NYC mayor from 1978 to 1990, knew he would die without heirs and so, purchased this plot before his death in 2013 and had a tombstone prepared while he was still living. It was inscribed with the words spoken by Wall Street Journal reporter Daniel Pearl before he was beheaded by Islamic terrorists in Pakistan — "My father is Jewish, my mother is Jewish, I am Jewish;" as well as the prayer "Hear, O Israel: the Lord is our God, the Lord is one," found in Deuteronomy 6:4, which is spoken at morning and evening Jewish prayer services; and "He was fiercely proud of his Jewish faith. He fiercely defended the City of New York and he fiercely defended its people. Above all, he loved his country, the United States of America, in whose armed forces he served in World War II."
2/12/12