On a cloudy afternoon in March I took a bus to my old neighborhood at Sanford Avenue and 158th Street and walked through the area unofficially known as Boadway-Flushing as far as Bell Boulevard in Bayside. Though the area is nowhere near Queens' Broadway, which runs from Long Island City to Elmhurst, the stretch of Northern Boulevard that runs through the area was named Broadway until about 1920, and the Long Island Rail Road station servicing the region is still called Broadway, over 90 years after the name change.
GOOGLE MAP TOUR ROUTE: FLUSHING TO BAYSIDE
Sanford Avenue and 158th Street. Sanford Avenue runs the width of Flushing from just east of the Flushing River to its conclusion at Northern Boulevard and 165th Street. It remembers United States Senator Nathan Sanford (1777 – 1838), who once owned most of the land in the Waldheim section of Flushing. His son Edward (1805-1876) was a political writer, poet and essayist, and owned the landmarked Edward Sanford House on 47th Avenue in Corona, Queens.
Here we see a couple in a succession of identical apartment buildings on both sides of Sanford Avenue between 158th and 160th Streets that were built during the 1920s.
Prior to 1913 the Long Island Rail Road here ran on the surface. To eliminate grade crossings and hills, the railroad was placed in an open cut or embankment for most of its route that year. Some roads such as Douglaston Parkway were bridged over the right-of-way but in some cases, such as here at 158th Street, as well as 162nd Street, and Northern Boulevard, the roads themselves actually had to be lowered so they could pass under the embankment and trestles. Height limits are placed on signs.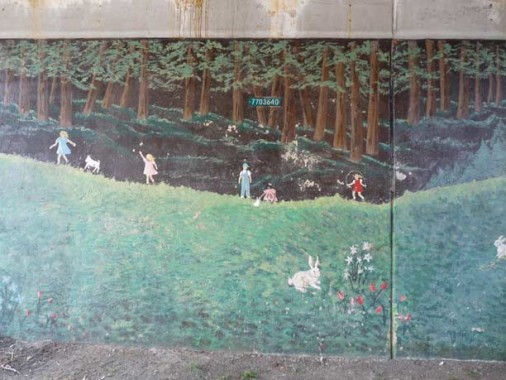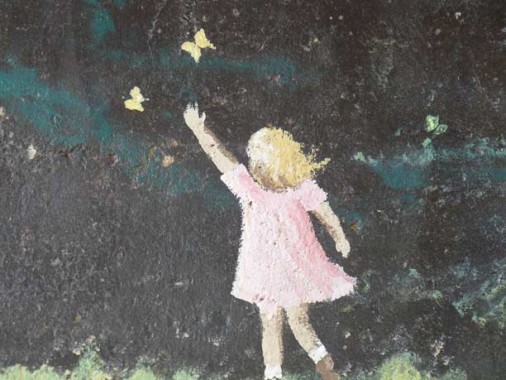 More than 19 years ago (as of 1993, when I arrived in Flushing from Bay Ridge) an unknown artist painted a pastoral scene on the western wall under the trestle…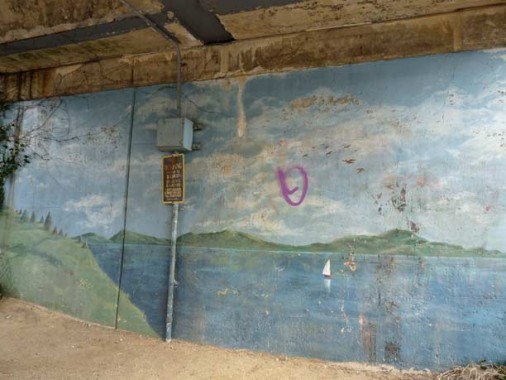 …and a seaside scene on the eastern. Neither, I think, is meant to portray any particular scene in Queens.
Two narrow roads sun north and south of the railroad embankment. Station Road, on the south side, still has some brick pavement showing through.
Depot Road, which runs on the north side, is almost rural in nature; it's been paved as long as I remember but I can visualize a time when it wasn't.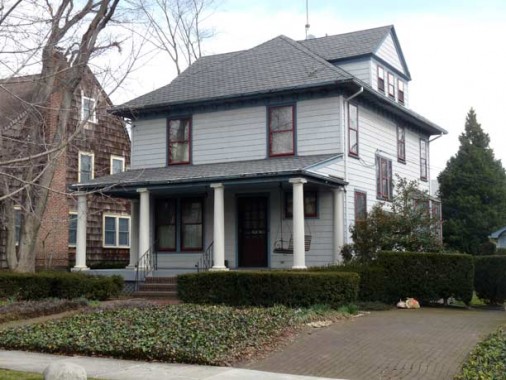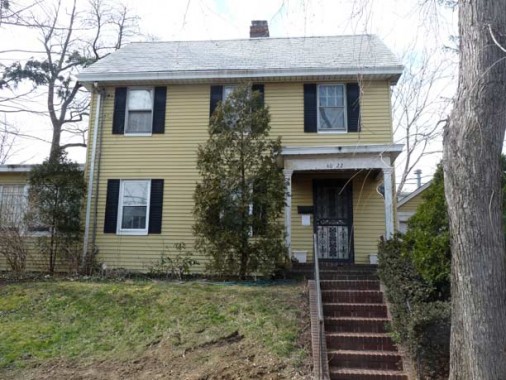 A pair of remaining old-style homes on 157th Street between Northern Boulevard and Depot Road. Other older homes on the block have been "renovated" and look blander, while new homes have started appearing.
The campanile of St. Andrew Avellino Church, Northern Boulevard and 157th Street. The church was consecrated in 1940 in a combination Romanesque and Art Deco style.
The saint (1521 – 1608) was a theologian, former attorney and a monastery founder.
A pair of massive apartment buildings face off across Northern Boulevard and 155th Street. Large apartment buildings can usually be found in streets adjoining subway stops, but here, the Long Island Rail Road substitutes.
That can be an expensive proposition; in 2012, a one-way LIRR peak fare from eastern Queens to Penn Station (Zone 3 to Zone 1) cost $8.75. Many residents use a bus-subway connection, which is only $2.25. For decades a two-fare zone, it became a one-fare with the implementation of the Metro Card in 1997.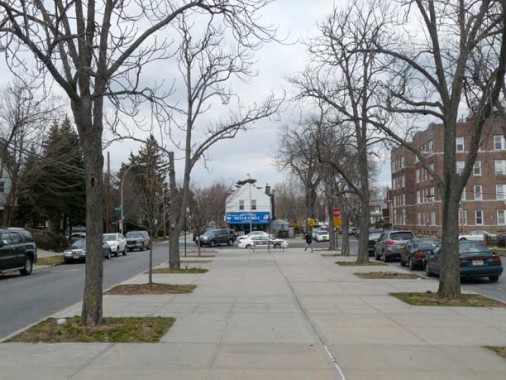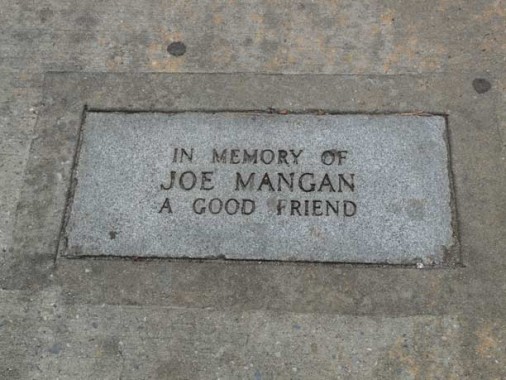 Longitudinal mall between Murray Street, Murray Lane and 34th and 35th Avenues. The Parks Department has not named it — instead there's a simple inscription in the sidewalk.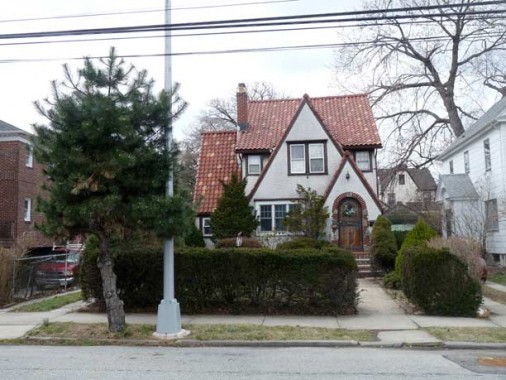 Cottage on Murray Lane, which runs west of the longer Murray Street between 25th and 35th Avenues. It has likely survived because it carried a trolley line until the 1940s.
Bowne Park
Bowne Park, between 29th and 32nd Avenues and 155th and 159th Streets, is one of Murray Hill's two major parks.
It is named in honor of Walter Bowne (1770-1846), who served as a State Senator and as New York City Mayor from 1829-1833. Bowne's summer residence stood on this property until March 1925, when fire destroyed the building, and the land was acquired by the NYC Parks department in June of that year. While Walter Bowne served as mayor before Queens joined NYC in 1898, he is a descendant of Flushing's John Bowne, who in 1662 was arrested by the administration of Director General Peter Stuyvesant for harboring Quakers and deported him to Holland. Bowne was released in 1664 following a successful appeal of his case. He returned to his home in Flushing while Stuyvesant's proprietor, the Dutch East India Company, ordered the persecution of Quakers to cease.
A large Tudor apartment complex faces the park on the SE corner of 29th Avenue and 159th Street. The Tudor style is predominant in the Broadway-Flushing area, though many styles are represented.
29th Avenue fire alarm. Many alarms in the area are very early ones with a simple pull handle. There were more intricate pul handles later on, and finally two pushbuttons to call the FDNY or NYPD. These were supposed to be universal but I suppose budget restrictions meant haphazard installation. Eventually street call boxes will be phased out.
Tudors of Broadway-Flushing
Between 1900 and 1910, what we now call Broadway-Flushing and Auburndale were developed by three real estate companies, the Broadway-Flushing Company, Rickert-Finlay (which also built parts of Douglaston and the part of Little Neck called Westmoreland) and the Auburndale Realty Company. The plots consist of one house per plot on a grassy lawn, and covenants and restrictions were drawn up that are still enforced today by the Broadway-Flushing Homeowners Association.
In 2004, our Association led the community's request to be designated a State and National Historic District.  It received enormous support from homeowners, public officials, CB 7, civic associations and from those associated with the Historic Districts Council: Simeon Bankoff, Paul Graziano and Kevin Wolfe.  In 2006, Broadway-Flushing was placed on the State and National Historic Preservation District Registers.  Also in 2006, the Association co-celebrated the centennial of the Rickert-Finlay Covenant with its neighbor (and also a Rickert-Finlay planned community), Douglas Manor.  The prestigious Historic Districts Council bestowed the honor of its Grassroots Preservation award on our Association in May, 2007. BFHA
The 1909 deed restrictions require that houses must be single-family homes, set at least 20 feet back from the property line. Front garages and front fences are not allowed. Flat roofs are also banned. NY Times
Broadway-Flushing has so far been unsuccessful in getting the city to designate it as a protected Landmark. 
… [residents] have been trying to get the city to recognize the neighborhood as a historical district since 2003 because of its rare assortment of unique homes more than 100 years old. The designation would mean that when new residents move in, they can only make minor changes to their home's façade.
But the city says no way. FOX NY
Divers Cove, Francis Lewis Boulevard and 29th Avenue, features a decades-old neon sign. The boulevard was named in the 1930s for an area signer of the Declaration of Independence and vestryman of St. George's Episcopal Church on Main Street in Flushing.
One of the latest models of NYC fire alarms, these first appeared in 1973 but never got much traction. This one does contain the NYPD and FDNY call buttons and speaker.
St. Josaphat Church (1934), 35th Avenue and 210th Street.
Born in what is now the Ukraine in 1580, Josephat Kuntsevych was designated a saint by the Roman Catholic Church as a defender of the faith, but he is considered a brutal oppressor by the Eastern Orthodox Church, an organization he took brutal measures to suppress.
Shady home, 35th Avenue. Air conditioning likely unnecessary–just sit on the wide porch under the pines.
Bell Boulevard
Named for an 18th Century family who owned property in eastern Queens and not the credited inventor of the telephone, Bell Boulevard has developed over 150 years from a dirt trace to harboring some of eastern Queens' more entertaining samples of eclectic architecture.
Until the last decades of the nineteenth century, Bayside was primarily farmland. The property on which the house stands was acquired by Abraham Bell in 1824. A shipping and commission merchant operating in lower Manhattan, his firm, Abraham Bell and Company was involved in the cotton trade and in transporting immigrants from Ireland during the potato famine of the 1840s.
His son, Abraham Bell 2nd, became head of the firm around 1835 and the company changed its name to Abraham Bell and Son in 1844. The Bells had homes in several locations: Bayside, Yonkers (where Bell Brothers operated a money-lending business) and in Narragansett Pier, Rhode Island. 
The Bell property covered approximately 246 acres and  extended from near the site of the current Bayside station of the Long Island Railroad at 41st  Avenue to Crocheron Avenue (35th  Avenue) and from Little Neck Bay to 204th Street. An unpaved lane, known as Bell Avenue (now Bell Boulevard) bisected the farm.The east section, closer to Little Neck Bay, was called the lower farm, and the west section, the upper farm. Near the center of the property, along Bell Avenue, the Bells built a house in 1842. It is likely that it was occupied by Thomas C. Bell and Eliza (Jackson) Bell, who married in 1840. The house was demolished in 1971. NYC Landmarks Designation Report (see below)
Former Masonic temple, now Elim Presbyterian Church, Bell Boulevard and 36th Avenue.
Cobblestone House
On the NW corner of 36th and Bell Boulevard is a 3-story house, porched on 3 sides with a bay outcropping on the 36th Avenue side, with inlaid rocks and stones, giving it a 'cobblestoned' appearance. It was built between 1905-1906 is a designated New York City Landmark.
Here's the Landmarks Designation report, which is quite thorough, detailing the house's history as well as that of Bayside and the Rickert-Finlay development company.
Signposts
Around the same time the 'cobblestone house' was built the Rickert Finley Company was busy constructing a development along Bell Boulevard (then called Bell Avenue) called Bellcourt, and, as was done with many such developments, built delineating gateposts at cross streets:
Along the west side of Bell Avenue, the development's eastern boundary, pairs of rustic stone pillars were erected by Rickert-Finlay at the intersection of Crocheron (35th), Lamartine (36th), Warburton (38th), Ashburton (39th) and Griffen (41st) Avenues. Approximately seven feet tall, these large signposts had granite bases and inset panels to identify the streets. Only the pair flanking 36th Avenue survives and the north pillar is located on the southeast corner of the landmark site. LPC
From the looks of things it appears that both the cobblestone house and the gatepost adjoining it have been nicely repointed in recent years. Though the newer apartment house on the SW corner of Bell Blvd. and 36th has retained a gatepost, it has darkened over the years from car exhaust and other pollutants.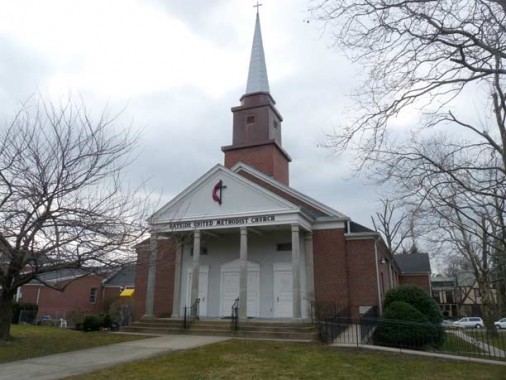 Bayside United Methodist Church looks older than it is  — the cornerstone says 1957, so it was built the same year I was. The congregation was established in 1890.
Bayside Theatre
A pair of Bell Boulevard institutions had their beginnings in the 1920s and 1930s. Bayside Theatre, on the NE corner of Bell and 39th Avenue, started out in the 1920s as Irving Lesser's Capitol Theatre. The Spanish Colonial-style building is still there, with both the 1st and 2nd floors used for retail stores and offices. The theatre was converted to a quad in the 1970s and closed in the late 1990s. I saw Jurassic Park (the first one) at the Bayside in 1992. photo from cinematreasures.org
White Castle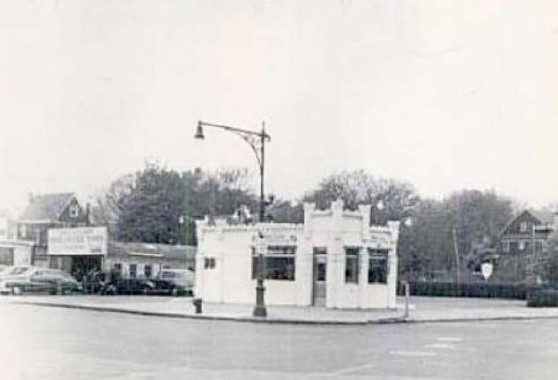 There's been a White Castle on the NW corner of Bell Boulevard and Northern Boulevard since 1932, when the small building you see in the older picture opened. The latest in a succession of White Castle restaurants on the site went up in 1987 and is the one you see there today.
The chain originated in 1921 in Wichita, Kansas by cook Walter Anderson and insurance agent Billy Ingram. It was decided to feature white in the color scheme to promote cleanliness, as ground beef was, at the time, unpopular in the wake of  Upton Sinclair's The Jungle, which described unsanitary conditions in the meatpacking industry. For several decades, the restaurants were prefabricated porcelain buildings, like the one here.
For years, there were copycat restaurants with similar names, like White Tower (now the Orange Hut on Broadway and Northern Boulevard in Woodside) as well as New Jersey's White Mana and White Manna restaurants, both still active. photo from facebook, Long Island and NYC Places that Are No More
I like White Castles, but they always seem to make a repeat appearance.
3/25/12