One of my favorite developments in the ongoing renovations in NYC subway stations is the stained glass artwork that has been installed on elevated station windscreens. I consider the #7 Flushing Line branch my local line (along with the 7th Avenue Line trains, #1,2,3) and 8th Avenue Line trains (A, C, E) I board at Penn Station. In 1999, artist Yumi Heo's series Q Is For Queens was installed at the Flushing Line stations on Queens Boulevard, the 33rd, 40th and 46th Street stations, dividing 26 windows corresponding to the 26 Roman alphabet letters among the three stations.
Ms. Heo is primarily a children's book illustrator. Her windows on the #7 line demonstrate a thorough knowledge of Queens lore and history — thorough enough that I can't identify some of them, and I pride myself on my knowledge of stuff like this.
Herewith, I'll show you four examples and then show a list of the images I can identify and those I can't.
F. A slam dunk — the Unisphere in the center identifies it as the 1964-1965 World's Fair.
H. I'm stumped. There's a group of colorfully costumed characters, but I can't identify what H____ it pertains to.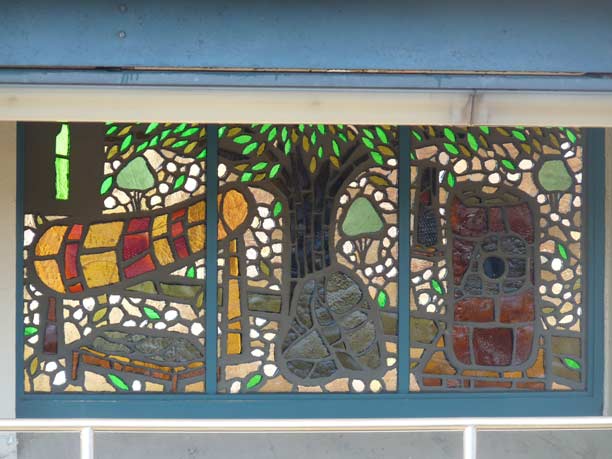 I. Isamu Noguchi Museum, Ravenswood.
J. My vote is Jamaica, as the building on the left resembles some of those in the downtown district in Jamaica. The figures on the right represent the Jameco Indians, for which Jamaica was named.
OK. Now, consult this complete photo log of the Q Is For Queens windows at NYCSubway. I have never seen a list of interpretations, and while Yumi Heo is on facebook there is no direct contact, or I would simply ask her myself. So what do you think?
A. Aqueduct Raceway, Ozone Park.
B. Queens Botanical Garden, Flushing
C. You got me.
D. Dragon Boat Races, Flushing Meadows
E. Ethnic Music and Dance Festival that's held each year at the Center for Traditional Music and Dance. Gold-clothed fiddle and drum players are in the forefront of the picture. They are bending and their arms are in the air, in the midst of striking drums or strumming a violin. In the background and seemingly floating in the air is an eerie line of dancing women, their arms joined.
F. World's Fair, Flushing Meadows
G. Ganesh Temple, Flushing
H. Stumped.
I. Isamu Noguchi Museum, Ravenswood.
J. Jamaica.
K. The lettering is in Korean.
L. Queens Library.
M. Museum of the Moving Image.
N. Lunar New Year (?)
O. Onderdonk House, Ridgewood.
Q. Queen Catharine of Braganza, after which Queens may or may not be named.
S. Shea Stadium, Flushing Meadows.
T. Thalia Spanish Theatre.
U. US Open Tennis, Flushing Meadows.
V. Victorian houses, Richmond Hill
W. Weeping Beech Tree, Flushing
X. Xiang qi, the game of Chinese Chess that is played in parks in Queens' Chinese neighborhoods.
Y. Nope.
3/5/12