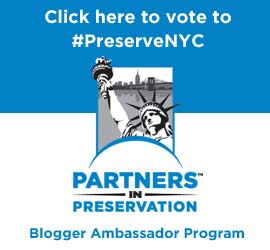 I've been asked to cover three locales selected by Partners in Preservation, an organization sponsored by American Express that, in a partnership with the National Trust for Historic Preservation, awards preservation grants to historic locales across the country. After six years in existence, Partners in Preservation has selected New York as its focus in 2012.
Through the partnership, American Express and the National Trust for Historic Preservation seek to increase the public's awareness of the importance of historic preservation in the United States and to preserve America's historic and cultural places. The program also hopes to inspire long-term support from local citizens for the historic sites at the heart of their communities.
From April 26 through May 21, 2012, local residents and people across the country are encouraged to vote for their favorite of 40 historic places throughout the five boroughs of New York City to receive preservation funding.
Voters are allotted one vote per day, which can be cast online in three ways: via the desktop website, the mobile website, or Facebook. Additionally, people can post personal stories and share photos on the Facebook page throughout the program. The four projects that receive the most public votes will have their grant requests fully funded, and the remainder of the $3 million in grants will be given to a number of the other sites after review by American Express, the National Trust for Historic Preservation and an advisory committee composed of civic and preservation leaders from New York.
The second location I selected for the project was Flushing Town Hall, on the NE corner of Northern Boulevard and Linden Place. Town Hall, constructed in 1862 by a local carpenter, an example of Romanesque Revival. It is a reminder of the days before Flushing became a part of Queens and then a part of New York City. Frederick Douglass and P.T. Barnum, and at least two presidents, appeared here during the building's heyday. After NYC consolidation in 1898 Flushing Town Hall became a municipal courthouse, but it suffered from a gradual deterioration over the decades; there were fitful attempts to turn it into an anthropological museum in the 1970s. When I first moved to Flushing in 1993 it was a rundown heap protected by chicken wire from ever-present vandals.
The story does have a happy ending. Town Hall was magnificently restored in 1995 by the architects Platt Byard Dovell and it is currently the seat of the Flushing Council on Culture and the Arts. The magnificent building is now a vibrant locale for local arts programs and jazz concerts. The Flushing Council on Culture and the Arts presents a variety of programs including teacher training workshops, rehearsals and meetings of cultural and community organizations. For information call 718-463-7700, or visit their website.
Here's a look at the extraordinary woodwork at the entrance. We're almost 20 years removed from the last series of renovations on Town Hall and as you can see, decay never quits, and a $3M grant would go a long way toward repairing these deteriorations.
Town Hall is a stop on the Flushing Freedom Mile. Colorful and informative signs have been placed at existing Flushing historical sites, such as the Quaker Meeting House across Northern Boulevard from Town Hall, and the John Bowne House on Bowne Street. The latter two structures date to the late 1690s.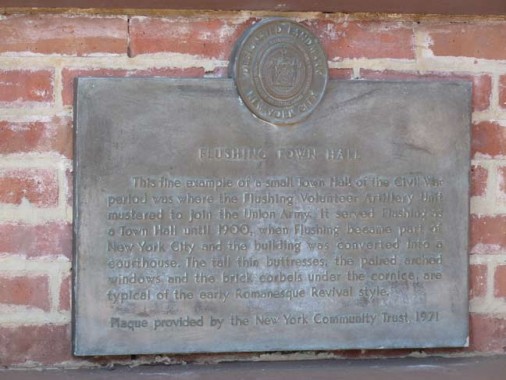 In 1971 this historical plaque was placed on the corner of Town Hall. It reads:
This fine example of a small town hall of the Civil war period was where the Flushing Volunteer Artillery Unit mustered to join the Union Army. It served Flushing as a Town Hall until 1900, when flushing became part of New York City and the building was converted into a courthouse. The tall thin buttresses, the paired arched windows and the brick corbels under the cornice are typical of the early Romanesque Revival style. Plaque provided by the New York Community Trust, 1971
The exhibit hall on the ground floor in the spring of 2012 was Queens College Year of Turkey: Exploring Past, Present, Future. Curated by Queens College Professor Sin-ying Ho, the exhibition displays the art of contemporary ceramic artists inspired by Turkish culture and history.
Louis Armstrong was and remains a Queens presence.  Satchmo, so identified with his native New Orleans, lived for three decades in nearby Corona and is buried in Flushing Cemetery. Until the end of 2013, Town Hall will be exhibiting his work as a collagist, using scraps from newspapers and magazines and assembling them on reel-to-reel tape boxes. When visiting his home, now a museum, you hear a sample of his voluminous tape recordings that were done on these now-antique machines. My father would also record conversations and music on his reel to reel system, and I suspect he and Louis would have had much to talk about in that vein had they ever met.
Town Hall's entry hall in April 2012, with Louis Armstrong collages lining the walls.
There's something to see upstairs as well…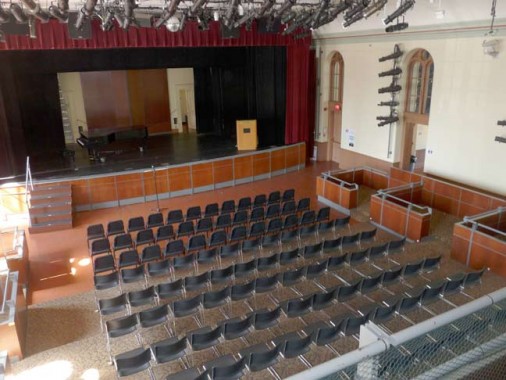 The Great Hall, once home to Barnum and Bailey's Circus and where Jenny Lind once sang, is now where the cream of Queen's jazz bands and singers now perform.
To visit Town Hall, take the #7 train to Main Street, walk 4 blocks north to Northern Boulevard, cross to the northern side of the busy road, then walk east 2 blocks to Linden Place.
You can vote for Flushing Town Hall's repair and preservation, or other sites if you choose, at the Partners in Preservation website and from other devices. Remember, you get one vote per day.
And, this is Town Hall's sesquicentennial, or 150th anniversary. On Saturday, May 5 and Sunday, May 6th, Town Hall is hosting a celebratory open house with a Korean marching band (celebrating Korean Children's Day), Workshops for Cinco de Mayo, Queens College Ensemble music concert, raffle, giveaways, birthday cake and more.
I have partnered up with Partners in Preservation as a blog ambassador to help spread the word and raise awareness of select historical sites throughout the tri-state area. Though I am compensated for my time, I have not been instructed to express any particular point of view. All opinions expressed here are strictly my own.
4/30/12