Forgotten New York's first tour of the 2012 season was April 12th in Jamaica, Queens, at Prospect Cemetery (159th Street between Archer and Liberty Avenues) and King Manor (Jamaica Avenue at 153rd Street). The weather was unusually spectacular for a ForgottenTour.
Jamaica's Prospect Cemetery was founded in 1668. After many years of neglect, the cemetery is finally being cleared of brush, revealing centuries-old gravestones including those of some familiar historical names. I first visited the Cemetery in 1998, when the cemetery Chapel was a pigeon-infested wreck and most of the cemetery was so overgrown with weeds and brush that walking through most of it was impossible. My original Prospect Cemetery page was written in 1999, and ForgottenTour 15 swung through in 2004, when preparations for the Cemetery's revival were underway.
Prospect Cemetery has been turned around because of the fundraising and rebuilding efforts by the Prospect Cemetery Association and its President, Cate Ludlam, who has been involved with Prospect for over 20 years and was present when I first visited it. The Cemetery chapel has been completely rebuilt as a community center and concert space, while most of the cemetery is now mostly clear and its gravesites, some of them as many as 290 years old, can be appreciated and enjoyed by all.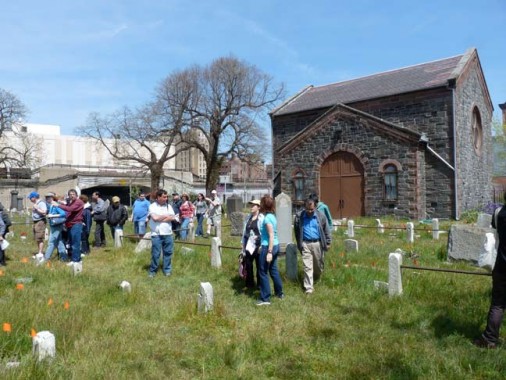 CHAPEL OF THE SISTERS: Nicholas Ludlum commissioned the building of the Chapel of Three Sisters, a memorial to his three deceased daughters, at the eastern end of the graveyard in 1857.  The Chapel is a symmetrical, one-story Romanesque Revival building, approximately 40 by 40 feet, and 25 feet high.  At each of the northern and southern facades there is one large stained-glass rose window. PCO
Cate Ludlam lectures in the Chapel of the Sisters. New doors, windows, floors, and stained glass windows were installed as well as new heating, plumbing and electrical systems. The Chapel is now known as the Illinois Jacquet Performance Space (named for the famed saxophonist (1922-2004), a Louisiana native who moved to NYC in 1946 and lived in southern Queens for many years. The Chapel showcases local jazz musicians as well as from other genres at Jazz at the Chapel.
A look at the restored stained glass Chapel windows.
Cate Ludlam gave us a tour of about one hour through the cemetery, which is walkable for the first time in decades as much of the weeds trees and brush have been cleared out. It will take constant efforts to keep them from growing back.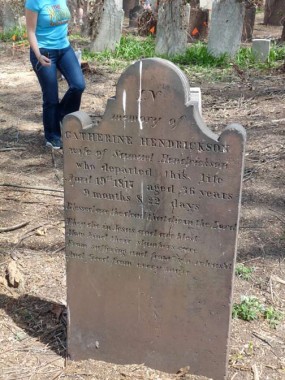 Catherine Hendrickson, d. 1817. Older gravestones, made of brownstone, have survived in better shape than later graves made of marble or limestone, which do not weather well.
John Thurston, d. 1777. The inscription after his name means "Senior".
Rich Melnick of Greater Astoria Historical Society at the gravesite of Egbert Benson (1746-1833) a lawyer, jurist, politician from Upper Red Hook, New York, and a Founding Father of the United States who represented New York in theContinental Congress, Annapolis Convention, and the United States House of Representatives, and who served as a member of the New York State constitutional convention in 1788 which ratified the United States Constitution. He also served as the first Attorney General of the State of New York, Chief Justice of the New York Supreme Court, and as a judge and Chief Judge on the United States Circuit Court for the Second Circuit. wikipedia
Other members of Benson's family settled in south Brooklyn, hence the neighborhood Bensonhurst. The very short dead end Benson Street in Tribeca bears his name.
A look north across the cemetery toward the chapel (above) and west toward the Long Island Rail Road and downtown Jamaica (below)
Walter Wilmot, d. 1744. This stone features a traditional cherub with wings on the top.
Nicolas Everett, d.1723. Perhaps the second oldest surviving stone in the Cemetery, this one has the more severe winged skull. In this case, "ye" is short for "the" and features a letter no longer used in the alphabet, resembling a Y.
According to Cate Ludlam the oldest surviving stone belongs to Daniel Bull (d. 1721). Note the digraph TH's, MB's and LL's, as stonecarvers had to fit the inscription into a predetermined width.
King Manor
ForgottenFans in front of King Manor
The Rufus King Mansion, more properly, King Manor, stands on Jamaica Avenue and 153rd Street. It was originally built in 1730 along the main route to Brooklyn Ferry at the foot of today's Fulton Street. In 1805, Rufus King, who was born in what is now Maine but was then part of Massachusetts, bought and expanded the property to its present appearance. A bona fide Founding Father and ardent abolitionist, he was a youthful representative at the Continental Congress from 1784-1786, a US Senator from New York in 1789, a Minister (Ambassador) to Great Britain from 1796-1803 (where he impressed the still-hostile Brits after the close of the Revolutionary War), a US Senator again from 1813 to 1825, and ran unsuccessfully for President as a Federalist against James Monroe in 1816.
King Manor Museum's collection consists of approximately 1,400 objects including furniture, ceramics, paintings and prints, musical instruments, toys, personal artifacts, glassware and costumes dating from the late 18th century to the mid – 19th century; it also includes 4,000 artifacts from ongoing archeological excavations at this site. Many objects are related to early life in Jamaica, while others are significant because of their connection to members of the King family, who called King Manor home from 1805 to 1896. King Manor Museum
Our engaging host was Roy Fox, the resident caretaker and tourguide, who expounded on Rufus King's role as a Founding Father and opponent of slavery. "Fox," as he calls himself, is a former radio host and his golden pipes can still be put to good use.
Flickr: Joe DeMarco's photo gallery
The tour was presented in association with the Greater Astoria Historical Society
4/25/12