On June 24, 2012 the Newtown Historical Society walked Ditmars Boulevard from the N/Q train terminal to the Art Deco Marine Air Terminal, a landmarked building on the western edge of LaGuardia Airport. Sunny 80-degree weather made for optimum weather conditions for NHS' second tour of the year. Basically the walk was along Ditmars Boulevard, though there were a couple of detours along the way.
Selected tour highlights…
LAWRENCE FAMILY CEMETERY, 20th Road and 35th Street. Lawrence Cemetery is one of two private Lawrence cemeteries owned by the family in Queens; the other is in Bayside, several miles east. This cemetery was established in 1703 when Major Thomas Lawrence was interred here. The family figures prominently in city and USA history, with government and military notables; a NYC mayor is buried in the Bayside cemetery.
For 56 years, the Astoria Lawrence Cemetery has been maintained by a neighbor, James Sheehan, who inherited the property and the cemetery from his father-in-law. As it happens, Mr. Sheehan was present that day, and he allowed admittance and pointed out several prominent gravesites.
The Lawrences were a prominent family in the early days of Queens, and produced some historically significant figures…for example, it was Captain James Lawrence who uttered the immortal words "Don't give up the ship!" while commanding the USS Chesapeake vs. HMS Shannon during the War of 1812. The Chesapeake was defeated; Captain Lawrence was killed; the war ended in stalemate. Sarah Lawrence, wife of landowner William Van Duzer Lawrence and for whom Sarah Lawrence College in Westchester Co. is named, is buried here.
STEINWAY WORKERS' HOUSING, 41st Street near 20th Avenue. The Steinway family, immigrants from Germany in the mid-1850s, became one of the world's premier piano manufacturers and established headquarters in north Astoria, builsing housing for plant worker and even building churches and transportation systems. Henry Steinway built a magnificent mansion on 41st Street between 19th Avenue and Berrian Boulevard that still stands today and was up for sale at this writing.
STEINWAY REFORMED CHURCH, Ditmars Blvd. and 41st Street, was built in 1891 as the Union Protestant Church but likely switched monikers after the Steinways donated a pipe organ. It's likely Steinway also built the church as a place of worship for the workers in his factory — he already had built workers' housing two blocks away on 20th Avenue between 41st and 43rd Streets.
PISTILLI GRAND MANOR, Ditmars between 45-46th Streets. Built by William Steinway in 1902 — who else — as a piano factory that predated Steinway & Sons' larger factory now at Steinway Place and 19th Avenue. Developer Joseph Pistilli remade it as upscale housing beginning in 2003.
Compare the scale of the Pistilli Manor to this tiny house on Ditmars Boulevard between 48-49th Streets.
AIRLINE DINER, Astoria Boulevard North and 70th Street. The Airline is a Mountain View and has held down this locale on Astoria Blvd. since 1952. In Scorsese's classic Goodfellas, the first time we see the fully grown-up Henry Hill (Ray Liotta) is when he's waiting to steal a truck in the parking lot of the Airline Diner. It is covered in gleaming stainless steel with rounded glass and features a neon Greek key above the windows and signage showing an airplane about to land.
This florist, with a classic plastic-letter sign, has been in business since 1889 if the sign is to be believed. It serves St. Michael's Cemetery — the Grand Central Parkway was built in the 1930s, separating the florist from the cemetery by a wide margin.
The Marine Air Terminal was opened in 1940 and was originally built to handle seaplanes, known as 'flying boats.'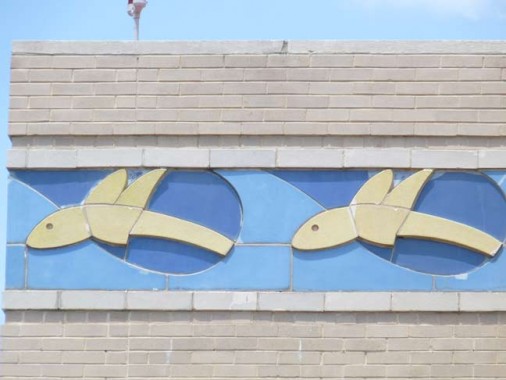 Two area buildings that handled seaplanes used flying fish imagery, including the Marine Air Terminal.
After World War II, the golden era of the 'flying boats' ended and the terminal was closed and became run-down. It was reopened as a corporate flight terminal in 1966 and has been in operation since then.
The circular interior is dominated by a bust of Fiorello LaGuardia and a mural by James Brooks entitled Flight. The mural depicts man's ascent to the heavens from the earliest days of imagining flight. During the Cold War it was actually covered over because the Port Authority deemed several of the images to be 'socialist propaganda.' Thankfully the mural was sealed before it was painted over, and it's open for all to enjoy now after a 1980 restoration.
6/29/12