From FNY's 2011 Lower Second Avenue page…
Writing in the original (2003) edition of New York's Best Dive Bars, Wendy Mitchell writes:
Despite the friendly crowd, the Mars Bar more than lives up to its reputation as New York's King (and Queen and Prince) of dives. If you're up for adventure, you might find it here, wrapped in many layers of filth. The place is dank, dark and dirty, and the night I was there I saw the largest cockroach I have ever seen in New York City, In addition, the bathroom will put fear in the hearts of mere mortals. It also worried me a bit that the obviously intoxicated bartender (obvious because she was drinking shots) was mixing drinks with orange juice sitting out behind the bar like you'd see at some frat party…
The crowning touch, however, are the cases of beer stacked up in the back like the Great Wall of China, plus dozens upon dozens of empties strewn about the rest of the bar. If all of this isn't enough to leave your head spinning with wonder at what the seedy years of pre-Giuliani NYC were like, you're assured of at least a bit of a time warp thanks to an old alarm clock that always reads "Wed Jan 23."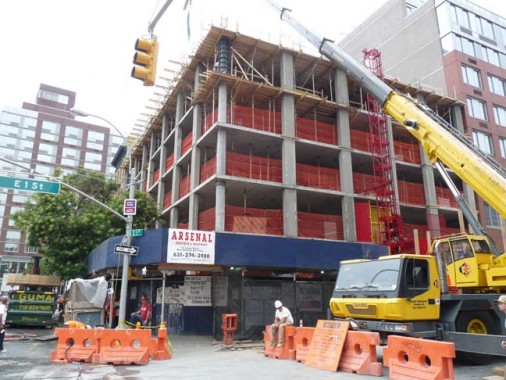 A modern glass-front residential building is arising in Mars' place.
Sorry for breaking the one-shot rule in One Shots, but I can do that 'cause it's my website.
7/13/12