The Fulton Fish Market, NYC's primary seafood wholesale market, moved to Hunts Point in the Bronx in 2005, after a tenure here of over 170 years. It's gone now, as are Sweet's and Sloppy Louie's Restaurants (the old Paris Bar and Grill at South Street and Peck Slip, is still here as it has been since 1873, and the grande dame of NYC restaurants, the Bridge Café at Water and Dover Streets, dating back to 1794, also is). The neighborhood's signature fishy aroma dissipates, as one more downtown remnant of New York City's former pre-eminence as a world-class seaport has moved away.
Old pictures of South Street show sloops, square-riggers, clipper ships and many other classes of vessels docked right next to the street, which formerly abutted the East River. Today, at the Seaport's Pier 17, you can board sailing ships like the Wavertree (built in 1885) the Peking (1911) and the lightship Ambrose, and even train for sailing on the Pioneer (1885), Lettie G. Howard (1893) and W.O. Decker (1930).
ForgottenTour #58 met at the Titanic Memorial Lighthouse, seen in the title card, at 10AM saturday, August 26, and the raindrops again were nowhere to be found as has been the case with all FNY tours so far in 2012.
New York City has formal, informal and completely accidental hommages to those who died in the sinking of the RMS Titanic on April 15, 1912. On the corner of Fulton and Water Streets stands a reminder of one of the world's most infamous waterborne disasters. The Titanic Memorial Lighthouse was dedicated exactly one year after the sinking and was originally placed atop the Seamen's Church Institute, a 14-story building at South Street and Coenties Slip downtown. In 1967 the Seamen's Institute moved and the building was later demolished; the lighthouse, fortunately, was preserved and by 1976, had been installed at its present location. The tall pole at the apex originally had a metal ball that, when signalled by a telegraph at the National Observatory in Washington, DC, would drop at noon daily.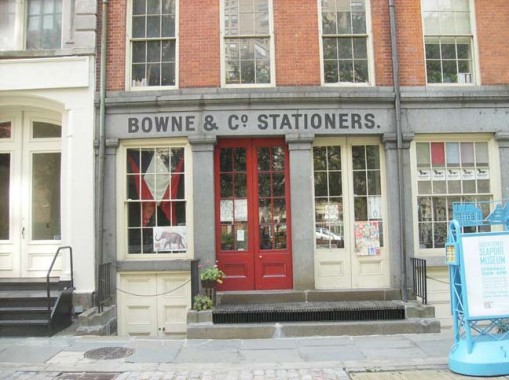 Three Greek Revival buildings dating to the 1840s. Of particular note is Bowne & Co. Stationers at 211, a working job print shop as well as a department of the South street seaport Museum. It was one of the first preservation projects undertaken by the Museum in 1975.
Two hundred years before, a dry goods store called Bowne & Company had opened, and it later focused on printing, especially financial documents like prospectuses and merger proxies. One of its customers was Lehman Brothers, the investment bank that collapsed in 2008. Today, Bowne Printers still works in handset type, as was done 200 years ago.
The museum says the original shop's inventory was itemized in a city directory in 1829 as gilt-edge letter paper, straw paper, tissue paper, copying paper, drawing paper, blank books, bill books, cargo books, bankbooks and seamen's journals.
Print shops of this type originated common phrases like "uppercase" and "lowercase" as the letters were once kept in 2 separate cases. "Mind your p's and q's" came about because the two lowercase letters are mirror images of the other.
Many detailed features on the Seaport area's older buildings survive.  251 Water, corner of Peck Slip, was built in 1888 by architect Carl Eisenach.
265-267 Water Street was built as a cracker bakery in 1872 for William Treadwell, who produced hardtack, a nearly indestructible seagoing biscuit, for use aboard ship.  The building still has its metal shutters. These shutters were meant to be a fire retardant: if they were firmly shuttered, it was thought, any fire would be starved of oxygen. However, it didn't work because the shutters would get red hot from heat and pass it on to any wood interiors, further igniting them.
As with a number of Seaport buildings, old hand-drawn signage can still be found above the doors.
Captain Joseph Rose House, at 273 Water Street, was  built between 1773 and 1781 and rebuilt in 1998, and thus is the third-oldest building in Manhattan, after St. Paul's Chapel at Broadway and Fulton and the Morris-Jumel Mansion in East Harlem.
After the Rose family left, thhis was the site of Kit Burns' Dog Pit, or Sportsman's hall, where bareknuckle boxing matches and rat and dogfighting matches were wagered on. It has also done time as a shelter for 'fallen women.' It was completely rebuilt after its decimation by a fire in 1976.
Bridge Cafe, at 279 Water at Dover Street, is the oldest continually operating tavern in NYC, as taverns and grog-shops run by a variety of proprietors have been run in this spot since 1794.
It was built on the water's edge, as Water Street marked the original shoreline. The Brooklyn Bridge behind it went up in 1883. It was originally listed as a "grocery and wine and porter bottler"; in that era, groceries sold wines and spirits and were issued liquor licenses.
A hint of the Seaport's old flavor as the Fulton Fish Market can still be seen on Beekman Street between Front and South. The Fish Market was in operation along South Street every night from the wee hours until mid-mornings until 2005, and a bracing odor of raw fish permeated the area at all hours till then. The Fish Market moved to the Hunt's Point complex in the Bronx in 2005.
At South and Fulton is the "old hotel" that the New Yorker's Joseph Mitchell wrote about in the 1950s.
Sloppy Louie's, which closed in 1998 when owner Joe Morino retired, occupied the ground floor of this building on the NE corner of South and Fulton. Like the majority of the older buildings in the market district, it is made of hand-molded Hudson River brick. It has an ornamental tin cornice and a late-covered mansard roof. As Mitchell wrote, it is one of the handsome, symmetrical old East River waterfront buildings that have been allowed to dilapidate, but it has made a comeback in recent years.
Along South Street between Fulton Street and Peck Slip you will find the last of the old houses where the wholesale fish dealers worked before 2005.  In the early 1900's, Morris and Minnie Slavin opened a small fish store in Brooklyn, New York in order to support their growing family. As soon as their sons Herb, Jack and Barry were old enough, they joined their parents in what was the beginning of the Slavin organization. An extraordinary amount of hard work and self-sacrifice during the early years went into building of the multifaceted company that is today M.Slavin & Sons, Ltd.
Paris Hotel/Café, South Street at Peck Slip. The handsome structure was built in 1873 and was purchased 10 years later by liquor merchant Henry Mayer and converted to a hotel and a boardinghouse. Some of the frequent guests were inventor Thomas Alva Edison, sharpshooter Annie Oakley, gourmand "Diamond Jim" Brady, and Teddy Roosevelt when he was police commissioner. Meyer opened the Paris Café in 1883 and while the hotel is long gone, the Paris is still going strong.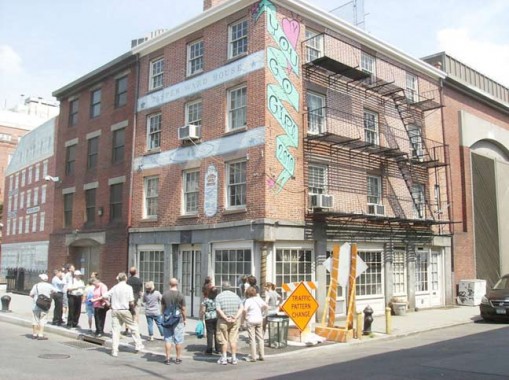 Jasper Ward House, 151 South at Peck Slip. Merchant Ward had speculatively purchased the property in 1800 while the East River still occupied the site, and built on it after it was landfilled. Once part of a row of three buildings, it largely resembles its original appearance. The adjoining building on Peck Slip was built in 1807 for flour merchant David Lydig.
Schooner Clipper City
One of NYC's few remaining floating lighthouses, or rather, light ships, the Ambrose LV87  (the nomenclature differentiates it from two other lightships named Ambrose) served the Port of New York, the Coast Guard and Fort Hancock, NJ (as an examination ship) from 1908 to 1966. It was one of three such lightships patrolling the Ambrose Channel, the southern entrance to New York Harbor off New Jersey. Lightships were employed where the seabed was sandy or otherwise inhospitable for construction of a lighthouse, but by the 1960s and 1970s, most lightships had been replaced by automated towers.
In 1968, the Ambrose LV87 was permanently docked at Pier 17 and has served as a floating museum since then.  According to Lighthouses of New York author Jim Crowley, the Ambrose LV87, in 1921, was the first lightship to use a radio fog beacon. Another lightship, the Frying Pan, is docked at Pier 63 in Chelsea. It was stationed off the coast of North Carolina from 1930 to 1965, and was abandoned and later sunk; it was salvaged in 1989 and took up residence at Pier 63 soon after.
The upcoming ForgottenTour is in another waterside area, DUMBO in Brooklyn, on Sunday, Sept. 9th at noon.
9/5/12