I'm taking it easy this weekend after a somewhat exhausting period of webhost migration hell (my bandwidth increased enough to necessitate moving to a more expensive plan) and with liquidweb, that meant some tricky maneuvers on my end of things. So, Forgotten NY correspondent Gary Fonville, a former NYC bus driver, has come up with some scenes around town of decaying and decrepit subway and train scenes at a time when new shiny things like a new exit to downtown Brooklyn's hunk of rust-look, Barclays Center, as well as a much-delayed transfer between the IND B/D/F trains and the IRT #6 at Bleecker Street have opened. (To me, this kind of subway miscegenation will be the downfall of us all).
Trains have been running near this abandoned LIRR substation since about 1840 or so.  However, the LIRR was electrified on this section of their system in 1905 and this edifice.  Is there any FNY fan who knows when the substation was decommissioned?  Location: Van  Sinderen Avenue & Atlantic Avenue,  East New York, Brooklyn.
This former substation is very conspicious, but the name "Long Island Railroad" isn't!
Since this edifice is located at Central Park West & 104th Street, it  leads me to believe this may be an emergency entrance/exit for the long, deeply bored tunnel between 96th Street & 110 Street on the #2&3 lines.  The distance between those two stations is the  longest gap between stations on the #2&3 lines except perhaps between Clark Street in Brooklyn and Wall Street in Manhattan.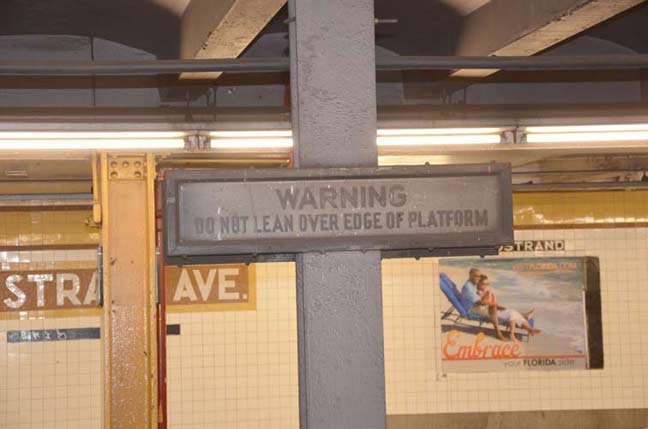 Just when you thought all those old school IND signs were gone,  this one is discovered on the Manhattan-bound Nostrand Avenue upper level platform.  I'd be willing to bet that this one dates from the IND's construction in the 1930s.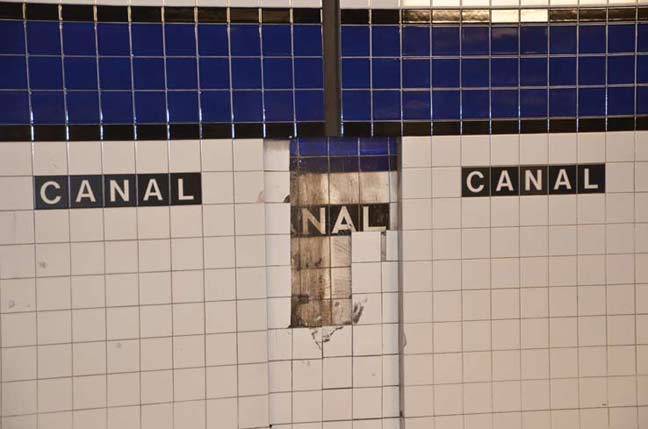 I was riding the A or the C going downtown one day. I didn't have my camera in my bag that day.  Since I wanted to shoot a picture of  this,  I said to myself, "shucks!", I gotta come back to this location.  I did return, taking this picture at 5:30 AM on a deserted platform!  While doing so, I was looking around for any NYPD personnel lurking about.  This may have made me look suspicious,  taking photos of the subway system that early in the morning. The original tile in the IND station at Canal Street was covered by new tiles, and then for some reason, became exposed.  I felt like an archeologist looking at this, having discovered something that was long lost.
This very badly rusted BMT is in the Coney Island Yard. Unfortunately, it  can't be seen by the public. Fortunately, there is one that can be seen at the NYC Subway Museum on Boerum Place in Downtown Brooklyn, Brooklyn.  The Standards were very durable, in use from from about 1915 to about 1969.  This car is probably going to be rehabilitated to museum condition.
[This is a BMT A/B Standard car, built between 1914-1919]
A few years back, I did a FNY entry about exit signs in the IND that pointed to exits that were no longer in existence.  This sign at the Nostrand Avenue stop on the lower Manhattan bound platform points to the Arlington Place exit.  If you follow this sign's instructions, you'd be out of luck.  You'd have to walk in the opposite direction an entire station length to exit at Nostrand Avenue  Are there any FNY fans who know how long this exit has been blocked?
Closed entrances
The IND was constructed to move move more people and move them faster.  Unlike the BMT or IRT, many IND stations have mezzanines and exits/entrances at both ends of  the station.  Most original IRT and BMT underground stations had an exit/entrance only at one location.  In many ways, one can argue that the IND was overbuilt.  As evidence, over the years since the IND's construction, many exits and mezzanines have been blocked off because of redundacy and financial reasons.  For example, there used to be a token booth at 118th Street to service the 116th Street Station on the IND 8th Avenue line.  Because of light usage, the 118th Street exits were closed many years ago.  I'd say they were closed sometimes before 1967, because I used the 116th St. Station station going to Haaren High School (anyone remember Haaren H.S. on 10th Avenue & 58th Street, that now houses John Jay College?)  on a daily basis and I don't remember an exit at 118th Street.
You'd easily miss this classic IND design if you weren't looking closely at Marcy and Willoughby Avenues.  This was the street entrance to trhe Myrtle-Willoughby station on the G.  Downstairs, signs built in the tile walls still point to the Willoughby Avenue exit.
This IND exit at the SW corner of Howard Avenue for the Ralph Avenue Station on the A/C lines is more easily seen.
Closeup of the battered station entrance light stanchion.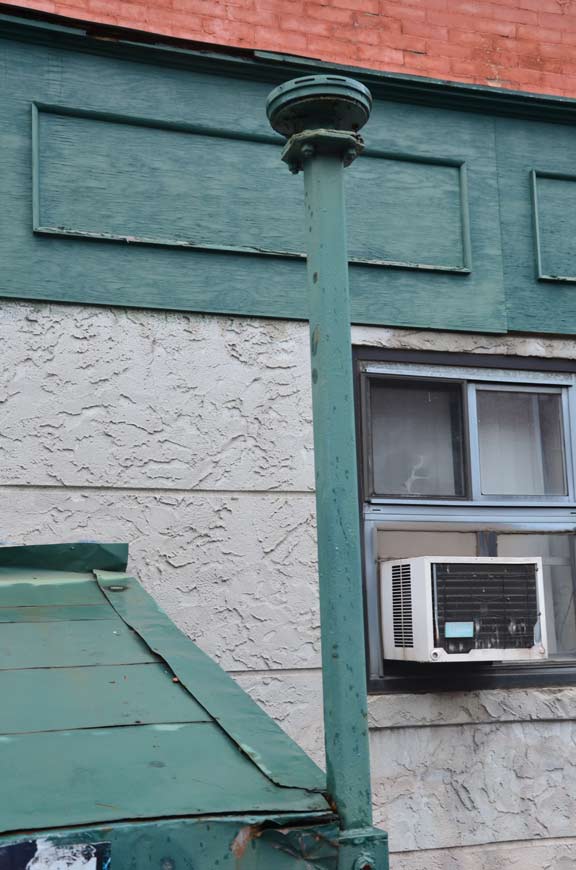 Wow!  Two former IND abandoned entrances at the same station!  This is on the NW corner of Howard Avenue & Fulton Avenue. One of the original globe supports was replaced.
This former IND entrance can be missed by most New Yorkers.  But this FNY correspondent is like a bloodhound, seeking stuff like this.  This is an example of the IND being overbuilt.  In my opinion, I don't think that the corner of Nostrand Avenue & Lafayette Avenue, where this exit is, needs or ever did need entrances on all four corners.
Proof positive of this former entrance at Lafayette and Nostrand: an abandoned IND entrance lamp stanchion.
This was a sorry replacement for the original exit at the SW corner of Jay & Fulton Streets in Downtown Brooklyn.
The Lafayette Avenue Station on the A/C lines deviated from a pattern that was used throughout its system.  Many station have 4 exits/entrances at both ends of the station.  However, here at Lafayette, there are 5 entrances/exits …
The largest one is at the confluence of Greene Avenue & Fulton Street. Then:
SE corner Hanson Place & S. Oxford Street; NE corner of Green Avenue & S. Oxford Street; NW corner of Hanson Place & S. Oxford Street; NE corner of S. Oxford Place & Greene Avenue.
Surprisingly, since the IRT is the NYC's oldest subway division, not many entrances have been closed.  At the western end of the c. 1920  Brooklyn Museum Station on Eastern Parkway, one can be found. This station services the #2 train, usually.
Can you imagine original baked enamel signs in those empty cutouts saying the trains here go to New Lots Avenue, Flatbush Avenue, 241 Street or Woodlawn?
This exit/entrance had been closed at Lafayette Avenue & S. Portland Avenue was closed for many years. Due to the area's gentrification and growing population, community pressure was put on the MTA to reopen this portal.
Again, my roving eyes found something over the bridge that cross the Brighton Line's Q/B lines. The firm of Milliken Brothers in Long Island City built this overpass for the BRT (now BMT) in 1907.   This overpass is located at Foster Avenue between Marlborough Road & E. 16th Street in Brooklyn.  It's south of  the Newkirk Avenue Station.
9/29/12