Midtown Manhattan's side streets can be lined with ancient structures, but they have come to hide their antiquity well. In the go-go real estate world, busy, commercial neighborhoods call for the new, the now, the happening. Old signs are removed or covered with new vinyl signs lest things appear too aged. Storefronts are updated. Building fronts are covered over in modern guise, or, especially in the Times Square area, dominated by billboards, some of which are neon-lit or video (in fact, a certain amount of neon billboards are lit up by governmental decree).
However, on a recent weekend, while skulking and drifting sullenly in Midtown, I found a street that has not completely deserted the ways of previous decades.
West 46th between 5th and 6th Avenues is touted as Little Brazil Street. I counted only 2 or 3 Brazilian restaurants on the block. This section of Midtown, though, used to be home to many Brazilian immigrants (who mostly are found in Astoria these days). There's a local newspaper, The Brazilians, whose online version hasn't been updated since 2011; its offices are at 21 West 46th. The Brazilian Consulate has offices on 6th Avenue near West 46th. And that's about it.
Brazilian Independence Day, which is in September, is celebrated on the block each year.
Via Brasil, at 34 West 46th since 1978, is the best-known Brazilian restaurant on the strip. The reviews are hit and miss. Brazil's language, Portuguese, spells the country's name with an S.
It's the building, 34-36 West 46th, that intrigued me, though. It's a terra cotta tour de force and even boasts some classic stenciled window ads for who knows how many decades ago.
According to NY Times architecture expert Christopher Gray, the imaginative building went up in 1914.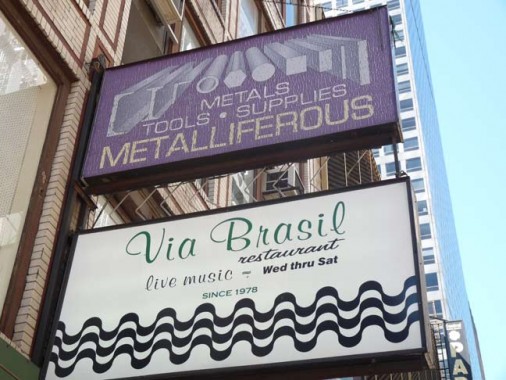 It's home to Metalliferous, described on its website as "a full-service, fully-stocked supplier of metal, tools, and supplies to jewelers, beaders, crafters, hobbyists, metalworkers, sculptors, and everyone else interested in metalworking and jewelry." The Diamond and Jewelry District is one block to the north on West 47th between 5th and 6th.
"Ferrous" means made of iron; iron's chemical symbol abbreviation is Fe, from the Latin word ferrum. (Iridium is abbreviated Ir.)
Meanwhile, in Comments:
The word "Metalliferous" does not refer to iron. The root "fer" means "carrying," as in containing. "Metalliferous" means that it has metal. For a similar use of that root, you might be reminded of the Carboniferous period of Earth's history, marked by the large amount of carbon in the corresponding part of the fossil record – that layer contains a lot of carbon.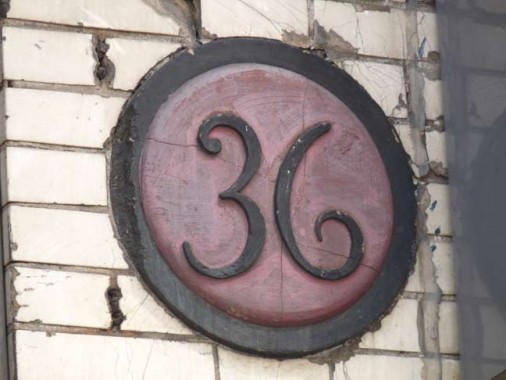 The house numbers, 34 and 36, are rendered lovingly in magenta terracotta on either side of the entrance.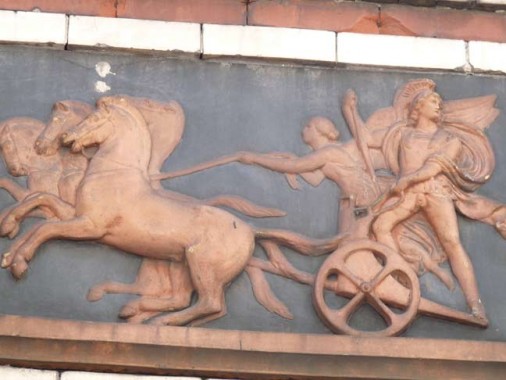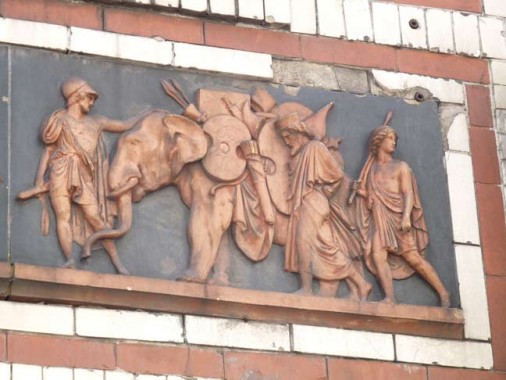 The terracotta scenes on the frieze above the door are a mystery to me. To view the whole scene, see the photo above of the front entrance. An angel seems to be attempting to prevent an invasion by a chariot-led force that also included a pack elephant. From my high-school history, I'm aware that the Carthaginian general Hannibal (247-182 BC) tried to invade Rome from the north, using elephants trained to charge the enemy; he came the closest of any foreign invader to defeating the empire until its decline began in the 400s AD. The Romans used war elephants in their own right after the Carthaginian challenge was repelled and their capital was levelled in 146BC.
Hannibal was a badass in imaginative ways:
In the 184 B.C. battle between King Eumenes II of Pergamon (r. 197-159 B.C.) and King Prusias I of Bithynia in Asia Minor, Hannibal served as commander of the Bithynian fleet. Hannibal used catapults to hurl pots filled with poisonous snakes into the enemy ships. The Pergamese panicked and fled, allowing the Bithynians to win. Ancient History
A teardown next to 34-36 West 46th serves to emphasize some stenciled window signs that were placed there no later than the 1940s, in my guesstimate… Note the parking garage next door. No architect has yet succeeded in building an attractive parking garage.
The topmost (5th floor) says "Lisa" along with the cities NEW YORK and PARIS. Also displayed are the words "robes et…" ("dresses and…") and something I can't make out. The 4th floor window has something unintelligible. The 3rd floor window: "FURS/Wm. C. /EMERICK/MAERLENDER". On the 2nd floor is "TAILOR."
Across the street at #33 is another terra-cotta front building from 1916, this time in pure white, featuring playful human figures, some with wings, some not. All have facial expressions denoting dyspepsia to one degree or the other.
The terra-cotta hit parade continues at #21 West 46th. It was likely constructed between 1925 and 1935; its stepped-back roof and colorful terra-cotta panels attest that even some of the most utilitarian office towers built in that era were given a little extra something to add pizazz.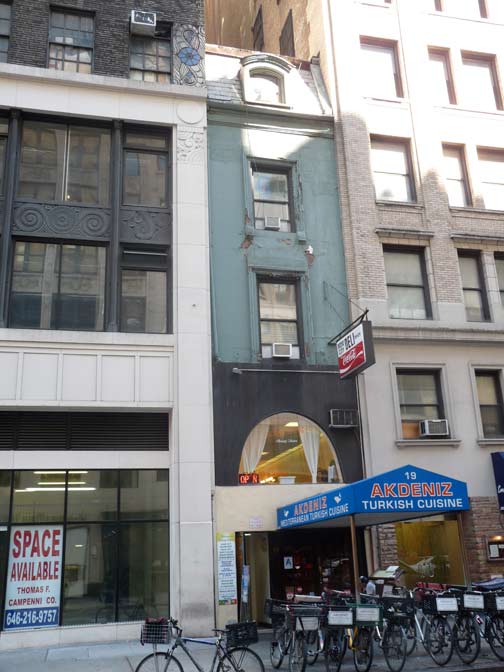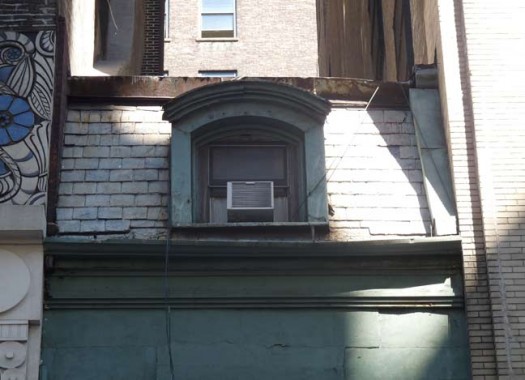 Then there's the strange case of #19 West 46th. At 12 1/2 feet in width it could be the second narrowest house in Manhattan. (The narrowest is #75 1/2 Bedford Street in Greenwich Village, which measures 9.5 feet in width. It was briefly home to famed poet Edna St. Vincent Millay, and at a different time, anthropologist Margaret Mead.
This building, though, has its own stories. It was once part of a matched set, as its twin, 17 West 46th, was torn down decades ago. Manhattan building lots were sometimes sold in 25-foot-wide parcels and in this case, a developer chose to build two narrow houses instead of one wide one. There's one apartment per floor, but all have two bedrooms.
According to NY Times architecture expert Christopher Gray, the narrow house was built in 1865, soon after West 46th itself came into existence.
472 Broadway, downtown, is also rather narrow.
The Radio City Deli has been replaced by the Akdeniz Turkish restaurant, but its illuminated sign featuring the Mobius Coca-Cola symbol, is still hanging over the sidewalk. I wonder if it lights up at night.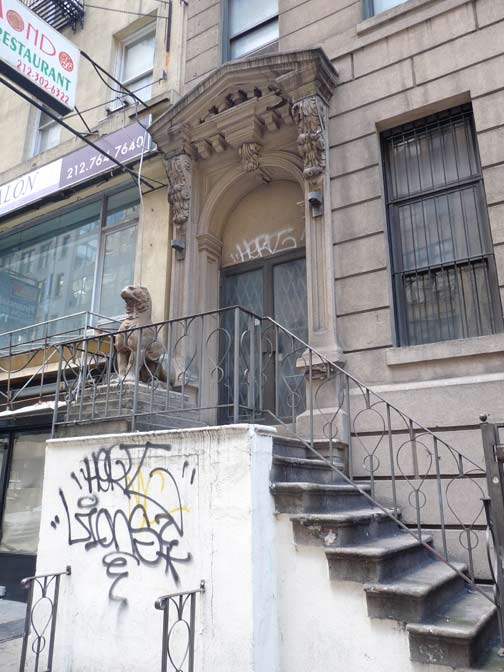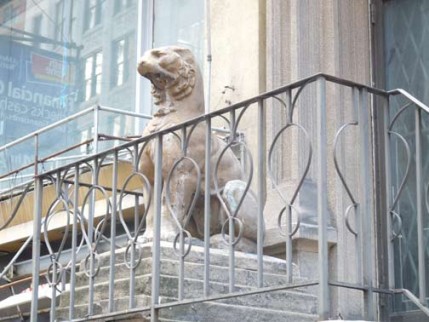 Also notable is the deteriorated brownstone townhouse at #7 West 46th, which has seen plenty of better days. Before going through the front door, you have to get past a creature of some kind, likely a lion. If it were sculpted with 3 heads, you could call it Cerberus.
An entrance under the front stairs has been bricked up.
Have I found the last remaining Ranch 1? They used to be ubiquitous all over town. I liked their grilled chicken sandwiches with a multiple choice of sauces and great fries.
I can't find a thing on McAnn's bars on the web, but like Blarney Stone, they used to be fairly frequent around Manhattan. There was one in Penn Station and another in a different depot I can't remember. I seem to recall a cavernous space with very little light. Anyone have their own McAnn's story?
There are perhaps as many as 10 overhanging neon signs on the block, an unusual concentration.
#2 West 46th is a massive office building, but in the early 20th Century, even these had decorative touches.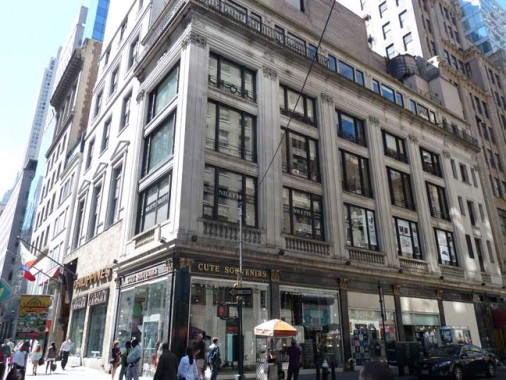 There's nothing cute about the 5-story pilastered building on the SW corner of the Queen of Avenues and West 46th, and the developer and architect would probably express some objections if they knew an establishment selling "cute souvenirs" would occupy the ground floor in 2012.
5th Avenue has always featured cigar emporia. Nat Sherman — whose TV commercials I still remember ("to share happy days with you gives me great pleasure") — held down a featured spot at 5th and West 42nd for many years.
Montecristos are made in Cuba and the Dominican Republic, and I suppose the latter are sold here.
I then made my way west along West 46th again. Buzios, at 20 West 46th, features swimsuits the Girl from Ipanema might wear. A bit of Brazil, still hanging in there.
Former High School of the Performing Arts, now Jacqueline Kennedy Onassis High School for International Careers, 120 West 46th. One of prolific schools architect C.B.J. Snyder's greatest Romanesque Revival creations, it went up in 1893-1894 — and it was his first public school. The school and the block were well-known in the 1980s when the TV show Fame was based on this school and exterior shots were done on the block.
A number of imaginative signs telling bicyclists and pedestrians to be careful have appeared all around town. Some feature haiku while this one is readable only from a smartphone, a device I do not own.
So, what does it say?
Anglican Church of St. Mary the Virgin, West 46th between 6th and 7th. The church was founded by Father Thomas McKee Brown in 1868, with the cornerstone laid for this building in 1894 [Napoleon LeBrun, architect]. A High Church, it uses a number of rituals that are associated with the Roman Catholic Church.
This stretch of West 46th has some aged buildings as well, some of which go back to the late 1800s.
For the first time in quite a while, the ancient I. Miller Shoe Store on the corner of West 46th and Broadway, has its frontage along Broadway exposed to the world, but it's nothing to write home to Mother about as most of the exterior ornamentation has been shorn off over the years. For over a decade the ground floor hosted a TGI Friday's, and a giant ad billboard dominted the corner (see this page for an image).
Statues of four Broadway and film actresses, singers, and dancers are still found on the West 46th Street side, though compromised; hopefully, there will be a movement to restore them soon.
Statues of impresario George M. Cohan and Father Francis Duffy have been re-bronzed and preserved to be enjoyed by future generations. The stories behind the statues, and the I. Miller store, are on my Times Square Who Are Those Guys and Gals page.
George M. manages to stay in the picture in this giant video billboard.
Though hardcore porn was chased out of the Times Square area during the Rudy Giuliani purge of the mid-1990s, some of the giant video ads make use of an insidious form of soft porn to advertise wares.
While making my way west on W. 46th, I passed the NYC headquarters of Scientology, whose tenets read like a science fiction book, and with good reason: the 'faith' was founded by sci-fi author L. Ron Hubbard. The building has also been home to the 7th-Day Adventists and a young Cary Grant. Because of the harsh shadows I didn't get a good photo.
Paramount Hotel, 235 West 46th near 8th Avenue, 1928 (Thomas Lamb, architect). It was repaired and revived from 1988-1990 under ownership headed by Ian Schrager, of Studio 54 fame, and was again remodeled in 1998. Billy rose operated his Diamond Horseshoe nightclub here from 1938-1951, featuring a collection of showgirls nicknamed "Billy Rose's Long-Stemmed Beauties."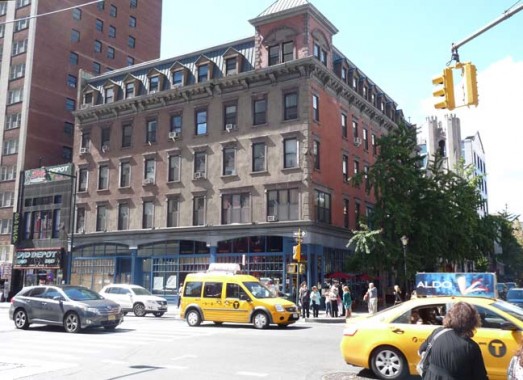 I would like to know the story behind this ancient building on the SW corner of 8th Avenue and west 46th but I can't find anything about it. Anyone have some information?
A teardown on 8th near West 46th has made an ancient advertising even more obvious — though it's been in plain sight forever, it's more obvious than it was…
It's three ads in the same space, likely rendered at different times. Apartments were available, 1, 2, 3 rooms, with steam heat and hot and cold water, which were not universal in the very early 20th Century.  There's something now unintelligible across the top except for the last word, SHOES. The oldest ad in the space (because the apartments ad was painted on top of it) is for Society Smoke Cigars. Perhaps the word "High" was painted over.
German Evangelical St. Luke's Lutheran Church, established 1850 as a Dutch Reformed Church on West 35th Street and 9th Avenue. It reorgnized as a Lutheran Church in 1853. After several moves around Midtown the present building was dedicated in 1923 in what has been described as a Gothic-Deco amalgamation.
Two off-Broadway musicals are presented here, Cougar The Musical and Danny and Sylvia, the Danny Kaye Musical. I'm not nuts about this sort of thing, but I realize churches need income.
This block of West 46th is Restaurant Row, with a concentration of eateries and clubs catering to the pre-curtain crowd. The block has been given a decorative collection of Type B park lamps.
Barbetta Restaurant has been featured in a few Woody Allen movies, as well as Mad Men, and has been in business since 1906, according to its website. That sign may have been there since it moved to the present location in 1925.
Barbetta's, so far as physical surroundings go, is simply a none-too-large, made-over private house, with a square-tiled room in the rear, jammed with uncomfortable tables and unconscionable waiters. But the Finocchio, the Veal Cotlette Parmigiana, the Scallopine of Veal al Marsala, and the curly Chicory with Barbetta dressing, are the things that have made the establishment stand out like an oasis in a desert of French Table d'hotes, one-arm cafeterias, and synthetic Italian Gardens …
Celebrities, stepping out of their divers and sundry characters during the dinner hour, flock to Barbetta's, and half the fun of eating there is in deciding whether that thoroughly attractive gentleman on your left is really [silent film star] Richard Barthelmess or merely someone who looks tremendously like him. Nevertheless, it is the food that brings you in, and it is the food that brings you back, time and again. Rian James, Dining In New York, 1930, page 43
I'm sure I'll have more on Midtown sometime soon…

Scouting NY on Midtown's narrowest building


Christopher Gray on West 46th Street
10/6/12