Tour #60 was FNY's 4th trip into Green-Wood Cemetery, concentrating this time on the cemetery's central and southwest sections. As with all the tours thus far in 2012, the weather was bright and sunny, albeit a little cool for early October with the mercury around 50 degrees. In fact the weather has occasionally been TOO sunny this year, as a tour had to be postponed due to 95 degree weather. Not a drop of rain on any FNY tour this year with one remaining…
As with all tour recaps, I won't review the whole itinerary here (you have to attend the tour to get that!) but show you some highlights and a couple things we didn't get to on the tour because of time constraints…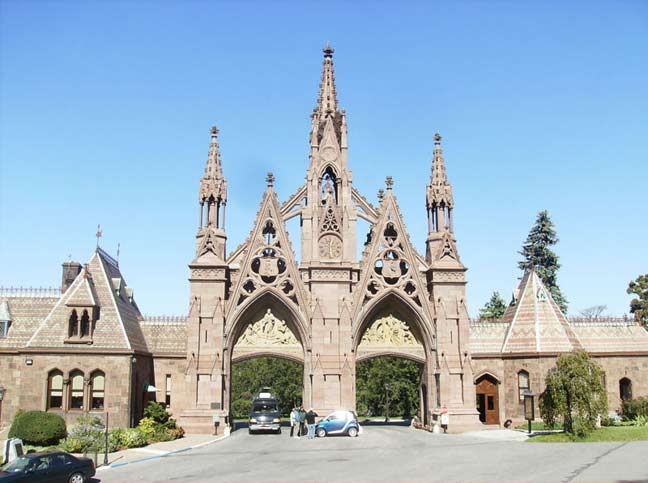 Richard Upjohn's name is all over the Cemetery, whether from several memorials by him that are scattered in the Cemetery, to this monumental front entrance gate that was constructed from 1861-1863. Upjohn is also interred here.
Look for the rich details on the gate: a double arch, three spires, religious reliefs by John Moffitt with a Resurrection theme, and a bell that rings to announce every funeral procession. Also note that a colony of monk parrots has made its home in the central tower: you will see a bright flash of green now and then while regarding it; the parrots' cheerful calls interrupt Green-Wood's silence in the main gate's vicinity.
DIXON HALL LEWIS.
Dixon Hall Lewis served as a US Representative and then Senator from Alabama from 1829 until his death in 1848. He was a strong states rights advocate and favored secession. Lewis weighed over 400 pounds and died at age 46. Furniture for his use had to be specially built, and he took up 2 seats in Congress and when he traveled by train. The story goes that after he died while visiting NYC, it would be expensive to ship his remains to Alabama and so he was buried here. But his own correspondence indicated that he enjoyed a visit to Green-Wood while here and he simply expressed a desire to be interred here whenever the time came.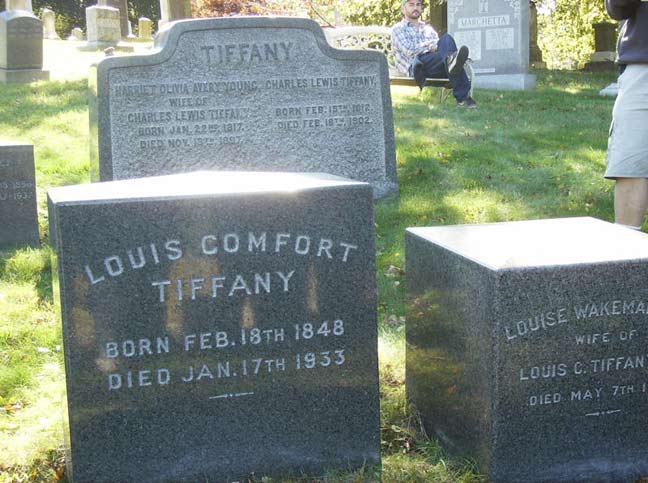 CHARLES LEWIS TIFFANY and LOUIS COMFORT TIFFANY.
Tiffany & Company was founded by Charles Lewis Tiffany and Teddy Young in New York City in 1837 as a "stationery and fancy goods emporium," the store initially sold a wide variety of stationery items, and operated as Tiffany, Young and Ellis in lower Manhattan. The name was shortened to Tiffany & Co. in 1853 when Charles Tiffany took control, and the firm's emphasis on jewelry was established. Tiffany & Co. has since opened stores in major cities all over the world. Unlike other stores at the time in the 1830s, Tiffany clearly marked the prices on its  goods, as there would be no haggling for the price. In addition, against the social norm at the time, Tiffany only accepted only cash payments, and did not accept payments on credit.
In 1887, Tiffany bought the French Crown Jewels which attracted publicity and further solidified the Tiffany brand's connection to quality diamonds. The company revised the Great Seal of the United States in 1885. In 1902, after the passing of Charles Lewis Tiffany, his son, Louis Comfort Tiffany became the company's first official Design Director.
Louis (who pronounced it in the French manner, 'Louie' was a skilled painter, interior designer, mosaics and jewelry, but especially in stained glass. Beginning in the 1870s he rejected the old practice of creating stained glass by painting clear glass with enamels and then firing it. His glass was colored through and some pieces were folded, rippled or threaded with contrasting glass, so it seemed that twigs, sunsets and draperies were in the glass itself.
He used the leftovers from his windows to create lampshades, which were much prized when produced between the 1890s and the 1920s. Tiffany would have been disappointed to know that Tiffany lamps are better known today than his many beautiful stained glass windows found in mansions and churches worldwide.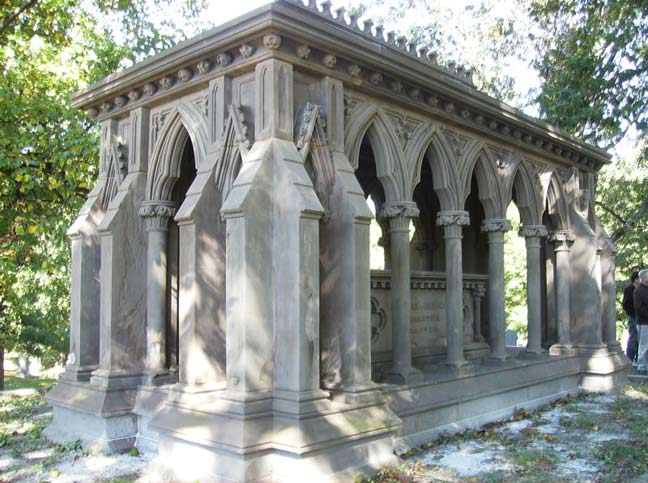 THE PIERREPONTS.
This tomb is another one of Richard Upjohn's works. It was designed for the Pierrepont family. Hezekiah Pierrepont was a major landowner and developer in Brooklyn Heights, whose Pierrepont Street is named for him. His son, Henry Pierrepont (1808-1888) was a businessman and city planner. He helped draw up Brooklyn city maps that formed Brooklyn's street layout in 1835 and was the head of the commission formed for that purpose. He was on the board of trustees that created the Cemetery and donated the original fence that surrounded it.
FANNIE QUINTARD.
"A member of Christ, a child of God, and an inheritor of the Kingdom of Heaven."
And not a bad set of shoulders, either.
JAMES STRANAHAN.
Prospect Park is, in good part, the idea of railroad builder James Stranahan (1808-1898), who headed a board of commissioners selected by New York State in 1859 to investigate areas to build a public park in Brooklyn similar to the one then under construction in Manhattan. Seven proposals were offered, including Ridgewood and Bay Ridge, which were then not in the city of Brooklyn proper. Another was on a hill called Mount Prospect, on the road that would become Flatbush Avenue near the Brooklyn-Flatbush town border. This location was selected, and the commissioners selected Egbert Viele, who was chief engineer of Central Park, to begin work on the project. But the park plans were delayed by the Civil War.
At the conclusion of hostilities, the plan was placed in the more than capable hands of Frederick Olmsted and Calvert Vaux, who had landscaped Central Park before the war. Prospect Park was completed by 1870. (Viele's consolation prize is that his 1865 map of Manhattan's underground waterways is still in use today by architects and engineers.)
Stranahan was also a vocal proponent for building the Brooklyn Bridge and advocated Brooklyn's consolidation with NYC, which happened the year of his death.
Stranahan's statue, by Frederick MacMonnies and located in Prospect Park near the Grand Army Plaza entrance, was dedicated June 6, 1891; Stranahan was present.
WILLIAM M. TWEED.
Tweed (1823-1878) left home at age 11 and worked in a variety of occupations until joining state assemblyman John J. Reilly in founding volunteer fire brigade Engine Company #6 in 1848. He was elected to the House of Representatives in 1852 and rose to the executive committee of Tammany Hall in 1858, and became "Boss" Tweed when he was named Grand Sachem of the political organization in 1863. He became  a master at skimming large sums of money off city projects for personal use. He had amassed a fortune of $12 million by 1870.
Tweed actually accounted for many good works in the city – he built hospitals and orphanages and widened and straightened Broadway in the Upper West Side. He secured land from Central Park upon which was built the Metropolitan Museum of Art. However, the "Tweed ring" stole $200 million from the city during his career and the city deficit ballooned from $36M to $130M by 1870. The Tweed Courthouse standing near City Hall cost taxpayers in excess of $200M in today's money. Expenses were way overbilled, and the overage went into the accounts of Tweed ring members. Tweed and his cronies stole what amounts to today's $3.5 billion.
After he was arrested and held for trial, he was released to spend time with his family in 1874. He fled to Spain, but was arrested by a Spanish customs official who recognized him from Thomas Nast's caricatures that had appeared in the newspapers. He was returned to the USA and died in the Ludlow Street Jail in 1878.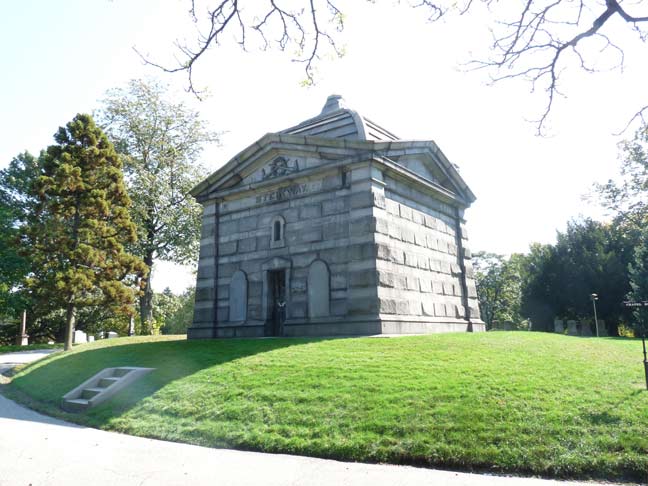 THE STEINWAYS.
Immigrating to NYC in 1851 from Germany, Henry Steinway (1797-1871) began a piano-making business that had grown to America's largest by the 1860s. Steinway Pianos had a huge factory on Park Avenue and 53rd Street and then Steinway Hall on 14th Street, containing offices, showrooms and a concert hall where Charles Dickens appeared for a reading in 1868. Steinway Pianos, with its factory in Long Island City on land purchased by his son William Steinway in 1880, is still America's foremost piano manufacturers. William expaned the piano business in Long Island City, building a village and a church for piano factory workers, and built trolley lines in western Queens.
The Steinway tomb, built at a cost of $1.5M in today's money, is the largest in the Cemetery. It was designed by John Moffitt (who also designed the sculptures at the entrance gate).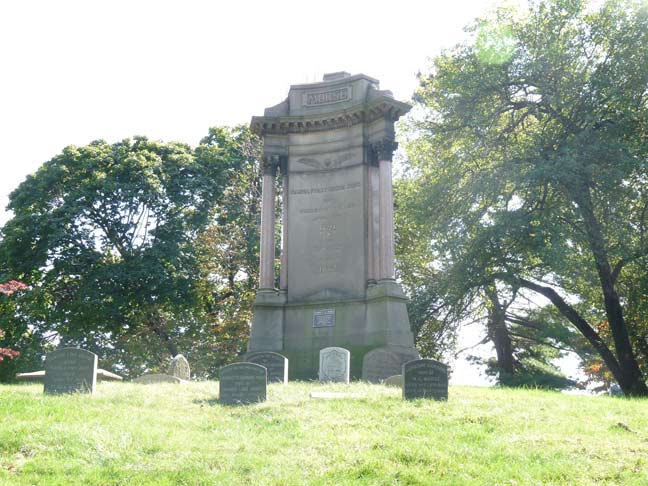 SAMUEL FINLEY BREESE MORSE.
The inventor of the telegraph began his career as a prominent portrait painter (including John Adams and James Monroe) and was elected first president of the National Academy of Design in 1826. But he became more and more interested in science and its practical uses. In 1839 he learned photography from its own inventor, France's Louis Daguerre, and introduced the process in the United States.
In 1825 Morse was commissioned to paint the portrait of the Marquis de Lafayette in Washington. A messenger delivered a note from his father, notifying him that his wife was quite ill. He immediately left for his home in New Haven but by the time he reached home, his wife had passed away and was already buried. He was inspired to think of methods of immediate long-distance communication.
Consulting with scientists he knew that worked with electromagnetism, including Charles Jackson of Boston, Morse developed an experimental single-wire telegraph by 1835, with the first practical telegraphy system launched in 1844 between Washington and Baltimore along a series of telegraph poles (underground construction was impractical at the time). The first message, sent in the Morse code that he also devisedin "dots and dashes" , read: "What hath God wrought!" In 1845, Morse hired Andrew Jackson's former postmaster general, Amos Kendall, as his agent in locating potential buyers of the telegraph. Kendall realized the value of the device, and had little trouble convincing others of its potential for profit. By the spring he had attracted a small group of investors. They subscribed $15,000 and formed the Magnetic Telegraph Company. Many new telegraph companies were formed as Morse sold licenses wherever he could. The first commercial telegraph line was completed between Washington, DC, and New York City in the spring of 1846 by the Magnetic Telegraph Company.
Morse, though, in his time was known for his anti-Catholic and Nativist sentiments and his support of slavery.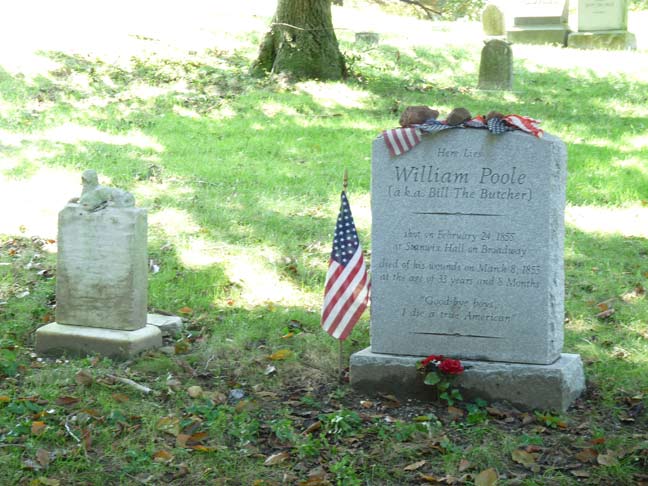 WILLIAM POOLE. 
A butcher by trade, Poole's true profession was as an enforcer for the Know-Nothing Party, being, as described by his New York Times obituary, as having a disposition "not of the most peaceable and forebearing kind." He grew up as a member of the Bowery Boys, a violent street gang, described by era chronicler Herbert Asbury as "the most ferocious rough-and-tumble fighters that ever cracked a skull or gouged out an eyeball." A far cry from the tamed and sanitized namesakes portrayed by Leo Gorcey, Huntz Hall and Gabe Dell in 1940s and 1950s films. Poole, effective with fists, knives or firearms, would routinely bite off opponent's ears or cut out opponents' eyes, testicles and other body parts in fights. He was deadly knife fighter; his nickname "The Butcher" was not bestowed primarily for his legitimate profession.
Poole fell in with the Know-Nothings since their philosophy matched his own: they were ineluctably opposed to Irish Catholic immigration, as the newcomers were in competition for "native-born"  Americans' jobs and they were opposed to those political parties vying for immigrants' votes. The Nativist movement became a political force in mid-1800s America. Poole joined Captain Isaiah Rynders' political organization, the Americus Club.
On February 24, 1855 Poole lost his last fight. Tammany regular John Morrissey was at Stanwix Hall, a Broadway billiards establishment, with some friends. Poole walked in. Immediately, Morrissey strode up to Poole, pointed his revolver at his temple and squeezed the trigger. The gun misfired, whereupon Poole pulled his own pistol. One of Morrissey's friends noted that it might be dishonorable for Poole to shoot an unarmed man. Poole picked up two carving knives and challenged Morrissey to a fight, but policemen broke up the conflict before it could get started. Morrissey went home for the night but his companions, Lew Baker and Pawdeen McLaughlin, armed themselves and returned to Stanwix to find Poole, similarly armed. Accounts vary about who fired first, but Poole wound up getting hit in the leg; when he went down, Baker drilled him in the heart and abdomen. Poole, amazingly, was able to fire an errant knife at Baker as he fled the Stanwix. Poole was able to survive with his wounds for two weeks, which gave him time to rehearse his supposed final words: "Good-bye boys, I die a true American."
He was buried at a family plot in Green-Wood, which was unmarked until 2003.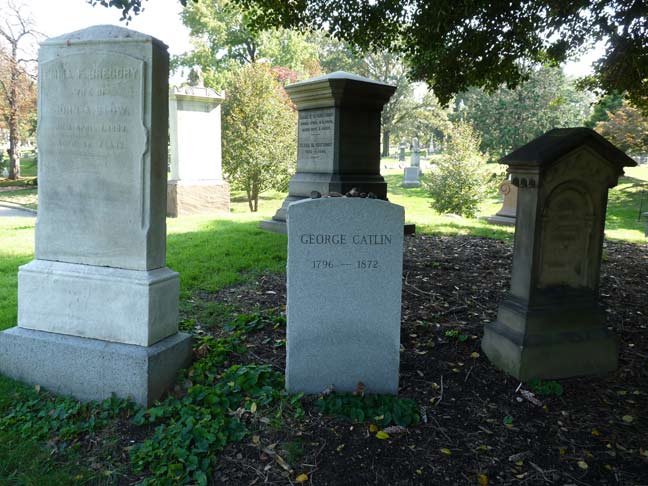 GEORGE CATLIN.
Catlin (1796-1872) dedicated his life to painting and recording American Indians and their customs before what he was convinced was their imminent destruction. The first professional painter to go West, Catlin sketched the Sioux, Osage and Comanche. His Letters and Notes on the North American Indians, published in 1841, is a classic study of their traditions. He became internationally famous, presenting Wild West shows and exhibiting his paintings in the USA and Europe.
When he married Clara Gregory he fell afoul of her inlaws, who wanted him to settle down and practice law. He did leave his wife back east for long periods while adventuring in the West. After his death in 1872, his wife was long deceased and his in-laws debated whether he should be interred in the Green-Wood family plot.
His  wife Clara's monument is the most prominent in the plot. George Catlin's stone was not placed until 1961, by publisher Clarkson Potter, who was working on a book about him.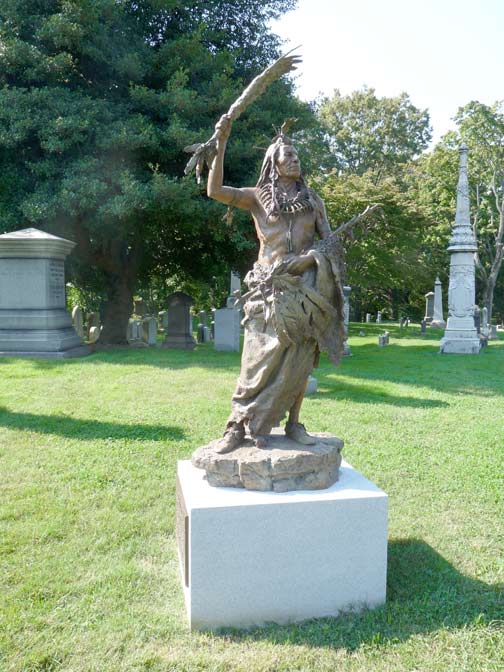 THE GREETER.
On July 28, 2012, Green-Wood Cemetery in Brooklyn unveiled a bronze statue of Black Moccasin, chief of the Hidatsa Indians. The work is by John Coleman and is based on a painting by George Catlin, who is buried nearby at Green-Wood. The unveiling ceremony coincides with Catlin's 216th birthday.
Black Moccasin greeted Lewis and Clark in 1804 as they explored the upper Missouri River. The sculpture, which stands six-feet-six-inches tall, is called The Greeter, and it depicts the Hidatsa chief as a man in his seventies in full native dress.
MATILDA TONE.
We didn't have time to visit the grave of Matilda Tone (1769-1849), the wife of Irish patriot Theobald Wolfe Tone (1763-1798) who attempted to establish a united Irish free state but was forced into exile in 1794. Upon trying to re-enter Ireland he was arrested for treason and died under mysterious circumstances in prison. He is buried in County Kildare.
Matilda Tone was as committed as her husband to their cause. She moved to NYC in 1815 and joined her son, who was working for the US War Department, in Washington the following year. Upon her death she was originally buried in Washington, DC, but her descendants had her moved to Green-Wood in 1891.
In 1996 the marble monument that had stood at her graves in DC and Brooklyn was restored and recarved, and was re-dedicated by Ireland's president at the time, Mary Robinson.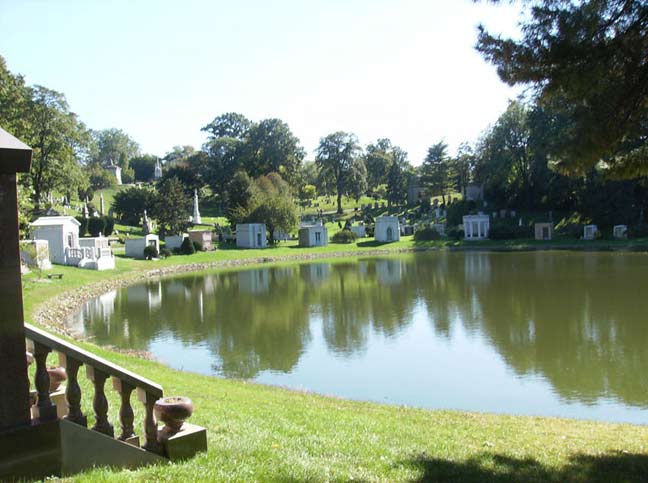 SYLVAN WATER.
This is the largest glacial pond in the Cemetery. Along the waterside are among Green-Wood's most recent tombs. But, when the Cemetery tried to buy land here from Dutch farmers in the 1830s, the farmers, who had never heard of cemeteries the size of Green-wood, had to be dissuaded that there was gold to be found at the bottom of the pool. That was he only reason they could think of that their land was so desired.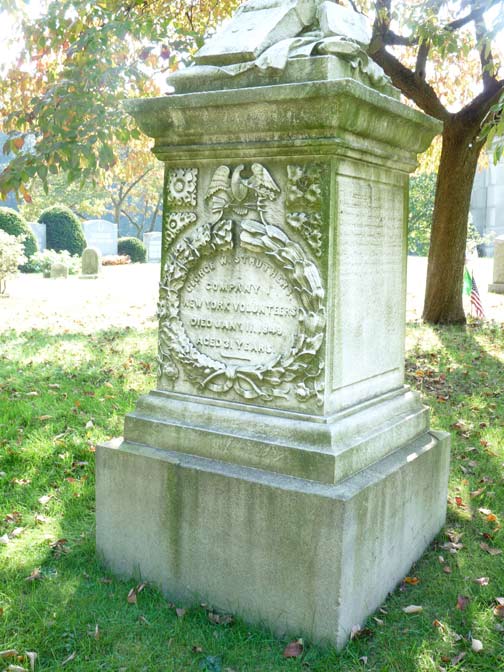 GEORGE STRUTHERS.
Struthers was a soldier in the Mexican War. Upon returning to NYC he quickly fell ill and died, but he was penniless and was buried in a potter's field. His comrades learned of this ignominy and purchased a lot in Green-Wood and commissioned this monument, which has lengthy inscriptions honoring him on two sides.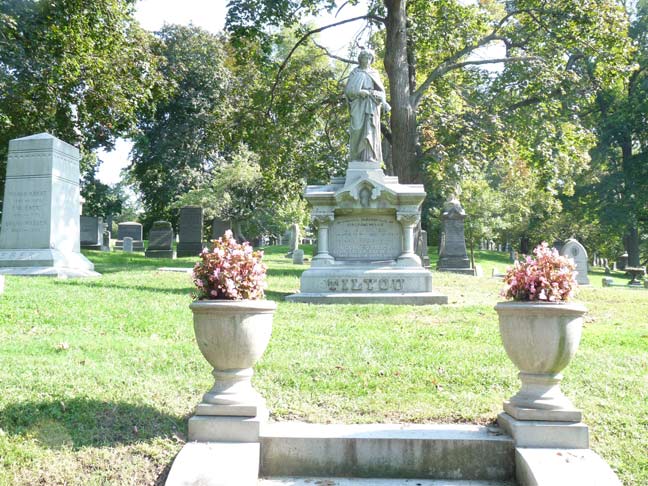 GEORGE TILYOU.
Tilyou was Coney Island's premier promoter. At age 17 he was selling souvenir boxes of sand and bottles of sea water. At age 30 he attempted to by George Ferris' wondrous wheel ride at the Chicago World Exposition, but Ferris refused to sell. So, he built a small wheel in Coney Island, rented the adjoining property and with the proceeds, built the largest Ferris wheel in the world.
(Plans call for the world's newest largest Ferris wheel to be built in Staten Island in a few years).
In 1897, Tilyou opened the attraction for which he is best known, Steeplechase Park, which took its name from a ride on which fairgoers rode wooden horses attached to a track. Also in the park was the Blow Hole theater, where gusts of air blew women's skirts in the air and a dwarf with a  a cattle prod chased others around. Both attractions ran for nearly 70 years, until the park closed in 1964. Tilyou's initial investment, $1000, turned into a fortune for him and his descendants into what would be $32M today.
In 1907 Steeplechase Park burned to the ground. In Barnum-esque fashion, Tilyou charged a dime to view the smoldering ruins. He made enough to reopen several months later.
JOHN MATTHEWS.
British immigrant John Matthews (1808-1870) was among the first carbonated drink producers, and by 1870 hundreds of soda fountains in NYC alone were using his products. When he died master sculptor Karl Muller was commissioned to create one of the most spectacular–some say even scary– memorials in Green-Wood.
The monument is covered with likenesses of family members, evangelists, and various animals, real and mythological. On the columns you can see the features of Matthews' daughters. ious classes of mammals, rodents, ursines, bovines and cervines, grace the arches.
There are two prominent human figures: the seated veiled statue, under the main arch, signifies grief, while Matthews himself is represented lying on a sarcophagus regarding various scenes from his life: producing carbonic acid gas and bidding farewell to Liverpool.
Froglike gargoyles channel rain from the peaked roof, but time has taken a heavy toll. Much of the stonework has been eroded by the chemical action of carbonic acide, from rain, with the marble. It can seem as if the marble is melting.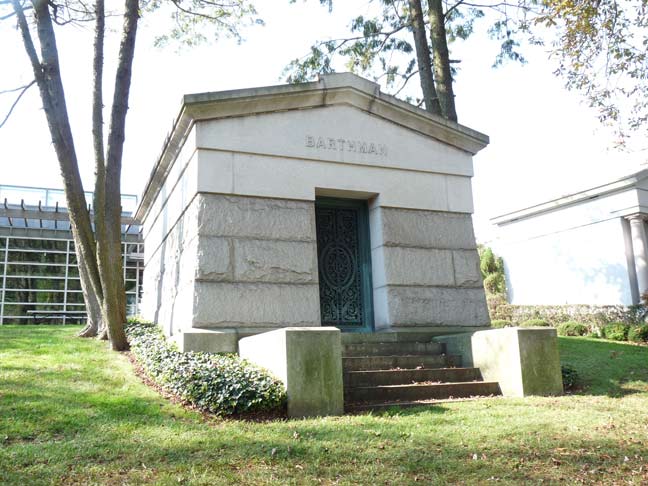 FREDERICK WILLIAM BARTHMAN.
After serving in the Civil War, Barthman got into the jewelry business, with a great deal of success. His building at Broadway and Maiden Lane, with its embedded sidewalk clock, was built in 1884. The store moved a few doors down, and is  no longer in the Bartman family, but the clock remains in place.
Frederick Barthamn's son, Henry, served in the Spanish-American war and World War I, attaining the rank of brigadier general. Henry's son, William, was awarded the silver star for gallantry in action in WWI and was later the senior partner of Barthman Jewelers.
That's just a handful of the more than 30 stops we made. Green-Wood id one of my favorite spots in the city, and I visit about 5 times per year.
10/25/12