There had indeed been a Lexington Avenue Line in Brooklyn — an el that shrouded the entire length of the Bedford-Stuyvesant avenue that runs from Grand Avenue east to Broadway.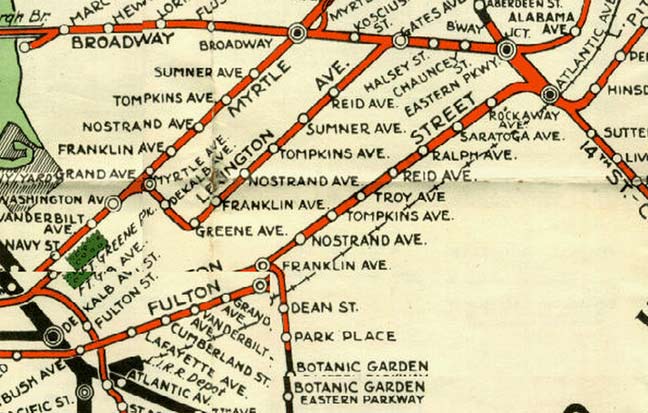 Seen on this 1920s map, the Lexington el split from the Myrtle Avenue El at Grand Avenue and then ran south and east, over Grand and then turning at Grand and heading to another connection with the Myrtle.
In the chronology of Brooklyn els, though, the Myrtle was a Johnny-come-lately, opening for business in 1888. The Lex had preceded it by three years, running Forney steam engines from its original termini at Washington and York Streets to Gates Avenue beginning May 13, 1885.
On the map, it's the golden age of Brooklyn els — every heavy red line is an el, as the Broadway, Myrtle Avenue, Lexington Avenue, and Fulton Street els, as well as the 14th St-Canarsie, which runs as an el in East New York, were in their prime. Today only the Broadway remains.
By 1950, ridership had dwindled because of the nearby Myrtle Avenue el and the underground IND GG line subway under Lafayette Avenue, and the el was closed and dismantled. Do any traces exist?
[For full-size image, click on the above Gallery. Photo courtesy Cyril Warren]
Here, the el makes the curve at Grand and Lexington Avenues. Note that it's supported on a low garage-type building on Lexington, with a corner store. Notice also the "Essolube" and "Garage" signs on the corner.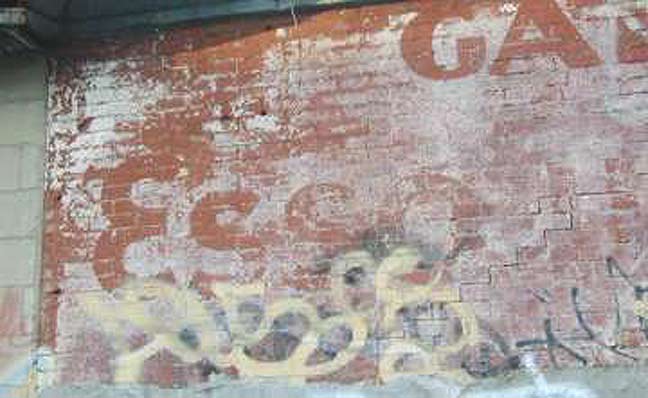 When I went past the corner around 2000, I noted the "Esso" and "GARAGE" painted signs were hanging on, barely…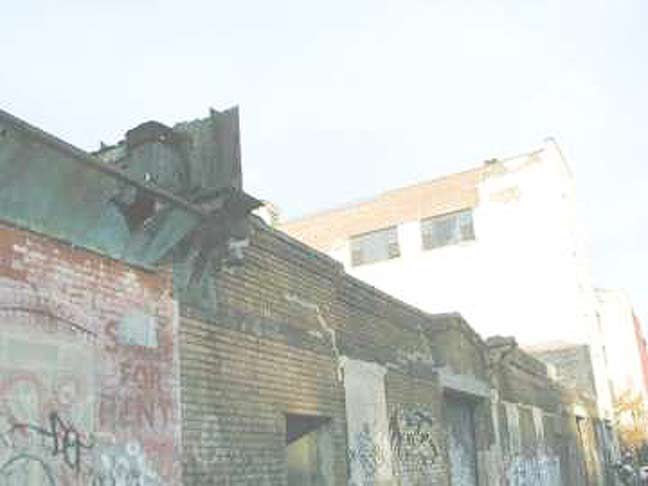 … as were the brackets that used to support the elevated on the garage building. That "STORE FOR RENT" sign can also be seen on the older photo.
I haven't been over to that corner for awhile, but with the magic of the Google Photo Truck I can see what it looks like as of 2011. The old painted signs are long gone, but two brackets that supported the el are still in place!
11/9/12
… that is, they were, until the building was demolished in 2013.