I've made a big deal over the years about how I miss the color-coded street signs, by borough, that marked NYC streets between 1964 and 1985, which were thence supplanted by the green-and-white numbers since then. I've come to realize, though, that there were another set of directional signs right under my nose, as it were, the whole time.
I'm referring to NYC's "arrowhead" system of smaller signs, installed beginning in the 1940s (my estimate) that were placed on main routes, directing motorists to major expressways or bridges conceived in large part by NYC traffic czar Robert Moses. They were small signs in various shapes: arrowhead (Throgs Neck and Bronx-Whitestone), inverted triangle (Triborough), or circle (Queens-Midtown and Brooklyn-Battery Tunnels), and seemed to follow a color-coded system, though I have yet to crack it without seeing all of the signs, though the bridges seemed to be white or navy-blue with a red border, though the Verrazano Bridge was a circle. The tunnel signs were black and white circles (Brooklyn-Battery) and gold and black (Queens-Midtown).
As large green and white directional signs have gained prominence, the "arrowheads" as I call all of them, have been phased out, though there are still several of them around town where the Department of Transportation hasn't removed them. The DOT has been installing new versions, which are rounded-edged rectangles with the arrowheads printed on them, not die-cut. Know the imitations!
I find more all the time, so If I get a critical mass of more of them I'll so a second page.
Roosevelt Avenue in the 50s in Woodside, Queens
Queens Blvd./Roosevelt Avenue at 49th Street, Woodside, Queens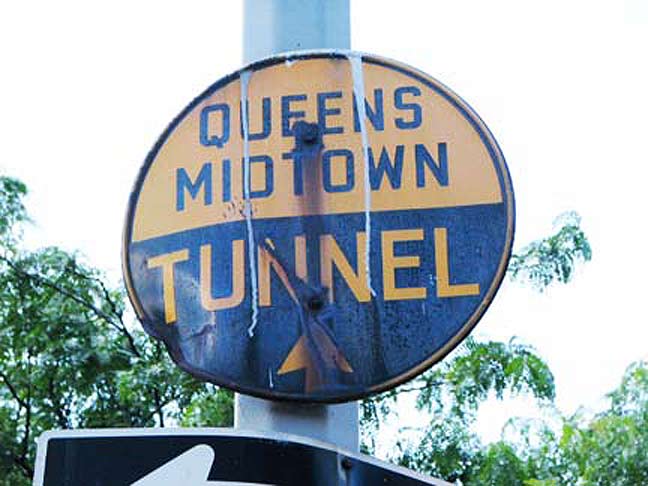 Queens Boulevard and 42nd Street, Sunnyside, Queens. Older samples in the genre use fonts other than Highway Gothic, which came along in the 1950s.
1st Avenue and East 35th Street, Murray Hill, Manhattan
Flushing, Queens. This battered sign has since been removed.
There's a whole flock of Arrowheads on River Avenue near Yankee Stadium. Here was also see one of the large green and white signs that have largely supplanted the smaller Arrowheads.
Junction Boulevard and 46th Avenue, Corona.
3rd Avenue under the Gowanus Expressway in Park Slope.
This lamppost on Astoria Boulevard and Newtown Avenue has nine (9) directional or safety signs on it, one of which is an Arrowhead.
The intersection of Woodside Avenue and 69th Street sported a pair of Arrowheads, one of which is shown here.
Under the Broadway el in Bedford-Stuyvesant you will find a discreetly placed Arrowhead.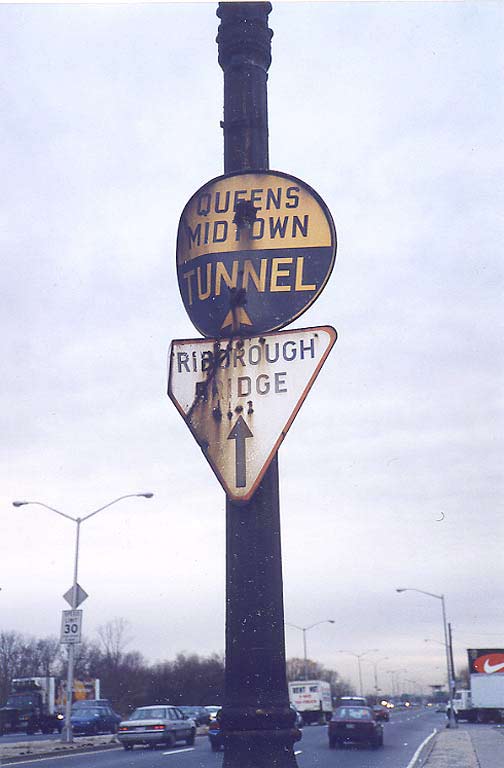 Lastly, here's a pair on Rockaway Blvd. in Rosedale that have gone to the great beyond, along with the old castiron lamppost that carried them.
12/28/12